Disclaimer: this article includes affiliate links. When you make a purchase through one of our links, we may receive commissions.
In this post we are going to cover: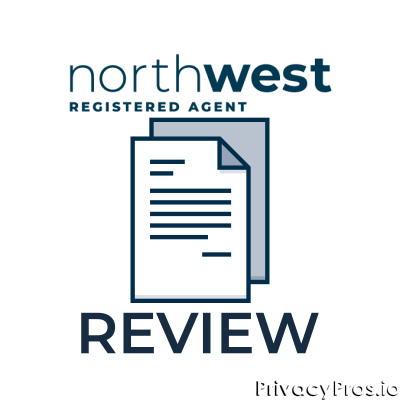 History of LLCs
Benefits of having a LLC
Services and features of Northwest Registered Agent
Plus more... Read on to learn everything you need to know about Northwest Registered Agent.
Northwest Registered Agent is an LLC formation service that has been established for over 20 years. It is considered one of most trusted LLC agents on the market, with rave reviews from other legal services and feedback websites alike.

In today's post we will be looking at exactly what an LLC is and what Northwest Registered Agent specifically offer their customers in relation to these services.
After all, when it comes to your business you want to ensure you are protected against the full weight of any legal problems. Depending on what state you live in, the legal system will be very different.
Advice: That's why it's not only a good idea to consider an LLC for your company, but also to research exactly what one entails depending on where you live, what your company provides and the level of services you require.
Here's everything you need to know.
What is an LLC?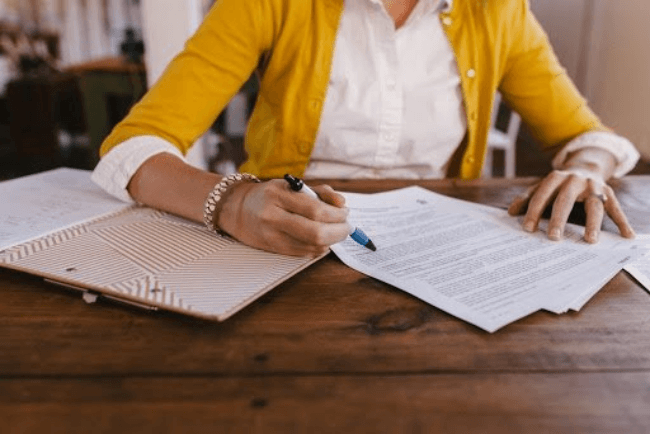 LLCs were first invented in the state of Wyoming in 1979, so remain fairly new in the legal stakes, yet are an important form of business protection. An LLC stands for a limited liability company.
The inclusion of the word 'limited' is key, as it means the liability of the members is not complete. So, to break this down even further, that means if someone were to take legal action against that company, they can only do so on a limited basis, rather than having full access to their personal assets.
An LLC acts as a barrier protecting that organisation (and those who run it) from complete financial ruin.
Info: An LLC is a legal entity that is governed by state law, which means it is contained to that state and not the wider federal law. So if any lawsuits were to arise, they would be governed by the law of the particular state it concerns and not any other outside sources or higher levels of power.
Each state has varying rules and regulations when it comes to forming an LLC. For example, some states do not require an operating agreement (though it is still advisable to have one where applicable).
So, it's important to research the regulations of your particular state before you go ahead, including finding a registered agent in the state you want to set the LLC up in.
Why Do I Need An LLC?
There are many benefits to having an LLC protect your company. Here are some of the main advantages:
Limited Liability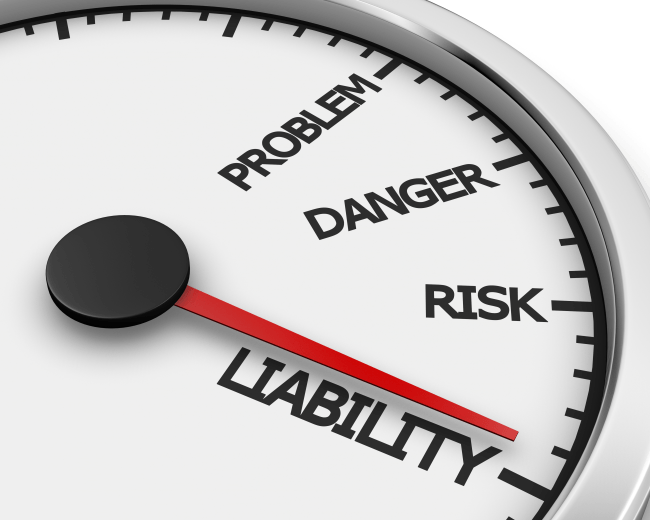 First and foremost, limited liability is the biggest perk of an LLC. If your company doesn't have an LLC and somebody launches legal action against you, or if your business gets into financial difficulty, then your personal assets are not protected.
Info: However, by having an LLC in place this acts as a buffer between your business and personal assets. For example, say your company gets behind with paying for equipment needed to run your business. If it reaches the stage of debt collection, your personal assets such as your home or bank account cannot be touched.
An LLC can also reduce liability in the case of an employee of personal negligence. So, it covers a very broad spectrum.
Tax Advantages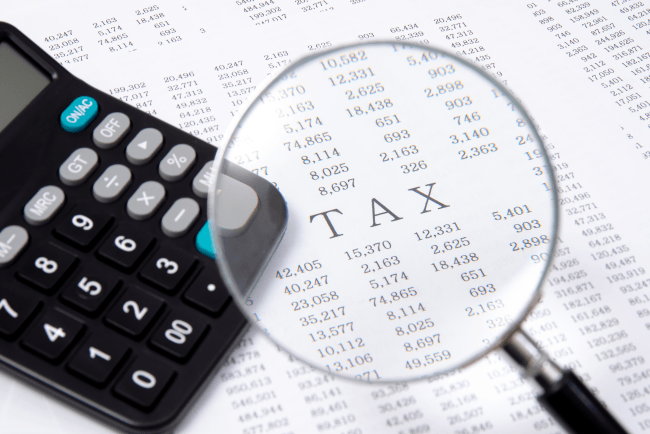 LLCs are not classified under the regular federal tax system and also benefit from pass-through taxation, meaning no LLC taxes or corporate taxes need to be paid.
Info:LLC's can be classed as either sole proprietorships, partnerships, S corporations or C corporations.
The benefit of having an LLC for C corporations is that they would ordinarily be taxed twice at both the corporate and individual level.
There are similar benefits for S corporations that qualify.
Reduced Paperwork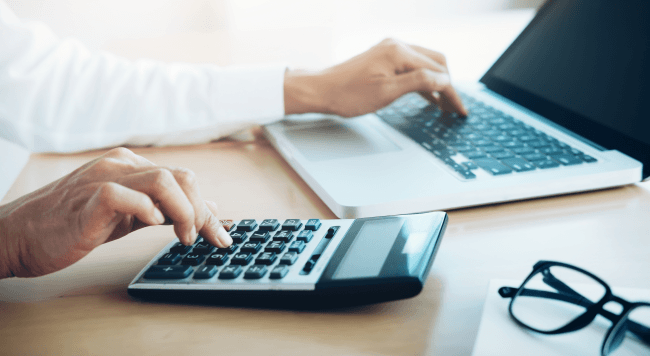 One of the headaches for corporations is the hefty record keeping that is a huge drain on resources. This is in addition to the requirement to create annual reports, hold annual shareholder meetings and pay annual state fees.
However, LLCs do not require any of this which greatly reduces the paperwork involved in running the company.
Credibility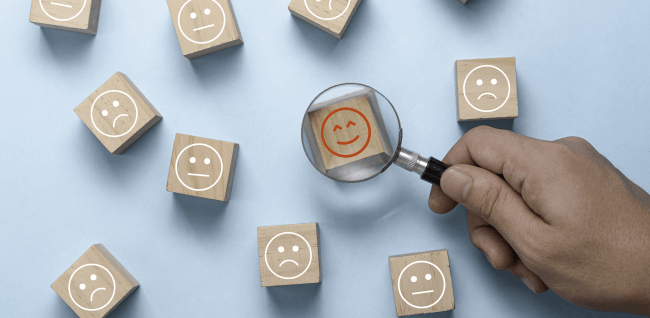 Similar to how a 'blue tick' or 'verified' symbol on social media offers a level of credibility to that account, the same mantra is true for companies who have an LLC. Partners, suppliers and lenders are likely to look more favorably on businesses that have formed an LLC.
Northwest Registered Agent - An Overview
Northwest Registered Agent was established back in 1998 and its headquarters are based in Washington. Their entire focus is the creation of LLCs as well as providing ongoing services to maintain them.
Interestingly, Northwest Registered Agent are themselves an LLC which gives them the upper hand in assisting businesses who wish to form their own, as they fully understand the customer pain points that need to be addressed.
With a slogan of 'we're not just annoying', Northwest Registered Agent are deliberately simple in their approach. The sign-up process is extremely straightforward requiring only a handful of steps.
Info: Throughout, customers are told the key information they need to know, including the state fees and processing times they should expect, so there's no nasty surprises for business owners.
Although some of these services could be obtained for free, Northwest aims to streamline the process in terms of the reduction and times it would otherwise take a business owner to complete them.
Not only will Northwest Registered Agent create your LLC for you, but they will also act as your registered agent too. This means that any legal notices that get served are processed by them, rather than coming into your business space directly.

For many businesses, having a designated registered agent is far more convenient, especially as there are limitations with regards to having a physical address and the operating hours the registered agent must adhere too.
Northwest Registered Agent provides a variety of key services to businesses in the form of their 3 packages which are Basic, Deluxe and Premium. Packages are also fully customizable with additional add-ons, all of which are transparently priced.
Info: In addition, they have great customer feedback across different platforms, as well as a customer service team users can directly reach by phone.
Northwest Registered Agent Services
Annual Report Filing Service
Boc-3 Blanket Agent Service
Business License Registration
Change Of Registered Agent
Corporate Book & Seal
Customized Corporate Bylaws
Customized Operating Agreement
Federal IRS Registration
Mail Forwarding
Multi-State Registration
Non US Resident Company Formation
Registered Agent Service
Scanning Services
S Corp Tax Election
Virtual Leasing
Virtual Office
Northwest Registered Agent Packages
Northwest Registered Agent operated a 3-tier package system, allowing you to select the right option for your business. Included every package is a registered agent service that is free for the first year, and is $125 thereafter.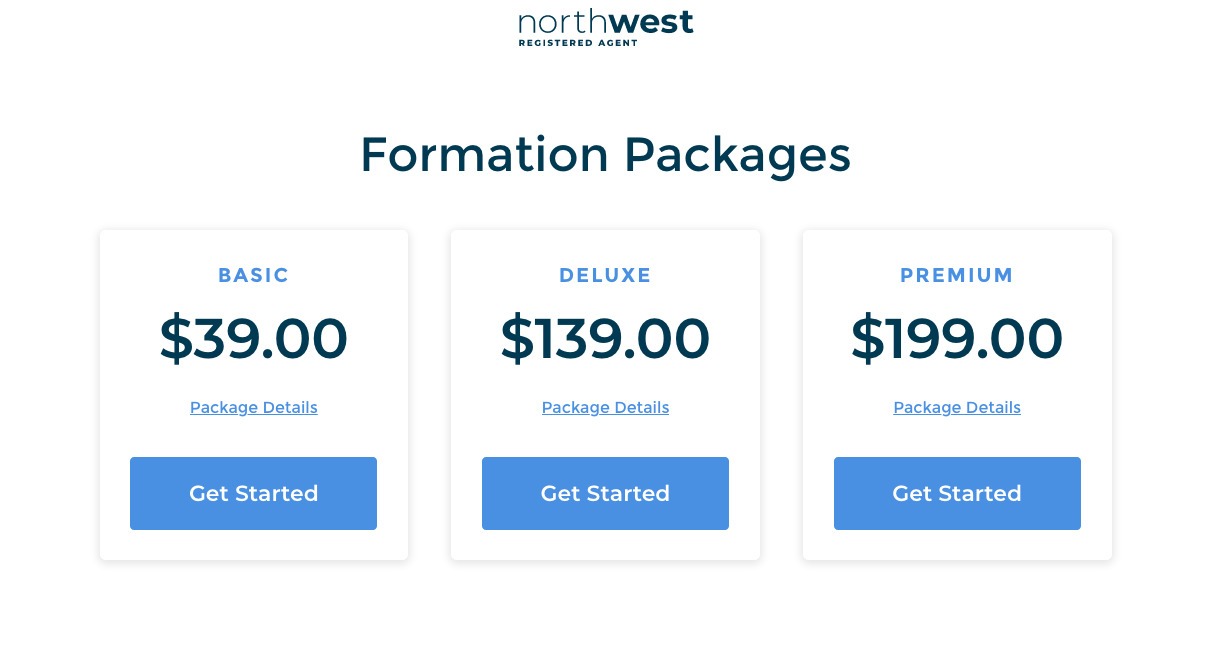 The packages are not bound by a contract and can be cancelled at any time. Whatsmore, each filing is backed by a 100% error-free guarantee, which offers great peace of mind.
With every package, have the option to send a copy of lawsuits and legal notices directly to your attorney. Here's an overview of each package including the features and cost (minus state fees):
Basic
Business Formation
Registered Agent
Lifetime Customer Service
Info:The basic package is currently the cheapest it's ever been, though doesn't include any state fees. It includes name verification as well as the filing of formation documents. Basic package owners also get lifetime customer service, which is handy but pretty standard of any business service.
Cost: $39
Deluxe
Business Formation
Registered Agent
Lifetime Customer Service
EIN
Operating Agreement
There's a $100 jump between the Basic and Deluxe packages, so what do you get for the extra investment? As well as everything listed on the Basic package, you'll also receive two additional features.
This includes an EIN (employer identification number) which is essential for hiring employees or opening a business bank account. While you can also get an EIN for free through the IRS, this streamlines the process.
Info: Also included is an LLC operating agreement which establishes all of the policies relating to it. Companies can also draft their own operating agreement, though this may cost more time and money to do so.
Cost: $139
Premium
Business Formation
Registered Agent
Lifetime Customer Service
EIN
Operating Agreement
Same-Day Processing
The Premium package is identical to the Deluxe package, bar the addition of same-day processing.
Info: So as a business owner who requires all the other package features Northwest provides, your decision is working out whether the speed of receiving said features is worth an extra $60 plus state fees.
Cost: $199
Additional Package Features
No two businesses are the same, so it makes sense that your LLC shouldn't be identical to others either.
Alongside choosing between 3 different packages, it's also possible to add on other features for an additional cost too. These features are priced individually between $9 and $400, and where applicable vary by state.
The features include: Annual report filing service, apostille, business phone number, certified copy, certificate of good standing, corporate book, corporate seal, EIN, mail forwarding and S corporation tax election.

Northwest Registered Agent Pros
Established for 20 years
Registered agent service
Extremely easy sign up process
Choice of different packages
Package add-ons also available
Great customer service
No hidden fees
They don't sell your information to third parties
Northwest Registered Agent Customer Feedback
On the company's Google review page, Northwest Registered Agent have a 4.6 average customer rating, based on the current 135 reviews that exist. On Yelp, they currently have a respectable 4/5 stars based on 30 reviews.

Given both of these platforms can be used anonymously (therefore leading to a harsher review for dissatisfied customers), this is very encouraging.
To Sum Up
It goes without saying that a company that has been around for over 20 years must be doing something right. When it comes to trusting a company to take care of your LLC, that's exactly the kind of accolade you should look for.
Northwest Registered Agent have worked hard to distinguish themselves from other LLC providers. They do so by keeping things straightforward for their clients, and offer fully customisable packages to suit a variety of different business entities.
While it's certainly the case that some of these features can be found for free by taking care of them yourself, the reality for business owners is that such tasks often take up precious time and resources.
Given they operate across every state and even internationally for non US residents, you'd be hard pushed to find an LLC company that offers as many features to as many people as Northwest Registered Agent do.
FAQ
What Is A 'Registered Agent'?
A registered agent is a designated individual or company that you assign to receive your service of process. So, if somebody was to serve you legal papers it would go to that agent. The registered agent must have a physical address (PO boxes are not accepted). While you can also become your own registered agent, if you own a customer facing business this might not be suitable, as such lawsuits or other legal matters could be served to you at your premises in front of your patrons. Also, a registered agent has to be available during normal business hours, which may not suit you if you do not work during these times, or if you don't have a designated work location. It's also worth mentioning that Northwest Registered Agent will not only set up your LLC for you but they will act as your registered agent too.
Do I Need A Lawyer To Create An LLC?
The short answer is no, you do not need a lawyer to create an LLC. However, given your LLC may involve complex legal issues (such as hiring staff and creating contracts) it might be worth consulting one if you are not using an official registered agent company.
What State Should I Form My LLC In?
You can form an LLC in any state, regardless of if it's your home state or not. Though, given each state has varying rules and regulations, it pays to choose your home state as you will be more familiar with the small print. Also, if you choose to form your LLC in a state you don't reside in, you will incur additional registered agent costs. So, it's worth researching the potential financial benefits or implications of the particular state you want to register in first.