Disclaimer: this article includes affiliate links. When you make a purchase through one of our links, we may receive commissions.
In this post we are going to cover: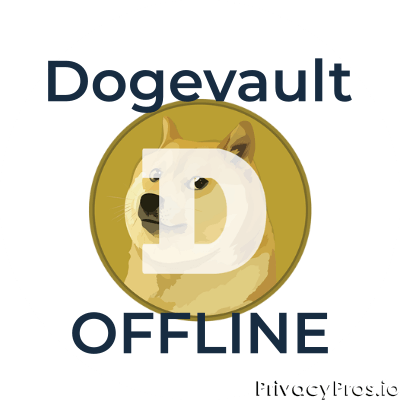 What is Dogevault
How Dogevault went offline
Funds transfered from users wallets
Plus more... Read on to learn everything you need to know about the Dogevault hack.
What is Dogevault
Dogevault is a popular online wallet, where people can store and send Dogecoin. It provides no advantage over a normal Dogecoin wallet however, and generally online wallets are regarded as risky, since if the site gets hacked or the owner goes rogue, then you lose the coins that were stored in the online wallet.
Dogevault went offline
It appears something has gone very wrong with Dogevault. The site is down, the server has simply been shut off. This means everyone who uses Dogevault cannot access their coins. There have been no announcements from the owner of Dogevault about what is happening, which is completely inappropriate in this situation.
A user of Dogevault is reporting that 950,000 Dogecoin were transferred out of his wallet just before the site was taken offline, as can be seen in the transaction record below. Other Dogevault users are reporting the same thing, that all of their Dogecoin was transferred out of their wallet before the site went down. This suggests that Dogevault has been hacked, and this could be a worst case scenario. It is unknown at this time how much Dogecoin has been stolen. Dogevault is an extremely popular online wallet though, so losses could be massive. I will update when I get more information on this situation.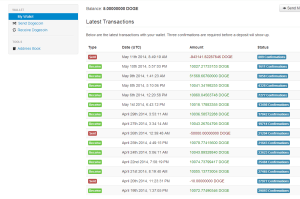 Updates
Update: the 950,000 stolen Dogecoin ultimately ended up in a new mega wallet, with other coins that were possibly stolen from Dogevault. This wallet contains 111 million Dogecoin: https://dogechain.info/address/DHKM6NDUUv9kaHAGi1QU7MRBNKfQiAdP3F
There is also another address with 2.6 million Dogecoin linked to Dogevault. It is uncertain at this time if this actually represents stolen Dogecoin, if it does this is one of the biggest Dogecoin robberies in history.
FAQ
What is Dogevault?
Dogevault is an online wallet, where people can store and send Dogecoin.
Why is Dogevault not working?
In May 11, 2014 Dogevault was compromised by attackers. The exact impact on user funds is unknown, some users reported withdrawals as large as 950,000 Dogecoin.
What is Dogecoin?
Dogecoin is a cryptocurrency created after the viral Shiba Inu dog from the 'Doge' meme. It was created in 2013, as a joke, by two software engineers.