Many countries have strict bans on streaming or downloading pirated content. While some countries simply frown upon this activity, in many places this is punishable by law. India is one of these places where it is very illegal to download pirate content and you can end up being a guest of the state for up to three years if you get caught.
So what do you do when you want to watch or download content in India you are unable to access legitimately? Simple, you go for the long way around in obtaining access. The easiest way is to use a VPN service. You get the anonymity, safety, and access to online content without the risk of being discovered by your ISP and even your government.
I did my due diligence and here are my findings on the best VPN services you can use to stream and download content in India. Please note that I'm not encouraging anyone to break the law, but simply sharing the basics on torrenting and the usual ways people go about it.
What is torrenting?
If you are one of the many people that strictly follow the rules, then you probably are not familiar with the term torrenting. So let me educate anyone that does not know or knows very little about this manner of data sharing. While torrenting by itself is not illegal, using it to download pirated content is not exactly legal.
Torrenting is a file-sharing protocol that is based on peer-to-peer or P2P technology. This technology varies from the usual centralized server for data download. Instead, the torrents depend on a decentralized network as each participant in the file sharing process has an active role in the download and upload process.
There are several main terms related to torrenting that anyone interested in this manner of data share needs to know:
Indexer: the websites that collect the torrent files and offer a search option are called indexers. Famous examples are The Pirate Bay, RarBG, ArenaBG, and more.
Tracker: the server that offers a bridge between the torrent users, enabling the connection to upload/download a file.
Torrent client: the software used to download/upload files on your computer. The most notable examples are BitTorrent, uTorrent, and Transmission.
Seeder: the people that upload the files to the torrent network. Once your file has been downloaded, you become a seeder so others can also download the file.
Leecher: the person who downloads a torrent without uploading.
Ratio: the ratio between your upload and download score. Per the torrent practice, each person should upload at least as much as they download.
Magnet link: a feature in the torrent client that allows the immediate start of the download process.
Now you know the basic terms related to torrenting. Let's move on to a more detailed explanation of how to use torrents. I'll also cover what could go wrong and how to protect yourself during torrenting.
How to use torrents?
There are several steps to remember when looking to download content through torrents. First, you need to download the torrent client like BitTorrent, Deluge, or uTorrent. Next, look for the content you wish to download. You need to search through indexer sites and find the torrent you wish to download.
After locating the file you like, you need to download the torrent file or if a magnet link is provided, click on it. Once the torrent file downloads on your machine, it will automatically start the torrent client. If this does not start immediately, you need to open it manually, and after a short while, the torrent will initiate the download.
After the completion of the download, you can open the file, but per the torrenting practice, you should let the downloaded torrent seed for a while, so other users can also get it. After a while, it is recommended you clear the torrent from your torrent client, as to protect you from being discovered by your ISP or other legal authorities in your country.
Countries where torrenting is illegal?
Many countries in the world frown upon sharing and downloading content free from the web. Some countries overlook downloading content and some even allow downloading content as long as it is for personal use.
Several of them actively ban torrent sites and even fine people for the illegal downloading of online content. These countries are India, Portugal, Italy, Australia, China, USA, Russia, Malaysia, UK, Germany, France, Finland, Japan, South Africa, Latvia, and the UAE. There is a way around all the restrictions, and it comes in the form of a VPN.
Movierulz – Bollywood's nightmare
One of the most notorious Indian websites that offer access to movies just released in theaters, MovieRulz is illegal in India, the USA, and all the other countries where torrenting is illegal. If anyone were to browse this website, they would see everything there is to know about a certain movie, no matter how fresh its release is. There is a synopsis, run time, and even screenshots along with the download link, most often in HD.
But downloading is strictly forbidden in India. Or is it? How can one get access to this content without the risks involved? By using the services of a quality VPN that knows all about respecting people's privacy, providing the means for uninterrupted browsing any website.
The Movierulz homepage, where you can find Bollywood, Hollywood and other movies and TV shows, watch them online and download them, along with plenty of other content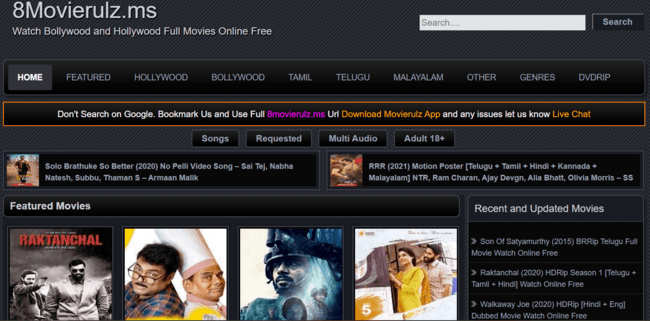 Why do you need a VPN for MovieRulz?
First thing first, I would recommend you use a VPN for all your online activity. A VPN protects your online activity from the ever-watchful eye of your ISP and the array of law enforcement and government agencies that believe it or not, follow your every online step.
A VPN or a Virtual Private Network is a tool that encrypts your online data when it leaves your computer. This way you are protected against exposure to third parties. Your IP address is also protected by the VPN, as your computer is very vulnerable when torrenting.
When you want to use websites like MovieRulz, The Pirate Bay, or another similar indexer, you are risking getting a fine or being a target to a hacking attack. Here is where the VPN comes is. And not just any VPN, but I recommend a secure VPN service with quality features that will protect you and still enable you to get access to the content provided by MovieRulz.
Why not use a free VPN for Movierulz
If you go online and try to access MovieRulz, you will see that they offer their own VPN service. This is an enticing offer, as it is created by MovieRulz and it is free, right? Well not so much. I'm not exactly a fan of the free VPN services, as there is very little info on these protecting people's privacy and respecting their anonymity.
Also, the services offered by the free VPN services like the one from MovieRulz leave a lot to be desired. Their privacy policies are not the greatest and most of these are not registered in a country with strict privacy laws like Switzerland, Panama, or the British Virgin Islands. I'm not saying that these are bad, but they are not very good either.
Required Features for a quality VPN for Movierulz
To be able to freely browse any indexer site such as MovieRulz, we established that you need a quality VPN service. Here are the basic requirements a VPN needs to fulfill so you can be safe during your perusal of the MovieRulz website.
Strong encryption protocols, OpenVPN is a great service for this use
Network Kill Switch feature that will instantly stop any traffic if the connection drops
DNS and IP leak protection feature, so your ISP will not be aware of your online activity
Obfuscation feature that will hide the fact that you are using a VPN, as many ISPs frown upon VPN usage
Split tunnel feature that enables part of your traffic to go through the VPN and the rest to go through the normal channel. You can set your torrent client traffic through the VPN tunnel and always be protected.
Plenty of server locations to enable fast speeds when torrenting.
P2P support to enable faster speeds when connected to a torrenting server.
Here I'll take a closer look at the leading quality VPN services and how they fare in granting access to MovieRulz. I'll be talking about Surfshark, NordVPN, and ExpressVPN. All of these VPNs have a strict no-logs policy, offer excellent features, have 24/7 live chat service, and have reasonable speeds. Here is more info on all of them and below is my test on their ability to circumvent the restrictions around MovieRulz.
Surfshark – a very affordable VPN service
Surfshark is a VPN service with nicely tailored features and services, but what is most notable about this service is its price. If you get the 24-month subscription, you pay less than $2/month for the Surfshark services. All the 1700+ Surfshark servers in 63+ countries support P2P which is excellent when torrenting. Also, their MultiHop feature enables a double layer of security especially useful when downloading pirated content.
There is a good DNS leak protection, a kill switch, AdBlock feature, and a split tunneling feature that will protect your online activity. Surfshark is very affordable and they have a 30-day money-back guarantee and you can use one subscription and protect an unlimited number of devices.
If you'd like more information, you can find our full Surfshark review here.
NordVPN – private, secure VPN service
NordVPN is a quality VPN service with amazing features. This VPN service has 5750 servers in 59 countries, and all of these support P2P which is an excellent feature to use when torrenting. On top of this, there is also a double VPN feature on some servers, adding a layer of security when looking to use the sites like MovieRulz.
NordVPN has several payment plans, and it would cost you $3.49/month for a 36-month subscription which is very affordable. Plus, there is excellent DNS protection, Kill switch, CyberSec AdBlock, and other features designed to protect your online activity from prying eyes.
You can find our full NordVPN review here.
ExpressVPN – fast, reliable VPN service
ExpressVPN is our third choice for a VPN service that could be used to get access to the content provided by MovieRulz. This VPN service is very fast and has 3000+ servers in 160 server locations in 94 countries. Talk about possibilities.
ExpressVPN has all the security features one might expect from a quality VPN service - P2P, kill switch, double VPN, split tunneling, DNS leak protection, and more. Still, the monthly fee is a little higher than the others listed here, and a 12-month subscription would set you back $8.32/month. Considering the higher price, you can expect fast download and streaming speeds with ExpressVPN.
You can find our full ExpressVPN review here

Lots of servers
One DNS leak in the past

Most private VPN
Blazing fast
Most servers and countries of all VPN's

Great speeds
Great security record
New VPN
How to use a VPN for Movierulz
Here I will tell you more about how to use a VPN when browsing and looking to download a file from MovieRulz. I made sure to download a file that was not copywrited but rather copyleft. I also did tests on all three VPNs outlined here to ensure the activity was protected.
All the VPNs outlined here have a torrenting permit and all support it with P2P servers.
DNS Leak Tests. I checked all three VPNs and found out that all three offer adequate DNS leak protection. While this is not as important when torrenting, it is good to hide your online activity from your ISP as many check for unusual activity and don't really allow torrenting.
I tested the Network Kill Switch service on all three and found it working very well. I did this by activating the VPN client and connecting to a server. Then I connected to MovieRulz and initiated a download. I disconnected from the VPN server and the internet traffic and torrent download were stopped immediately on all three tests.
Since the Indian Privacy Laws generate over $2 billion in damages from the illegal download of content, it is smart to protect yourself when using MovieRulz in India. Here I'll explain how to use a VPN service to get access to MovieRulz and things to note.
Select a VPN service. I would recommend using NordVPN, as this is one of the leaders in the industry. NordVPN offers over 5700 secure servers that support P2P, obfuscation services, Network Kill Switch, have strong DNS leak protection and excellent encryption protocols.
Next up, set up an account with the VPN service. I would go for the 36-month subscription which is $3.49 a month. If your native country has blocks on using a VPN, then you can use a proxy service or even use Tor to get your VPN subscription.
After setting up your account, you need to download the VPN software. NordVPN has a great selection and native apps for all platforms so you can use it with Windows, macOS, Android, iOs, and even protect your entire home network by installing the VPN on your router.
Set up the preferences in the app. Make sure you enable the Kill Switch feature and the DNS leak protection.
For fast speeds, you should connect to a server near you, but make sure it is in a country that does not ban torrenting. Do not connect to an India-based server, as the whole VPN ordeal would be moot. Several countries have loose laws on torrenting and servers here have extremely fast torrenting speeds. You can connect to a server in any of these and be safe on your way to torrenting. These countries are Latvia, Bulgaria, Greece, Serbia, Ireland, Romania, Sweeden, Spain, Lithuania, and Croatia.
You are all set and you can soon enjoy your favorite Bollywood movie.
VPN download speed tests
I've devised a test and ran all three VPN services through the paces. I connected to a Bulgarian server through all of these (as Bulgaria has loose laws on downloading online content and offers lightning-fast speeds), surfed the Movierulz website, and downloaded a movie through the BitTorrent client.
I found and selected a Public Domain movie named Eyes In the Night for this test, a 5.28GB file with 720p quality.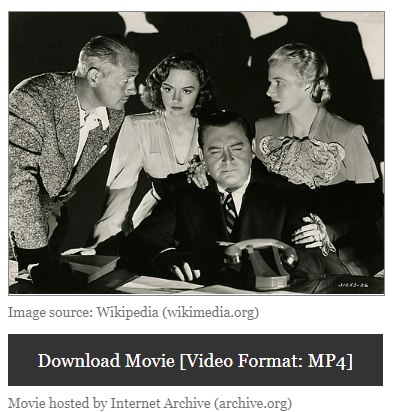 Surfshark speed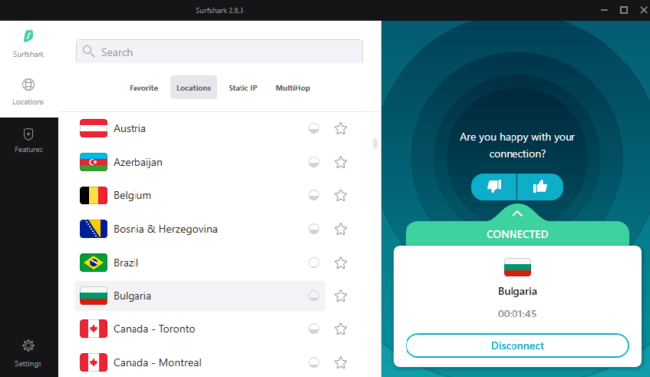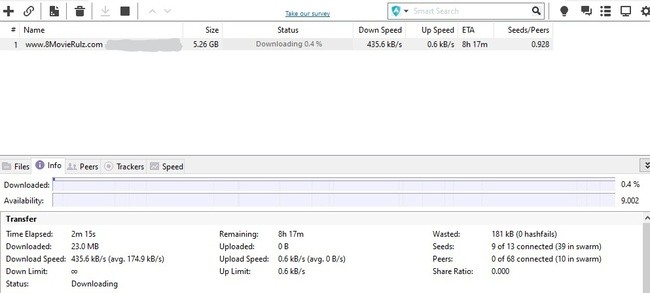 NordVPN speed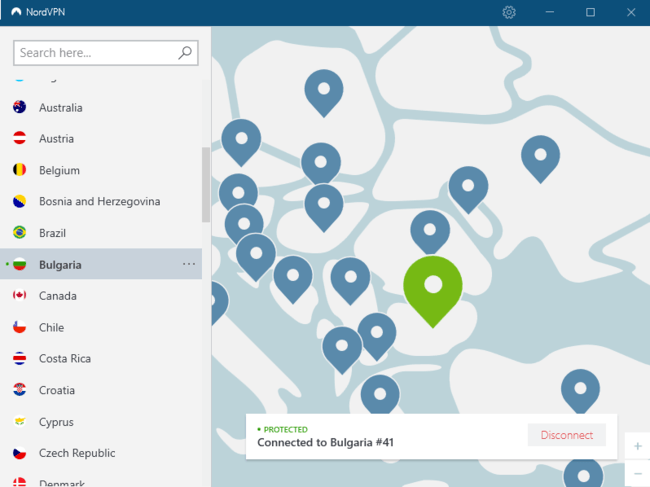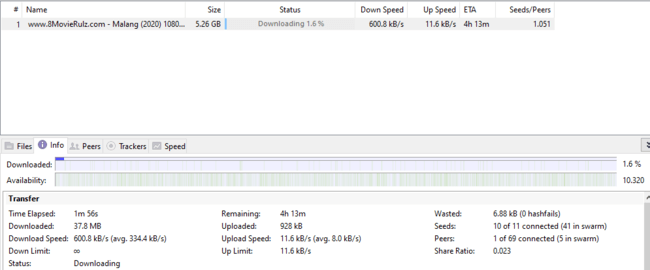 ExpressVPN speed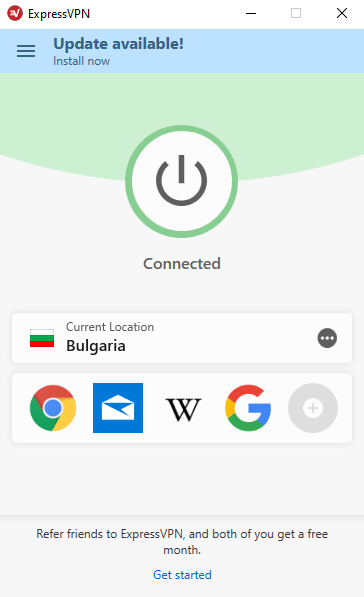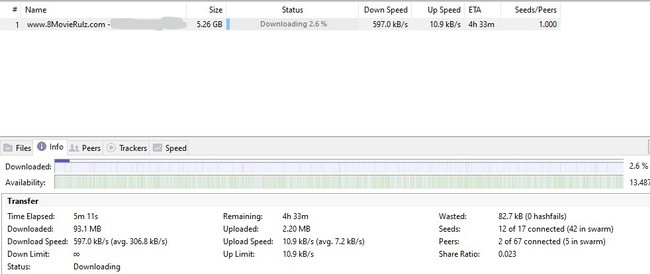 The results
From my test on using Surfshark, NordVPN, and ExpressVPN in downloading a movie from MovieRulz, you can see for yourself that all of these have good average speeds and reliable connections. From the three, NordVPN had the best speed and offers the best overall service. However, the two others are not far behind, so whichever you select, you can be certain that you'll have an anonymous and secure connection while downloading content from the web.

Lots of servers
One DNS leak in the past

Most private VPN
Blazing fast
Most servers and countries of all VPN's

Great speeds
Great security record
New VPN
The Verdict
The final verdict would come to your personal preferences and available budget, as ExpressVPN is the most expensive from these three, while Surfshark is the least expensive. Still, I personally like NordVPN services the best. They are located in Panama, have great features, and excellent security protocols. And frankly, NordVPN rated best with higher average download speeds on my test of MovieRulz.
After rigorous testing of all the features of these VPN services, I can say that I'm satisfied with all of them, as they certainly live up to the promise of providing a safe, secure and anonymous connection. Considering all have the P2P feature and the double VPN feature, any one of these three is a viable choice when looking to get access to MovieRulz and download your movie from Movierulz.
Do you have to use a VPN to access Movierulz?
No, but if you don't you could be punished by fine or being imprisoned depending on where you live. Bottom line, make sure you are using a high quality VPN if you are going to use Movierulz.
Is it safe to download movies from MovieRulz?
Without a secure VPN, downloading movies from MovieRulz could be very dangrous. Even with a VPN, you need to be careful you are not breaking the law in your country. We detail everything you need to know in this post.