In this post we are going to cover: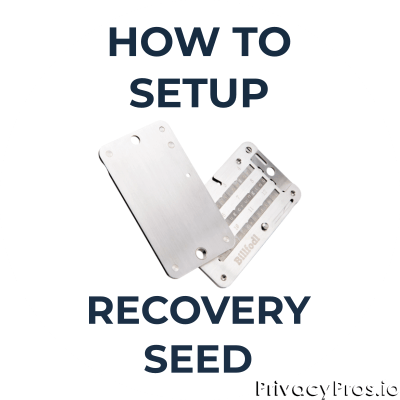 How to set up a Billfodl
Video guide for setting up a Billfodl
10 steps guide for recovery seed backup
Plus more... Read on to learn everything you need to know about how to setup a Billfodl recovery seed backup.
Setting up Billfodl is easy! Follow the steps below to store your Keys or Seed Words forever.
You can watch the video below or follow our simple text guide below.
Carefully open all the packaging and lay it out on a clean work space (desk, kitchen table, etc)

Slide Billfodl open and lay it on the side where you can see the laser engraved logo and the slots for numbers 1-12.

Grab one of the tiles and twist the screw in the top right corner to unlock the top latch

Use the same tile to depress the spring at the bottom and unlock bottom latch while opening the unit Pick your tiles from the tile tray and slide them in to spell your Key or Words

Info: Ensure that each row your are using is full of tiles. Use blank spaces as necessary to fill up the row. There should be no way to move the tiles when the latch is closed. ALWAYS fill the entire Billfodl. During our extensive torture test, we found that Billfodls which are not full may warp in extreme (greater than 600 deg C) heat. If you have run out of blanks, use all of the A's, then B's... until the Billfodl is full.




Close the latch and, using the tile again, secure the lock on the top right hand side of the unit.

Double check your data for accuracy

Double check that the latch is firmly locked

Flip your Billfodl over and repeat if necessary

Store your Billfodl someplace safe

Sleep easy knowing data is protected