In this post we are going to cover: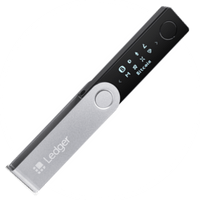 Features of Nano X
What Ledger Nano X comes with
How Nano X compares to Ledger Nano S
Ledger-Live Software
Plus more... Read on to learn everything you need to know about Ledger Nano X.
Wondering if you should pick up the Ledger Nano X?
Is it worth the increased cost over the Nano S?
What new features does it offer for the money?
The Ledger Nano X is sleek, sturdy, and most of all, convenient. It features a better screen, Bluetooth functionality, and a killer feel in the hand.
But is it really worth the extra money over the Nano S?
In this exhaustive Nano X review, find out everything you need to know about Ledger's second generation hardware wallet.
Pros
User friendly
USB-C cable
Bluetooth Enabled
Improved display
Multi-signature Support
Passphrase support
Cons
Increased Cost
Doesn't validate change addresses on the device itself
Pros
Cons
User friendly
Increased Cost
USB-C cable
Doesn't validate change addresses on the device itself
Who Should Buy a Ledger Nano X?
Users who own many coins
Traders who make frequent trades
Users who want a wallet with multi-signature support
Basics of the Ledger Nano X

The Nano X is a hardware wallet which supports a variety of cryptocurrencies and is the latest edition to Ledger's popular line of small, pocket-sized HD wallets.
It was preceded by the Ledger Nano S which was released in 2016.
Info: The Nano line supports over 5,500 cryptocurrencies. These leverage the security, flexibility and ease in backing up wallets with Hierarchical Deterministic (HD) capabilities.
The Nano X provides cold storage by creating and storing your wallet's private keys offline.
It can also natively manage ERC-20 and ERC-721 tokens.
With the release of the Ledger Nano X, it has taken up the mantle as Ledger's flagship premium product line by supporting several new features (including a larger screen and Bluetooth capabilities) not available on its older brother, the Nano S.
Price
While the Nano S can now be had for a mere $59, the Nano X is a pretty penny more.
If you want the newest hardware from ledger (the Nano X), you are going to need to pony up $149.
If it's of any consolation, this price include the shipping to most countries, so that helps a little.
See how the Nano X stacks up against other competing hardware wallets.
The real question is: is the increased price worth the added features the Nano X offers?
Lets find out!
Comparison to Nano S and Nano S plus
The Nano X can be thought of as Ledger's flagship, high-end hardware wallet product.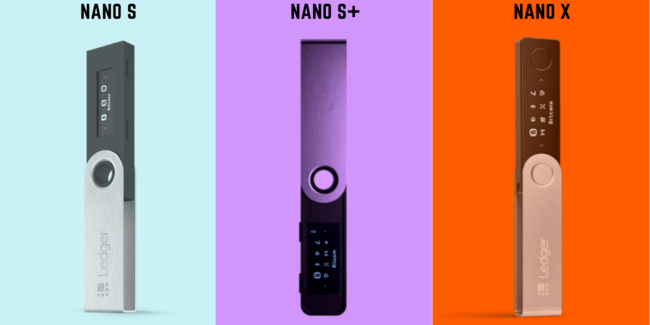 That's because the Nano X offers all of the features of Nano S and S Plus as well as some extras.
Take a look at the table below to see all the similarities and differences.
Ledger Nano Products Compared
Feature
Nano S
Nano S+
Nano X
Screen Resolution
128 × 32px
128 × 64px
128 × 64px
Battery Life
No Battery
No Battery
8 hours (standby)
Connection Type
Micro-USB
USB-C
USB-C
Capacity
Up to 3 apps
Up to 100 apps
Up to 100 apps
Token Support
5500
5500
5500
Secure Element
Certified secure element (CC EAL5+)
Certified secure element (CC EAL5+)
Certified secure element (CC EAL5+)
Certification
ANSSI
ANSSI
ANSSI
Pin Code Support
Yes
Yes
Yes
Backup Format
BIP39 24-word Phrase
BIP39 24-word Phrase
BIP39 24-word Phrase
Dimensions
56.95mm × 17.4mm × 9.1mm
62.39 x 17.40 x 8.24mm
72mm × 18.6mm × 11.75mm
Supported OS
Windows 8+, macOS 10.10+ and Linux systems (non-ARM processors).
Windows 8+, macOS 10.10+ and Linux systems (non-ARM processors).
Windows 8+, macOS 10.10+ and Linux systems (non-ARM processors).
Packaging and First Impressions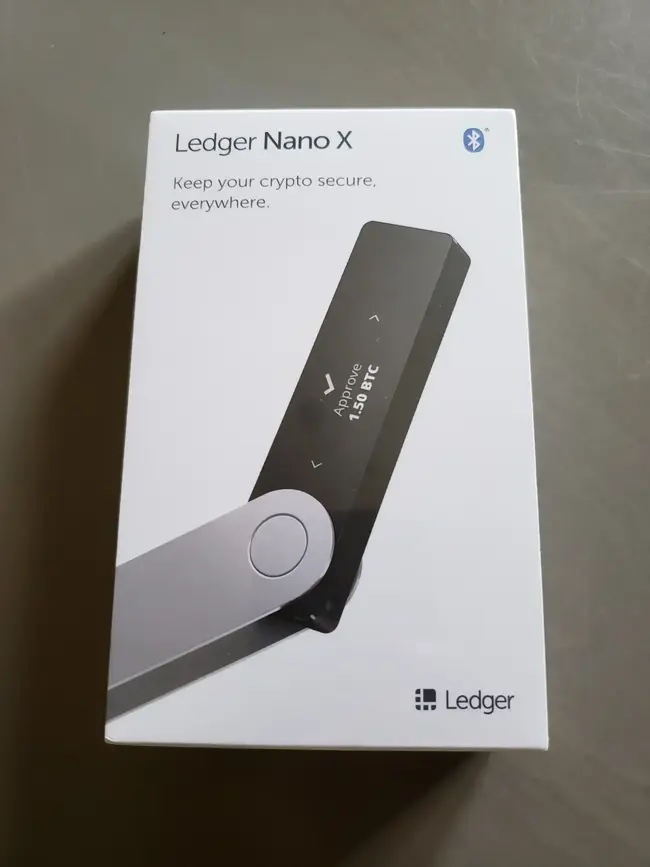 Handling and managing cryptocurrencies are inherently paranoia-inducing tasks, so its always nice to find a well packaged product that helps make you feel reassured.
You want to be as sure as possible that no one has tampered with the hardware.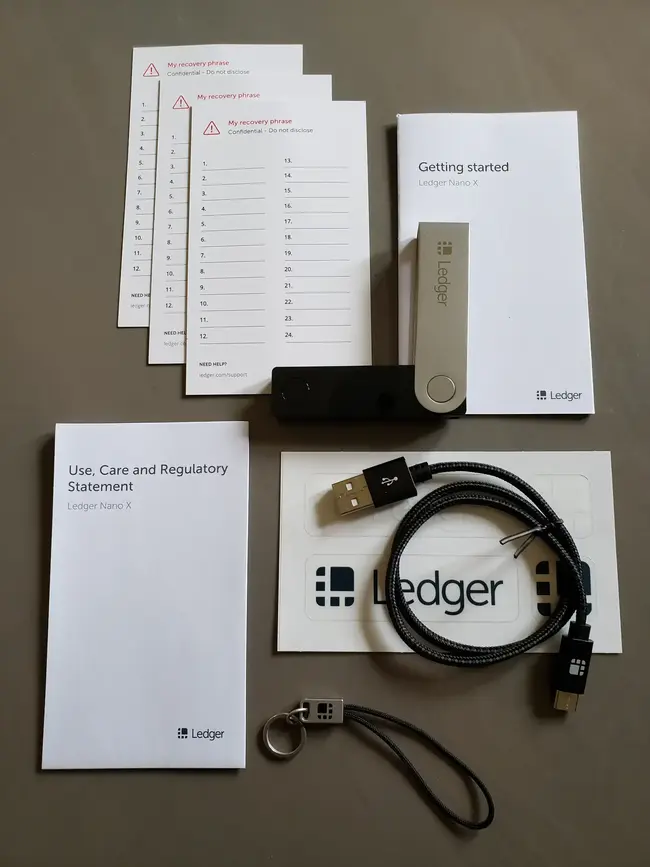 Like the Nano S, the box is shrink-wrapped in plastic and neatly printed with clear branding.
There is no security sticker as the device itself is checked for authenticity each time it pairs with its dedicated software (Ledger Live).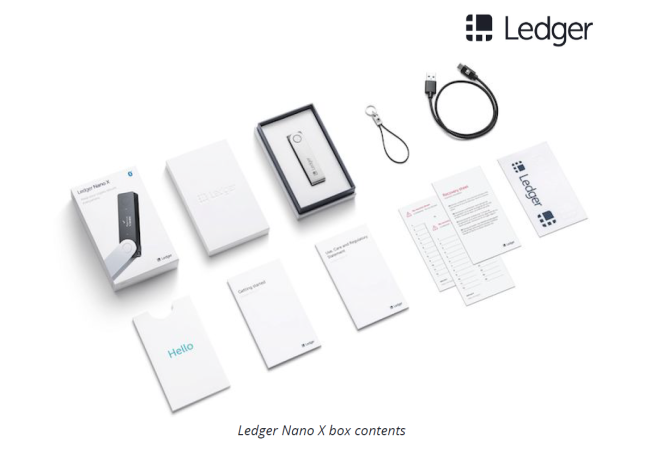 Please note, never buy a hardware wallet device of any kind other than from the manufacturer (Ledger) or an official Ledger reseller, like us (Privacy Pros).
The box contains:
Ledger Nano X
USB-C Cable
Lanyard & Keychain
Ledger Stickers
Backup and Info Cards
The box is a bit more premium, a nice upgrade from the Nano S box.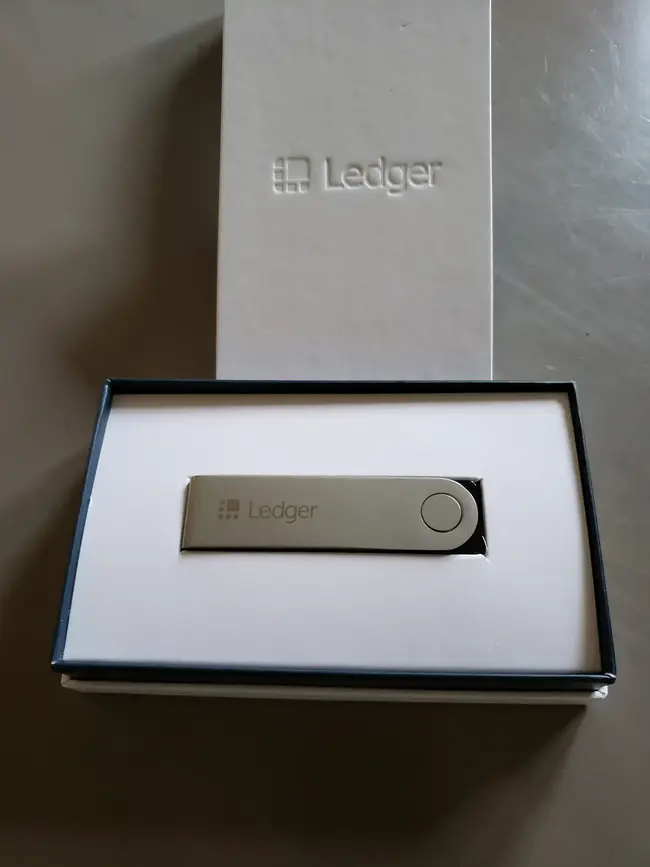 The USB-C cable is shorter and nylon-braided, both of these changes are improvements from what is supplied with the Nano S.
Included with three backup cards for your seed phrase are instructions to proceed to the Ledger website for device setup.
Nano X Construction
The Nano X is the feature-rich big brother of the Nano S.
Both devices feature confirmation buttons, however the Nano X's are more ergonomic. They even produce a softer, more pleasant clicking sound!
These are used exclusively for navigation of the device's screen, for confirmation, and for transaction signing.
The chassis is quite similar to the Nano S, however built with sturdier components and a slightly different button layout. Instead of using your pointer fingers to press buttons, you now use your thumbs.
This makes it much easier to use the buttons, and it's a welcome addition.
The Nano X is also more likely to survive being accidentally sat on if left in a back pocket, for instance.

If it's an industrial-grade, global holocaust level of resilience you are looking for, however, you'll want a Billfodl.
Security
Ledger is at the forefront of developing the industry's device security.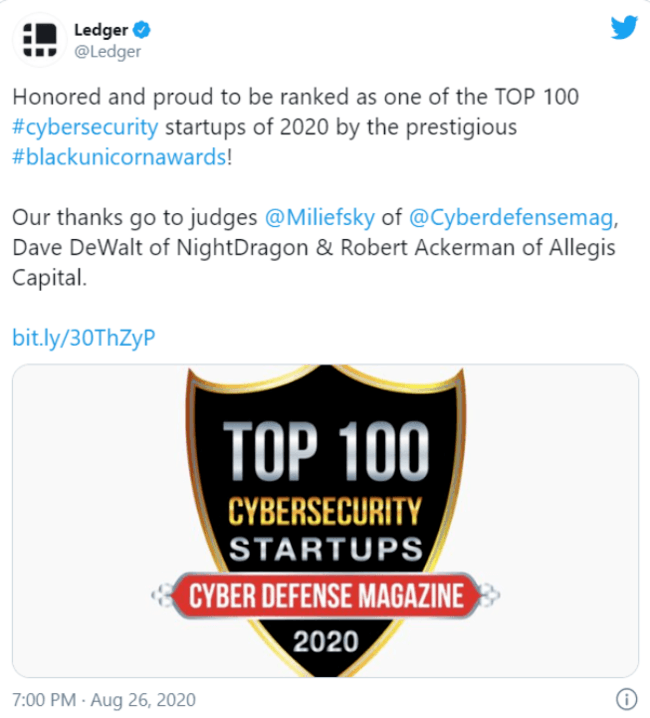 Let's talk about some of them:
CC EAL5+ Secure Element
Only Ledger's devices can claim the French cybersecurity agency ANSSI's full certification.
The Nano X and Nano S both feature what is called a 'secure element'. The chip seen below is the next generation chip that comes in the Nano X: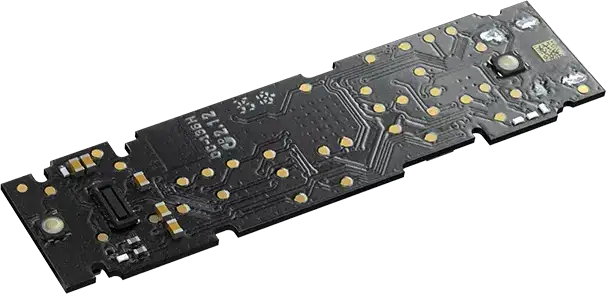 The secure chip meets the CC EAL5+ certification and run's Ledger's proprietary BOLOS operating system.
According to Ledger:
A Secure Element is a secure chip that...embeds intrinsic countermeasures against many known attacks. This kind of chip is tamper-resistant and protects your device to a range of different attacks.

---
This secure chip differentiates the Ledger's method of key storage from its competitors' hardware wallets (with the exception of coldcard).
Setting Up a Nano X
Setting up the Ledger Nano X for the first time is easy. But if you feel uncertain what to do, we have a great guide on the best way to do it.
Read More: Setting Up a Ledger Nano Device
Backing Up Nano X via BIP39 Recovery Seeds
The Nano X allows you to backup your wallet like most other modern wallets - using the BIP39 seed phrase scheme.
This is covered in amazing detail in our wallet backup guide. We also offer tips on other security features the Nano X comes with and how to set them up as well.
Read More: Wallet Backup Guide
If you want to understand how BIP39 backups work on a technical level, we also have an article that explains that and even shows you how to generate your own seed words on paper.
Read More: How BIP39 Words Work
Supported Coins
Ledger's website claims the Nano X supports over 5,500 different coins, but when our team combed through their entire coin support listing page, it ends at around 1,640 coins.
This list is constantly changing. That's why We keep an eye on new coin support and keep an up to date list of all coins that are confirmed to be supported for all hardware wallets on our wallet coin support tool.
There you will be able to see all the coins supported by the Nano X as well as search for specific coins by their name or ticker.
Check it out!
Read More: Nano X Supported Coin Guide
Features We'd Like to See Moving Forward
Here are some of the features we think would be a good for Ledger to add to Nano products in the future.
Touch Screen
While the new, sturdier buttons are nice, the two-button navigation is still not great, and it would be nice if Ledger would re-release their Ledger Blue tablet product so we can use a touch screen and digital keyboard to perform actions on the device.
There is something to be said for the cost savings of not having a touch screen, but we already have that option in the Nano S and Nano S plus.
Having a touch screen like the Trezor Model T would make life a lot easier for users who use their wallet a lot, which is who the Nano X is really designed for.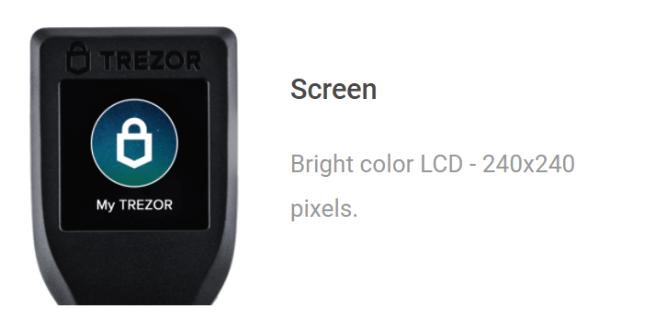 That said, if you plan to move your coins to a hardware wallet and rarely use it after, it probably doesn't matter that much. But then…why buy the Nano X?
PSBT
The biggest feature missing from the Nano X is support for PSBT (or 'Partially Signed Bitcoin Transactions).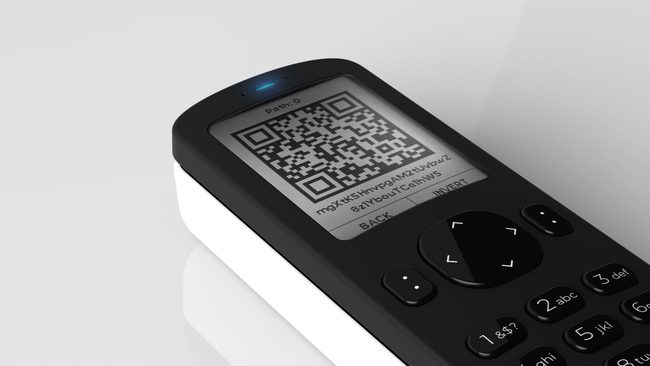 Using PSBT, you can use your wallet to send Bitcoin without connecting the wallet to any computer - whether via Bluetooth or USB cable.
Instead, you use an on-board camera on the wallet to scan a QR code and then sign the transaction that way.
This would make the Nano X more expensive, but again, the Nano X is the flagship Ledger product. This is the product that should have all of the bells and whistles, and its frustrating that the Nano X doesn't have a camera on it like the Passport from Foundation Devices.
Is Ledger a Company I Can Trust?
Of course, all of the features above are nice to have, but if the company making the wallet isn't trustworthy, then they don't matter.
Thankfully, they are. We discussed this at great length in our Nano S Review, where we talked about Ledger as a company and any security issues they've had in the past. You can read about that here:
Read More: Is Ledger Trustworthy?
But TL;DR is Ledger was founded in 2014 as a company that sought to compete with Satoshi Labs and their line of Trezor hardware wallets.
Ledger claims to have sold over 3,000,000 hardware wallets in more than 200 countries as of the time of this writing.

Their leadership is also well-known and the company is very healthy.

Thankfully for us, if for some reason Ledger went out of business tomorrow, your hardware would continue to work. The only issue would be keeping firmware updated since the entire Ledger stack is closed source.
Verdict
The Ledger Nano X is a fine improvement over its predecessor, the Ledger Nano S.
While either are easily seen as high-quality cold storage devices, the Nano X may be more most useful to active traders on the go.
Additionally, the improved buttons, higher resolution display, and Bluetooth connectivity options are nice extras to have if cost is no barrier.
The Nano S is more suitable for the a long-term hodlers who don't actively use it for long periods of time, while the Nano X is better for active traders and power users.
The quality of life improvements of the X come at a premium, but it may be worth it to you, provided you understand the additional potential risks that come with the Bluetooth feature.
Keeping a backup phrase in a medium impervious to flames, floods, crushing or other forms of destruction is the most secure method toward ensuring reliable access to your funds in the case of an emergency.
Pros
User friendly
USB-C cable
Bluetooth Enabled
Improved display
Multi-signature Support
Passphrase support
Cons
Increased Cost
Doesn't validate change addresses on the device itself
Pros
Cons
User friendly
Increased Cost
USB-C cable
Doesn't validate change addresses on the device itself
The Ledger Nano X is definitely an upgrade over the Nano S in almost every way. We have some concerns about the Bluetooth functionality becoming a potential attack surface in the future, however for the time being it seems safe. Nano X is a worthy successfor. Let's just get a full touch screen like the Trezor Model T next time, Ok Ledger?
We give Ledger Nano X a score of 9.2 out of 10!
FAQ
Is the Ledger Nano X Safe?
There have been no known remote hacks of a ledger hardware wallet device. That being said, some have been able to steal funds from a device they have managed to get their hands on. All in all though, the Nano X is very safe by comparison to many other wallets out there.
How Does Ledger Nano X Work?
The Ledger Nano X works similar to how an Air Gapped computer works. The private keys (which give you access to the coins on the blockchain) are held in a chip that never connects to the internet. You use the Nano X to sign transactions that are sent to the device. This ensures your keys are not exposed to any malware or ransomware.
What happens if I lose my Ledger Nano X?
If you lose your Ledger Nano X, it's nothing to fear (most likely). When you set up your Nano X, you were given a 24 word phrase. This allows you to restore your wallet if you ever lose the Nano X or it is destroyed or stolen. If someone finds your nano X, they are unlikely to be able to get your coins unless they are very skilled and have a lot of time before you move your coins to a new wallet.
What if Ledger goes out of business?
If Ledger goes out of business, your coins will still be safe. The wallet works with or without Ledger still being in existence.
Which is better - Trezor or Ledger?
Ledger is more secure if your wallet is found, however the Trezor does not have Bluetooth, which reduces the risk of a remote attack on your device. The Trezor also has more features and a better screen if you do with the Model T.