Disclaimer: this article includes links to products for sale on our store.
In this post we are going to cover: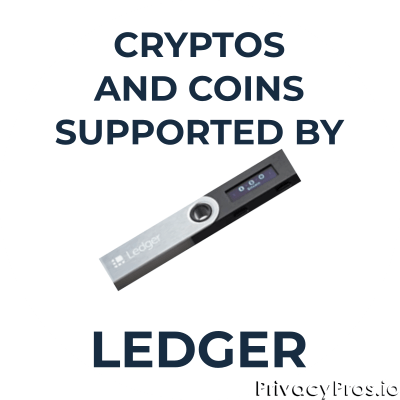 History of Ledger device
Operating systems compatible with Ledger device
Entire list of supported coins
Plus more... Read on to learn everything you need to know about what cryptocurrencies and coins Ledger Nano S and Nano X support.
The more people invest in crypto, the more important it becomes to have a safe way to store your coins.
With so many wallets currently on the market, picking the right one to suit your needs can be tricky. The sheer supply of wallets on the market can make potential wallet users indecisive.
One reason picking the right wallet is hard is knowing what coins it supports.
This article is written to help you make the right choice in what cryptocurrency wallet to pick.
Ledger was launched in 2014 by eight experts in the field of cryptocurrency and security.
Ledger is one of the two most popular hardware wallet companies, along with TREZOR. Even though there are more companies offering hardware wallets, these two came out on top due to what they offer in terms of hardware, features, and pricing.
At the moment, Ledger offers two types of hardware wallets:
Ledger Nano S: their first hardware device, small and secure.
Ledger Nano X: their upgraded version of the Nano S, more features and a bigger body; Bluetooth capability.
All of these devices are powered by software called Ledger Live, which is essentially its main wallet. The company currently has over 100 resellers and has sold over 1,500,000 ledger wallets.
Operating Systems and Other Devices Compatible with Ledger
Android

iOS

OS X

Windows

Linux

Trezor
Digital Assets Supported by Ledger Devices
All of the Ledger devices are multicurrency wallets. However, they differ slightly in which cryptocurrencies they support. While Ledger Nano S and Nano X offer support to almost the exact same cryptocurrencies (only exception: The Validator - Nano S supports, while Nano X does not), Ledger Blue offers fewer options in terms of the cryptocurrencies it supports.
Ledger Live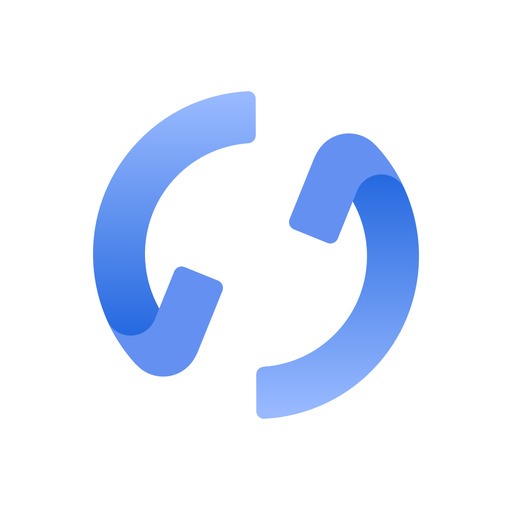 Ledger Live application natively supports only 22 cryptocurrencies. However, Ledger devices offer support to far more cryptocurrencies by utilizing and integrating other wallets.
Ledger Live is also used for installing third-party applications that offer support to other cryptocurrencies. Smaller and less popular cryptocurrencies, as well as ERC20 tokens (coins built on the Ethereum platform that are used mainly for ICO purposes) need to have their dedicated wallet integrated with the Ledger in order to send or receive them. Ledger supports these cryptocurrencies mostly by integrating MyEtherWalletand MyCryptoWallet (beware of phishing scams with both of these sites!!!)
Ledger supports cryptocurrencies such as:
Bitcoin
XRP
Ethereum
Bitcoin Cash
EOS
Stellar
Litecoin
Tether
Tron
Cardano
IOTA
Binance coin
Monero
Dash
Neo
And over 1000 more!
In total, Ledger offers support to over 1150 cryptocurrencies. This makes it a true multicurrency wallet.
This chart lays out some of the differences for the 3 units and includes which are supported natively through Ledger Live.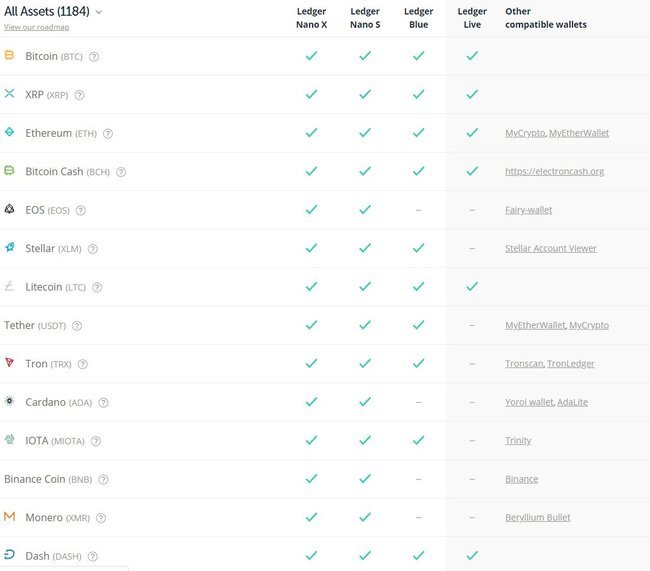 See Entire List of Supported Coins
Ethereum and ERC20 Token Support
Ledger offers native support to Ethereum, but most ERC20 tokens are supported through the integration of third-party wallets. The wallet that the majority of users use for integrating ERC20 tokens is MyEtherWallet, or MEW for short. As mentioned above, other people use MyCrypto as a competing platform. You should try both to decide which you like better.
ERC20 tokens are cryptocurrencies made on the Ethereum protocol. These tokens have to follow the ERC20 rules in order to be compatible with the protocol. In order to send any ERC20 token to another wallet, the sender has to hold enough Ether to cover the transaction fees. Transaction fees depend on the complexity of the transaction and is called Gas.
Back-ups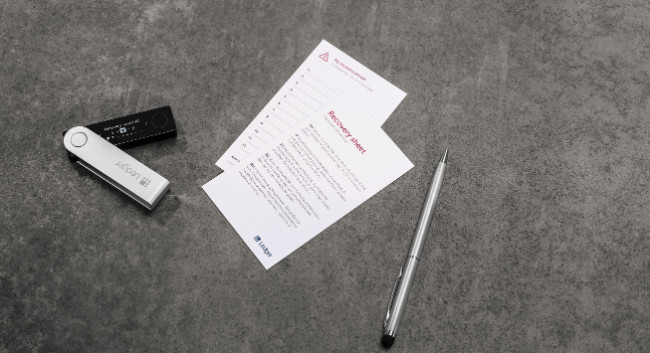 Ledger allows users to backup their wallets using a 24 word seed (mnemonic) phrase. Ledger rightfully warns, "The 24-word recovery phrase is the only backup of (your) private keys….Keep your Recovery sheet physically secure to make sure you can't lose or destroy it by accident…"
Most users write down their 24 word phrase on a piece of paper, but paper is at risk of burning up if your house catches on fire or disintegrating in a flood. The Billfodl is designed to protect your backup from these threats by allowing you to store your recovery phrase in a metal unit made of marine grade 316 stainless-steel. Check out Billfodl if you hold more than a few hundred dollars of wealth in crypto.
Conclusion
Ledger devices are known to be safe and secure, as well as sturdy and modern. Each and every cryptocurrency investor should invest in one of the hardware wallet options offered to the public. Whether it will be Ledger, TREZOR or any other company, mainly depends on the personal preference of the buyer themselves. Ledger is considered one of the two best hardware wallet manufacturers for a reason. The features it offers at the price tag it offers are great. Users will get maximum safety and the ability to diversify into over 1150 cryptocurrencies that this wallet supports.