Disclaimer: this article includes links to products for sale on our store.
In this post we are going to cover: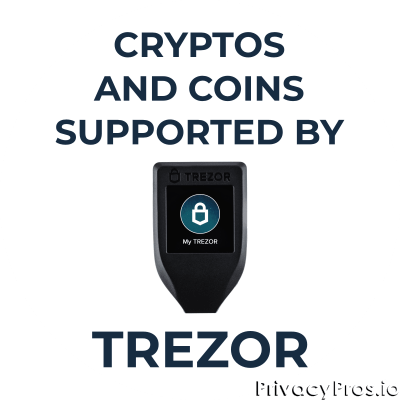 History of Trezor device
Operating systems compatible with Trezor device
Entire list of supported coins
Plus more... Read on to learn everything you need to know about what cryptocurrencies and coins Trezor One and Model T support.
Trezor was created by Satoshi Labs in 2012.
The company is responsible for several well-known Bitcoin projects including Slush Pool (a Bitcoin mining pool), CoinMap (map of establishments that accept Bitcoin) and, of course, Trezor.
At the moment, Trezor offers two devices offering (mostly) the same coin support:
Coins Supported by Trezor Devices
Trezor offers support to an array of coins from a multitude of different standards and protocols, including ERC20, Bitcoin, and others.

ERC20 Support
Trezor hardware wallets are unique in that they are the only hardware wallet offering native support to all ERC20 tokens.
Because it natively supports all ERC20 tokens, there is no need for integration of MyEtherWallet or MyCryptoWallet into Trezor wallet.
Even though this feature may sound insignificant to some, adds even more security than other hardware wallets can and prevents the hassle of using a third party integration to secure your tokens.
As a bit of background: ERC20 tokens are cryptocurrencies made on the Ethereum protocol.
To be ERC20 compliant, you have to follow the ERC20 protocol standards.
Sending any amount of ERC20 tokens to another wallet requires the sender to have enough Ether in the Wallet to cover the transaction fees. The transaction fee depends on the complexity of the transaction. This transaction fee is called "Gas".
Other Coins Support by Trezor Devices
Besides the ERC20 tokens, Trezor offers support to all major cryptocurrencies, including:
Bitcoin
XRP
Bitcoin Cash
EOS
Stellar
Litecoin
Tether
Tron
Cardano
IOTA
Binance coin
Monero
Dash
Neo
And over 1000 more!
See Entire List of Supported Coins
Even though offering support to more than one cryptocurrency grants companies the right to call their wallets "multi-currency", Trezor shows the true meaning of the word.
Differences Between Trezor Devices
No matter what Trezor device an investor is using, Trezor offers support to over 1000 cryptocurrencies.
Both Trezor devices are considered multicurrency wallets. Even though both Trezor devices support an enormous amount of cryptocurrencies, they differ in just a handful of coins.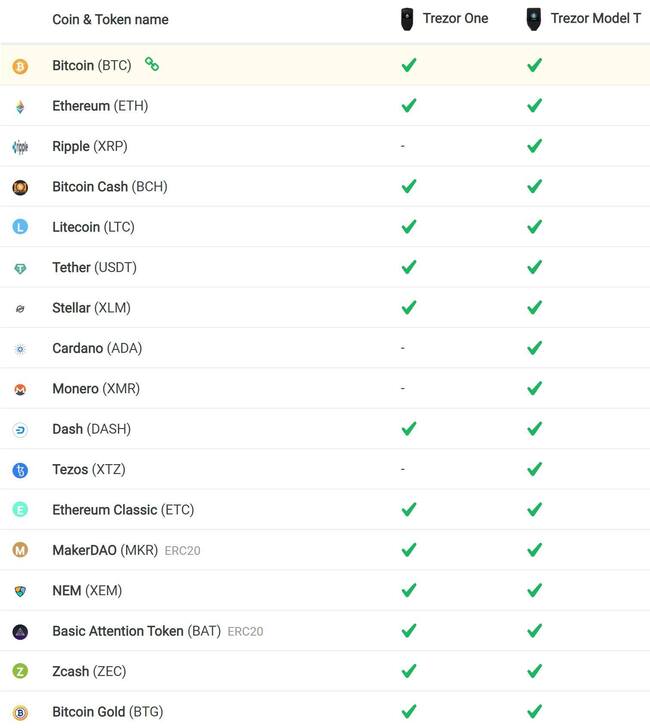 See Entire List of Supported Coins
Trezor One device does not support:
Ripple (XRP)
Cardano
Monero
Zencash
On the other hand, Trezor Model Tdoes not support:
Conclusion
Don't compare Trezor to any software wallet on your smartphone; the differences between the two are enormous.
Hardware wallets are the safest and most secure forms of storage possible, while also being easy to use. Trezor has earned its place in the top of the hardware wallet industry.
There is no denying that every cryptocurrency investor should have a hardware wallet in order to protect their investments the best they can. The devices offered by Satoshi Labs and Trezor have some amazing features at affordable prices.
With that being said, every choice comes down to personal preference, which will ultimately decide which device they will pick.
If you already own a Trezor, maybe you want to take your security up a notch! Learn how to set up Passphrase protection on your Trezor here!