Disclaimer: this article includes links to products for sale on our store.
In this post we are going to cover: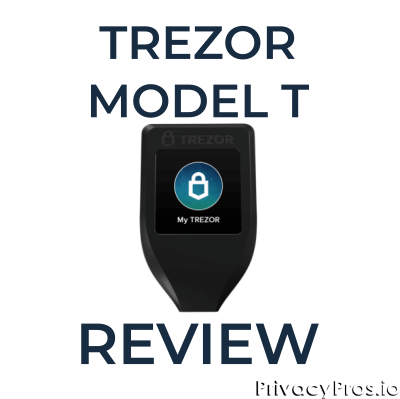 Technical specifications of Trezor Model T
What Trezor Model T box contains
Trezor Model T functionality
Set extra-security on Trezor Model T
Plus more... Read on to learn everything you need to know about Trezor Model T.
Curious about the Trezor Model T?
Wondering if its safer than the Trezor One?
Then you're in luck…
We will cover everything you need to know about the Trezor Model T in this exhaustive review!
We put the Trezor Model T to the ultimate test to see if Satoshi Labs' second hardware wallet can justify the $100 premium over the Trezor One and competing hardware wallets from Ledger.
Pros
Passphrase Support
Affordable
Open-Source
Color Touchscreen
Quick & Easy Setup
Multisig Support
Cons
Multi-Sig Only Supported Via Electrum
No Validation of Change Address
Pros
Cons
Passphrase Support
Multi-Sig Only Supported Via Electrum
Affordable
No Validation of Change Address
Who Should Buy a Trezor Model T?
Crypto investors who value a good reputation & security
Crypto investors who want multi-currency support
Crypto investors who want a wallet with a touch screen
Why Buy a Hardware Wallet?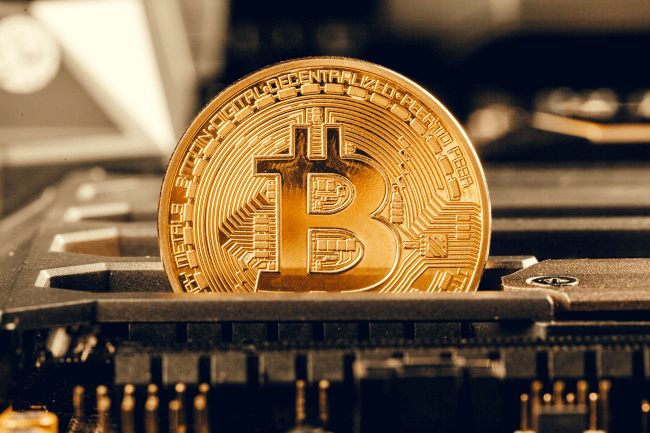 To keep your private keys secure, they need to be kept in cold storage. What is cold storage? It's a method to keep your keys from ever coming into contact with the internet where they can be easily (and remotely) compromised.
Info: Hardware wallets are for everyone from the absolute beginner all the way up to the most advanced users, they are essential for everyone who wants to self-custody their own coins.
In the past many had used paper wallets to cold store their funds, or worse: with hot wallets which are continually at risk.
With the introduction of hardware wallets, cold storage became a simple and straightforward way to use this best practice.
Background
The name Trezor comes from the Czeck language and means "safe" or "strongbox".
Trezor is the product enterprise built on the work of SatoshiLabs, the inventors of pooled Bitcoin mining and the deterministic wallet generation method BIP39.
Trezor's first hardware wallet was prototyped in 2012 and their first product (the Trezor One) saw the light of day in 2014. The Model T, a higher-end device was released in 2019.
Model T Basics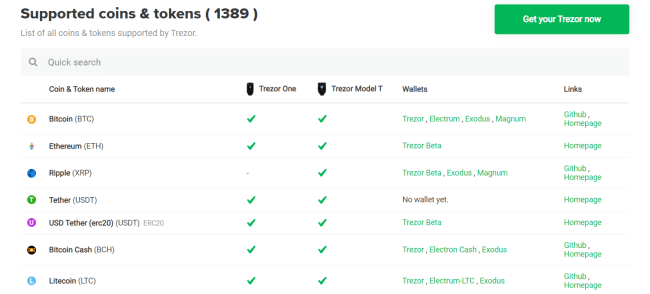 Using the Hierarchical Deterministic (HD) key creation and transfer protocol (BIP32), the Model T supports storage of over 1000 cryptocurrencies. It is the successor to the Trezor One and expands the feature set and interface of that device for a more luxurious experience.
The differences in price and functionality between the Trezor One and Model T are fairly on par with those between the Ledger Nano S and Nano X.
Price
The Model T is currently $159 USD and includes free shipping inside the United States. It is priced to compete with the Nano X in addition to its feature set.
Take a look at how the Model T stacks up against other hardware wallets:
Comparison with Competitors
While similar to many hardware wallet devices' functionality the Model T differentiates itself in three specific ways.
Firstly, there is a slot for an SD card which makes it the only competitor to the ColdCard for this feature. This is included to support upcoming data and file encryption, an interesting angle to be sure.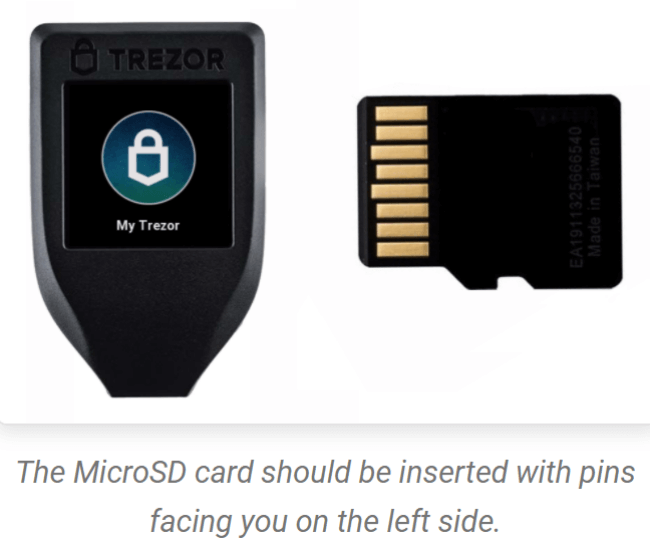 Secondly, there is its ability to use the Shamir's Secret Sharing method of splitting keys to keep them secure.

Lastly is the full-color touchscreen.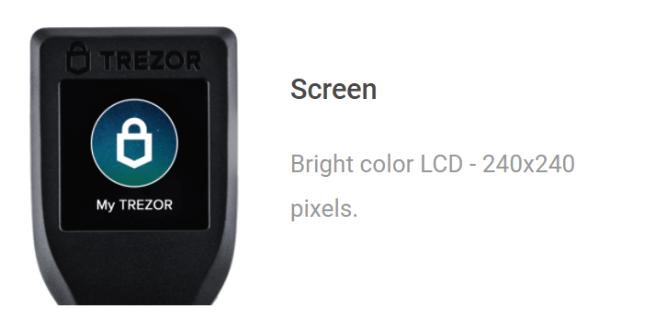 The Model T is quite similar to the Ledger Nano X in that it is both a good introductory device for newcomers as well as advanced users. However, it seems Trezor avoided incorporating Bluetooth connectivity to limit the attack surface.
Bluetooth has said by some to be a security issue. Despite Ledger's response to those comments, it is up to you to determine if convenience is worth the extra risk.
Opening the Box
Prior to setting up and using a hardware wallet, it's important to note the possible risks that someone could take to create a backdoor prior to it reaching you.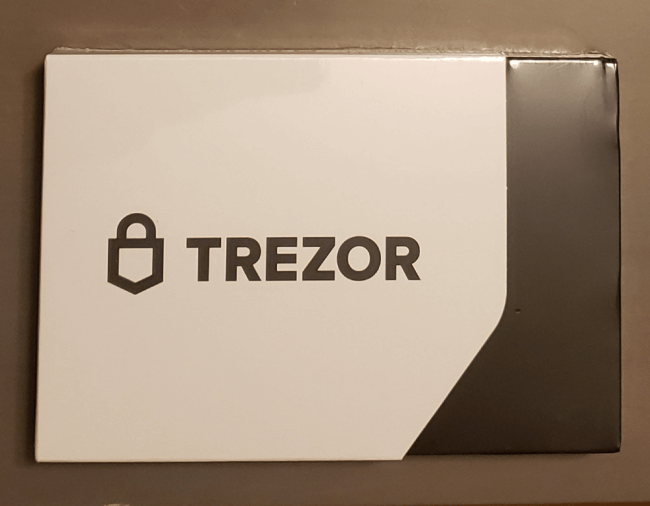 The Model T packaging consists of a black cardboard box that is magnetically held closed.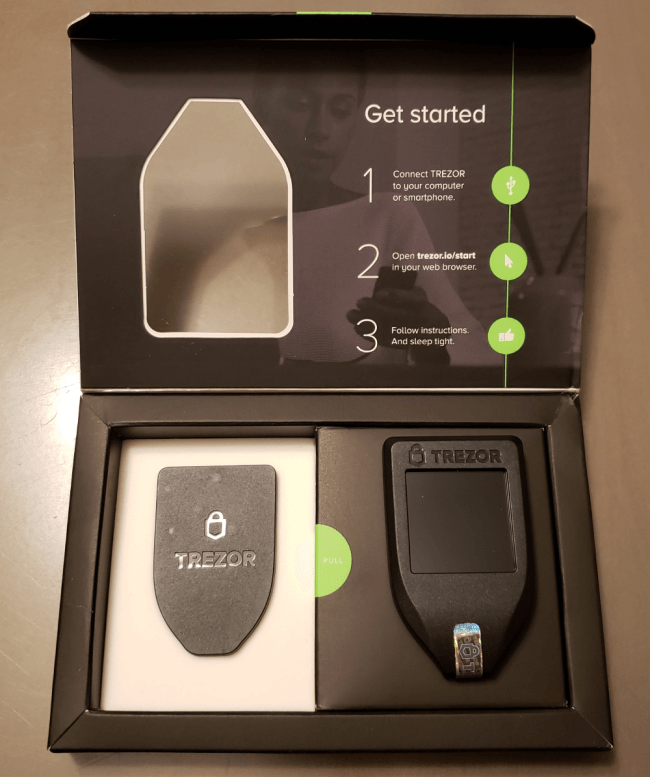 This main box is covered by a white, partial outer sleeve and has a serial number and other information.

Also inside the box is a handy magnetic device holder which has sticker backing so you can choose to mount the device somewhere near your computer or out of the way to avoid misplacing it. It also keeps the Model T nicely secured within the packaging if you choose to keep that to store it in.
A lot of time and care has been put into the package design and Trezor even invites you to review its history.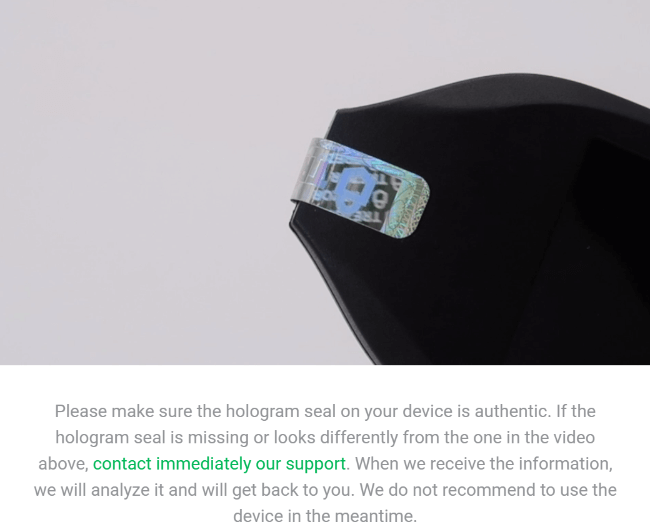 In contrast to the Trezor One, there is no security sticker on the outer packaging.
Instead, the Model T has a security hologram sticker covering the USB-C input on the device itself.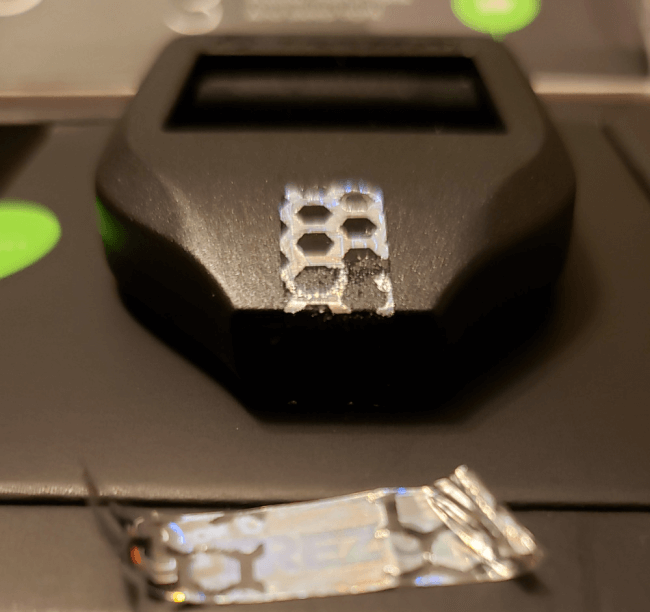 Options like this show the enormous thought that has gone into the overall presentation and speak to a level of quality and desire to serve the consumer.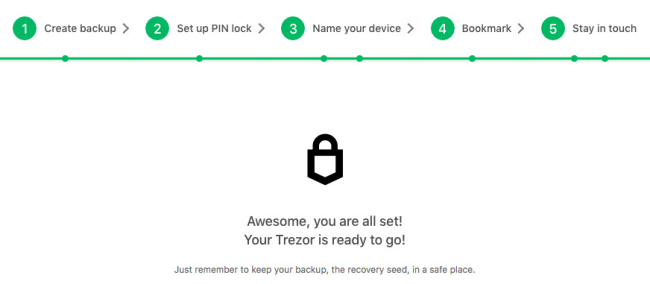 This ensures the device has arrived safely and is the first thing you encounter on the setup webpage: https://trezor.io/start/
The box contains: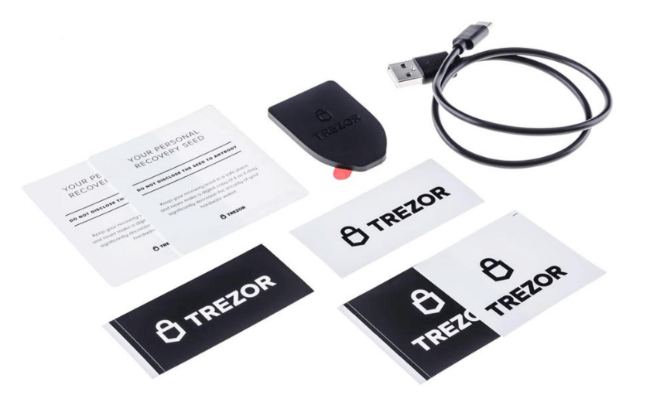 Trezor Model T Device
USB-C Cable (with Trezor Branding)
Lanyard, Keychain & Stickers
Seed Backup Cards and Device Information
Device Description
The Model T is slightly larger than the Trezor One, lacks any external buttons and retains the same ergonomic shape. The key difference is the screen size and its color display.

The outer casing is entirely made of plastic and are not well-suited for use outside of your immediate computer environment at home. This is reinforced by the deliberate lack of Bluetooth functionality as well.
Trezor Model T
---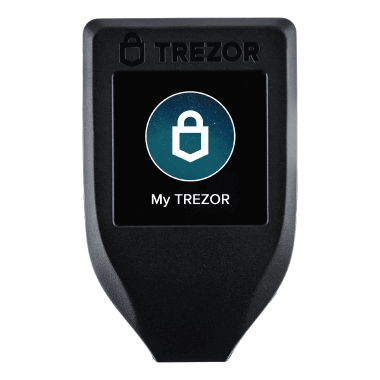 Compatibility
64-bits desktop computer (Windows 8+, macOS 10.8+, Linux)
Battery
No battery required
TREZOR ONE
---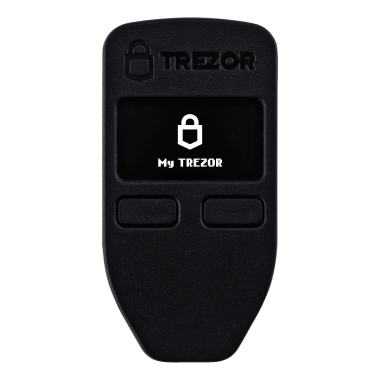 Compatibility
64-bits desktop computer (Windows 8+, macOS 10.8+, Linux)
Connector
USB Type Micro-B
Battery
No battery required
The Model T also uses a USB-C connection which is easier to use although upon the first attempt was difficult to insert and seemed as if it might break. After a number of connections this issue disappeared, however.
Security & Design
Our aim is to understand & deliver secure and easy-to-use solutions to real problems.

---
Trezor, and its parent entity SatoshiLabs are pioneers in the development of cold storage wallets. Having developed key BIPs and the first prototypes for commercial hardware, the Model T draws on a legacy of impeccable reputation and skill.
This is reflected in their website as well, which includes a history of past security issues and related Github activity.
PIN Protection
The first layer of security for your wallet is the device PIN, which you set up first.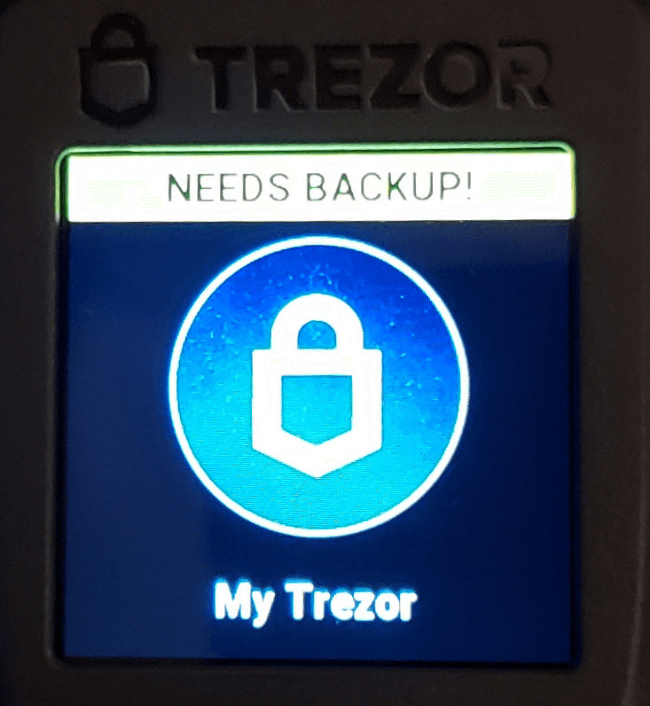 The display shows a shuffled 9x9 grid of digits 0-9 each time you are prompted to unlock the device. It's strongly encouraged that you use the full 9 digits possible to lock the device.
The PIN is entered directly on the Model T touchscreen, which is likely preferred by most. On the other hand, it could be said that the button size is a bit small and possibly a source of frustration for those with larger fingertips.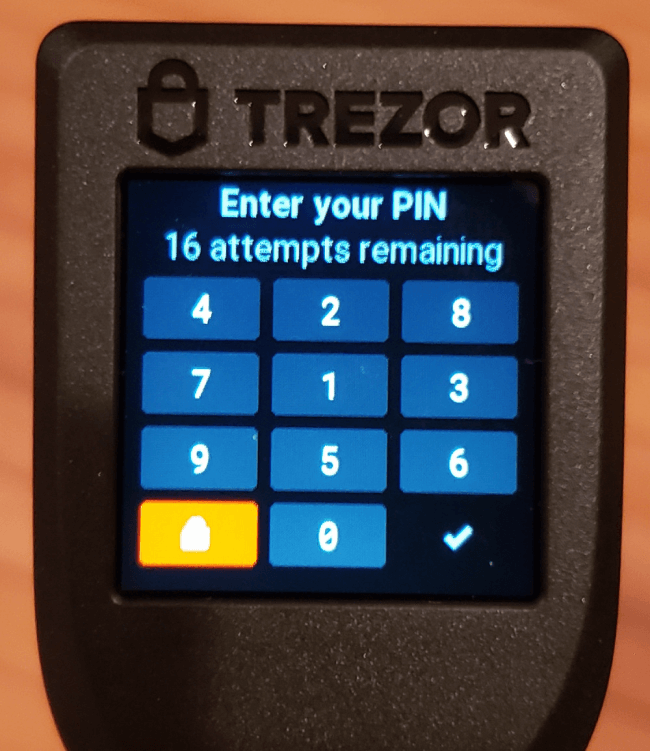 The result of an incorrect PIN being input is a 2-second delay which doubles on each attempt to prevent your PIN being brute forced.
You are given 16 attempts to log in when the incorrect number is submitted, which is an augmentation of the method used by the Trezor One. After 16 attempts, the device wipes itself.
The device curiously remains unlocked until you disconnect it but there is a single-click "forget device" button as well.
Recovery Seed Words
Prior to developing hardware wallets, SatoshiLabs introduced the 24-word seed phrase (BIP32 HD wallet) backup method. The Model T is the second iteration of their work on hardware wallets.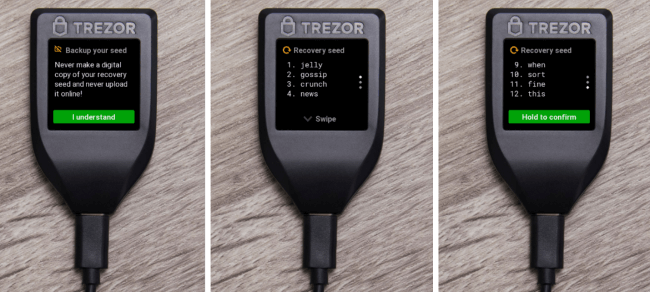 Having secured the physical device itself with a PIN and named your device, you are now directed to either create a new wallet or import one from a backed-up seed phrase.
Once the seed phrase has been created, you must confirm them on the device directly.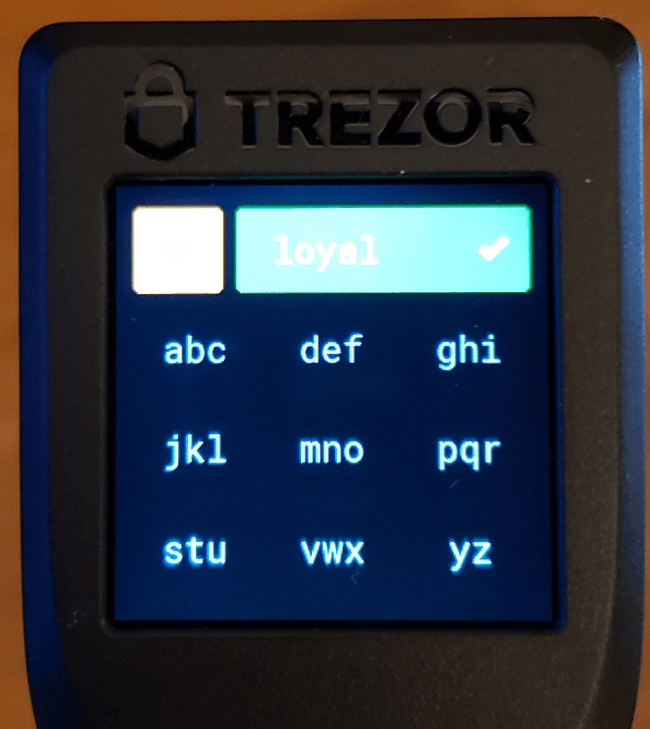 Wallets became much easier to use after the introduction of the seed phrase backup method in BIP39. Check out our blog entry on this development in-depth.
Using recognizable words is a greatly simplified method of managing backup information as cryptographic numbers are not really intended to be directly handled by human eyes. This makes storage, backup and recovery of wallets much more straightforward which is important in successful self-custody.
Warning: Remember: The burden of keeping these recovery words is your responsibility!
Restoring your wallet after you lose or destroy your Model T is easy with the use of the recovery words.
How you secure these words is the real test of the seed phrase method's value.
Using a Billfodl to one-up a paper backup is another easy step to take in keeping your bitcoin safe.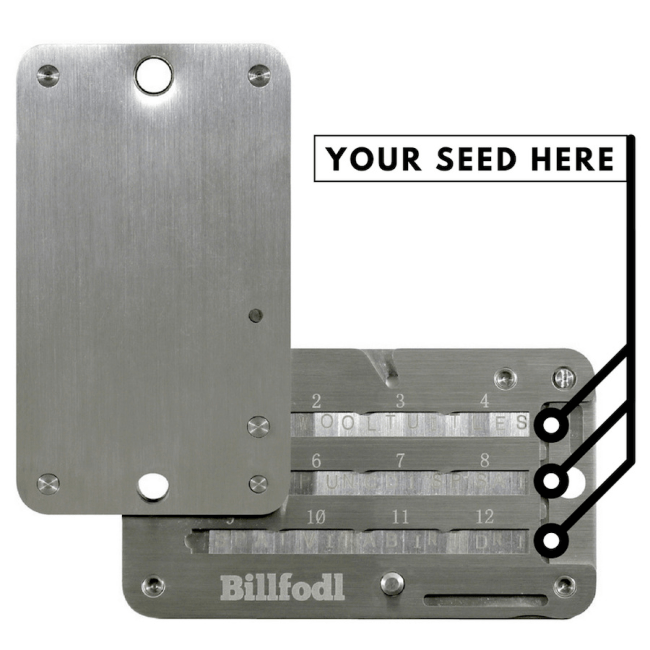 Don't be the one to lose $1,000,000 in Bitcoin after a fire or flood renders your backup phrase illegible. Remeber: your safest bet is in storing them on metal — not on paper!
Passphrase Support
The Model T has the ability to incorporate the "25th seed word". Known officially as the passphrase, the user can use it to add an additional word to the 24 backup words.
Here are some reasons to use one:
1. It will add extra security over the recovery phrase in the event someone finds your 24 seed word backup.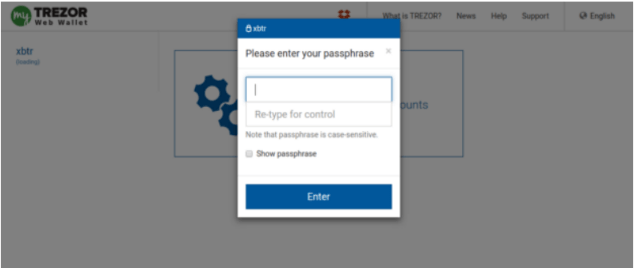 It's essential to know that anyone with these specific 24 words will have the ability to restore your wallet and move the funds. Adding another word of your own choice effectively puts a password on the seed phrase!
2. To implement a "dummy account" on the device which holds a smaller amount of funds. Using this creates plausible deniability against the "$5 Wrench Attack".
How a $5 wrench attack works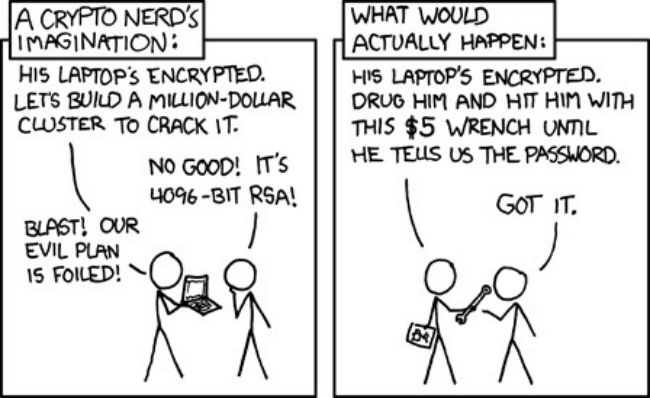 The attackers are more likely to leave if they only steal your dummy account. Ending the the attack as quickly as possible while also keeping the majority of your funds in your possession is the objective here.
Multi-signature Security
To take your security to a new level, the Model T allows you to set up a multi-signature scenario where your signing is split between devices.
This enables a wallet to benefit from being geographically distributed, making a deliberate theft much less obtainable. Funds simply cannot be moved without possession of all the required devices.
Info: Currently you may only set this up in coordination with the Electrum wallet. There is much flexibility, however, as you can choose to use multiple Trezor devices in varying combinations to sign transactions.
Adding functionality to do so exclusively with the Trezor wallet/hardware combination is currently in development.
Shamir's Sharing Secret Backup
One extremely unique function that only the Model T can claim is to create Shamir's secret backups for your wallet's seed phrase.
Through this method, the backup phrase can be split into "shares" which are then secured in different locations. This is similar to the multi-signature function as it declassifies your backup phrase from being a "honeypot" which can be stolen.
Password Manager & SD Card
Another feature exclusive to the Model T is the SD card slot.
While this currently does not support any functionality, it will eventually allow you to store and encrypt passwords with your Trezor device, using their browser plugin.

The card will replace the current integration with Google Drive and DropBox, enabling your backups to be held on your own instead of a centralized server.
The Trezor website notes "the card will not store your recovery seed or any private keys derived from it."
Device Setup & Activation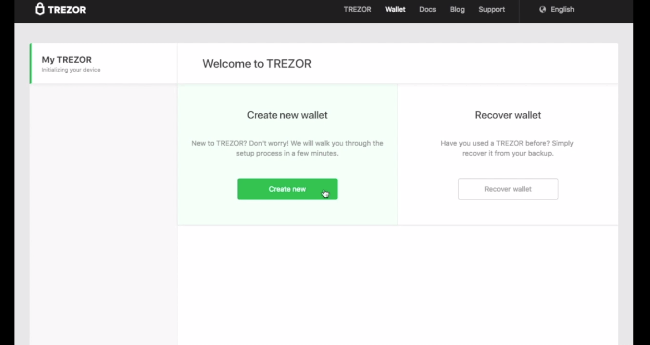 Using a subdomain of the main Trezor website, Trezor wallets are accessed by pairing your browser with the Trezor-bridge.
This is a good compromise between Ledger's dedicated software application (Ledger Live) and the KeepKey's extension-only method (or integration with an account on the Shapeshift website).
Bitcoin-only firmware for the Trezor devices was also recently announced.
Whether you're setting up a new wallet or restoring from backup,a Billfodl will protect your seed wards against all possible forms of catastrophe. Remember, stainless steel retains undisputed advantages over paper as it is designed to last.
Main Wallet Interface
Security and functionality are of key importance, but that doesn't rule out any reason to provide additional customizations for a device. As hardware wallets go, Trezor is clearly in the lead when it comes to optimizations and settings.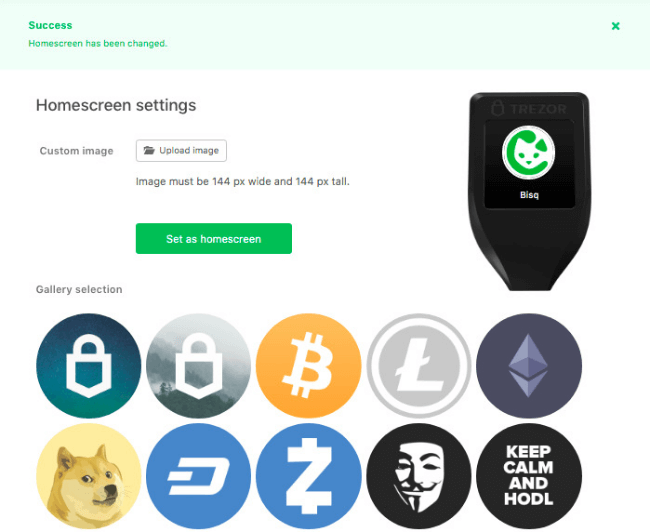 Accounts can be renamed, notes and labels saved with DropBox integration and custom home screens are or even designing your own image the home screen image are available options.
Also there are useful links above the wallet which lead you to the staggering amount of information on the Trezor website and blog. Support service can be requested here as well.
Info: Most notable is the massive Trezor Wiki's user, security, developer, business and general knowledge base. Each element is designed to be most useful in relation to your Trezor devices or the company.
Even for those that don't own any Trezor devices, the educational resource here is useful and easy to navigate.
Exchange
The wallet interface includes a tab for directly trading Bitcoin for other cryptocurrencies from an exchange.
The trading takes the form of the "swap" styled interface more than a full-fledged trading environment with price charts, limit orders, etc.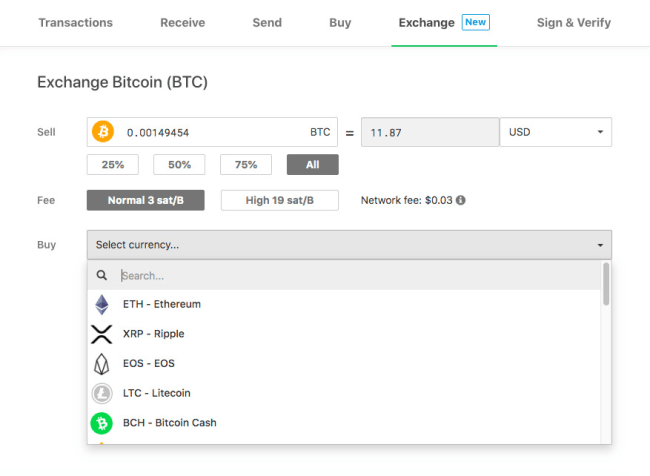 While the trades can be somewhat fine-tuned by amount and transaction fee size they are more or less dependent upon whatever the available exchanges are willing to offer.
In every instance during the evaluation of these, Changelly and CoinSwitch were the only third parties which had available offers so this feature seems fairly limited in scope.
Advice: While this is convient, we have had several users' complains about the on board exchange feature. We recommend you use your trusted exchange in order to facilitate trades.
Wallets & Accounts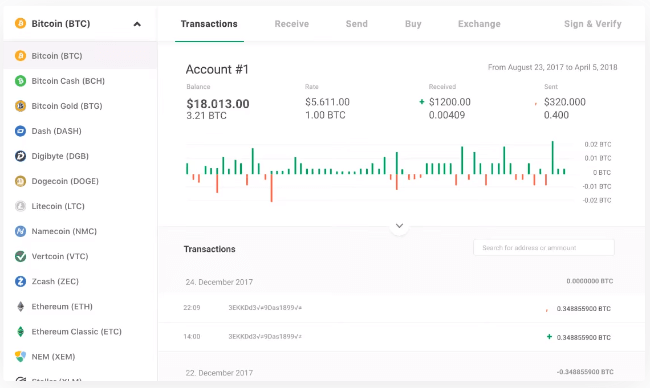 The Trezor wallet is organized by device, account and address. The visual layout is appealing and highly functional.
Users can create new or import pre-Segwit accounts here or choose a custom server. The wallet can display holdings in any of 32 currently supported fiat countervalues as well.
Transactions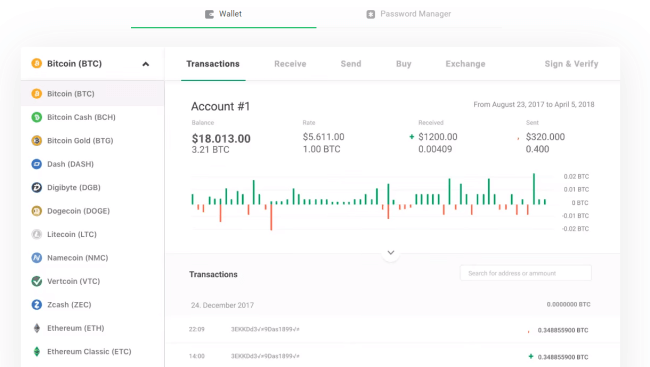 Unlike other competing devices, the Model T will happily generate new receiving addresses as much as you like. This is important to ensure you don't reuse an address, which is bad for your privacy and the network overall.
A new receiving address is visually confirmed on the device after you create it within the wallet. You also have the option to generate a QR code which is displayed both on the device itself as well as the wallet view in your browser.
Transaction bundling is also available.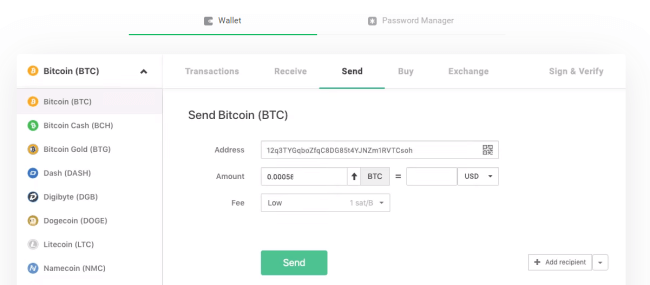 The flexibility over how your transaction is constructed is also quite remarkable. Not only is it possible to choose from a range of priorities, specific sat/byte ratios can be defined by the user.
Each selection gives an estimated time to confirmation based on the state of the mempool at that time.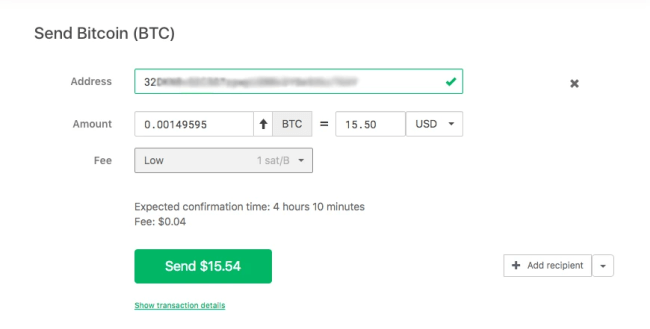 Lastly, signing and verifying messages is possible within the Trezor wallet. The Model T stands out in this regard as a highly capable product when compared to the Ledger and KeepKey devices.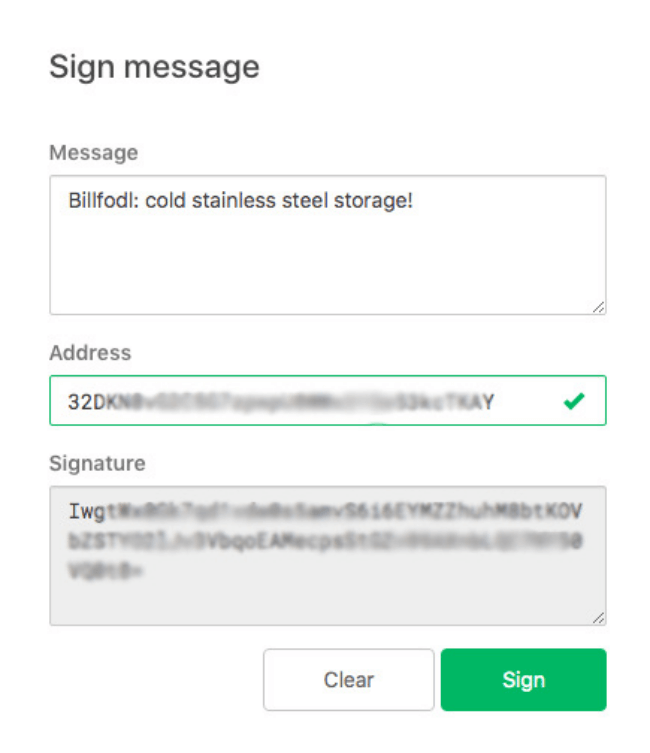 Account Balance & History

Each account's history can be exported in CSV or PDF formats and indicate the date, time, transaction ID and type, address, value, transaction total and balance.
These are account-specific instead of combining each account into a single report.
Supported Coins

The Model T natively supports a dizzying array of coins, over 1,000 in fact. While easily besting the KeepKey, you'll have to scrutinize this page to see how well it stacks up compared to Ledger's wallets and contrasts to the Trezor One.
Also found here are which 3rd-party wallets can be connected to. The layout and ease of use on this page are unmatched.
In addition to Bitcoin, the Model T also supports:
Bitcoin Cash
Ethereum
Litecoin
Tether (USDT)
Stellar
DASH
Over 1,000 more
Hardware & Operating System Compatibility
Trezor's Model T can be used with the most popular operating systems, namely Linux, OSX and Windows.
Android

OS X

Windows

Linux
The Screen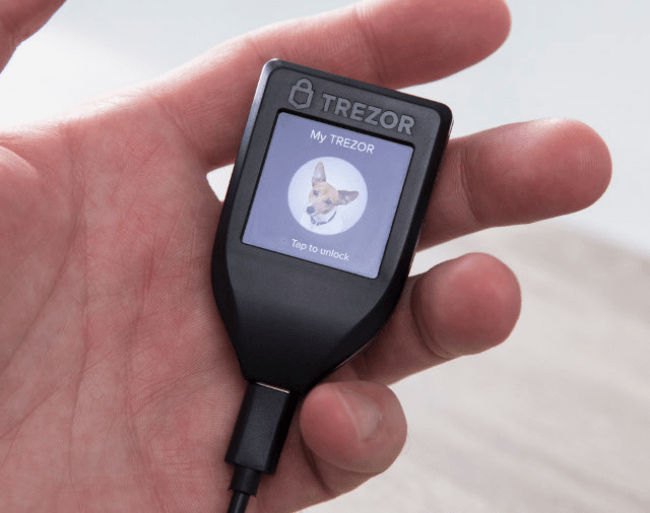 Without a screen, a hardware wallet is utterly useless. This is because to properly manage keys and sign transactions offline, you an additional interface (the screen) that is not connected to the internet is required.
Verifying your address in this way is a great way to ensure your transaction is being completed as you intend it to.
The Model T wins out over the KeepKey's, the Nano S and Nano X due to its size, the color display and touchscreen capability.
Using the Trezor Model T Privately
Another high-security option that the Model T allows for is as a strictly signing device. When used in combination with your own node (where your transaction is created), you can more finely control the parameters to optimize anonymity.
While you can also sign transactions created with the Electrum Personal Server,there are potential security leaks in doing so.
Summary
The Trezor Model T is a remarkable step up from the already excellent Trezor One. While priced significantly higher, the inclusion of several other types of functionality and upcoming features justify the increase and make this choice a no-brainer for intermediate and advanced bitcoiners.
With the great reputation of SatoshiLabs behind the Trezor brand, their incredibly information-rich website and wiki (which invite users to indulge self-education) and a well-designed wallet interface, there simply isn't a better device.
By adding a Billfodl to compliment your Model T, you'll have gone miles beyond those that store their funds on an exchange. With both your recovery seed words and signing rights on lockdown, you'll sleep easy at night and HODL peacefully through the day.
Pros
Passphrase Support
Affordable
Open-Source
Color Touchscreen
Quick & Easy Setup
Multisig Support
Cons
Multi-Sig Only Supported Via Electrum
No Validation of Change Address
Pros
Cons
Passphrase Support
Multi-Sig Only Supported Via Electrum
Affordable
No Validation of Change Address
Rating: 8.8/10
The Trezor Model T is a massive upgrade over its predecessor, the Trezor One. Whethor its the improved color touch screen or the stellar navigation, we can't recommend this wallet enough.
The price may be a sticking point for some (at $159, it isn't cheap), but I think most will find the extra expense worth the cost of entry. This wallet is such a joy to use, and I think every crypto hodler owes it to themselves to use the best when it comes to storing his or her coins safely
We give the Trezor Model T a score of 8.8 out of 10!
FAQ
Is Trezor Model T safe?
If a very motivated and highly skilled attacker were to physically get hold of your Trezor Model T, your coins may not be safe. However, this attack has never been performed outside of a laboratory, so the threat is remote. In almost all cases, a Trezor Model T will keep your coins very safe.
Is it safe to buy trezor on amazon?
It is generally best practice to only buy trezor devices from trezor or their authorized resellers. When you buy from Amazon, you don't actually know who you are buying from, and you could receive a tampered with Trezor with backdoors into the device to steal your coins.
What happens if you lose your Trezor?
If you lose your Trezor, there is nothing to fear (most likely). When you set up your Trezor, you were given a 24 word phrase. This allows you to restore your wallet if you ever lose the Trezor or it is destroyed or stolen. If someone finds your Trezor, they are unlikely to be able to get your coins unless they are very skilled and have a lot of time before you move your coins to a new wallet.
Which is better - Trezor or Ledger?
Ledger is more secure if your wallet is found, however the Trezor does not have Bluetooth, which reduces the risk of a remote attack on your device. The Trezor also has more features and a better screen if you do with the Model T.