Disclaimer: this article includes links to products for sale on our store.
In this post we are going to cover: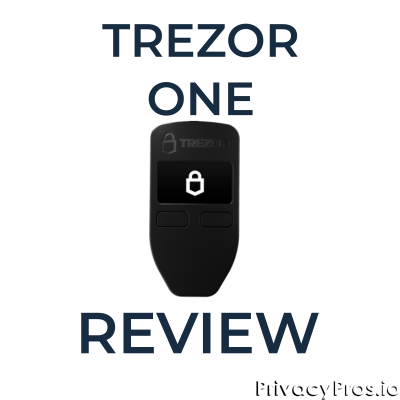 Technical specifications of Trezor One
What Trezor One box contains
Price of Trezor One
How to setup and activate Trezor One
Plus more... Read on to learn everything you need to know about Trezor Model One.
Curious about the Trezor One?
Wondering if will keep your crypto safe?
Then you're in luck…
We will cover everything you need to know about the Trezor One in this exhaustive review!
We put the Trezor One to the ultimate test to see if the very first hardware wallet can still live up to its name.
Pros
Passphrase Support
Affordable
Open-Source
Feature-rich Interface
Quick & Easy Setup
Multisig Support
Device Time-Out
Cons
Multi-Sig Only Supported Via Electrum
No Validation of Change Address on the Device
Black and White screen
Pros
Cons
Passphrase Support
Multi-Sig Only Supported Via Electrum
Affordable
No Validation of Change Address on the Device
Open-Source
Black and White screen
Who Should Buy a Trezor One?
Crypto investors who value a good reputation & security
Crypto investors who want multi-currency support
Crypto investors who want an inexpensive wallet
Why Buy a Hardware Wallet?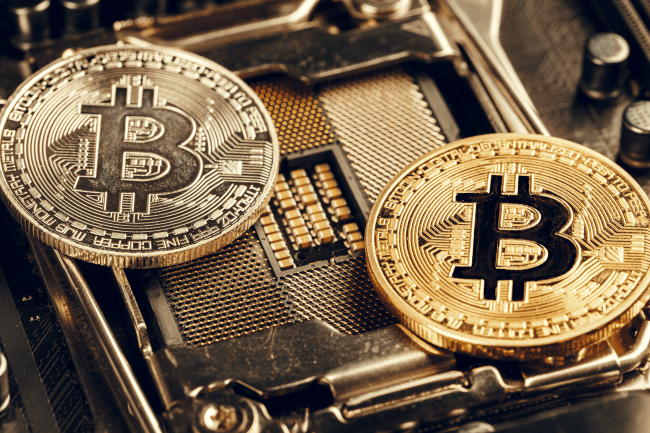 Hardware wallets are important tools to enable cold storage of your bitcoin, a method which keeps your private keys completely offline.
They are designed and marketed with every level of user in mind and are considered a best practice to use in managing any level of funds.
Paper wallets and hot wallets are not seen as easy-to-use or secure by comparison. These methods are not recommended except for specific applications or by advanced users.
Background
Trezor (Czeck for "safe" or "strongbox") is the outgrowth of SatoshiLabs, an organization with a superb reputation in the Bitcoin community.
The founders introduced pooled Bitcoin mining to the world and the first hardware wallet prototype in 2012.
On this, they built their method which uses mnemonic codes to generate and back up deterministic keys (BIP39). This method is now used industry-wide.This work culminated in the release of the Trezor One was in 2014 and expanded upon when the Model T followed in 2019.
Trezor One: the Basics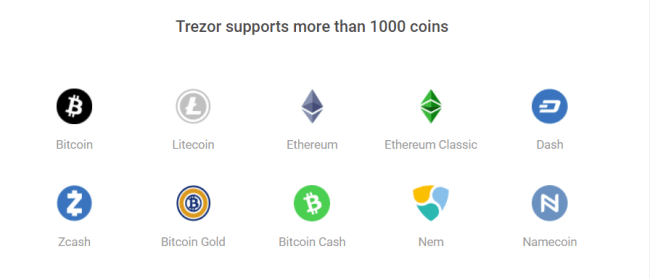 The Trezor One was the first-ever commercially available cryptocurrency wallet and currently supports storage of over 1000 assets.
It uses the Hierarchical Deterministic (HD) key creation and transfer protocol (BIP32) to create wallets. Trezor One competes directly with the Ledger Nano S as the most affordable hardware wallet.
Price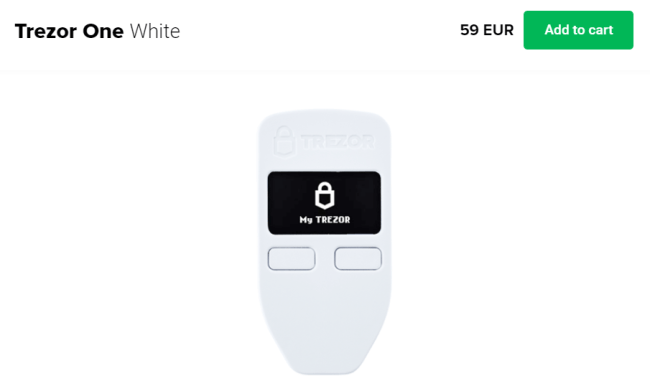 The Trezor One competes directly with the Ledger Nano S as the most affordable hardware wallet.
The price includes free shipping when ordered within the United States from an official reseller.
Take a look at how the Trezor One stacks up against other hardware wallets:
Comparison with Competitors
The Trezor One provides the same essential utility as the Ledger Nano S and is a good introductory device for newcomers.

Its limitations include the number of coins which are supported and the lack of Bluetooth capabilities.
Both Trezor and Ledger have higher-end devices (the Trezor Model T and Ledger Nano X. Each of these provide a more premium experience with advanced functions not available in their entry-level models.
Info: While the Nano S and Nano X have similar capabilities relative to the Trezor One and Model T, the key difference is that the Nano X can connect via Bluetooth. It appears that Trezor has chosen to avoid Bluetooth connectivity to limit the attack surface.
Bluetooth has been purported to be a potential security issue. While Ledger has responded to this concern, it is up to the user to decide if Bluetooth convenience outweighs the risk.
What's in the Box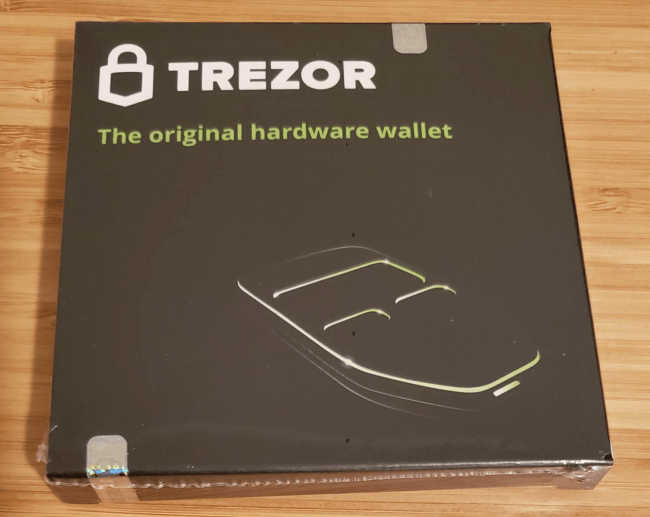 Before attempting to set up and use a hardware wallet, you should inspect the packaging and be wary of the device potentially being compromised before it reaches you.
The Trezor One packaging consists of a thin cardboard box sealed with two hologram security stickers. These are easily authenticated the images encountered on their official website when you begin setup.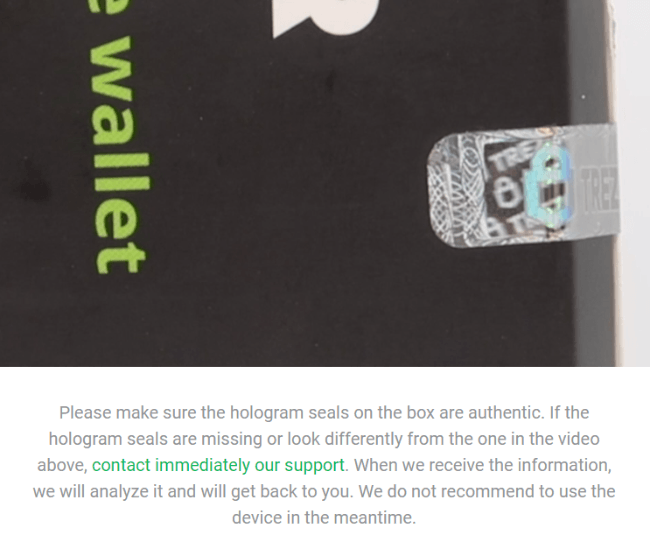 In addition to the holograms, the box lids have been thoroughly glued to the extent that the box essentially is destroyed once you open it.
Info: Anyone attempting to open the box and access the device inside would almost certainly leave behind evidence showing it had been tampered with.
It's clear that Trezor has thought deeply about this issue and you can read about it in detail here.
A huge amount of thought and consideration has gone into the way in which the Trezor One has been packaged and you can even review its history on the Trezor website.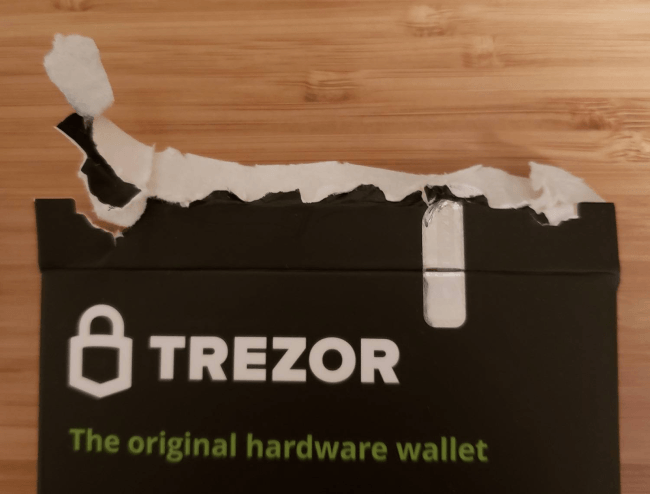 After opening, it's not really worth keeping for storage.
The box contains:
Trezor One Device
USB Cable (with Trezor Branding)
Lanyard, Keychain & Stickers
Seed Backup Cards and Device Information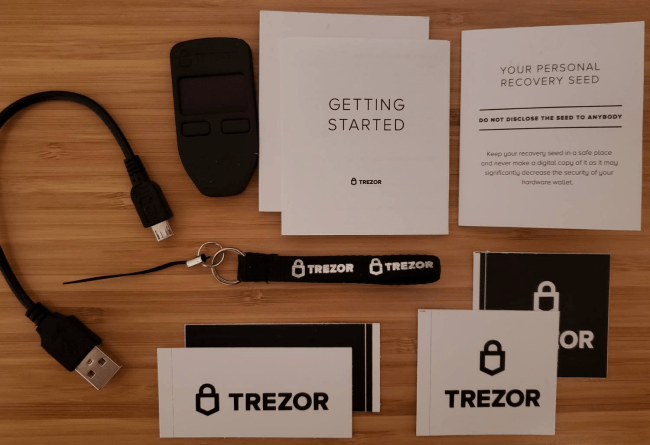 Device Description
The Trezor One is a very small, lightweight USB device. Its size could be both an advantage or disadvantage as it can sit unobtrusively near the computer without disrupting your working environment but could also be unintentionally brushed out of sight.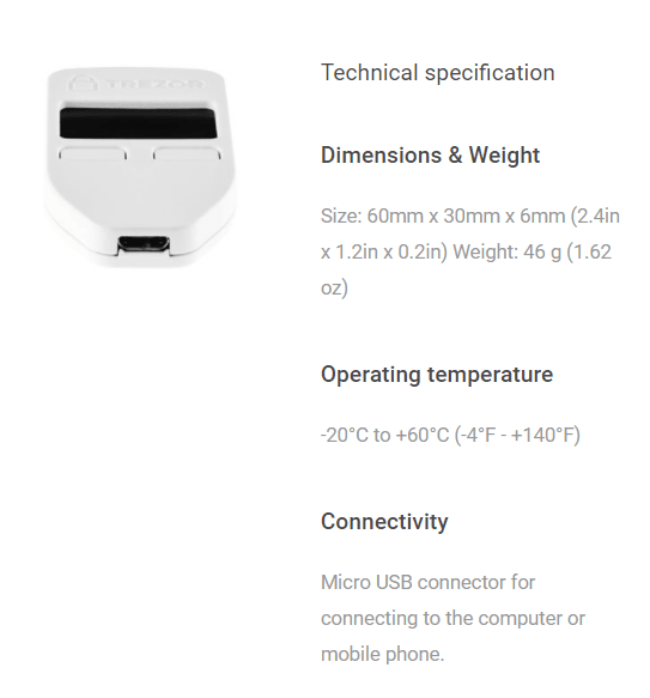 The size and composition of the device (which is almost entirely plastic) does not lend itself to travel unless secured within another box or container of some kind. There are no moving pieces aside from the two buttons below the monochrome display.
Security & Design
Our aim is to understand & deliver secure and easy-to-use solutions to real problems.

---
The reputation of the Trezor One and SatoshiLabs is unmatched in the industry as its developers are responsible for important advances in both wallet security and usability.
The documentation on their website shows a history of the resolved security concerns in remarkable detail and links to their respective Github issues.
PIN Protection
The Trezor One directs you to their start page and then requires you to create a PIN at the time of setup.
The possibility of creating a 9-digit PIN code for locking the device is a good baseline of security determined by you, so definitely use the full 9 digits to ensure the highest barrier!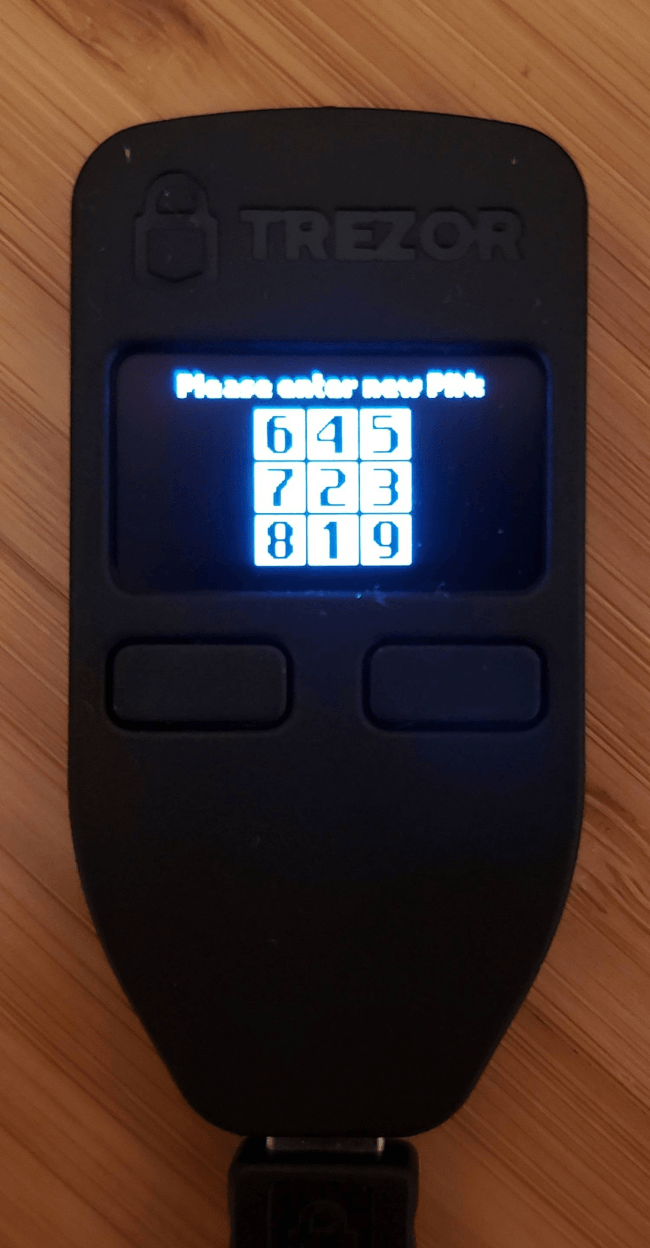 Unlike the Ledger Nano X and Nano S, the device buttons are not used to directly enter the PIN.
Instead, a shuffled 9x9 grid of digits 1-9 are matched in the Trezor wallet on your computer's screen. This ensures no pattern about the sequence can be observed while entering it.
The device remains unlocked for 10 minutes.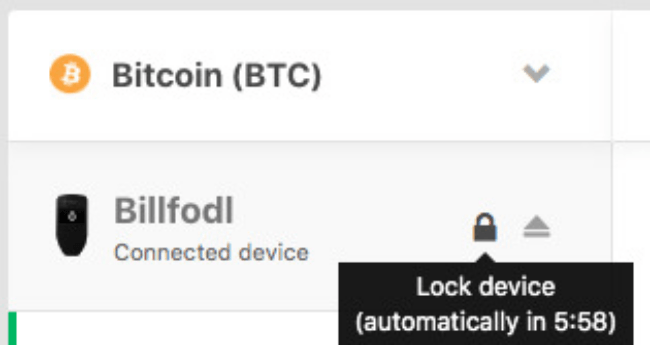 Next to the lock icon, there is a single-click "forget device" function available as well.
If someone inputs the PIN incorrectly a 2-second delay halts another attempt which is doubled with each successive incorrect login. This delay prevents the brute forcing of your PIN.
Recovery Seed Words
Trezor's team are the originators of the 24-word seed phrase backup convention, and the device itself is designed around and is the physical manifestation of this innovation.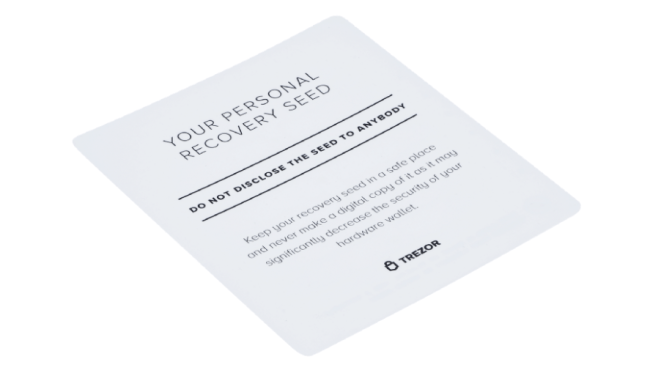 Using this standard (introduced with BIP39), a great variety of hardware and software wallets find wider usership due to the simultaneous improvement to security and simplicity it brings.
Without a doubt, your private key is more conveniently restored by using human-readable words instead of a complex cryptographic string of random characters.
Warning: Remember: The burden of keeping these recovery words is your responsibility!
Restoring your wallet after the Trezor One is destroyed or lost is a simple and straightforward process through the use of the recovery words.
However, how you secure these is the ultimate test of the method's security.
Consider using a Billfodl to eliminate the threats to which paper is highly vulnerable to (water damage, fire, fading, misplacement).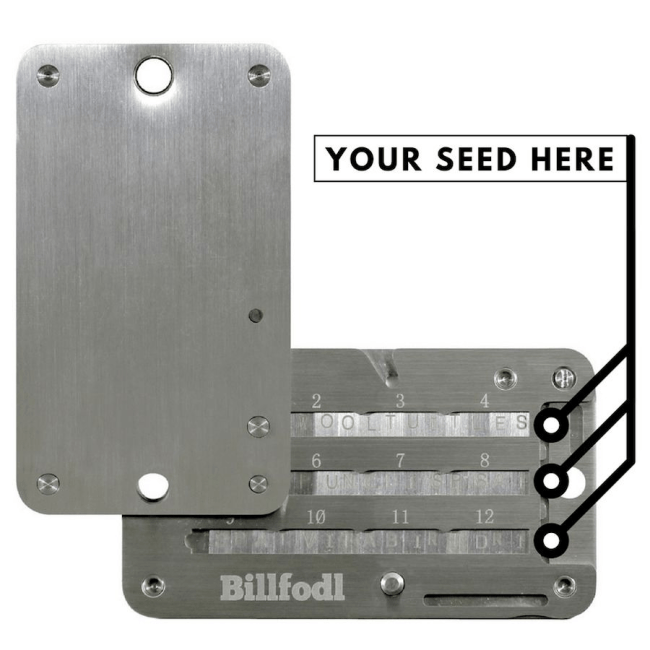 Imagine losing $1,000,000 worth in Bitcoin due to a your paper backup being destroyed in a fire or flood. Keep your backup safest by storing them on metal instead of paper!
Passphrase Support
The Trezor One includes the capability to add an additional security measure: the so-called "25th seed word". More properly known as the passphrase, this function allows the user to add an additional word to the 24 backup words.
There are a couple of reasons to use one:
1. It will add extra security over the recovery phrase in the event someone finds your 24 seed word backup.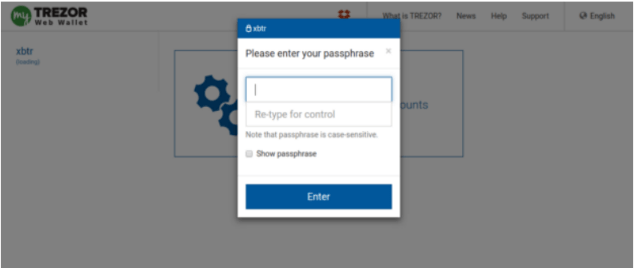 It's essential to know that anyone with these specific 24 words will have the ability to restore your wallet and move the funds. Adding another word of your own choice effectively puts a password on the seed phrase!
2. To implement a "dummy account" on the device which holds a smaller amount of funds. Using this creates plausible deniability against the "$5 Wrench Attack".
How a $5 wrench attack works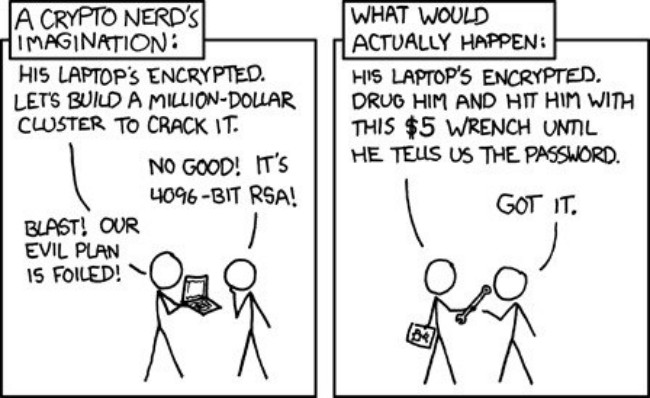 The attackers are more likely to give up if they access only your dummy account, both ending the unpleasant event while also keeping the majority of your funds in your possession.
Multi-signature Security
For a much higher level of security, some users choose to employ multi-signature into their wallet to divide up the risk.
Doing so removes the single point of failure in having only one device needed to move coins from the rightful owner's possession.
Info: Like the Nano S and Nano X , Trezor devices currently support this function, although only in conjunction with the Electrum wallet interface.
Support for this functionality within the Trezor wallet software is forthcoming.
Device Setup & Activation
Trezor has created a subdomain of their website to access and operate your device, which you begin by accessing here. Pairing the wallet with your computer requires the installation of the Trezor-bridge, an integration with your browser.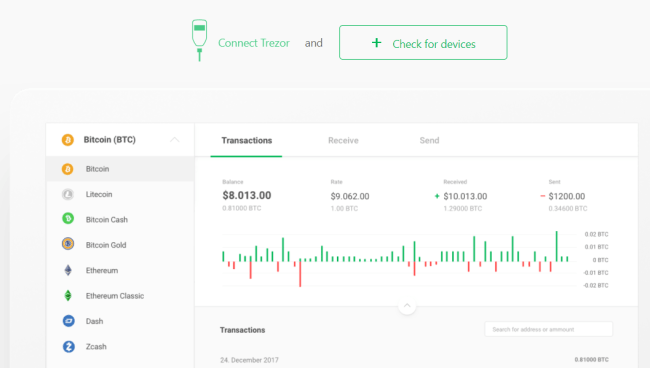 This approach is a combination of those used by the Ledger has its own specific software (Ledger Live) and the KeepKey which is either paired with the ShapeShift website or by using a standalone Chrome plugin.
SatoshiLabs has also recently announced the upcoming release of its bitcoin-only firmware.
Advice: Whether you've set up your wallet from scratch, or from a previous backup, using a Billfodl will ensure the safety and longevity of your seed words like nothing else. Recall that stainless steel has remarkable advantages over paper as it is designed to outlast threats.
Main Wallet Interface
Trezor can easily claim the highest number of customizations for a hardware wallet.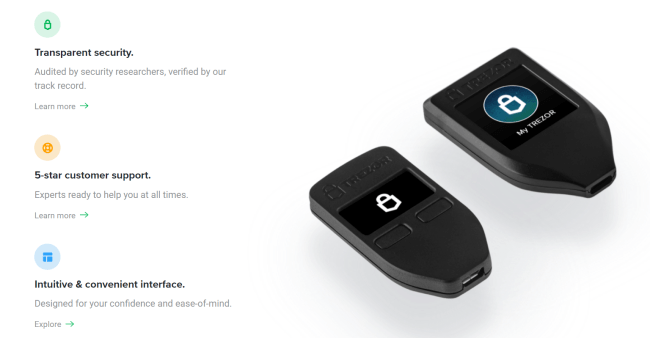 The interface in the browser is clean and sparse, yet provides links to relevant information and educational rollovers.
A huge array of options and settings such as renaming accounts, saving labels and notes with a DropBox integration or even designing your own image for the home screen image are available.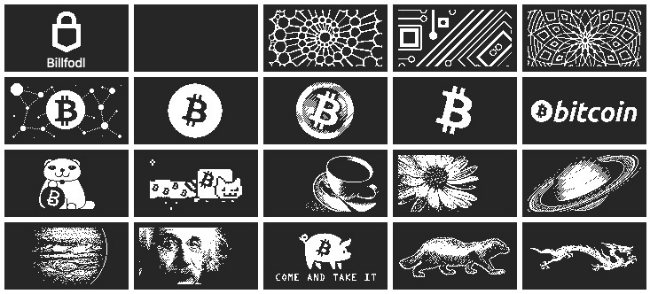 Additionally, above the wallet area there are a number of links to the information-dense Trezor website, support tab and blog.
Info: Also found here is the incredible Trezor Wiki which has user, security, developer, business and general knowledge base sections — all of which relate directly to using the Trezor devices or interacting with the company itself.
There is abundant and concise information available, which is useful even for those without one of their devices.
Wallets & Accounts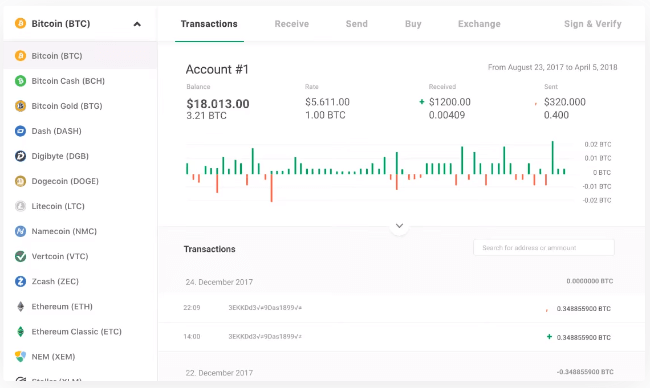 Trezor uses a device/account/address hierarchy layout in the interface for the wallet so selecting and navigating everything straightforward and intuitive.
Importing legacy (pre-Segwit) accounts, wallet countervalue settings (a whopping 32 fiat currencies are available) or switching to a custom server are all within a few clicks.
Transactions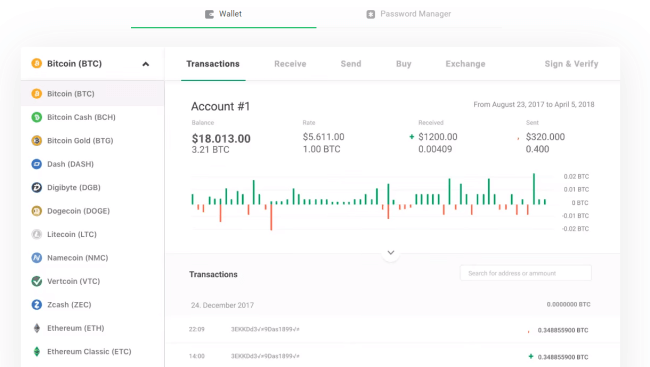 Addresses within a specific account can be created at will, which is a key benefit over the Ledger Nano S and Nano X wallets (which require an address to have been used before you are able to create additional ones under that account).
Info: You are also able to display a QR to receive a transaction on both the device itself and the wallet view (your computer's screen) which makes accepting payment far more frictionless.
Another advantage is the ability to construct multiple transactions within one operation.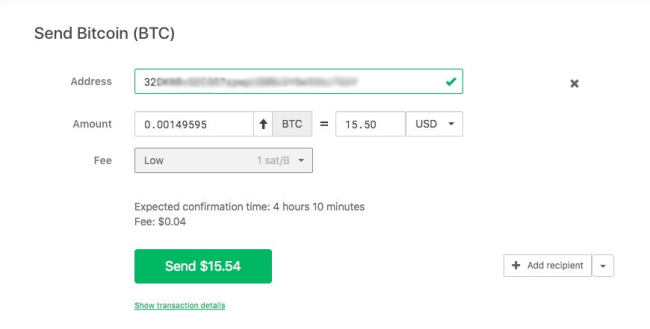 Another great feature is the Trezor One's flexibility in determining your transaction priority, which allows for a range of speeds for quick selection (all the way down to 1 sat/byte) but also provides a custom range.
This option is a distinct advantage over the KeepKey and both the Ledger Nano S or Nano X.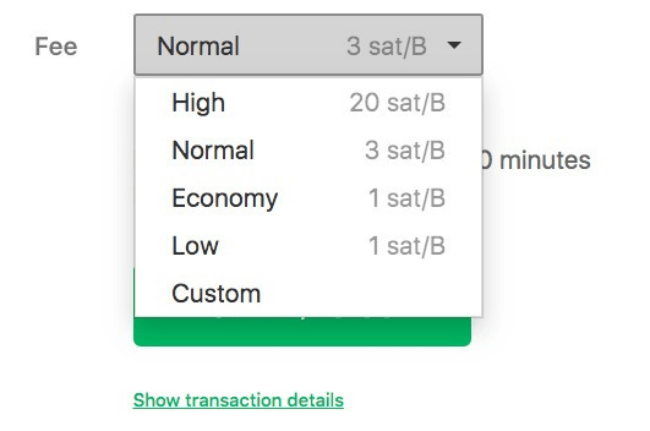 This is feature is further augmented by calculating an expected completion time once you've made your selection.
To address the dangers of address reuse (which threaten privacy) the Trezor wallet allows you to create as many as you like prior to using them.
Info: Transactions to different recipients can also be batched at the time of creation.
Finally, the Trezor One can also sign and verify messages — a function built into bitcoin core's software since its early days, but which neither the Ledger or KeepKey wallets support.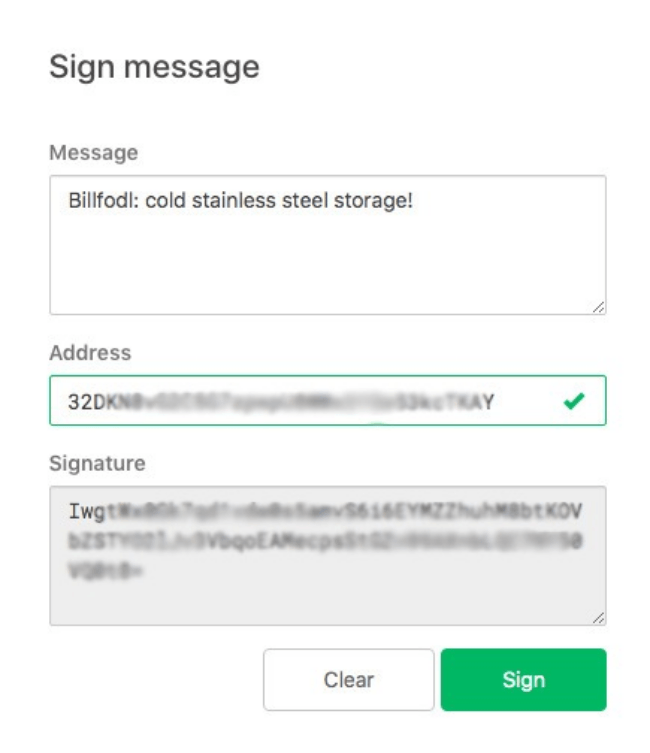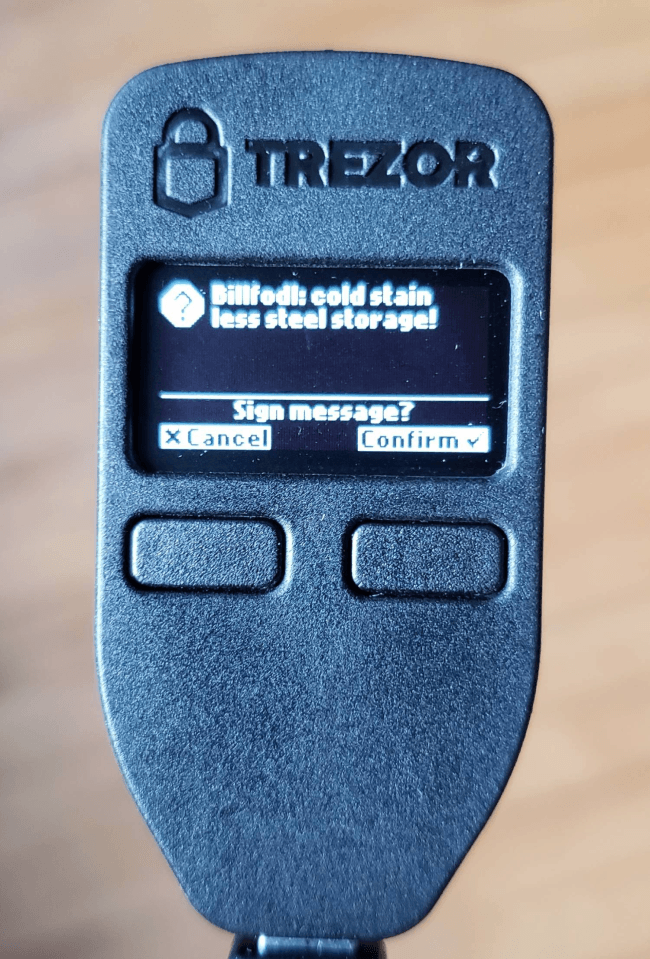 Account Balance & History
Your transaction history can be exported on a per-account basis (versus Ledger Live's ability to aggregate both coins and accounts into one document).
Info: CSV and PDF formats are available and indicate the date, time, transaction ID and type, address, value, transaction total and balance at the time of that transaction.
Supported Coins
The Trezor One (like the Nano S and Nano X) supports a wide array of coins, but far more than the KeepKey.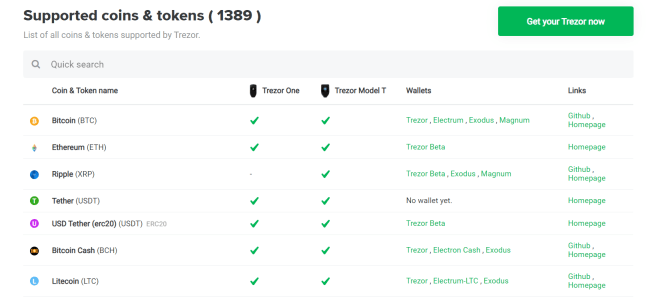 This page on the Trezor website also shows which assets are integrated with 3rd-party wallets as well, sports an abundance of links and is generally easy to navigate.
In addition to Bitcoin, the Trezor One also supports:
Bitcoin Cash
Ethereum
Litecoin
Tether (USDT)
Stellar
DASH
Over 1,000 more
Hardware & Operating System Compatibility
The Trezor One is compatible with a variety of third-party wallets and operating systems.
Android

OS X

Windows

Linux
The Trezor One Screen
To gain the most advantage of using a hardware wallet to put coins in cold storage, having a screen is essential.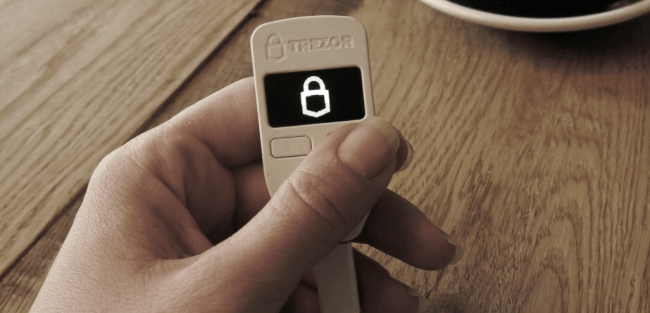 Having your keys stored and signing transactions offline absolutely requires a dedicated screen.
By visually verifying your addresses, sums and other information on the wallet interface with the Trezor One's screen you can be certain that no compromise has occurred.
Info: While not as large as the KeepKey has a lot of possible information which can be displayed, far more than the Nano S but about the same as the Nano X, which makes it a bit more of a bargain.
Using the Trezor One Privately
The Trezor One can be used more privately if only as a signing device in combination with your own node.
Alternately, it could be used in conjunction with the Electrum Personal Server, however this could involve slightly more privacy-leaking risks.
Summary
The Trezor One is an impressive and affordable device that offers superior functionality to both entry-level and experienced users.
From the setup procedure to navigation of the interface and diving into advanced features, the experience was seamless, informative and enjoyable.
With the enormous amount of credibility, innovation and ethos of SatoshiLabs behind it, it's no surprise Trezor has become one of the top hardware wallet providers in the industry.
Of the available hardware wallets, Trezor has the most educational content available which is inspiring to users to dig deeper on the capabilities and possible applications of their wallets.
Their products gain a major advantage for this supplemental information.
The Trezor One is a great first step toward securing your coins and can only be enhanced by adding a Billfodl as the backup medium (stainless steel) for your recovery seed words.
Whether an active trader or long-term HODLer, you could do a lot worse than choosing a Trezor One.
Pros
Passphrase Support
Affordable
Open-Source
Feature-rich Interface
Quick & Easy Setup
Multisig Support
Device Time-Out
Cons
Multi-Sig Only Supported Via Electrum
No Validation of Change Address on the Device
Black and White screen
Pros
Cons
Passphrase Support
Multi-Sig Only Supported Via Electrum
Affordable
No Validation of Change Address on the Device
Open-Source
Black and White screen
Rating: 7.5/10
The Trezor One is the original hardware wallet, but that doesn't mean it can't still keep up with the rest.
It is still a very capable device and at a price that almost no one can ignore. It's black and white screen and two-button navigation make it clunky to use at times, but no more than other similarly priced hardware wallets.
We give the Trezor One a score of 7.5 out of 10!
FAQ
Is Trezor One safe?
If a very motivated and highly skilled attacker were to physically get hold of your Trezor, your coins may not be safe. However, this attack has never been performed outside of a laboratory, so the threat is remote. In almost all cases, a Trezor One will keep your coins very safe.
Is it safe to buy Trezor on Amazon?
It is generally best practice to only buy Trezor devices from Trezor or their authorized resellers. When you buy from Amazon, you don't actually know who you are buying from, and you could receive a tampered with Trezor with backdoors into the device to steal your coins.
What happens if you lose your Trezor?
If you lose your Trezor, there is nothing to fear (most likely). When you set up your Trezor, you were given a 24 word phrase. This allows you to restore your wallet if you ever lose the Trezor or it is destroyed or stolen. If someone finds your Trezor, they are unlikely to be able to get your coins unless they are very skilled and have a lot of time before you move your coins to a new wallet.
Which is better - Trezor or Ledger?
Ledger is more secure if your wallet is found, however the Trezor does not have Bluetooth, which reduces the risk of a remote attack on your device. The Trezor also has more features and a better screen if you do with the Model T.