Disclaimer: this article includes affiliate links. When you make a purchase through one of our links, we may receive commissions.
In this post we are going to cover: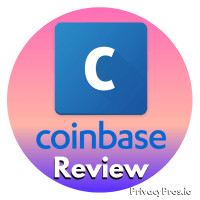 Fees and limits
Various payment methods and features of the Coinbase platform
Controvery surrounding Coinbase
If you should buy from Coinbase or Coinbase Pro
Plus more... Read on to learn everything you need to know about Coinbase.
Dear Reader:
Before you get too far, we want to save you some time: we
absolutely do not recommend
that you give Coinbase ANY of your business. We feel so strongly about this that we refuse to earn any affiliate money from referring customers to their platform (and many positive reviews you read about Coinbase
are
financially motivated).
Consider this a public service announcement: Coinbase has already
acquired a chain analysis company
(founded by members of a hacking organization that
sold spyware to tyranical dictators
) and is now using that chain analysis company to
help the DEA and the IRS identify Bitcoin users
. And now we even know that they have
sold this data to the Secret Service
. In this review, we have done our best to remain objective, give Coinbase the benefit of the doubt, and admit the good points. I think we have done that.
However, it is
our opinion
that Coinbase does not care about you, your privacy, or anything else except for whoever will pay them the most money. We recommend patronizing other exchanges that respect your prviacy to the extent that they can, such as
Kraken
or
Coinmama
.
Please be aware that we have never posted a disclaimer like this one to any of our exchange reviews, but Coinbase has simply gone too far and you should know about it before you go through any KYC with them.
Introduction
Coinbase is one of the most popular Bitcoin and cryptocurrency exchanges. It has offered a reliable on-ramp for BTC since October 2012 and started adding altcoins in 2016. 
Coinbase is secure, has a good record as a custodian, but falls short in the privacy department. It also has some of the highest fees in the business.
This review aims to present the most in-depth analysis of the Coinbase exchange. It scrutinizes Coinbase's background, security record, services, user friendliness, accessibility, and costs. 
But let me be very clear from the get-go: We do not recommend ANYONE use Coinbase. It's respect for your privacy is beyond atrocious and there are plenty of alternatives worth using. 
QUICK TIP: The best place to store coins after you buy is not on an exchange. You need to buy a hardware wallet like a Ledger or Trezor to store them yourself.
Pros and Cons
Pros
Clean inerface that is easy to use
Fast KYC
Lots of coins to choose from - for Bitcoiners, this is a con
Cons
Overly intrusive KYC
Extremily high fees
Owns and utilizes a chainalysis company linked to spyware rackets
Tries to sell its analytics to the IRS and the DEA
The platform goes down and prohibits withdrawals often - stuck money
Often locks users accounts without any explanation and does not return the money
Pros
Cons
Clean inerface that is easy to use
Overly intrusive KYC
Fast KYC
Extremily high fees
Lots of coins to choose from - for Bitcoiners, this is a con
Owns and utilizes a chainalysis company linked to spyware rackets
Tries to sell its analytics to the IRS and the DEA
The platform goes down and prohibits withdrawals often - stuck money
Often locks users accounts without any explanation and does not return the money
To millions of bitcoiners, Coinbase is the first exposure to financial sovereignty. It has been around since late 2012 and has since sold and bought bitcoins. Coinbase is also known for its intuitive and straight-forward. 
You don't have to think too hard about how anything works. You make payments with your credit card, receive the coins in your wallet, and may then transact. Playing with the Coinbase wallet is very educational for later stages of the rabbit hole. As a feature, you get to pay your friends by their name (and not by their BTC address).
Another pro of Coinbase is that it has a great record for security. Though hackers have targeted the exchange in the past, they never managed to steal any funds. So if you're going to use any custodian, then Coinbase is one of the safest choices.
Last but not least, up to $250.000 of every user's individual funds are covered by FDIC insurance. This is yet another reason why institutions and merchants should use Coinbase. Regular users are also insured – yet it's USD that everyone would receive, not bitcoins. 
Coinbase's biggest con is privacy. The exchange tracks your transactions and it's hard to escape its panopticon. In 2019, Coinbase has even hired employees from Hacking Team. The organization is notorious for helping oppressive authoritarian regimes surveil and arrest dissidents. 
In plain language, this means that Coinbase conspires against Bitcoin's anonymity. They want to associate Bitcoin addresses with identities. So every satoshi entering the Coinbase exchange receives rigorous blockchain analysis. Also, it's likely that even transactions out of Coinbase get tracked. Transacting bitcoins on Coinbase may be worse for privacy than even PayPal. And it's because you also compromise the privacy of people who transacted with you.
Then there's the issue of high fees. Coinbase's convenience and ease of use come at a cost: when you buy bitcoins, the fee is 1.49% to 3.99%. The lower fee is for US bank accounts and a Coinbase USD wallet. The higher fee is for debit cards and the Coinbase card. Some more conditions and thresholds are in place depending on your bank and region. If the wallet interface is simple and clear, then the fee structure isn't.
The last notable con of Coinbase concerns the nature of custodianship. Are the coins still yours if you need to wait for Coinbase to check transactions? When you try to move your coins from the Coinbase Wallet to your hardware wallet, delays can happen. And if you try to transact with blacklisted addresses, your funds may get stopped. 
The exchange does some checking and registers your receiving address. This means that your coins are still tracked for a few steps (about 5 transactions). Coinbase will claim that they do it for customer security. In reality, you're surveilled by their financial panopticon. This mechanism is against the purpose of Bitcoin and permissionless transactions in general. It also threatens Bitcoin's fungibility.
Is Coinbase Safe?
Coinbase is not FDIC insured and only insures against hacks and theft. Coinbase states in their legal policies that it "carries crime insurance that protects a portion of digital assets held across our storage systems against losses from theft….our policy does not cover any losses resulting from unauthorized access to your personal Coinbase…account(s) due to a breach. That said, Coinbase has never had a breach or loss from a hack and their security team is known to be among some of the best in the industry.
Coinbase Background
Coinbase started operating in late 2012 and has since expanded in 32 countries. It services hundreds of jurisdictions and has a record of being compliant with law. In March 2017, Coinbase has obtained BitLicense – a mandatory step to operate in New York. BitLicense has a reputation for its strictness, as only compliant exchanges get it. Coinbase is also known to report users' financial data to the IRS.
As of 2017, Coinbase's capital exceeds $1 billion. Early investors include Fred Wilson of Union Square Ventures, Andreesssen Horowitz, Union Square Ventures, and Ribbit Capital. Later on, Draper Fisher Jurvetson, New York Stock Exchange, and USAA have also joined the list.
Coinbase's two founding members are Brian Armstrong (current CEO) and Fred Ehrsam. They borrowed the company's name from the Bitcoin coinbase (a technical term which designates the first transaction in every Bitcoin block, which transfers newly-minted coins to the lucky miner) and grew beyond initial expectations.
At first, Coinbase serviced users looking to buy bitcoins with linked bank accounts. But in a couple of months, the exchange also launched merchant tools. This enabled businesses to accept BTC payments and receive fiat. In those early days, it was a great tool to increase awareness and adoption.
Coinbase has been a Bitcoin-only business until 2016. It was on July 21st 2016 that the company announced that it would support Ethereum. Since then, the company has kept on distancing itself from the values of Bitcoin. Instead, it embraced "crypto" and the "blockchain" industry. It also started financing more non-Bitcoin projects.
Rebranding the Coinbase Exchange as GDAX (Global Digital Assets Exchange) marked an important first step. Afterwards, more altcoins got listed: Litecoin, Bitcoin Cash, Ethereum Classic, and so on. Coinbase's shift towards the "blockchain industry" also became evident in the tweets of CEO Brian Armstrong. Observers will notice that he rarely mentions Bitcoin and often refers to it under the larger umbrella of "cryptocurrency".
Is Coinbase Safe?
If we define safety as bitcoin security, then we can say that Coinbase is pretty safe. So far, the exchange has a pretty good security record. Some of the last reported incidents date back to 2014. At the time, individual user accounts were getting phished. Since then, the API vulnerabilities received significant fixes. Now Coinbase has stronger login requirements that prevent such hacks.
Yet the most important aspect is that Coinbase's treasury funds were never hacked. The company had no incidents with losing coins. It was only individual users who lost access to their accounts. Unlike Binance, there was no major incident which led to users losing bitcoins.
But if we define safety as an extension of privacy, then Coinbase is not safe. Like a bank account, it will report data about your holdings to the government. Also, Coinbase has acquired a blockchain analysis team to deanonymize all incoming transactions. So it's likely that other third parties can also get data about your account balance. And given the nature of Bitcoin, they will also try to find out with whom you're transacting.
On top of that, in June of 2020, public documents released by the government showed that Coinbase had been bidding to sell it's blockchain analytics data to the IRS and the DEA.
It is thus recommended to not HODL your bitcoins on Coinbase. Some hackers may find your KYC data (ID, passport, address, phone number) and extort the coins from you. By offering your personal data to exchanges like Coinbase, you're more vulnerable. It's enough for hackers to find out who you are, where you live, and how many coins you own.
The more of your financial data gets stored on the internet, the more likely you are to get targeted. Yes, your coins get covered by the FDIC insurance. But it's going to be hard to prove that Coinbase was at fault for the attack. And every insurance company will try to find reasons to put the blame on you and never pay. 
An insurance policy won't prevent you from physical attacks – it might do the opposite. So it's good to remember that the most secure data is the one that isn't stored on internet databases. Keep your personal data away from custodians and your bitcoins in cold storage. You'll sleep better at night. 
For a full summary, you can read our full report on Coinbase safety.
Services Offered by Coinbase
Brokerage
Coinbase currently can't issue "crypto securities". Yet the exchange announced its intention to become a SEC-regulated broker. In 2018, Coinbase even acquired Keystone Capital, a securities dealer. But for now, the exchange is not yet a broker-dealer.
Exchange
The Coinbase exchange has been around since 2012. GDAX, its professional trader-friendly sibling, got launched in 2015. And since May 2018, GDAX's new name is Coinbase Pro.
Thus Coinbase offers exchange services for both casual users and traders. In the basic Coinbase interface, users can buy and sell bitcoins with their bank accounts. All purchases and sales can only happen at market price.
On Coinbase Pro, traders can do market orders, limit orders, and stop orders. Also, Pro incentivizes trading by offering lower fees and margin trading up to 3x. The interface is also adapted to fit more information about price, volumes and orders. 
Staking Services
Coinbase allows verified users to stake Tezos (XTZ). By holding more than 1 XTZ in their accounts and opting in for delegation, users can earn staking rewards. Coinbase is running a Tezos node which stakes existing XTZ balance to the network. 
Rewards get distributed to users according to how much XTZ they own. The greater the stake, the more significant the returns. It takes 35-40 days for the first rewards payment to arrive. After this initial phase, payments get credited every 3 days. 
If you withdraw your XTZ from Coinbase, your rewards get reduced proportionally. But as long as you have at least 1 XTZ deposited, you keep on receiving rewards.
For now, Coinbase only enables staking on Tezos. But if Ethereum finally transitions to Proof of Stake, it will likely receive support.
Staking will never work on Bitcoin, as its security model involves Proof of Work mining. 
OTC Trading
In traditional finance, OTC (Over the Counter) facilitates the trading of unlisted securities. Through it, small companies that aren't listed on exchanges receive a second chance for capital inflow. Investors will use a dealer network to buy small company shares. OTC comes as an extension of centralized exchanges.
But in the case of the Bitcoin space, OTC is an on-ramp for institutions and investment funds. If they want to avoid impacting the market with their buys, they will use OTC. The coin prices will adjust at a later time due to scarcity of supply in times of increasing demand. Yet at the time oh purchase, exchange volumes will not reveal the change of ownership. 
Coinbase has quietly enabled OTC trading for institutional customers in late 2018. In a March 2019 post, they explained that their OTC desk sells coins directly from cold storage. It became clear that Coinbase provides more confidentiality to institutional investors. They can buy in large amounts and the market price won't pump. This means that they can keep on buying over extended periods of time with little market impact.
Currently, OTC trading is only available for Coinbase Prime accounts (institutions). And to access this benefit, the companies must undergo a strict KYC/AML process. 
Yet unlike traditional finance, Coinbase doesn't use OTC to sell unlisted securities. It's all about confidentiality in relation to the rest of the market to avoid price movements.
Ways to Earn Free Cryptocurrency
In December 2018, Coinbase has launched the Earn program. Through it, users can earn small amounts of cryptocurrencies by completing educational tasks. 
In June 2020, Coinbase users can earn crypto amounts ranging from $6 to $50. The earning limit per account is currently $158. Coins included in the Coinbase Earn program include Orchid (OXT), Tezos (XTZ), Dai, EOS, Stellar Lumens (XLM), Zcash (ZEC), Basic Attention Token (BAT), and 0x (ZRX). 
Another way to earn Coinbase credit is to use the affiliate program. This doesn't give you coins, but instead credits your account with fiat. From there you can buy whichever cryptocurrency you prefer.
Spending Cards
In collaboration with Visa, Coinbase has introduced a debit card in 2019. It allows users to pay with their Coinbase cryptocurrency balance, and even withdraw cash. To avoid unwanted spends, the Coinbase app allows users to select which coins they want to use with the card.
For example, if the BTC position is in green and the ETH position is in red, you can choose to only spend your profits. This is essential in the volatile cryptocurrency market, as it avoids losing trades. What happens in the background is essentially a conversion to fiat and a transfer to a bank account. And thanks to Visa's coverage, the card works for payments in millions of places around the world.
The Coinbase card is also a convenient way to bypass withdrawals to fiat. Instead of waiting for processing, you use the available crypto balance that you would have spent anyway. Nonetheless, flashing a "Coinbase" card can be bad for opsec. Using it lets everyone know that you use cryptocurrencies and you've made profits. Thus your card becomes a honeypot for computer hackers and physical attackers.
Other Services
In April 2018, Coinbase has introduced the Ventures program. Coinbase Ventures functions as an investment fund for crypto businesses. Through it, various products and services receive money. Some notable names include BlockFi, Messari, Compound, and Etherscan. Interestlingly, no Bitcoin development team gets funding from Coinbase. 
Two other notable Coinbase services are Custody and Commerce. Custody offers institutional clients access to Coinbase's cold storage and insurance features. 
Commerce allows merchants and retailers to integrate crypto payments. These businesses can accept payments in BTC, ETH, LTC, BCH, USDC, and DAI through existing POS terminals. Coinbase's toolkit enables quick integration with PrestaShop, Woo Commerce, Shopify, Magento, and Opencart.
Additional Projects and Tools
Coinbase frequently acquires businesses that provide data analysis. But the services aren't always accessible to users. Instead, the company keeps them for in-house projects. 
For instance, block explorer Blockr.io became part of the Coinbase umbrella in 2014. But right now the service is no longer available to the public.
Coinbase's purchase of blockchain analysis company Neutrino has generated a similar outcome. Now only works on undisclosed Coinbase projects.
In March 2018, Coinbase has also announced the release of an index fund. Constituent assets include all cryptocurrencies listed on the exchange for trading. Coinbase's Index Fund is an easy on-ramp for institutions. It's meant to tame market volatility by creating an average between price fluctuations. Investors will own amounts of more coins to maximize their chances to earn more USD.
In collaboration with Circle, Coinbase has also launched the USDC stablecoin. It's a tool that's built on top of the Ethereum blockchain and has quicker settlements than fiat banks. The value is pegged 1:1 to the US dollar. Its use cases include fast trading across exchanges, programming payments, and accessing dApps. 
Supported Payment Methods and Fees
Payment Methods
In the United States, Coinbase allows users to pay via bank account, debit card, and wire transfer. Yet it's only the bank account (ACH) option that enables all operations. With it, you can buy, sell, deposit, and withdraw. The average speed for each request is 4-5 business days.
Debit cards work best for small investments, as they get processed instantly. Their downside is that they only allow users to buy cryptocurrencies, but not to sell or deposit.   
Coinbase recommends wire transfer for large investments. While they process faster than bank accounts (1-3 business days), they are also limited. With wire transfers you can only deposit and withdraw. Which means that the buy and sell options remain unavailable. 
In the United Kingdom, the payment methods are much more diverse. For instance, Britons can withdraw to PayPal or their Coinbase Cards. They can also make GBP bank transfers through Faster Payments, or use SEPA when dealing with euro. 3D debit card purchases are likewise supported.
European Coinbase customers only have 3 basic payment methods available. First, there is the SEPA transfer. It gets processed in 1-3 business days and only works for deposits and withdrawals.
Coinbase users from Europe can also use a 3D Secure card to buy cryptocurrencies. Though this method is instant, it will not work for withdrawals, sales, or deposits. This means that cards need other complementary payment methods for advanced operations.
For deposits on Coinbase, Europeans can also use Ideal and Sofort. The service is likewise limited in functionality. Also, it's worth noting that only 41 European countries can access Coinbase's services. The features also vary from one nation state to the other, so always check the list for updates.
For international clients outside these jurisdictions, Coinbase has individual policies. You'll find dedicated pages for payment methods in Singapore, Australia, and more.
Coinbase Fees
Compared to other cryptocurrency exchanges, Coinbase has high fees. The three Coinbase layers (Exchange, Pro, Prime) have different fee structures and trade-offs.
The general and publicly-available Coinbase Exchange has the highest fees. One could argue that the smooth user experience and advanced customer support come at a cost. Yet fees ranging from 1.49% to 3.99% are higher than Kraken's (~0.26%) or Binance's (0.5%). If you're looking for a good deal on your trading, it's better to turn to other exchanges. But if you want to use Coinbase's services for custody and staking, you will have to deal with the high fees.
Generally speaking, fees are always highest for debit card buys. If you use your US bank account or Coinbase USD wallet, the smaller fee limits apply. 
Coinbase also charges a 0.5% spread for buying and selling cryptocurrencies. This means that every coin bought or sold at price X has a 0.5% premium that Coinbase collects.
On Coinbase Pro, taker fees range from 0.5% (for amounts lower than $10k) to 0.04% (for more than 1 billion USD). The trading costs are definitely smaller, but the interface is not as friendly to newbies.
On Coinbase Prime, the fees are identical with the ones on Pro. Yet the target audience is different, as Prime clients consist of verified institutions.  
Withdrawal Fees
Withdrawals are an essential part of your experience with Coinbase. They mark the moment when you finally decide to take your money out to handle it yourself. 
Advanced users to take cryptocurrency custody into your own hands. And for bitcoiners, this is an important step on the way to financial sovereignty. Also, traders will want to withdraw their fiat profits to their bank accounts.
In both cases, the service depends on external factors. With bitcoins, for example, you pay for your transaction to get written in an upcoming block. Depending on time preference, this can cost anywhere between 1 cent and several dollars. Having your transaction added in the next block will always cost more. But choosing to wait for a few days will always be cheaper.
In the case of bank withdrawals, you depend on the legacy financial system. The fees are usually fixed, so your time preference does not impact the transfer. Yet you shouldn't expect to get the option to pay only 1 cent and wait for a longer time. It's the institutions that determine your rates, there is no negotiation.
Transaction fees
As mentioned in sections 7 and 8, Coinbase is more on the expensive side. It offers great UX and security, but makes sure you pay for it.
In contrast, Coinmama lets you buy bitcoins with zero fees. Users only experience a high (5%) threshold on credit and debit card purchases. So if you buy your coins and quickly withdraw them to your wallet, Coinmama is better than Coinbase. But avoid using a debit or credit card, Coinbase has lower fees for those. 
Likewise, Kraken has negligible (0.26%) fees for bitcoin purchases lower than $50,000. And the more you buy, the lower your taker fees get. It may just be the best choice for trading, thanks to the variety of crypto-fiat pairs available.
Binance has lower fees than Kraken and Coinbase. There is also an incentive to use its native cryptocurrency (BNB), as you get 25% discounts. And if you refer your friends, you're going to get even lower quotas. Binance is the platform with most trading options. But it's not recommended due to its previous hack and market manipulation claims. Only use Binance for trading if you absolutely must.
Supported Countries
Coinbase offers support in more than 100 countries. Yet in most of them, users can only do crypto to crypto conversions. As of June 2020, fiat purchases and exchanges only work in 43 countries. Most of them are in Europe, and North America is a close second. The data reveals a lot about cryptocurrency adoption patterns.
Coinbase Support in North and South America
In North America, Coinbase only allows you to convert, buy and sell cryptocurrencies in 3 countries. From north to south, they're Canada, The United States of America, and Mexico.
In contrast, the North American countries where Coinbase only enables crypto to crypto trades are Aruba, Bahamas, Barbados, Bermuda, Costa Rica, Curacao, Dominican Republic, El Salvador, Guatemala, Honduras, Jamaica, Mexico, Nicaragua, Panama, Trinidad and Tobago, and the British Virgin Islands.
In South America, Chile is the only country where you can buy cryptocurrencies with your credit or debit card. Coinbase only lets you do crypto to crypto trades in Argentina, Brazil, Colombia, Ecuador, Paraguay, Peru, and Uruguay.
Coinbase Support in Europe
Europe is by far the continent which receives most support from Coinbase. Users can buy, sell, and convert cryptocurrencies in 38 of the 41 supported European countries, . The only places where Coinbase users can only do crypto to crypto swaps are Montenegro, Serbia, and Turkey. 
Otherwise, Coinbase enables full access to all crypto and fiat services in Andorra, Austria, Belgium, Bulgaria, Croatia, Cyprus, Czech Republic, Denmark, Estonia, Finland, France, Gibraltar, Greece, Guernsey, Hungary, Iceland, Ireland, Isle of Man, Italy, Jersey, Latvia, Liechtenstein, Lithuania, Luxembourg, Malta, Monaco, Netherlands, Norway, Poland, Portugal, Romania, San Marino, Slovakia, Slovenia, Spain, Sweden, Switzerland, and the United Kingdom. 
Coinbase Support in Asia
There are 20 Asian countries where Coinbase operates, but only Singapore enables fiat purchases via debit and credit card. In the remaining 19 countries, Coinbase only permits crypto conversions.
In alphabetical order, the places where you can only do crypto to crypto are: Armenia, Bahrain, Brunei Darussalam, Hong Kong, India, Indonesia, Jordan, Kazakhstan, Republic of Korea, Kuwait, Kyrgyzstan, Macao, Maldives, Mongolia, Nepal, Oman, Philippines, Taiwan, and Uzbekistan.
**Coinbase Support in Australia
For now, Coinbase only allows Australian users to convert cryptos or buy them with debit cards. In New Zealand, only conversions are possible.
**Coinbase Support in Africa
For now, Coinbase has no fiat support in Africa. This means that in the 13 serviced countries users can only convert cryptos. In alphabetical order, these countries are Angola, Benin, Botswana, Cameroon, Ghana, Kenya, Mauritius, Namibia, Rwanda, South Africa, Tunisia, Uganda, and Zambia.
Supported Coins
As of June 2020, Coinbase supports 28 cryptocurrencies. Though the exchange has started as a Bitcoin-exclusive service, the plans have changed in 2016 when Ethereum got listed. Since then, Coinbase has continued to add new "crypto assets". 
Until mid 2018, the Coinbase listing was a big deal for any asset. But after ETC (Ethereum Classic) got added, there no longer was any "Coinbase pump". Lots of projects received support in a quick succession, so the big coin exclusivity took less than 2 years.
In alphabetical order, Coinbase now supports ALGO, ATOM, BAT, BTC, BCH, BSV, CVC, DAI, DASH, DNT, EOS, ETH, ETC, GNT, KNC, LINK, LOOM, LTC, MANA, MKR, OXT, REP, USDC, XLM, XRP, XTZ, ZRC, and ZRX.
Yet one must distinguish between Coinbase and Coinbase Pro cryptocurrencies. Some are only listed on one of the services, while others have limited features. 
For instance, BSV only works on the basic Coinbase platform (no Pro support) and users can only send it. This means that the exchange doesn't sell BSV or permit users to receive it in their wallets. If they happen to have collected their fork airdrop, then they have it in their wallets. So Coinbase will only allow users to move BSV to other wallets or exchanges.
Another interesting example is Zcash (ZEC), which UK Coinbase users can't trade. They will have to move to Coinbase Pro to remove the restriction.
ZRX, BAT, DASH, EOS, KNC, REP, XTZ, and ZRX are available in the USA, but not in the state of New York. This means that New Yorkers won't be able to buy, sell, send, or receive these cryptos in their Coinbase wallets.
ALGO, CVC, DNT, GNT, LOOM, and MANA are Coinbase Pro exclusives. You won't find them on the regular platform, so you'll have to switch to the former GDAX to trade them. MKR is also only available on Coinbase Pro, but not in the US. 
Despite its universal availability on the basic platform, DASH won't work on Coinbase Pro UK. Also, Coinbase's stablecoin USDC isn't supported in Australia, Canada, and Singapore.
Limits and Liquidity
There are two types of account limits on Coinbase: deposit limits and withdraw limits. For the former, verified users can only top up their accounts with $25000 a day. The verification process requires a photo ID, a valid phone number, and some personal info.
US users who want to deposit to Coinbase more than $25000 a day must send a wire transfer. By sending money from a personal bank account to the Coinbase account, this limit gets pushed. 
Unverified Coinbase users will have lower limits and no access to instant deposits. As a KYC and AML-compliant exchange, Coinbase incentivizes user verification. 
The situation is more nuanced with withdrawal limits. According to the Coinbase website, you have no limits for how much crypto you can sell for fiat in your wallet. But withdrawing fiat and crypto from the Coinbase wallet to your bank account or personal wallet has limits. On the basic Coinbase platform, the limits are set by your bank. But on Coinbase Pro, you can't withdraw more than $10000 a day in either fiat or crypto.
User Interface
On both mobile and desktop, Coinbase has the simplest user interface. It features large icons of the coins you're using, as well as clearly-distinguished "buy" and "sell" buttons. Anyone who has ever accessed an online bank account will find Coinbase's interface intuitive. The accessibility and friendliness derive from the similarity with legacy financial apps.
On the plus side, Coinbase allows users to easily send each other cryptocurrencies. Newbies don't need to learn how addresses work, as the user ID is enough. 
Also, new receiving addresses get generated automatically for each transaction. This is great for privacy against privy outsiders who know your address. It means that your online stalkers will only see one transaction per address. And the fact that this happens in the background makes it part of a great user experience. Just remember that Coinbase will always know who you are and with whom you're transacting. 
A major drawback of the Coinbase wallet interface is the fee selection. If you want to move your cryptocurrencies away from Coinbase, you will pay high fees by default. The wallet doesn't allow you to set custom fees according to your own mempool estimation. Instead, your transactions will always be high priority and you will pay for it. Coinbase should also consider adjusting fees with time preference.
Another negative is the lack of coin control or UTXO management. When you send coins in the Coinbase wallet, you don't get to choose which UTXO gets spent. This means that transaction receivers can use a blockchain explorer to see how many coins you own. It's like going to a store and allowing the clerk to see all the money in your wallet when making a payment. 
Open-source privacy wallet Wasabi has managed to fix both issues with great UI. Coinbase can definitely learn from them about simplifying advanced features.
When it comes to user interface, Coinbase Pro is definitely in a different league. The advanced exchange has all sorts of market indicators and tools. On the right side you have trade sizes taking place in real time. In the middle you have a price graph and an order book for buys and sells. And to your left you have three types of placing orders. The bottom of the screen will let you see your open orders.
The amount of visual information provided by Coinbase Pro is impressive. You get to see every other trade in real time. This is something that professional traders will appreciate. But for a newbie who isn't accustomed to trading, it's intimidating. 
Deposit Time
Deposit time on Coinbase is a significant metric. Especially if you're planning your purchases according to the market volatility. Let's say that you see the news about the Bitcoin price and want to buy right now. How long will it take for your fiat to get deposited? Well, it depends on the banking services in your area. 
If you're in the US, debit card deposits are instant. But if you use bank transfers through the ACH system, your deposit takes 3 to 5 business days. The waiting time also depends on the time of the week, as ACH payments aren't settled during weekends. This may extend your waiting time to 7 to 10 calendar days.
Some verified accounts can also do instant purchases. This means that the money gets credited to their Coinbase accounts before bank settlement. Yet the amount should be lower than $250000 per buy.
In Europe, SEPA deposits to Coinbase take 2-3 business days to complete. But in the case of debit cards, the deposits are instant.
The deposit time is even shorter in the United Kingdom. If you use a GBP bank account, the settlement takes place within one business day.
Deposit times are instant in Canada and Australia. Yet it's worth noting that Coinbase only accepts debit cards in these countries.
How Fast Does Coinbase Send Your Coins?
Acquiring financial sovereignty requires you to withdraw cryptocurrencies from centralized exchanges. It's a process through which you renounce custodianship and pledge to take care of your own coins. And for this it's important to protect yourself with proper cold storage devices.
So how long does it take for Coinbase to send you the coins to your personal wallet?  Well, it depends on the cryptocurrency that you're sending and its design. For Bitcoin, it can take anywhere between 10 minutes and one hour. It all depends on when new blocks get discovered and how much you pay for the fee. Unfortunately, Coinbase doesn't allow you to set very low fees.
Ethereum generates a new block every ~15 seconds, but your confirmation depends on the fee you pay. But generally, your withdrawal should happen within a few minutes. 
Litecoin mines new blocks every ~2.5 minutes, so your transaction should confirm fast. And if you also use a 0-confirmation wallet,  the balance will appear immediately.
Bitcoin Cash should confirm faster than the real Bitcoin. Its big blocks rarely get filled due to low demand, so the transfer is quick. Some wallets also enable 0-confirmation, so you won't have to wait until the next block. Yet this comes at the cost of transaction security. It's easier and more affordable for attackers to double spend unconfirmed transactions.
Transferring all the other coins listed by Coinbase should be instant. But it's important to remember that you become your own banks so you should handle your own security. Financial security is sovereignty, yet hardware wallets and Billfodls will maximize it.
For reference, check out our articles about withdrawing your Coinbase cryptocurrencies. We have guides for using a Trezor and a Ledger.
Customer Support
There are two main ways through which you can contact Coinbase support: by phone and by e-mail. There is also a third option to tag their Twitter account, but you are less likely to get a reply. It's also not recommended to share your account info on a social network.
By using the e-mail address with which you created your Coinbase, you can open a ticket. Coinbase will ask you to choose a category and sub-category for your issue. Then all the relevant information gets displayed to you. If you still want to proceed with the request, scroll down until you get to the fill-in form. You will have to type in your e-mail address, subject, and message which describes the issue.
After you click "submit", your inquiry gets registered. It will receive a reply as soon as customer service is available. Thus your waiting time varies according to availability and difficulty. If the issue involves a simple fact check, then you should get a quick reply. But if you must recover the Coinbase account of a deceased family member, the process will take some time.
Coinbase's phone support is only for compromised accounts. For other issues, it's recommende to use the e-mail forms. US and international citizens should call +1 888 980 7930. In the UK, the number is 0808 168 4635. And Europeans should call the Irish number 1800 200 355. 
It shouldn't take long until an operator picks up your call and helps you with your account. Yet be careful, as Coinbase Support will never call you and ask for information. Outbound calls are not part of the company's policy.
Public Opinion
Public opinion is an essential part of an exchange's reputation. And Coinbase is the kind of Bitcoin business whose decisions are impactful in the space. 
Just look at the way CEO and co-founder Brian Armstrong has shifted from "Bitcoin" to "crypto". It's an example which reflects how Coinbase has changed as a business over the years.
Coinbase and Bitcoin Politics 
Coinbase's decisions during the scaling debate have marked a turning point. In 2015, they tested Bitcoin XT and supported Gavin Andresen's BIP 101. And for the most part of  2017, they were backers of the New York Agreement and SegWit2X proponents.
In a nutshell, Coinbase has been on the side of every proposal to increase Bitcoin's block size. As developer Eric Voskuil has observed at the time, these plans were "an attack". For short-term business expansion benefits, these companies would have compromised Bitcoin's decentralization. 
This, in turn, would have given big players more power to influence development. And if average users can no longer run full nodes, it's custodian services that benefit. So Coinbase followed its own interest and was in favor of attacking Bitcoin.
Also, Coinbase has listed Bitcoin Cash in December 2017 to further stir the pot. The event led to speculation of insider trading and internal investigations. And in consequence, the BCH price has pumped from $1500 to $4300 in one day. To this day, Bitcoin Cash has never hit that high market valuation point.
Coinbase has been acting against the best interest of Bitcoin since 2015. They supported every hard fork that showed promise and tried to gain more influence. And when it turned against their plans, they switched to the "crypto" side of affairs. Yet the community took notice.
Coinbase's Patents
In 2015, Brian Armstrong wrote a blog post to explain why Coinbase is filling for patents. In his view at the time, he mentioned that patents would become obsolete in the future. Yet, for reasons that he described as self-defense, Coinbase did file some.
Armstrong has promised at the time that Coinbase would open source their patents. Much like Tesla, Google, and Twitter, the exchange expressed intent to support innovation. But five years later, this hasn't happened.
Coinbase's 2015 patents include a hot BTC wallet, an instant exchange, a tipping button, and an off-chain transaction system. In 2018, the exchange has filled a patent for a secure and encrypted payment system. And in late 2019, Coinbase has submitted a patent for an automated KYC enforcement tool. 
These are only a few examples from Coinbase's portfolio of patents. Community members will say that the exchange has turned into an enemy of Bitcoin. It attempts to monopolize development on several projects and threatens Bitcoin's privacy. Yet Brian Armstrong would argue that Coinbase only protects itself from patent trolls. And in defence of his view, Coinbase did get involved in such lawsuits. 
Coinbase's Controversial Tools
In the previous section, Coinbase's patent to do automated KYC gets mentioned. This tool aims to flag "bad actors" and associate every BTC address on the exchange with a real identity. In a nutshell, Coinbase is trying to break transaction privacy and anonymity. Which is turn, is an attack against Bitcoin's values and philosophy.
But this isn't even the most controversial tool. In February 2019, Coinbase was "excited" to welcome Neutrino to their "family". The blockchain analysis company serves a complimentary purpose to the KYC patent… except that it involves working with members of the Hacking Team surveillance company.
Due to this controversial decision, bitcoiners have started the #DeleteCoinbase movement. In February, Udi Wertheimer has created the #DeleteCoinbaseTrustChain to protest against Neutrino. And in the following weeks, lots of community members have closed down their accounts.  
Coinbase responded by making it more difficult to delete accounts. In a nutshell, small amounts that could not get transferred prevented account deletion. The exchange also announced](https://blog.coinbase.com/living-up-to-our-values-and-the-neutrino-acquisition-ba98174cdcf6) that they would fire all former Hacking Team employees. Yet to this day, the decision was never confirmed.
Does Coinbase Monitor Where You Send and From Where You Receive Coins?
In a nutshell, yes. Coinbase makes extra efforts to maintain its panopticon status. They try to get their users to verify their accounts and then track their every transaction. Through patented KYC/AML tools, all generated addresses have known identities. So it's impossible for anyone to remain anonymous while trading on Coinbase.
This is terrible for monetary fungibility and individual purchases. If all BTC transactions happened on Coinbase, it would be terrible. The exchange could decide where you can and where you can't spend your money. 
As a matter of fact, Coinbase has a record of tracking users who use gambling websites or dark markets. If they get caught, they get threatened with account closure and may even get reported to the police. So Coinbase is a worse custodian than even your bank.
Coinbase's Security
Coinbase never lost any cryptocurrencies in a hack which targeted the exchange. Instead, whenever reports emerge about thefts, they're about individual accounts. So up until this point, Coinbase has a good record as a custodian.
Yet good security is not enough. Users need to also find good ways to secure their own coins. And there are plenty of SIM swap hacking reports which suggest that Coinbase can do better. Users should have better authentication tools than text messages sent to their phones.
But hackers aren't the only entities against whom you should protect your coins. Coinbase itself is an attack vector, as the exchange can freeze your account or seize funds. So you must always pay attention to the user agreement to avoid breaches.
Coinbase's funds benefit from and FDIC insurance from Aon. Up to $250.000 will get returned to you in the event that anything bad happens. 
But this still doesn't mean that you should be reckless with your money. While bitcoins are scarce, US dollars are highly inflationary. And as mentioned before, insurance companies will do their best to avoid paying. So if they can make it look like it's your fault, then they will.
So Coinbase users shouldn't feel safe only because the exchange wasn't hacked. Unfortunate events can happen at any time. And even if they don't, Coinbase is still an enemy of Bitcoin. They will track you, identify and store your transactions, and tell you how you can and can't use your own money. 
So accepting Coinbase's custodianship is a form of renouncing your economic freedom. And everyone who ever transacts with you also gets targeted by blockchain analysis. In the words of JFK, as not how Coinbase can secure your money. Ask yourself how you can secure your money from Coinbase.
Privacy on Coinbase
Privacy precedes security. If nobody knowns how much money you have, then there's no incentive for criminals to target you. But to say that Coinbase is a privacy-friendly exchange is a gargantuan exaggeration. 
First of all, you can't use your own node and must rely on theirs for transaction validation. This means that Coinbase knows which addresses you generate and how many coins you own. And this data will get shared with any governmental authority that asks for it. So if it gets leaked, you should evaluate your physical security.
Coinbase also knows with whom you transact and can determine patterns. You have no privacy on their exchange, as you're under permanent financial surveillance. And if you want to use your own node, you better withdraw your coins to your own wallet. The "not your keys, not your bitcoin" saying is always applicable. Even if it's about third parties controlling what you can and what you can't do with your own money. 
By using the Coinbase wallet you don't only ruin your own privacy. Everyone else who sends or receives coins from you is also targeted by "intelligence". Some of the same people who used to help authoritarian governments arrest freedom fighters will watch over your financial records. If they don't like what you're doing, they can flag you and shut down your account.
Coinbase is KYC/AML compliant at every level. Dealing with the exchange is a way of surrendering your financial privacy. Some may say it's a tradeoff between convenience and privacy. And they will even argue that it's the same as in the case of bank accounts. 
But your bank doesn't spend as much time and money to find out how you spend your funds. Banks even let you withdraw cash, which is the most direct and private way to transact. And most of the times, banks won't care where your money comes from. Unfortunately, Coinbase does care and keeps records.
Coinbase will not allow you to deal with fiat without undergoing KYC/AML. And even the most basic unverified signup requires full name, e-mail address, and phone number. If you want to buy coins with your card or sell them for fiat, you will need to submit ID, pictures, and other documents. 
If you check Coinbase's privacy policy, you will notice that lots of data gets collected. The good news is that no information gets sold to third parties without your consent. 
Also, since January 2020, Coinbase has a Privacy Dashboard. This allows all users to check the data that gets collected about them. Customers can also request the data to get modified or deleted. In Europe, Coinbase users can cite the GDPR for this. In the USA, Coinbase complies with the CCPA (California Consumer Privacy Act).
Coinbase is pretty strict and draconian about private data collection.
And in June of 2020, it came to light that Coinbase was attempting to sell it's blockchain analytics data (which it also uses to monitor its own users) to the IRS and the DEA. This came at the same time that Coinbase publicly stated they stood with the #BlackLivesMatter protesters. It is, frankly, hard for us to imagine an institution that has done more harm to the black community than the DEA.
Common Coinbase Scams to Avoid
There are two important details to remember about Coinbase. First of all, they don't give away free cryptocurrencies in ridiculous promotions. All Twitter, Facebook, Instagram and YouTube posts about giveaways are most likely scams. Especially if you get asked to send some of your own coins first to receive a higher amount. Be wary of those, they get pretty ubiquitous during bull markets.
Then there are phishing scams. These are common in pretty much every activity that involves money and data. Never click on dubious links, double check URLs, and look for the encryption lock icon. Typos are usually a good indicator to figure out that you're accessing a fake webpage. So take extra precautions before entering your login information. And use a browser which authenticates real websites, such as Firefox.
Last but not least, watch out for fake e-mails and phone calls. Coinbase will never contact you to ask for your account data. They won't verify your login via e-mail or phone. And if you're uncertain about the nature of an inquiry, use the official Coinbase contact page. They will get back to you and clarify.
Security
Coinbase and Kraken are the only two big exchanges that never lost their customers' funds. In contrast, Binance and Coinmama have a worse track record. The latter two have lost both user data and coins due to faulty security. 
For custodianship and intensive trading, Kraken and Coinbase are the best choices. But for cheap purchases and withdrawals, Binance and Coinmama may be better.
Friendliness with Bitcoin
Time and time again, Coinbase has acted in bad faith in relation to Bitcoin. CEO Brian Armstrong has supported every contentious hard fork. And when it came to supporting Bitcoin's scaling, Coinbase has delayed its scaling.
The only other bad actor here is Binance. After it got hacked in May 2018, CEO "CZ" Changpeng Zhao said he considered rolling back the Bitcoin chain. It was both foolish and selfish on his behalf to think that miners would want a block reorg. And it demonstrated once again that Binance doesn't support Bitcoin. First they take years to add SegWit support, then they want to reorg the blockchain. To them, it's another ticker symbol.
Historically speaking, Kraken has been very friendly with Bitcoin. A month before the SegWit2X hard fork, they had no plans to support it. By October 31st 2017, they have already added SegWit support for the real Bitcoin. Having been on the market since July 2011, Kraken is a friend of Bitcoin.
Coinmama didn't get involved in Bitcoin politics and still has no record in this sense. Yet the Israel-based exchange does support SegWit (P2SH, which begin with a 3) addresses. Their neutrality works in their favor, as they are less likely to attack Bitcoin.
So if you hate Coinbase for political reasons, Kraken is the best alternative. 
FDIC Insurance
Coinbase and Binance US are the only two exchanges in this review to offer FDIC insurance. On both platforms, up to $250,0000 in cryptocurrencies get covered by an insurance policy. Yet this only applies if funds get lost due to circumstances that aren't your fault. The FDIC insurance won't cover your bad trades or losses caused by poor account security.
Kraken and Coinmama are not FDIC insured and don't seem to aspire to this status.
Worldwide Availability
As explained in section 9 of this article, Coinbase only works in 43 countries. In other regions, you can only do crypto to crypto trades. But if you want to enjoy all the services, you need to be in North America, Europe, or Singapore.
In contrast, Kraken works globally and only has 8 exceptions listed. So if you don't live in Afghanistan, Cuba, Guinea-Bissau, Iran, Iraq, Japan, North Korea, or Tajikistan, you're good to go. Yet this loose policy means that Kraken can't service New York and Washington state residents. BitLicense is only given to the strict KYCers.
Binance is not as friendly and has more restrictions in place. Since April 2020, debit and credit card payments no longer work in 21 more countries. Yet users can still trade up to 2 BTC/day with no KYC if they don't use any fiat currencies. This means that anyone around the world can use a VPN and trade bitcoins.
Coinmama's availability is very similar with Kraken's. The exchange is available in hundreds of countries and features verification tiers. Depending on how much you trade, you must provide more data. This is more private than Coinbase and offers more coverage.
Cryptocurrency listings
As of June 2020, Coinbase supports 28 cryptocurrencies. In contrast, Coinmama lists only 10. Kraken, on the other hand, lists 34 coins and more than 51 crypto to crypto pairs. And in the case of Binance, we're speaking of hundreds of coins and pairs.
For buying BTC and transferring to your HODL wallet, Coinmama might be the best. It's simple, it has the fewest altcoins, and enables gradual KYC levels. 
But if you'd like to trade, Kraken is most likely the best place. It has been around for a long time, has a good reputation and great security. Sure, Binance is FDIC insured in the USA. But they still have a lot more to prove in the honesty department.
Planned Expansion of Coinbase
Coinbase keeps on expanding worldwide to service a growing number of customers. Thus in the future we should hear more about new offices opening in various parts of the world. And to service more people, new payment methods should also receive support.
Also, since becoming a "blockchain industry" business, Coinbase has listend new coins. Dozens of cryptocurrencies got added in the last couple of years, and we shouldn't expect them to stop. New trading pairs should also emerge in the wallet.
Coinbase appears to also enjoy buying businesses and incorporating them. And as part of the company's expansion, more services will get added. Likewise, the exchange will likely file more patents. 
Yet Coinbase's most ambitious plan is to create a crypto brokerage. Issuing securities has been in the books since 2018, but hasn't materialized yet. In the future, Coinbase might just become the NYSE or NASDAQ of cryptocurrencies.
The most contentious planned expansion yet is Coinase's previously mentioned attempt to offer its chain analysis services to the DEA and the IRS.
Why still choose Coinbase
Compared with all the others, Coinbase has the friendliest user experience. Anyone who has ever used an online financial service will know how to use Coinbase. So when it comes to onboarding newbies, it's unbeatable.
Also, Coinbase has a robust, intuitive, and popular wallet. It's the exchange wallet with the best security record. So if you want to have a custodian for your personal funds or merchant service, Coinbase is the safest.
And speaking of merchant services, Coinbase Commerce is second only to BTCPayServer. It provides one of the simplest ways to accept BTC, ETH, LTC, BCH, and stablecoins. If you're running a business and need crypto to fiat conversion, you don't have much of a choice.
Though Binance is also FDIC insured in the US, it hasn't been around for long enough to earn its good reputation. In contrast, Coinbase has been around since 2012 and worked as a US-first exchange. Thus, it is better than Binance for businesses and fund managers. 
Conclusion
Coinbase is second to none when it comes to its mix of user friendliness and security. The exchange also offers a wide range of services which extend beyond custodianship. And this is part of the problem: as Coinbase grows, it becomes less ethical. The relation with Bitcoin and its values doesn't get much better in time either.
Coinbase has been hostile to Bitcoin's decentralization and privacy since at least 2015. So this ideological reason might be enough of a reason to make lots of users avoid it. The shady business practices, unexpected listings, and quick price pumps don't help either.
Yet for bridging traditional finance and crypto, Coinbase is excellent. They issued a debit card and offer great merchant services. They created an OTC trading desk and offer extra incentives to institutional investors. And they also finance some of their own projects and acquire entire companies.
As of June 2020, Coinbase is an impressive behemoth. But all of its features come at great costs. First of all, Coinbase destroys Bitcoin's privacy and fungibility with surveillance. Secondly, the fees are some of the highest in the space. And thirdly, you can't escape the KYC/AML framework.
For newbies, fund managers, and merchants, Coinbase is great. But for bitcoiners and traders, there are better exchanges out there. And always keep in mind that today's immaculate security record will be forever forgotten after a major breach. Not your keys, not your coins.
Rating: 6.5