Disclaimer: this article includes affiliate links. When you make a purchase through one of our links, we may receive commissions.
In this post we are going to cover: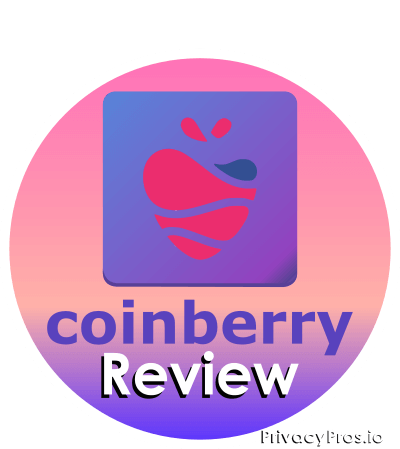 Coinberry services
Fees and limits
How to create an account
How to buy or sell on Coinberry
Plus more... Read on to learn everything you need to know about Coinberry.
Introduction: What Is Coinberry?
Coinberry is a Canadian exchange that lets you buy and sell Bitcoin, as well as other major cryptocurrencies. The exchange is Canadian, and it targets Canadian clients. The exchange supports Bitcoin, Ethereum, XRP, Litecoin, Bitcoin Cash, and Stellar.

As of 2019, Coinberry is the first and only platform for digital currencies partnered with Canadian Municipal Governments. This partnership is used for tax payment processing in Bitcoin. Coinberry is available on web and mobile devices.
QUICK TIP: The best place to store coins after you buy is not on an exchange. You need to buy a hardware wallet like a Ledger or Trezor to store them yourself.
Pros and Cons
Pros
Zero funding or withdrawal fees
Registered with FINTRAC
Low trading fees
Cons
Only supports Canadian clients
Confirmation of wired funds is sometimes delayed
Pros
Cons
Zero funding or withdrawal fees
Only supports Canadian clients
Registered with FINTRAC
Confirmation of wired funds is sometimes delayed
Coinberry Background
Coinberry was founded in 2017. In 2019, the Town of Innisfil officially partnered with the exchange. This was the first Canadian property tax payment paid in Bitcoin. Today, Coinberry also has a partnership with the City of Richmond Hill.
At Coinberry we believe in an inclusive blockchain-based economy. So we set out to build a global digital financial institution of the future. And we started with the most important step: building a trusted digital asset trading platform.

---
Is Coinberry Safe?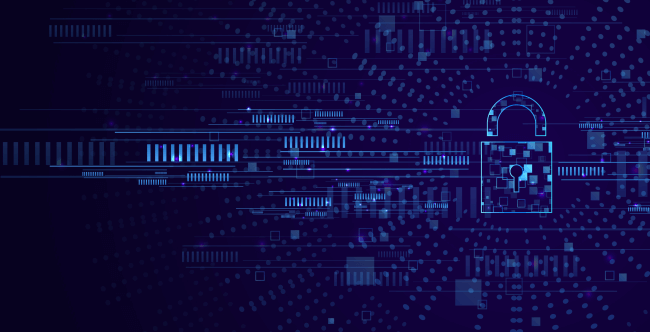 Yes, Coinberry offers numerous security features and is federally registered.
Because it is FINTRAC-registered, Coinberry is fully compliant with regulations. The platform is also committed to proper fraud monitoring, reporting, and user onboarding.
Coinberry relies on industry-standard cold storage for asset storage. CAD assets are stored with Schedule I Canadian Banking partners.
The platform has a zero-tolerance policy for fraud. Coinberry never stores member information on servers outside of Canada. The company also undergoes third-party financial statement audits annually.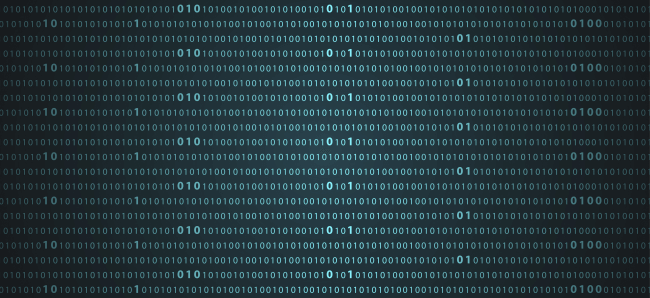 Coinberry uses military-grade encryption for data-in-transit and data-at-rest. It also uses dynamic threat models and penetration tests.
Services
Exchange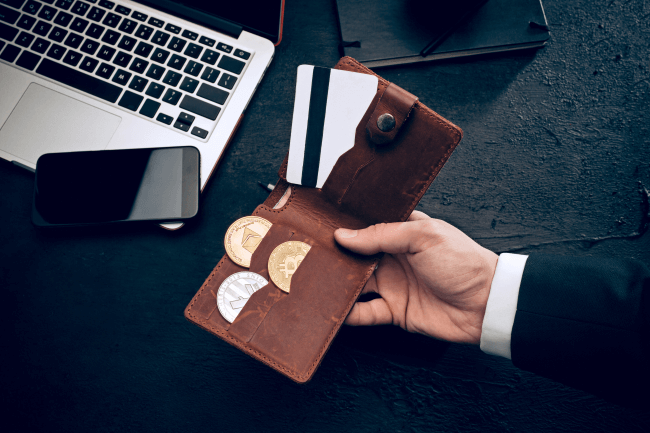 The primary service from Coinberry is exchanging cryptocurrency for CAD. You can buy and sell select cryptocurrencies using Canadian dollars.
Price Alerts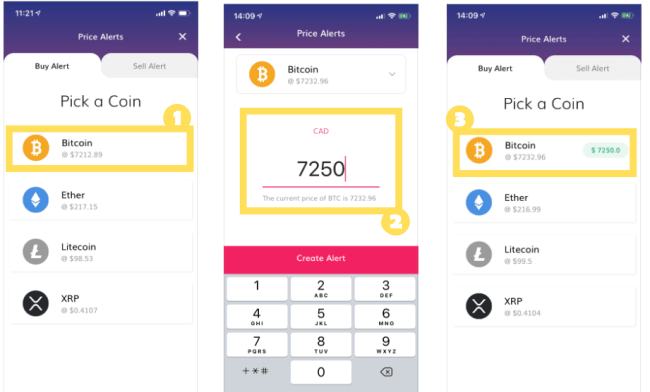 The mobile application includes price alerts. Visit the Settings section of the application and go to Price Notifications. Choose the Buy Alert tab or the Sell Alert tab, then choose your coin. Enter the price at which you want to be alerted. There is a maximum of one alert per coin.
AutoPilot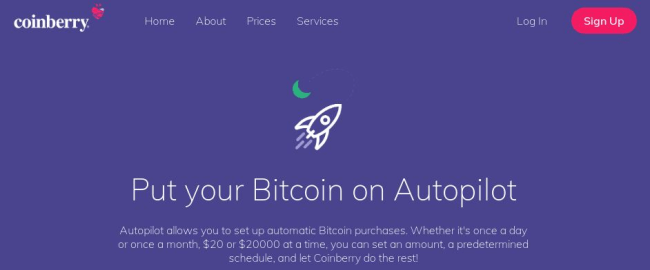 AutoPilot is a Coinberry feature that allows for automatic purchases of cryptocurrency. Go to the AutoPilot tab on the main navigation menu. Choose the coin, the amount, and the frequency. You can choose from daily, weekly, biweekly, and monthly. Select "Activate." Visit this page in the future and hit "Reset" to stop future automatic purchases.
This feature can reduce the risk as it minimizes against market fluctuations. It also saves you time via automation.
Coinberry Pay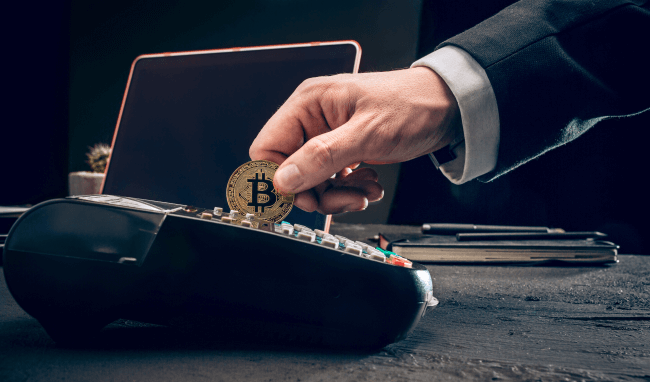 Coinberry Pay is a method of getting paid right into your Coinberry account. You can receive Bitcoin into your account. Coinberry will automatically convert it into CAD.
Setting up Coinberry Pay is simple for online sales. Click on "Coinberry Pay" on the main navigation menu. You will see a unique link. It also works for tips and donations with minor changes. You can set up a Coinberry Pay button on your website, as well. When someone makes a payment, it will be to a one-time address.
Referral Program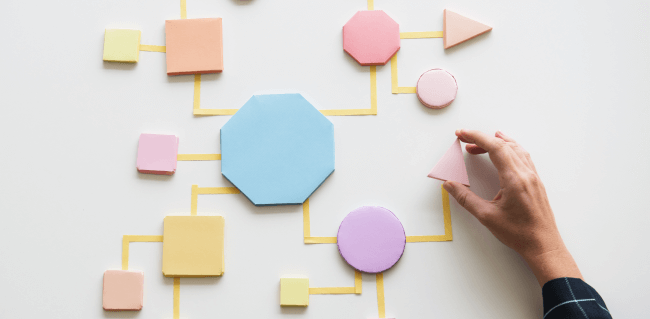 Coinberry offers a referral program. When you invite a new friend, you each receive $20 after their initial $50 trade.
Supported Payment Methods and Fees
Coinberry does not charge any funding fees. There is a minimum deposit of $50.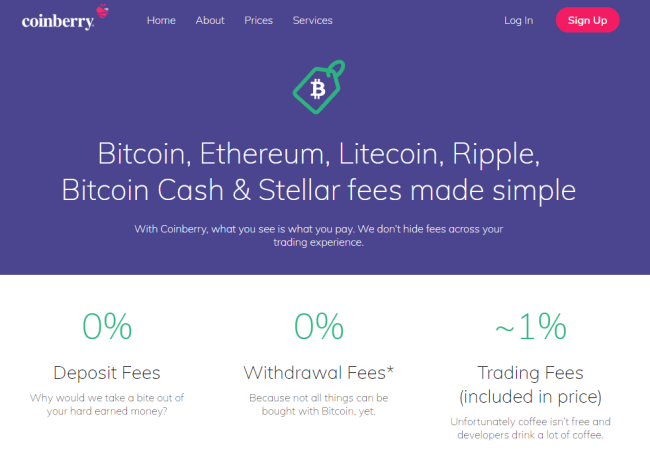 Trading fees are around 0.5 percent. Keep in mind that Coinberry does not cover the mining fees associated with cryptocurrency withdrawals. At the time of writing, these fees are 0.0005 BTC, 0.001 ETH, 0.02 LTC, and 1 XRP. The relevant mining fees are always listed on the Fees page.

Funding can be done via one of three methods. Interac e-transfers can take up to six hours to process. There is a maximum transfer of $10,000. Credit card transfers are instantaneous and can fund up to $500. Wire transfers can take up to a business day. There is a minimum transfer of $10,000 and a maximum of $500,000.
Info: Coinberry processes most e-transfers instantly. It cautions that banks can take up to 30 minutes for processing.
Withdrawal Fees
There are no withdrawal fees from Coinberry.
Withdrawal options are similar to deposit options. Interac e-transfers have a minimum of $100 and a maximum of $10,000. Wire transfer withdrawals must be between $10,000 and $500,000. Processing for either method is up to a business day.
Info: First-time users should keep in mind that withdrawals are locked for 72 hours after the initial deposit.
Your bank will typically process the e-transfer in one to three hours. Sometimes, however, it can take up to two business days.
Supported Countries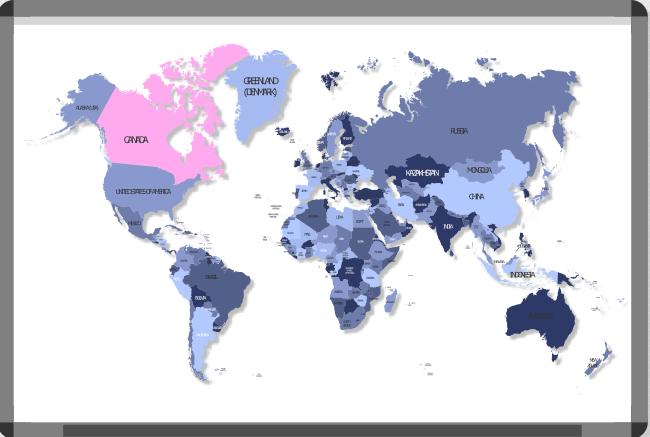 Coinberry is targeted to Canadians. It is a Canadian digital asset trading platform and supports buying and selling cryptocurrencies in Canada.
Supported Coins

Coinberry supports:
Bitcoin
Ethereum
Litecoin
Ripple
Bitcoin Cash
Stellar
Limits and Liquidity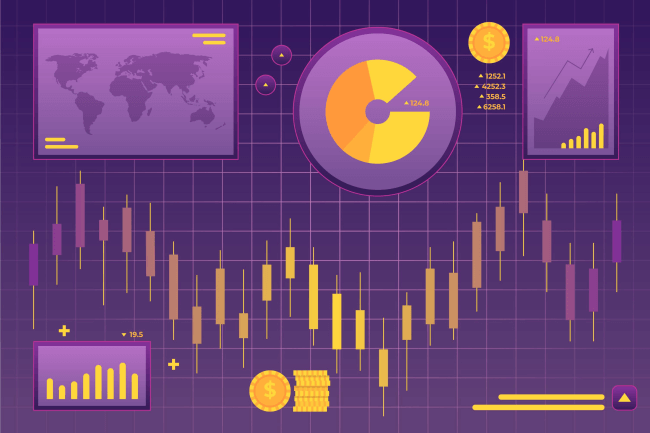 Coinberry does not explicitly state any limits for trade size. There are funding limits of $500, $10,000, and $500,000 CAD for credit cards, Interac e-transfers, and wire transfers, respectively.
User Interface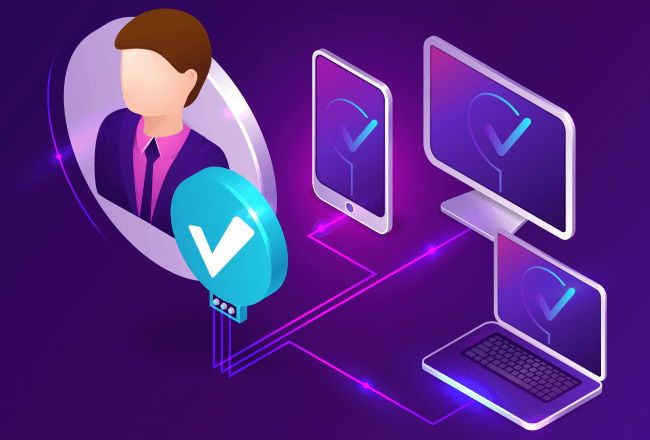 Desktop
The desktop user interface is straightforward to navigate, with a clearly labeled navigation menu.
Clearly labeled navigation menu
Clean design
Labeled screenshots in help section
Navigation sometimes requires multiple clicks
Some subtabs are hidden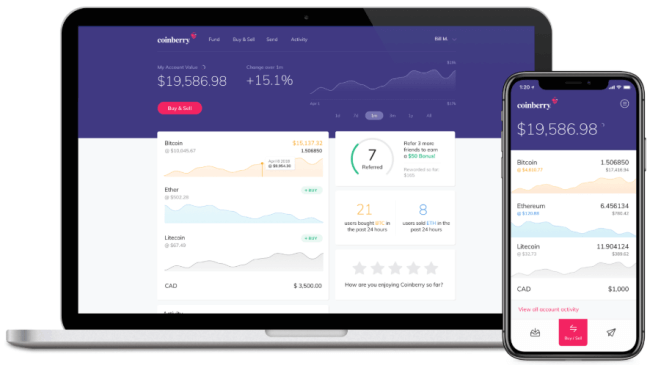 App
The mobile application is as easy to use as the desktop interface but on a more compacted scale.
Fully functional
Nearly identical to desktop version
Intuitive
Multiple clicks required for most menus
Deposit Time
Deposits can be instantaneous with credit cards or take up to a business day with wire transfers.
How Fast Does Coinberry Send Your Coins?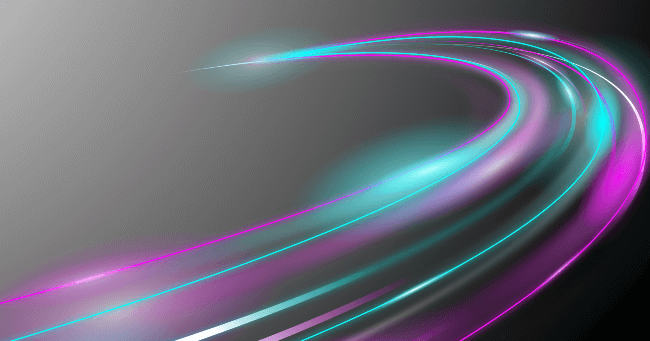 In Canada
Your coins arrive once Coinberry receives the funds.
Using a card, this is nearly instantaneous.
Using a bank transfer, this takes up to a day.
Customer Support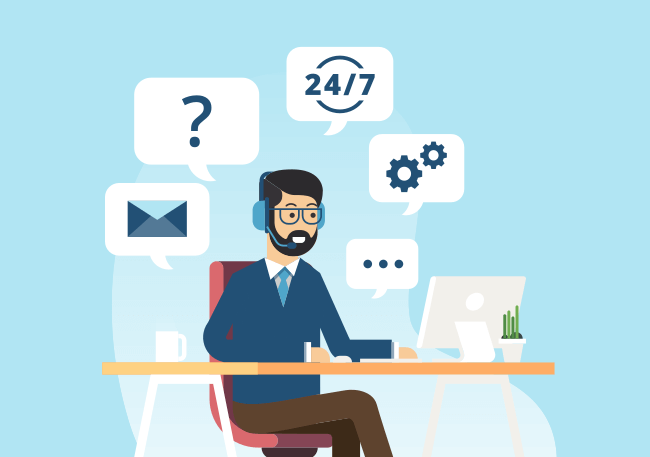 Customer support is available via an extensive help center with answers to the most common questions. There is also a live chat function and a contact form.
Public Opinion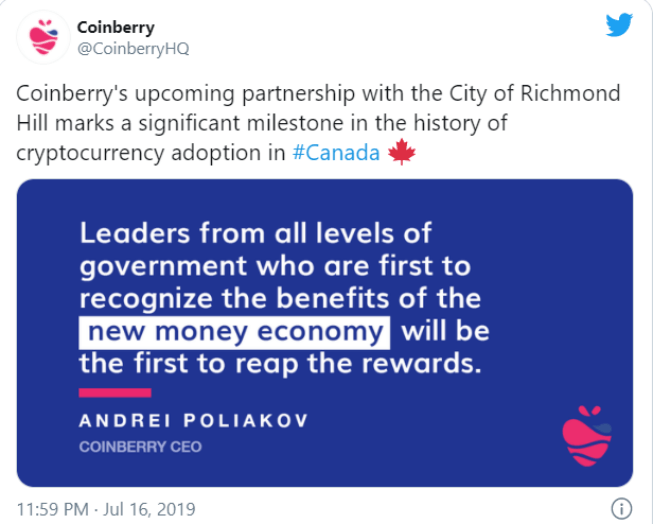 There is generally a strong public opinion of Coinberry. As mentioned, the platform works with the City of Richmond Hill and the Town of Innisfil. It was part of the first property tax payment using Bitcoin in Canada.
The platform has not faced any scandals to date.
Security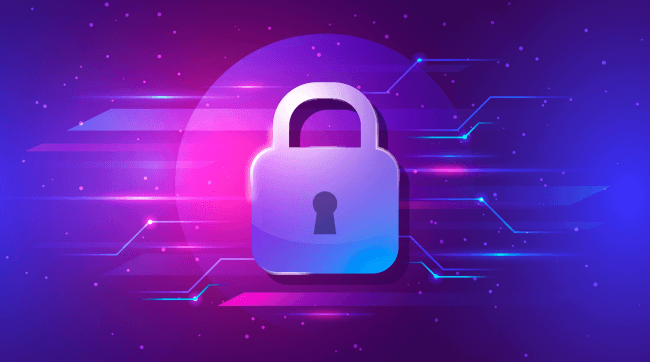 History of Hacks and Leaks
Coinberry does not have leaks or hacks in its short history.
Risks of Holding Coins on Exchange
Info: Holding coins on Coinberry comes with the same risks as other exchanges. There is always a potential for hacking and exchange downtime. The lack of scandal should provide some peace of mind. This is furthered by Coinberry's FINTRAC registration and PIPEDA compliance.
Because it is Canadian, Coinberry is FINTRAC-registered, not FDIC-registered. As such, there is no FDIC insurance.
Privacy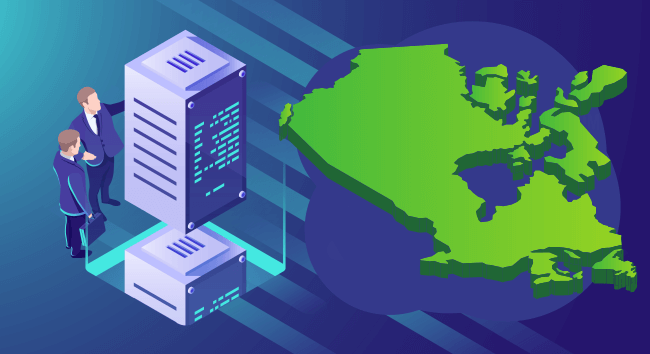 Coinberry requires KYC and AML compliance. Accounts must be verified before trading. To keep information safe, Coinberry only serves client information on Canadian servers.
Coinberry Walkthrough: How to Buy Bitcoin on Coinberry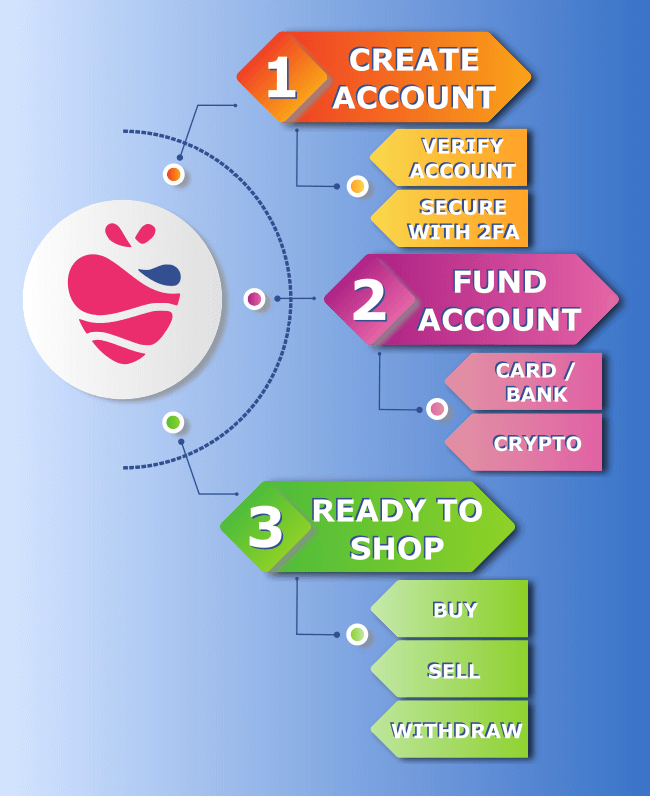 According to Coinberry, more than 90 percent of members are automatically verified. This allows for trading in minutes.
Create an Account
Click the Sign Up button on the top-right corner of the page.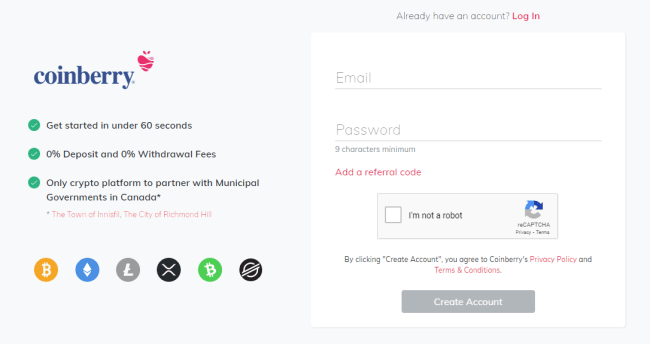 Choose a username and password. Fill in the relevant information on the following pages.
Verify Account
To verify your account, you must go through instant or manual verification. Most clients pass instant verification. If you do not, Coinberry will review your documents.
For verification, you need to upload a government-issued photo ID with your full name and birth date.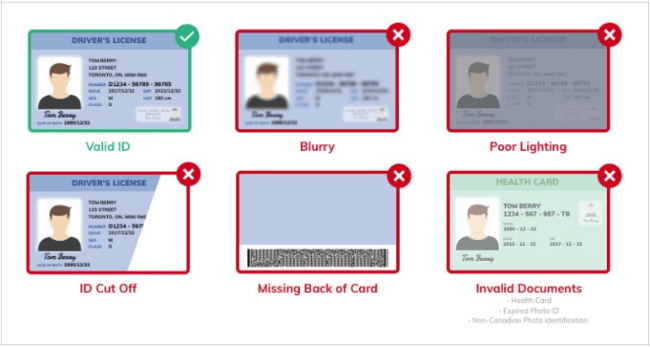 Your proof of address needs your name, address, and the date. It has to be from within the past three months. It can be a utility bill, investment account statement, Canadian Pension Plan Statement, CRA document, property tax assessment, Government Benefits statement, record of employment, or T4 statement.

You may also need to undergo selfie verification. This involves holding your photo ID and a piece of paper that has the date and "Coinberry" on it. You then take a picture of yourself with these items.
Secure Your Account with Two-Factor Authentication
Coinberry encourages users to set up two-factor authentication for security.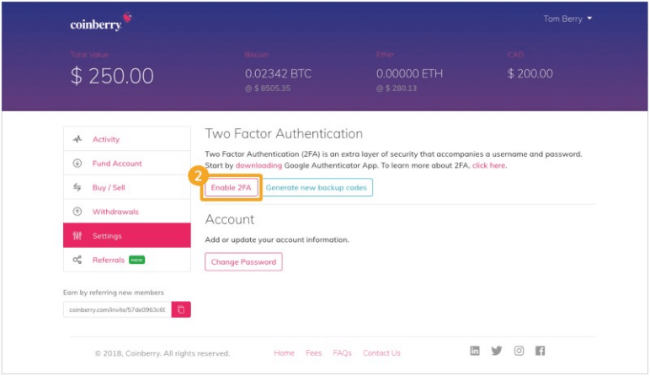 Download Google Authenticator to your smartphone. Start by choosing "Settings" when logged into your account. Click on the button "Enable 2FA." Open Google Authenticator and choose "Scan barcode" near the bottom of the screen. Scan the QR code on your Coinberry screen. Enter the Verify Token and click "Update".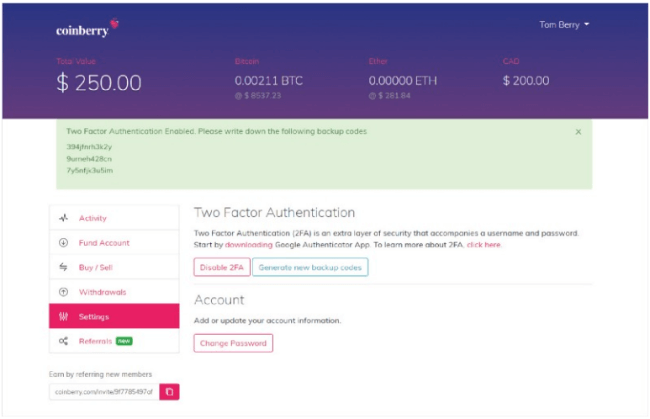 Coinberry will give you three backup codes. Store them somewhere safe.
Fund Account
Funding your account via any method starts by going to "Fund" at the top of the menu.
Step by Step Guide to Adding Payment Methods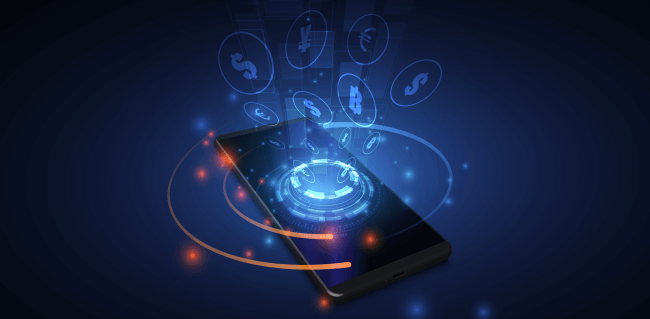 Adding Credit or Debit Card:
You do not fund your account using a credit or debit card. Instead, you directly purchase crypto using the card. Coinberry accepts Visa credit and debit cards.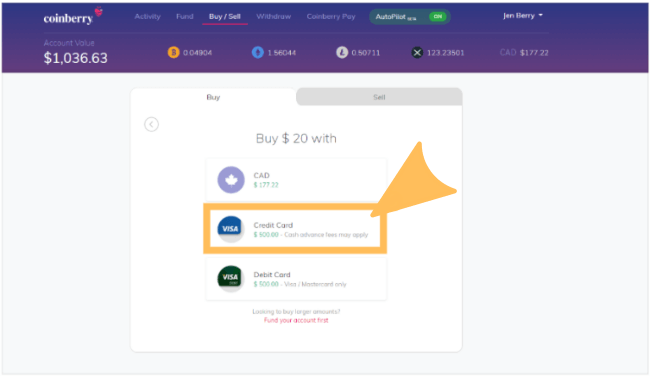 Go to the Buy/Sell tab on the main menu. Make sure you are on the Buy tab and choose your coin. Enter the amount you want to buy. Select credit or debit card as the payment method.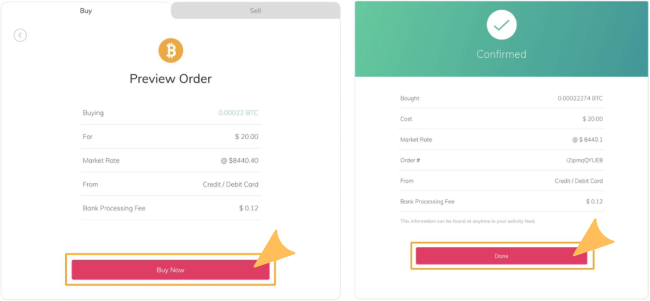 Enter the relevant card information and choose to Preview Order. Click "Buy Now."
Adding Bank Account Info:
It is simple to fund your account with an e-transfer. You just need a Canadian bank account that supports e-transfer.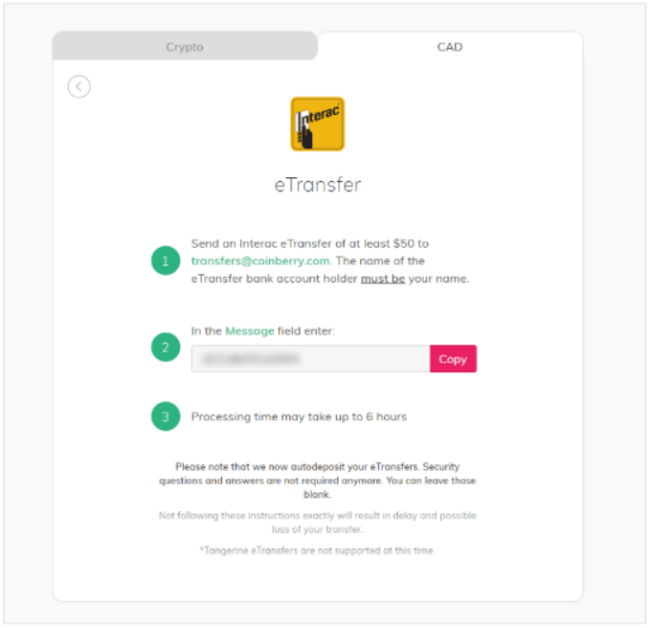 Start by adding Coinberry as a payee. For the Recipient Name and Last Name, enter "Coinberry Limited." For the email, enter "transfers@coinberry.com." You can leave the security question and answer empty.
Put your account number at Coinberry in the message field. Enter the amount to transfer and send.
Alternatively, you can use a wire transfer. This must be done in CAD.
Your name must be identical on your bank account and your Coinberry account. Write your account number in the notes or reference section.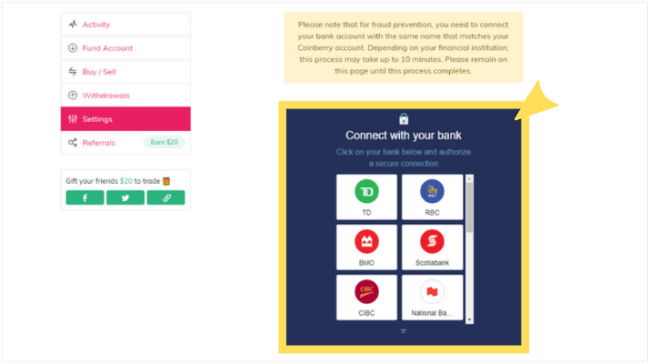 You can also directly link your bank account to Coinberry. Choose the drop-down menu with your name on the top right corner of the page. Click Settings. Click on "Link Bank Account." Choose your bank and log in using your online credentials. Coinberry uses a trusted third-party app for this process.
Funding Account with Crypto
You can fund your Coinberry account with Bitcoin or Ethereum.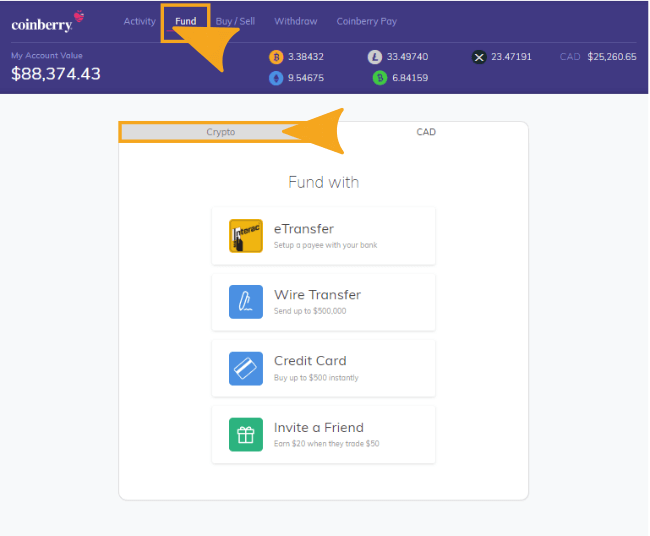 At the top of the page, select "Fund." Click on "Fund Account" then choose "Crypto."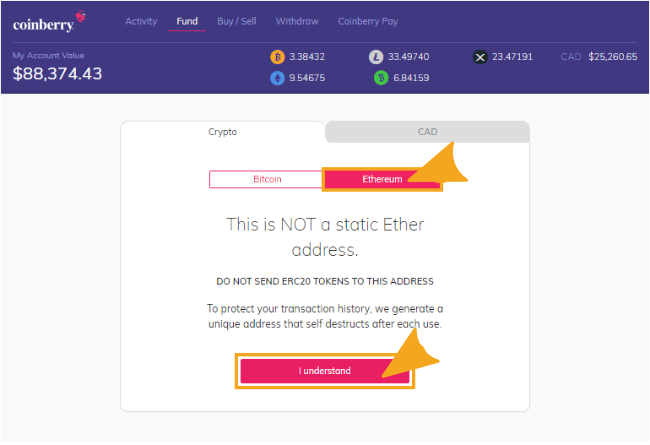 Select either Bitcoin or Ethereum at the top of the page. You will get a NON-static address. The unique address self-destructs following every use for safety. Copy and paste the crypto address or scan the QR code using your preferred wallet.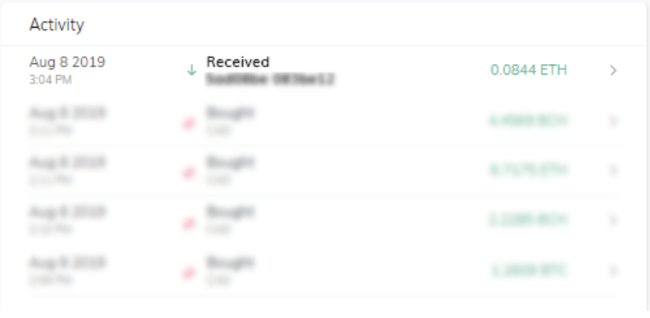 Confirm the funding in your Activity Feed.
Buying Coins on Coinberry
Start by clicking on the "Buy/Sell" button in the main navigation menu of Coinberry.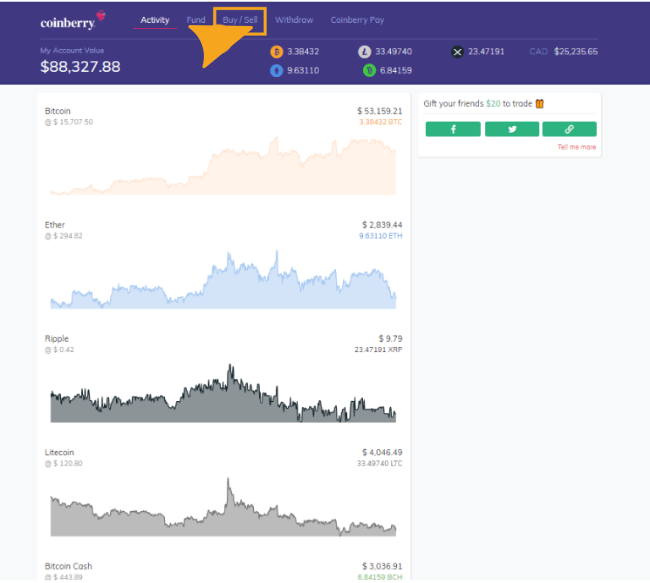 Select the cryptocurrency to buy from the drop-down menu. Enter the amount in CAD you want to convert to crypto. You will see an approximate value in crypto below the field.
The default tab is the market price and labeled "Market." Coinberry also supports limit orders. To buy cryptocurrency with a limit order, select the Limit tab. Enter your chosen price and an amount in CAD.
Choose to buy the cryptocurrency with the funds in your account, a debit card, or a credit card. Read the information on the Preview Order page, including the amount of cryptocurrency and CAD involved and the market rate. Select "Buy Now" to place your order. You will see a confirmation page.
Selling Coins
It is equally easy to sell cryptocurrency for CAD.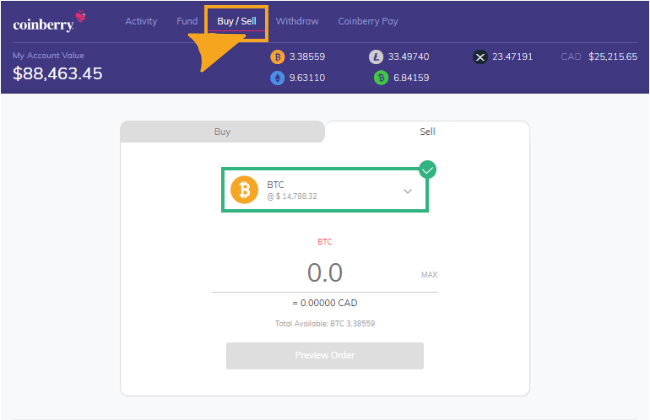 Start by choosing "Buy/Sell" from the main navigation menu. Go to the Sell tab. Choose your cryptocurrency from the drop-down menu. Enter the amount of crypto you want to sell. Coinberry will automatically calculate the approximate value in CAD.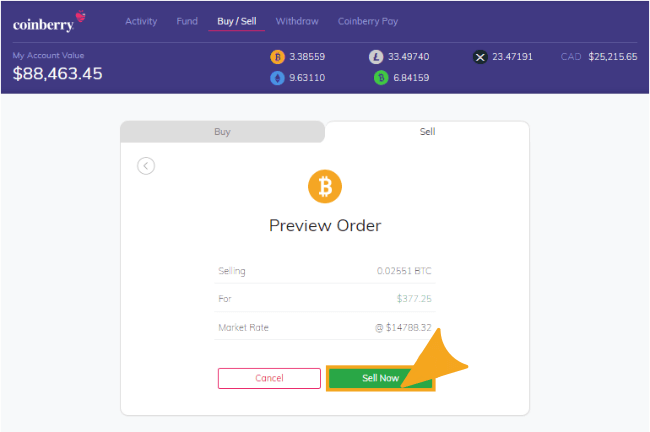 Select "Preview Order," review the information, and click "Sell Now." You can see the transaction in your Activity Feed.
Withdrawing Funds
If you want to withdrawal CAD, you can do so via ETF/e-transfer.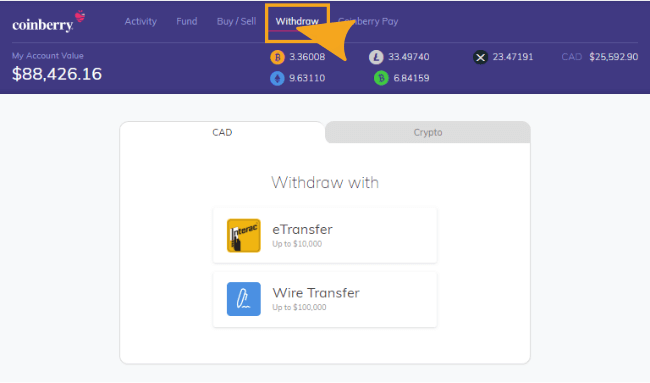 Click the Withdraw tab of the main navigation menu. Choose either eTransfer or wire transfer. Enter the amount in CAD to withdraw. Select "Continue" and Preview Withdrawal. Click "OK."
Withdrawing cryptocurrency is just as simple.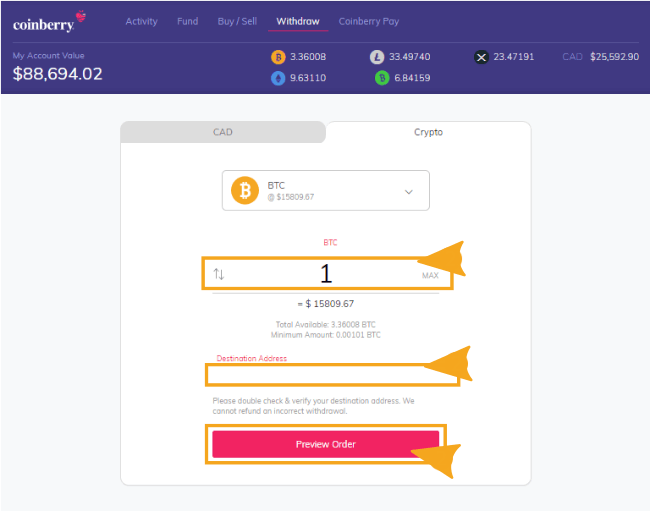 All you need to withdraw cryptocurrency funds is a wallet address. Go to the Withdrawals main navigation tab. Make sure you are on the Crypto tab. Choose your coin. Enter the amount to withdraw. Enter your destination wallet address. Click "Preview Order." You will need to confirm the action with your password to continue.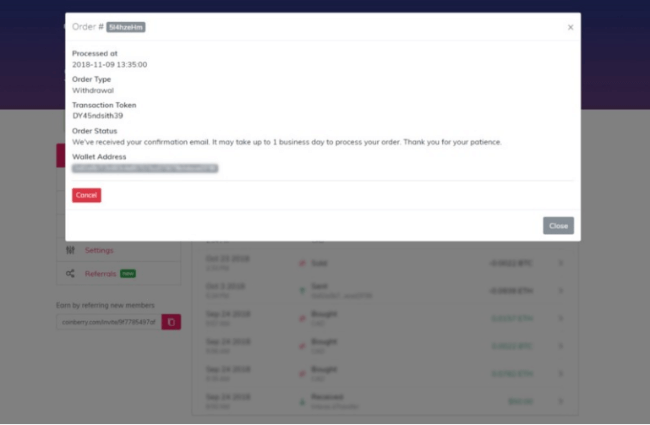 Your withdrawal will process within a business day, likely within 15 minutes.
Comparison with Other Exchanges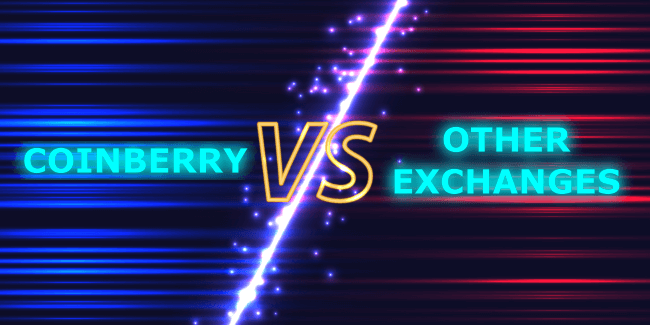 Compared to Coinbase, Coinberry is much smaller, as it is only available in Canada. By contrast, Coinbase is available in more than 100 countries. Both are known as innovators. Coinbase is known for its size and early entry. Coinberry is known for its use by municipal governments.
Like Coinbase, Binance is much larger than Coinberry and has a longer history. Coinberry's governmental interactions help it stand out. Additionally, Coinberry stands out with its lack of funding fees.
Conclusion
Coinberry is a Canadian exchange that lets users buy and sell cryptocurrencies for CAD. It is compliant with PIPEDA and registered with FINTRAC. There are no fees for funding or withdrawals, and trade fees are only around 0.5 percent. In its short history, Coinberry has not faced any scandals, hacks, or leaks.
Pros
Zero funding or withdrawal fees
Registered with FINTRAC
Low trading fees
Cons
Only supports Canadian clients
Confirmation of wired funds is sometimes delayed
Pros
Cons
Zero funding or withdrawal fees
Only supports Canadian clients
Registered with FINTRAC
Confirmation of wired funds is sometimes delayed
Rating: 6.0/10
FAQ
Is the Exchange FDIC-Insured?
No, as a Canadian exchange, it is FINTRAC-registered.
How Do I Get My Money Out of Coinberry?
You can withdraw CAD via e-transfers or wire transfers, or you can withdraw cryptocurrency to your wallet.
How Long Does It Take to Withdraw from Coinberry?
Cryptocurrency withdrawals are typically processed within 15 minutes, but it can take a business day.
Should I Keep My Coins on this Exchange?
Coinberry uses strong encryption and security methods, making the platform likely safe to use. As with any exchange, it is wise to keep minimum funds on the platform to minimize potential losses in case of a hack.
How Do You Use Coinberry?
Coinberry offers intuitive step-by-step on-screen instructions to buy or sell cryptocurrency for CAD.
Is Coinberry a Wallet?
No, it is an exchange platform, but you can store cryptocurrency in your account like a wallet.
What Is Coinberry?
Coinberry is a leader in cryptocurrency trading with CAD.