Disclaimer: this article includes affiliate links. When you make a purchase through one of our links, we may receive commissions.
In this post we are going to cover: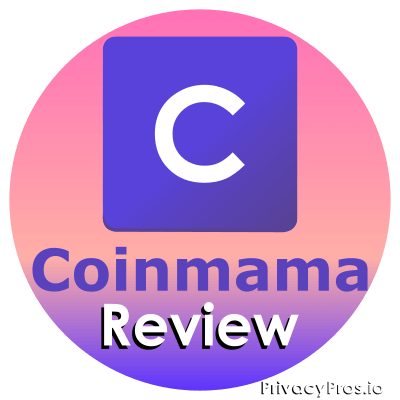 Coinmama services
Fees and limits
How to create an account
Coinmama security
Plus more... Read on to learn everything you need to know about Coinmama.
Introduction: What is CoinMama?
CoinMama is a cryptocurrency exchange tailored to crypto-novices. It offers only brokerage services: buying and selling of ten cryptocurrencies. You won't find a wallet, portfolio charts, or any complex features on CoinMama. While it offers a fast and easy way to buy crypto with your credit or debit card, CoinMama also has hefty fees, likely the highest in the market.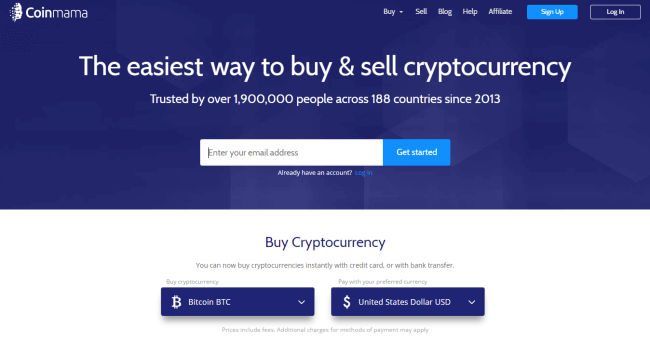 Think of CoinMama as an e-commerce store for crypto and not much more. The main advantage of using CoinMama lies in its world-wide availability and speed. Disadvantages include a lack of features such as a wallet and privacy issues.
QUICK TIP: The best place to store coins after you buy is not on an exchange. You need to buy a hardware wallet like a Ledger or Trezor to store them yourself.
CoinMama: Pros and Cons
Pros: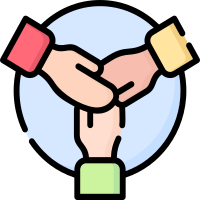 Beginner-Friendly. If there is one exchange a crypto-novice can use to buy their first coin, it's CoinMama. They streamlined the buying process, explained it in detail, and CoinMama sends you coins fast.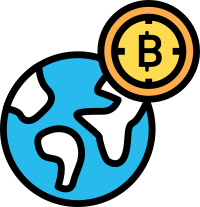 Buying crypto is available worldwide. Unlike other exchanges, CoinMama helps you buy crypto in more than 180 countries, even with a debit card.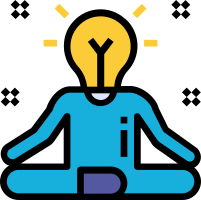 Easy to understand guides. One of the goals CoinMama founders set out to achieve is to educate the world about the crypto. And, they are doing well in this regard. You'll find an answer to any question you might have in their knowledgebase.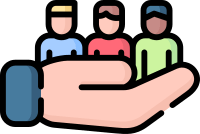 Helpful support team. While CoinMama has no Live Chat or Phone Customer support, their email support for verified users is fast and reliable.
Cons: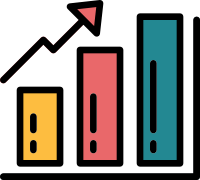 High Fees. CoinMama's combined fees for buying crypto using a credit card are 10.9%. Using wire transfer does bring the fees down to 5%.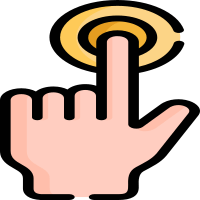 Simplicity. Advanced crypto users will quickly discover that CoinMama offers little for high fees.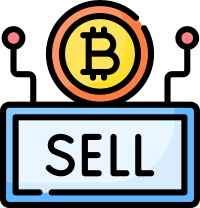 Selling cryptocurrency is limited to Bitcoin for customers in the 37 SEPA European countries.
Pros
Beginner Friendly
Buying crypto is available worldwide
Easy to understand guides
Helpful support team
Cons
High Fees
No advanced trading features
Many Europeans can only sell Bitcoin
Pros
Cons
Beginner Friendly
High Fees
Buying crypto is available worldwide
No advanced trading features
Easy to understand guides
Many Europeans can only sell Bitcoin
What Users Think about Coinmama
With a Trustpilot score of 4.5 CoinMama is a customer favorite.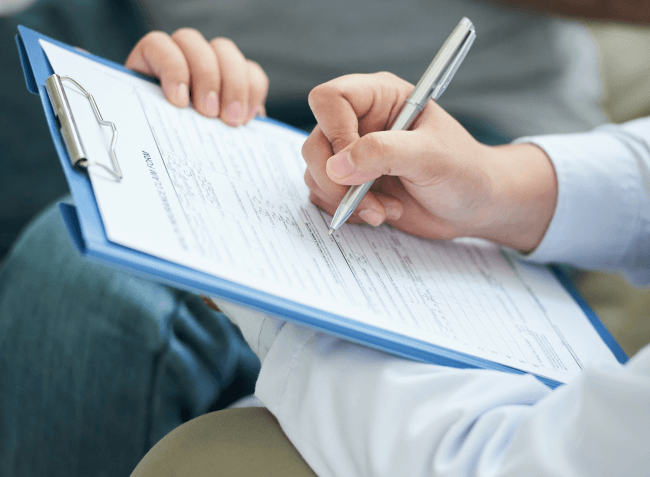 What users praise:
Great payment options
Reliablibility
Fast and easy transactions
An amazing support team (shout out to Ivan - one of CoinMama's Happiness Heroes)
What user dislike:
Strict verification process
Higher fees
Some countries are only allowed to Buy and NOT Sell
All in all, despite the high fees, you get what you pay for - a responsive, fast, trustworthy place to buy and sell crypto with a support team that cares about you and listens to you.
CoinMama's Background
CoinMama was founded in 2013 in Israel. As of recent, CoinMama operates in Slovakia. CoinMama states it currently serves over 1,900,000 users in 188 countries. They are providing a fast way to buy Bitcoin with a credit/ debit card, or with your bank account. You can also buy more cryptocurrencies, including ETH, XRP, and LTC.
CoinMama's mission has been to simplify the way the world does crypto.

---
Is CoinMama Safe?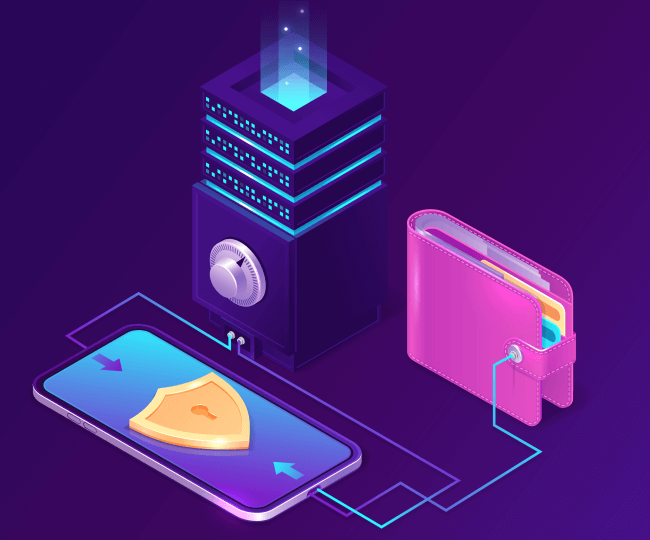 Coinmama doesn't provide you with a wallet for any cryptocurrency. It doesn't store or invest customer's funds. This way CoinMama protects itself from being a center of an attack. This also means that it is your responsibility to secure your self-hosted wallet.
Yet, one concern when it Comes to CoinMama (and any exchange) boils down to privacy. While Bitcoin is designed to be more private, CoinMama stores plenty of information on your purchases. This can include the origin of the transaction, i.e. your credit card data. But this is true for all exchanges and Coinmama is relatively private compared to most.
Comparison Table
This table compares Coinmama to other popular exchanges.
CoinMama Services
Info: CoinMama is brokerage-only exchange. A broker exchange holds the cryptocurrency and sells it directly to you for money. As an opposite, the exchange marketplace matches two independent buyers and sellers. There is no OTC trading, staking services or quick ways to earn free crypto on CoinMama.
Affiliate Program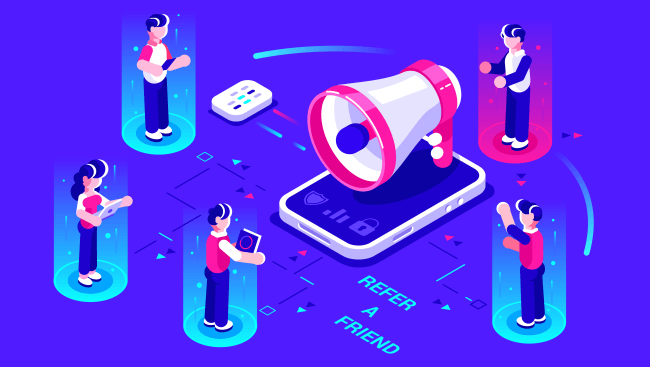 CoinMama offers an open affiliate program. You'll find it under the "Marketing Tools" tab in your account. You can earn 15% of CoinMama's commission on all your referral's purchases. There are no limitations to how many people you can refer to CoinMama. But there is a catch. You can cash out only after 3 successful orders made by at least 3 different people you referred.
Coinmama Loyalty Program for Reduced Fees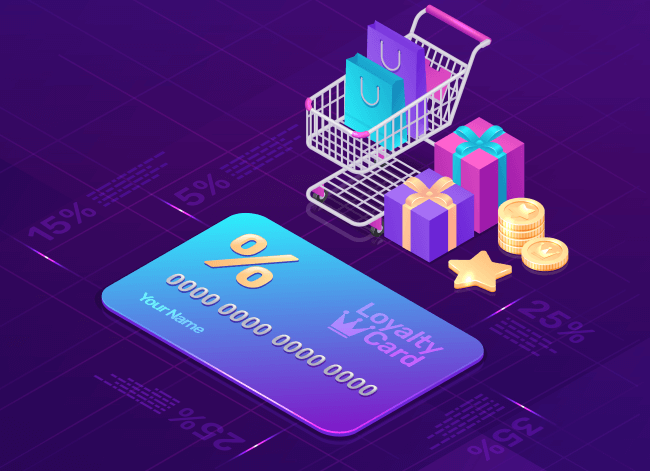 High fees are a major downside to using CoinMama. In response, they introduced Coinmama Loyalty in 2019 to offer three levels of fee savings. Coinmama Loyalty levels are:
Crypto Curious. These are new Coinmama users who pay the full fee (10.9%).
Crypto Enthusiasts. Gaining and maintaining Enthusiast loyalty level requires a cumulative purchase of 5,000 USD over a rolling 90-day period. Enthusiasm saves you 12.5% on CoinMama fees. And, you also enjoy faster customer support response times.
Crypto Believers. To gain and maintain the Believer status you need a cumulative purchase amount of 18,000 USD over a rolling 90-day period. Spending 50,000 USD or more also gets you this level. Believers save 25% on CoinMama fees and get VIP customer support.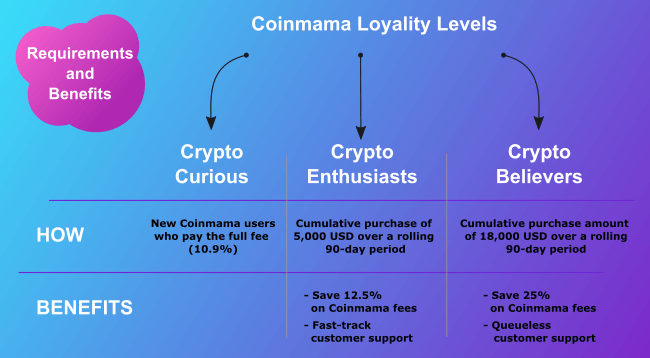 The loyalty savings appear as a crypto bonus when you check out.
Coupons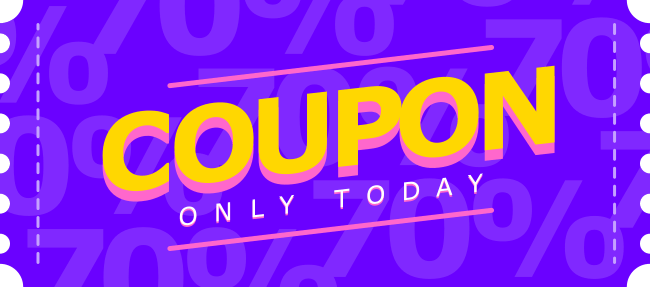 After registering I immediately noticed a Coupons link on my profile. There were no active promotions when I registered, but quick Googling gave me a code for a 5% off first purchase. There was, however, no field to input this coupon so it is either not working or just click bait.
Supported Payment Methods and Fees
You can buy cryptocurrency on CoinMama with any debit or credit MasterCard or Visa card. You can also use a standard bank transfer to buy crypto. CoinMama doesn't accept American Express, Discover Card, or Paypal.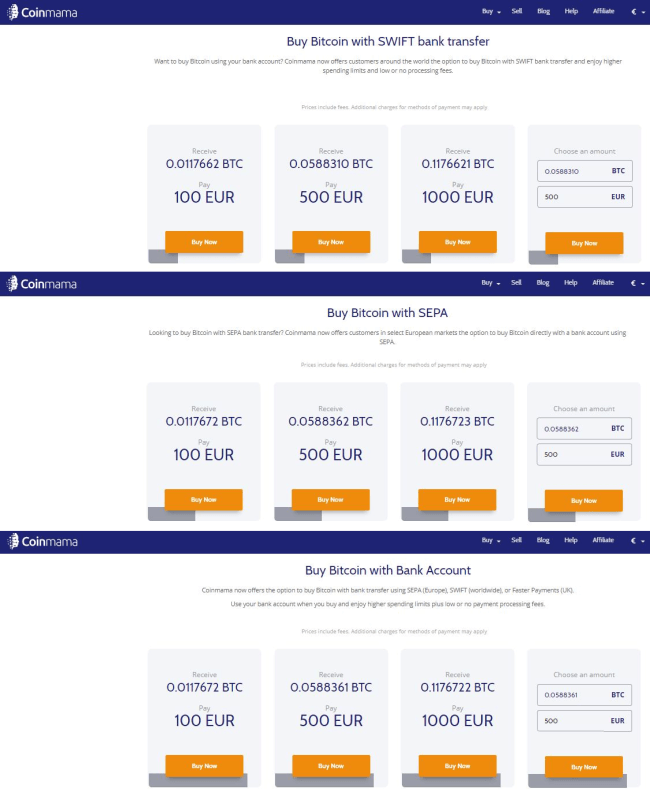 The Bank Transfer method is available through SEPA transfer in Europe and SWIFT transfer everywhere else. If you don't mind waiting, CoinMama accepts bank transfer orders of up to 12,000 USD per business day.
CoinMama Fees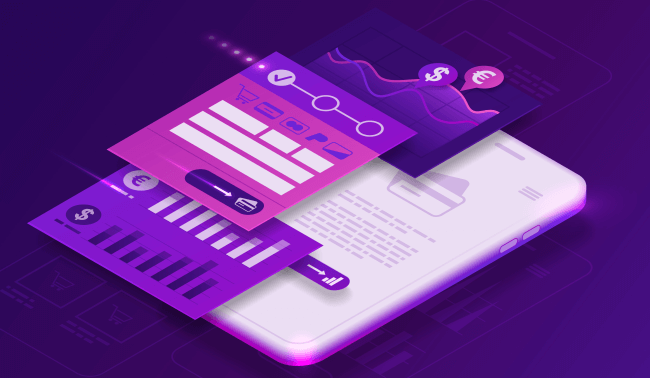 The prices listed on CoinMama rely on the TradeBlock XBX average + 2%. In addition to this, there are CoinMama commission fee (3.90%) on buy transactions and 0.9% fee on sell transactions.
Card transactions with a locked crypto rate and instant delivery, there is an extra 5.00% momentum fee.
In total, all fees add up to a 10.9% fee on card purchases.
Info: You can calculate how much the coins will cost you by dividing your funds by 1.05.
Orders by bank transfer (SWIFT, SEPA, and Faster Payments) don't have a momentum fee, and carry no extra fees if your purchase is over 1,000 USD.
Warning: A potential issue you might encounter when using cards is a Cash advance fee. Visa and MasterCard can consider cryptocurrency transactions as "quasi-cash transactions". A cash advance transaction is handled as a short-term loan from a credit card issuer.
While CoinMama gives a merchant code to the card issuer when claiming your payments, they decide whether to apply cash advance fee. CoinMama advises you to contact your bank and dispute this fee.
If you're using an account that is not in currencies supported by default, you can face an exchange rate fee to and from your local currency.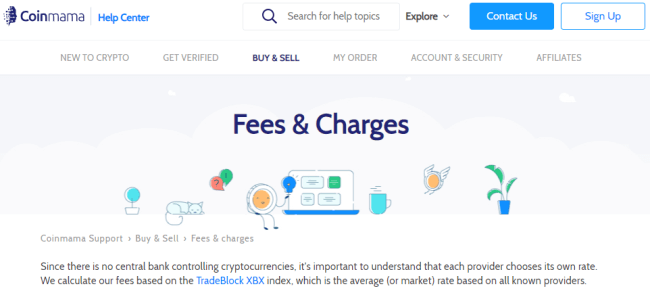 Bank transfer orders (SWIFT, SEPA, and Faster Payments - UK) don't have a momentum fee. If you live outside of Europe or the UK, you can buy crypto through a SWIFT bank transfer. Orders over 1000 USD carry no extra processing fee. Keep in mind here that bank transfer orders under 1,000 USD have a processing fee of 20 GBP. Your bank may also charge one more fee, this time for initiating the transfer.
Supported Countries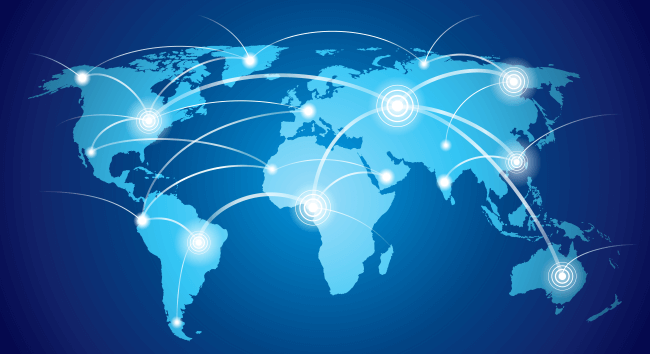 Coinmama supports all countries, states, and territories not listed below. If you don't see your home state or country in the table below, you are eligible to buy and sell on Coinmama.
Restricted Regions

| | |
| --- | --- |
| Restricted Countries | Cuba Crimea Iran Israel Lebanon North Korea Palestinian Territories South Sudan Sudan Syria |
| Restricted US States | Florida Hawaii New Mexico Oregon Vermont Hawaii |
| Restricted US Territories | American Samoa Guam Northern Mariana Islands Puerto Rico US Minor Outlying Islands Virgin Islands |
Supported Coins on CoinMama: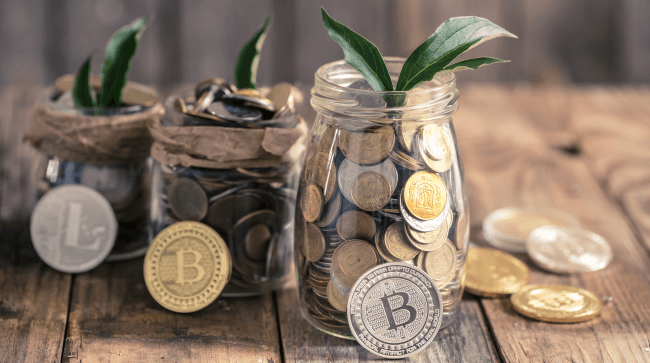 Bitcoin (BTC)
Bitcoin Cash (BCH)
Ethereum (ETH)
Ethereum Classic (ETC)
Cardano ADA
Litecoin (LTC)
Qtum (QTUM)
Ripple (XRP)
Tezos (XTZ)
Eos (EOS)
Limits and Liquidity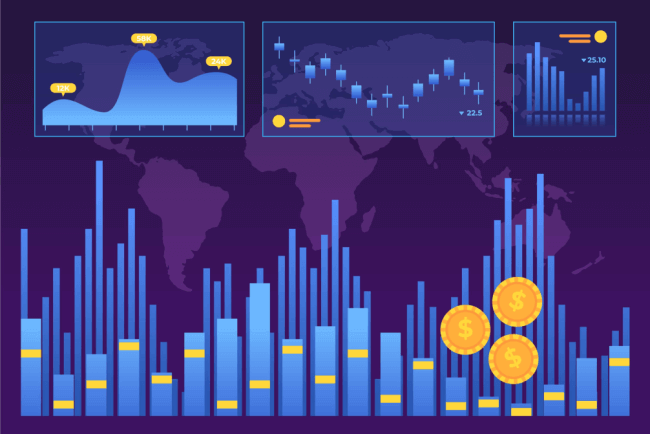 Coinmama's transaction limits are rolling limitations. This means they apply to any given 24-hour or 30-day period. Transaction limits reset based on your spending, and not on the first of the month. You can check your limits by logging into your account and selecting "limits".
CoinMama limits count all your transactions—both buy and sell—together.
| | |
| --- | --- |
| Level 1 (Account Transaction Limit: $15,000 USD) | Daily: Card (buy only): $5,000 / 5 orders Wire transfer (buy & sell): $12,000 Monthly: Card (buy only): $15,000 / 20 orders Wire transfer limit (buy & sell): $15,000/ 50 orders |
| Level 2 (Account Transaction Limit: $50,000 USD) | Daily: Card (buy only): 5 orders / $5,000 Wire transfer (buy & sell): 10 orders / $30,000 Monthly: Card (buy only): 30 orders / $30,000 Wire transfer(buy &sell): 50 orders / $50,000 |
| Level 3 (Account Transaction limit: $1,000,000 USD) | Daily: Card (buy only): 5 orders / $7,500 Wire transfer limit (buy & sell): 10 orders / $30,000 Monthly: Card (buy only): 30 orders / $40,000 Wire transfer (buy &sell): 50 orders / $100,000 |
To move up to levels 2 & 3, you must first spend USD 7,500 or the equal in crypto with CoinMama. You will also need to complete extra verification by providing:
one more valid government-issued ID and
a utility bill or
a bank statement from the past 6 months
You upload these documents through the verification form in your CoinMama account.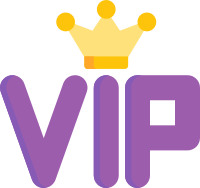 Level 4 is reserved for high-ticket buyers. If you're one of them, contact CoinMama at vip@coinmama.com. They will walk you through the necessary verification and KYC requirements.
User Interface
At the time, CoinMama only has a web interface. There is no CoinMama app, so you would need to use a mobile browser on your phone to access the website.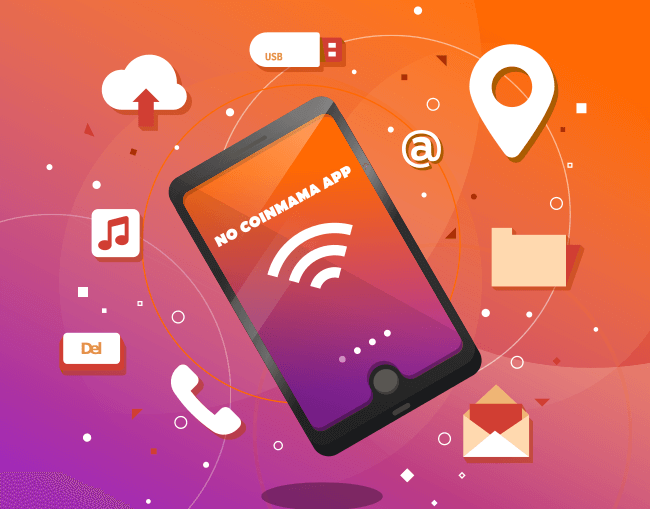 The most important options you need –Buy, Sell & Account– are proeminent. There is not much else to obstruct this view. You will need an additional wallet app on your machine to use the site.
Deposit Time
On CoinMama there are no direct deposits or linked credit/ bank accounts. You are purchasing coins directly from CoinMama. One thing to keep in mind is that you have 30 minutes before you place an order and confirm your wallet address. Otherwise, your order is canceled.
How Fast Does CoinMama Send Your Coins?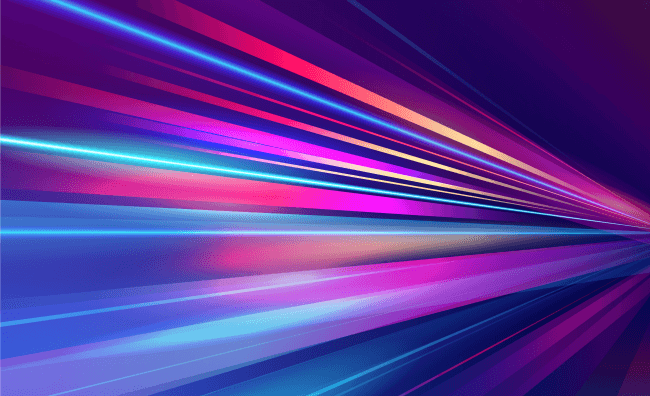 Using card:
As soon as you confirm your receiving wallet address, your coins to arrive in 10-20 minutes.
Using bank transfer:
Europe. SEPA bank transfers take around 24 hours to complete. If your payment doesn't reach CoinMama within seven days, it will expire and the coins will not be sent.
Rest of the world. SWIFT bank transfers take 2-3 business days to complete.
Customer Support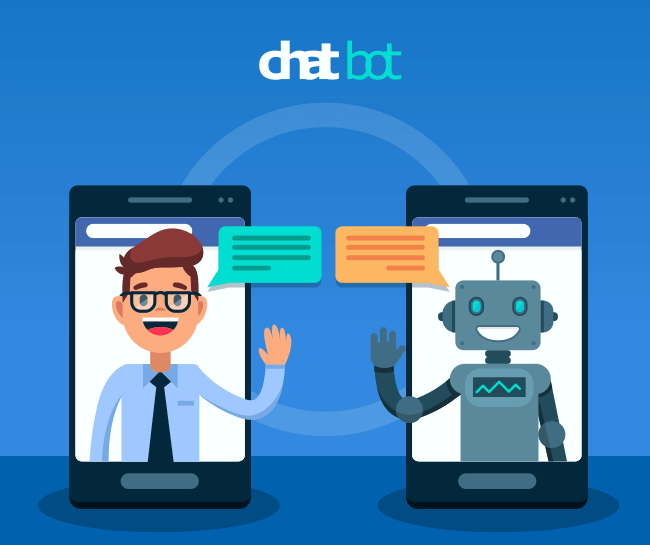 CoinMama doesn't have Live Chat or Phone Support. There is only a chatbot & email support.
Account verification support operates 24/7, while you can get:
Customer Service: Sunday-Thursday 9:00-18:00 GMT+3
Business Inquiries: Sunday-Thursday 9:00-18:00 GMT+3
Security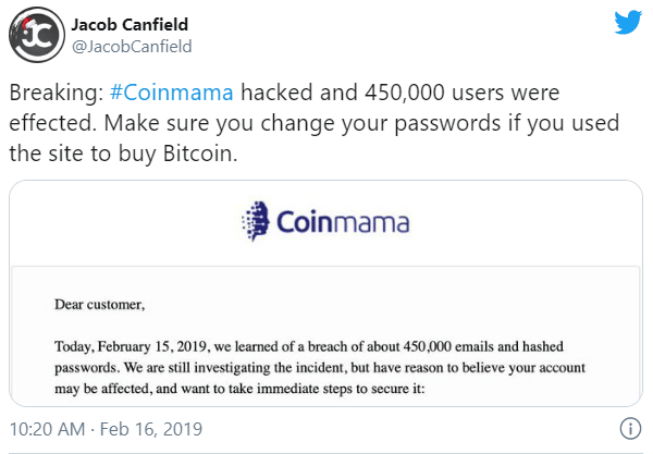 On February 15, 2019 a list of 450,000 emails and hashed passwords of CoinMama users registered until August 5th, 2017 were posted on a dark web registry.
While no one could steal users' cryptocurrency, the exposure of personal data was inevitable. CoinMama, at the time, prompted their users to change passwords, 2FA or similar security measure is still to be introduced.
Privacy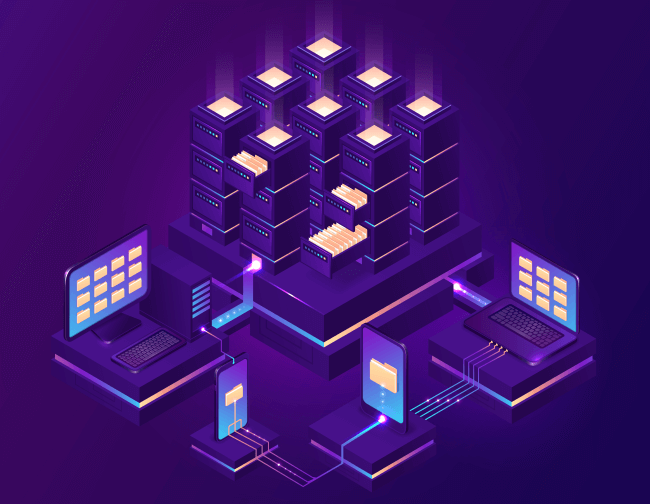 CoinMama doesn't hold customer data on the exchange servers, but that alone doesn't guarantee your privacy. Since CoinMama is licensed by FinCEN and IMPA, it has Know Your Customer (KYC) and Anti-Money Laundering (AML) procedures in place. You cannot trade any amount of value without providing your personal data, i,e. verifying your account.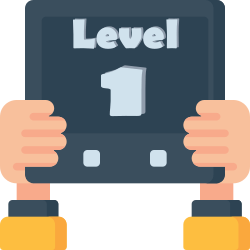 KYC Level 1 is needed to begin buying or selling crypto. As you'll see in a moment, you'll need to provide Email, Full Name, Date of birth, Phone number, Country, Address, National ID/Driver's License/Passport, and Selfie with ID document.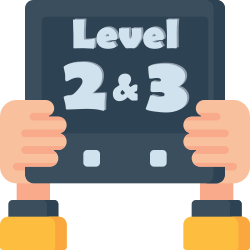 KYC Levels 2 & 3 are needed for higher spending limits. In these cases, you'll need to submit additional valid ID, Proof of residence, and Source of funds confirmation.
Will Coinmama Delete Your Personal Data If You Request it?
No, it won't. KYC and AML regulations require them to keep it. Even the General Data Protection Regulations ("GDPR") allow CoinMama not to use "right to be forgotten" requests (Article 17 of the GDPR).
CoinMama Walkthrough: How to Buy Bitcoin on CoinMama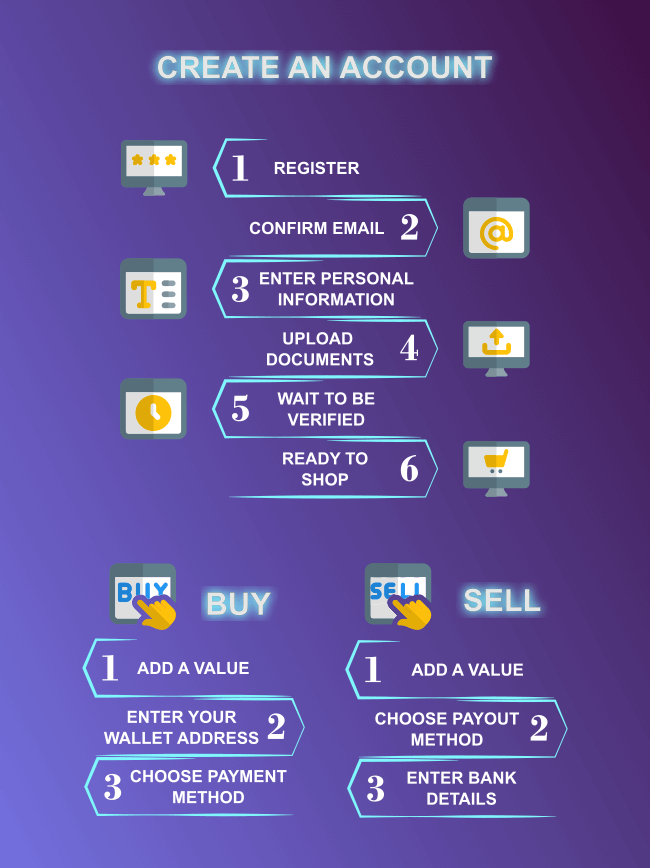 Create an Account
Step 1: Register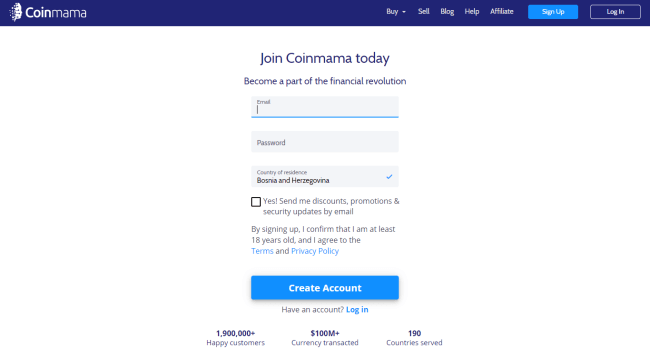 Step 2: Confirm Your Email Address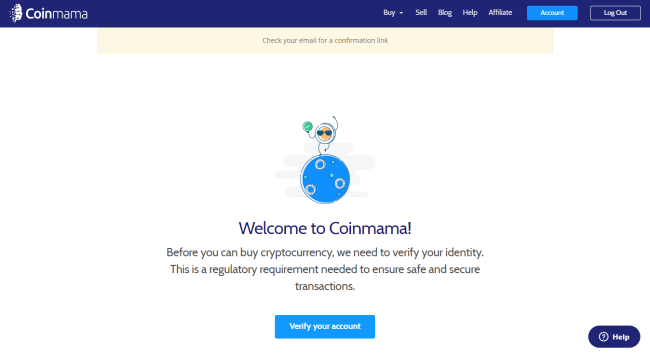 Account Verification
User verification nowadays takes several hours. During May's Bitcoin Halving it took less than 24 hrs to verify my account.
Step 3: Enter Your Personal Information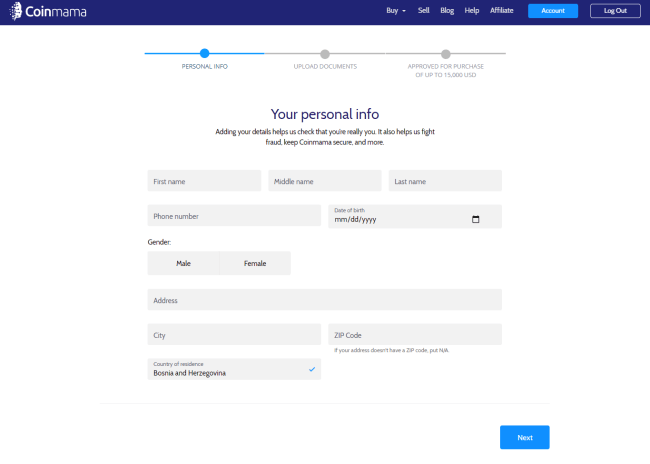 Step 4: Upload Your Documents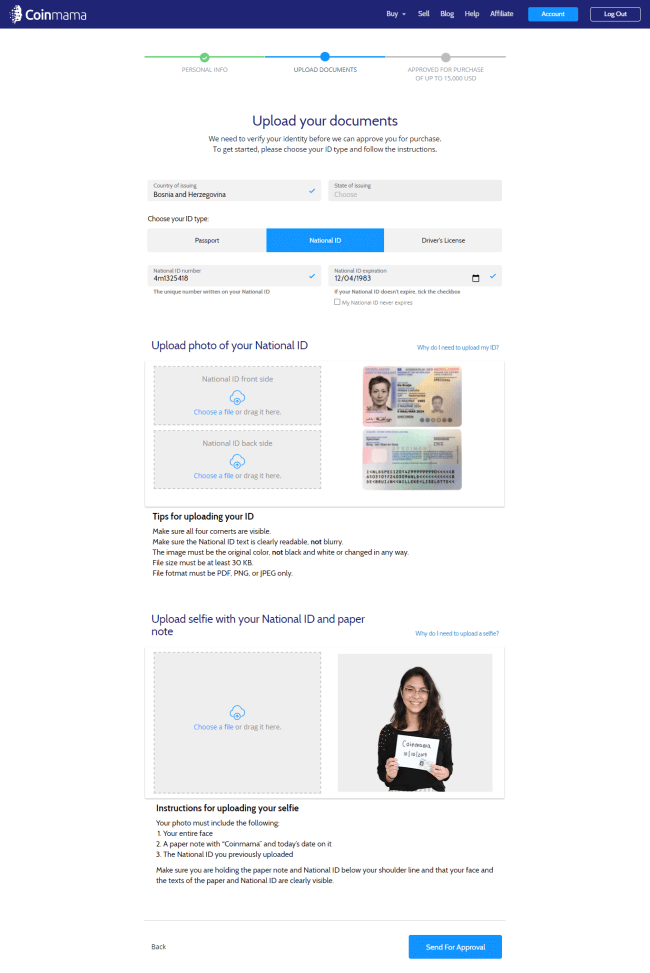 Step 5: Wait to be Verified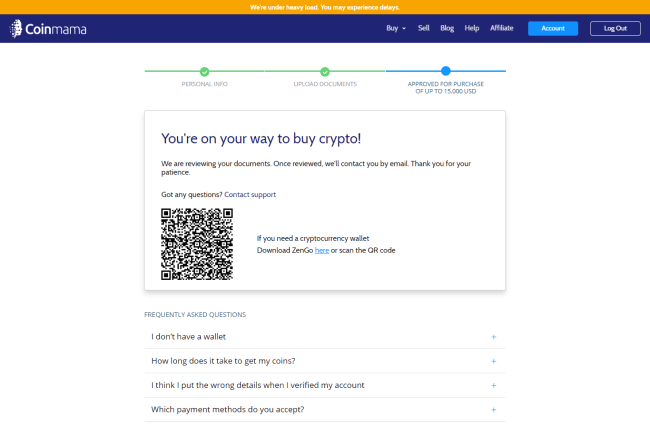 Step 6: Ready to Shop!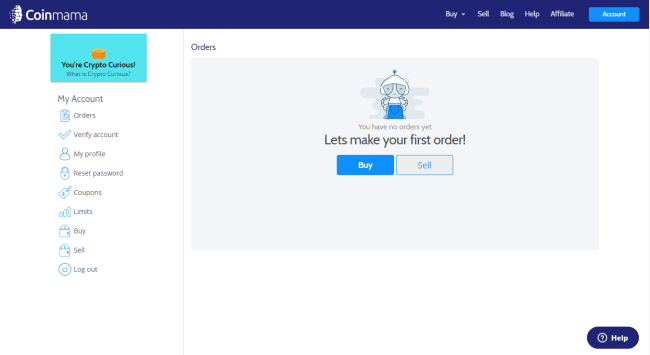 Funding Account & Withdrawing Funds
On CoinMama, you add your payment method each time you buy or sell. There is no option to fund your account with cryptocurrency.
Info: Since CoinMama doesn't store your funds with them, you are withdrawing your funds the moment you make the purchase.
The minimum transaction amount for orders to buy cryptocurrency on CoinMama is 50 USD. For selling cryptocurrency, the smallest amount you can sell is the BTC or other crypto equivalent of 50 USD.
Buying Coins on Coinmama
Step 1: Choose a predefined value, or enter a custom amount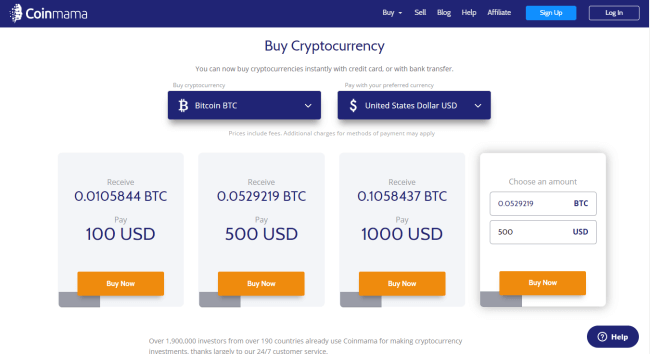 Step 2: Enter your wallet address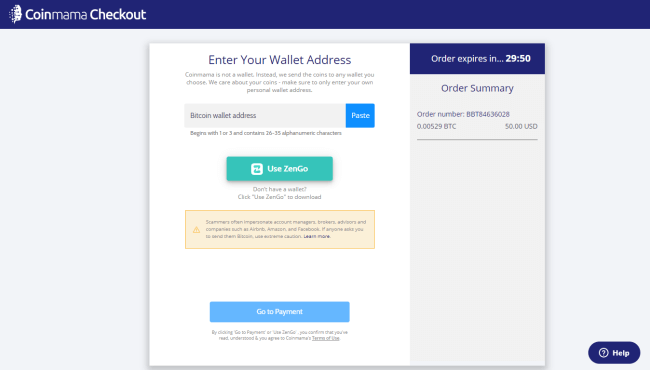 Step 3: Choose your payment method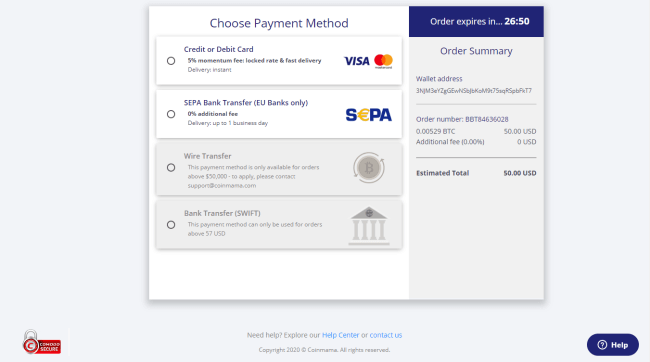 Step 4: Buy with bank card or bank transfer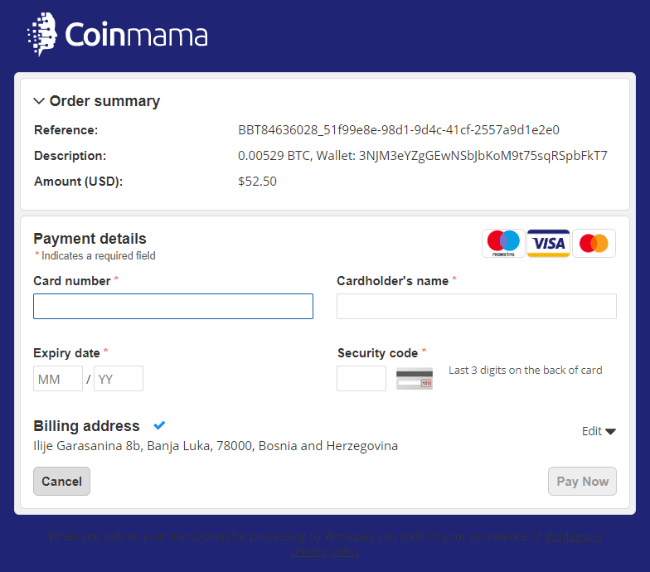 Step 4a: Accept SEPA ToC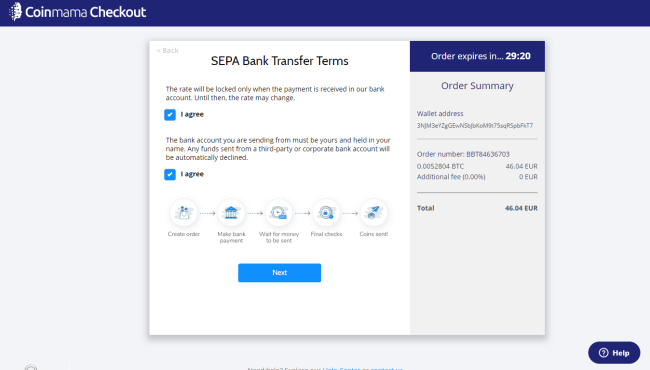 Step 4a: SEPA bank transfer instructions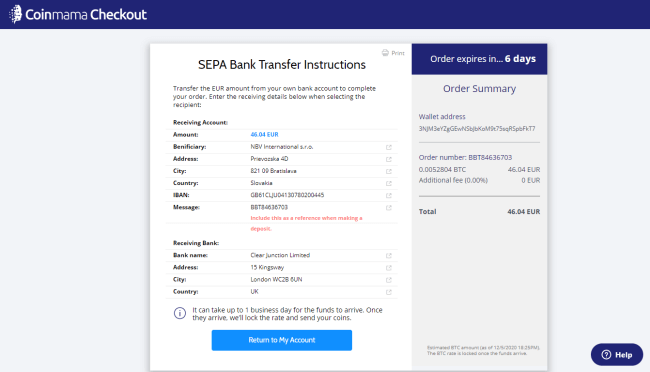 Step 4b: Confirm your wallet address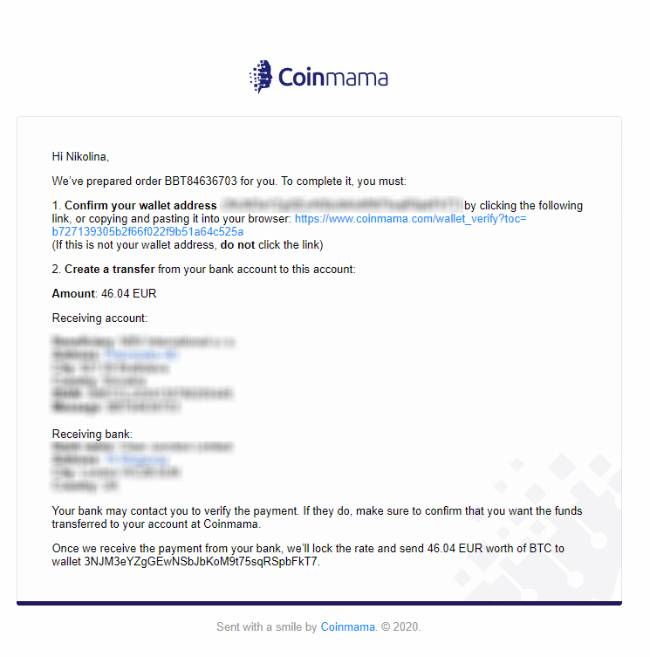 Selling Coins on CoinMama
Step 1: Choose the amount to sell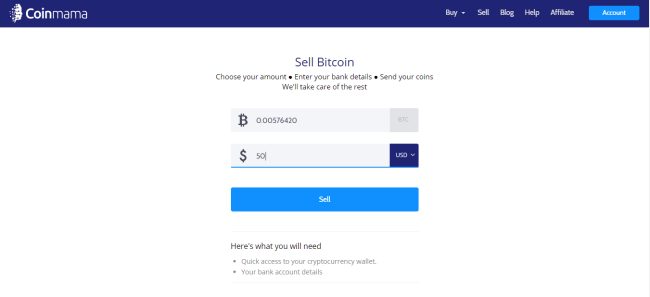 Step 2: Choose your payout method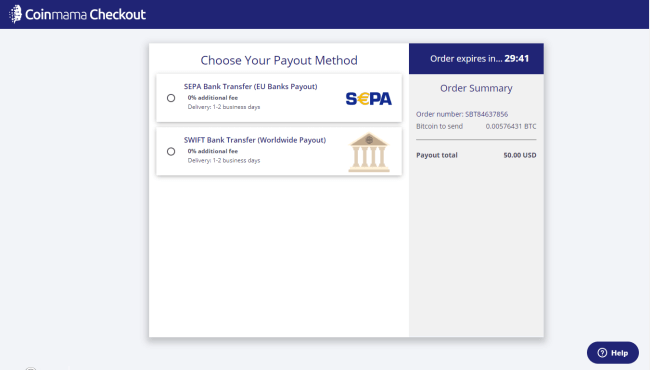 Step 3: Enter your bank details
Common CoinMama Scams to Avoid
Broker & Account Management Scams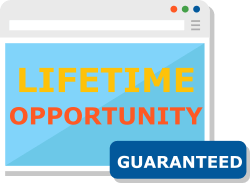 The typical scenario involves a broker you never have been in contact with coming to you with an "opportunity of a lifetime." Also, these "brokers" come to you mentioning a guaranteed return of investment, or require you to send funds to withdraw your profits. CoinMama doesn't offer this type of service, so you can recognize the scam if someone presents themselves as a "CoinMama Broker."
CoinMama "Agent" is Contacting You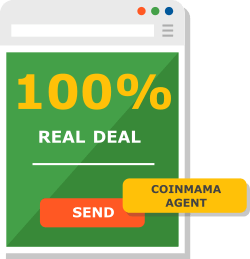 Closely related to the previous type of scam, someone contacts you posing as a "CoinMama Agent." CoinMama doesn't do phone support, telemarketing, or direct sales. In case you are contacted this way by anyone representing CoinMama, get in touch with CoinMama through the official email, or social networks.
Merchant Scams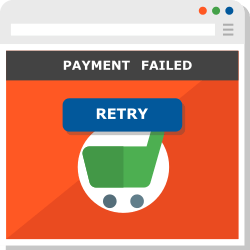 First, always send your CoinMama purchases to your wallet, and not any merchant's wallet. Merchant scam happens when you use crypto to buy something from an online store. In cases of scam, the fake merchant claims they didn't receive a payment. This is easily disproved by Blockchain confirmation. Also, you can use any blockchain explorer to see the merchant's wallet transactions by entering their wallet address.
Other Scams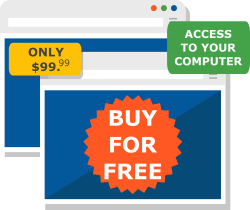 Some scams span wider than CoinMama. But, if someone discovers you have a CoinMama account, they might think of you as prey for a quick scam. Fake tech support requiring direct access to your machine can get any info you have stored. Dating scams are simpler. The nice person on the other end asks you to send him/her the small sign of love in the form of BTC.
Comparison With other Exchanges
CoinMama vs. Binance

Binance immediately asks you to enable 2-Factor Authentication. You can also place a buy request on Binance without previous KYC verification. Unlike CoinMama, Binance offers you to buy coins from local sellers and through Third-Party Payment (Simplex, Koinal…) alongside bank credit purchases. Both CoinMama and Binance are available worldwide.
CoinMama vs. CoinBase

CoinMama covers far more world countries than CoinBase. Even though CoinBase offers more advanced features and ways to earn free coins, these are worth little if you are not able to access them from your country of residence.
CoinMama vs. Bitstamp

CoinMama and Bitstamp both require you to pass the KYC process before you can trade. The verification process is the same as it is on CoinMama. An advantage Bitstamp has over CoinMama is the presence of 2FA. But, the 5% Bitstamp fees on top of the momentum fees makes them almost equal in terms of priciness.
Conclusion
Overall, CoinMama is a secure and fast way to buy crypto. Their rates are the highest in the market, no matter if you're using a bank card or a bank transfer. On the plus side, you can have your coins in your wallet in a matter of minutes.
Verdict:
Rating: 6.0 out of 10.
FAQ
Is CoinMama FDIC insured?
No. Non-deposit investment products, such as CoinMama are not insured by the FDIC.
How do I get my money out of CoinMama?
You can't keep your crpto at CoinMama at all. They do not offer any type of wallet or portfolio services, so you do not need to worry about getting your money out of Coinmama. For fiat, you just need to make a withdrawal request and give them your bank info.
How long does it take to withdraw from this exchange?
Once CoinMama approves your payment, and you confirm your wallet address, coins are sent to your wallet within 10 minutes. You'll be able to see them as soon as the transaction is confirmed on the Blockchain. This usually happens within a few minutes, but can take longer when the Blockchain is busy.
Should I keep my coins on CoinMama?
You can't keep your coins on CoinMama. Instead, you need a self-hosted wallet that supports the crypto you've purchased. Coinmama will not even let you finish your purchase until you have supplied a wallet address for them to send the coins to.