Disclaimer: this article includes affiliate links. When you make a purchase through one of our links, we may receive commissions.
In this post we are going to cover: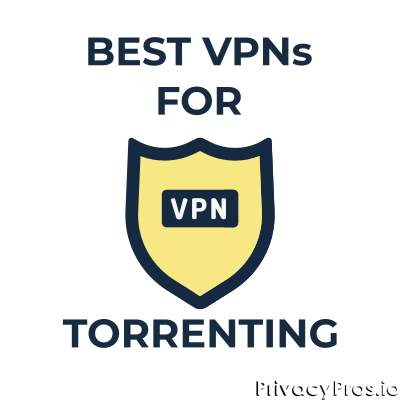 Different VPNs for torrenting
3 criteria for choosing a VPN for torrenting
Where is the best location for torrenting
Plus more... Read on to learn everything you need to know about the best VPNs for torrenting.
Torrenting is a sensitive subject. While at its core it's legal, many people use it for illegal purposes. Companies and corporations have been hunting down on these people for years now.
Unfortunately, even those who torrent legally get caught in the crossfire. With ISPs and such placing limitations on P2P traffic.
In this guide we'll cover everything you need to know about the world of torrenting and VPNs. Of course, we will alsoshow you the best one to use (and why),
Sidenote: We do not condone illegal torrenting or activities. The information within is provided on an as-is basis.
Best VPNs For Torrenting
Now let's have a look at the best VPNs for torrenting. As always, it's useful to test and try the different options to find out which one suits your needs. Luckily, all of the VPNs on this list offer a money-back guarantee or a free trial.
1. ExpressVPN
ExpressVPN often ranks as the number one VPN, on our site and many others. They don't log, have servers world-wide, and their technology is top notch! On top of this, their connection is extremely fast and stable. We could keep going on about their top-notch encryption, wide device support, and more. However, we think you get the picture.
ExpressVPN does not put limits or restrictions on its users for torrenting. While many other VPNs have some limitations, ExpressVPN is freely allowing its users to torrent anonymously.
Info: Since ExpressVPN is based in the British Virgin Islands, they are not subjected to the DMCA (Digital Millennium Copyright Act), which means that users can torrent freely without the fear of copyright infringement.
ExpressVPN provides a high-performance server network with over 3000 VPN servers in 160 VPN server locations in 94 countries. This means fast speeds and a reliable connection. There are no bandwidth limitations on traffic; ExpressVPN enables its users to use this VPN as much as they want to transfer as much data as they need.
A feature I liked especially is their Instant Kill Switch, which activates in case your VPN connection drops. In this case, ExpressVPN will lock your traffic automatically and prevent IP and data leaks.
In all honesty, the only downside of ExpressVPN is that they are slightly more expensive than the competitors. However, with a 30-day (no hassle) money-back guarantee there's no reason not to give them a try. You won't be disappointed!
2. NordVPN
NordVPN, like many of the top VPNs these days, keeps no logs. That means no connection, nor traffic logs. Along with the high-level encryption they also have options for double hopping and Tor over VPN. While the former is more of a gimmick, the latter can be extremely useful.
NordVPN does not put any limitations on the bandwidth of the users. There are no limits to what you can send and receive and it does not matter which NordVPN server you are connected to. To help people that are into torrenting, NordVPN has a specific feature called Peer-to-Peer or P2P traffic available on some servers.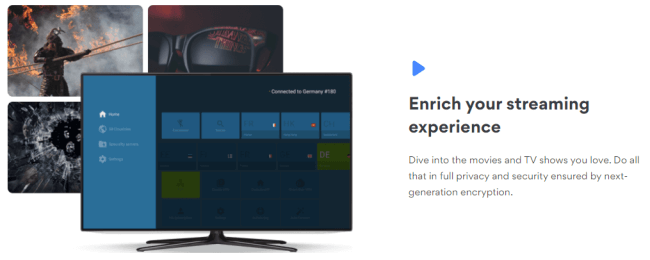 With this feature, the users get improved P2P traffic without risking legal ramifications. To use the P2P option, you need to open the server recommendation feature on the NordVPN app, go to the advanced options and select a server that supports P2P, and you'll see the recommended servers that suit best to your location.
Whether for torrenting, or for streaming, NordVPN is worth its price. Just be aware that both servers and software can be slow every now and then.
3. SurfShark
While relatively new, Surfshark offers a great service. It's packed with features, has good speeds, and has servers across the globe. Based in the British Virgin Islands it also features high levels of encryption. They also have a built in ad-blocker to help you have a cleaner web browsing experience. On the whole, a pretty decent service.
Surfshark is a great and extremely affordable service. Our only worries is that it hasn't been around long enough for us to be sure that it will do right in the long-term.
4. ProtonVPN
Switzerland based ProtonVPN is no stranger to the world of online privacy. They originally started with their private email service (aptly named ProtonMail). Luckily for them, their shot at a VPN service is also outstanding. No-logs, quality applications, and many other bonuses that you'd want from a torrenting VPN. The biggest selling point of ProtonVPN is that all of their software and apps are open-source and audited.
Some locations do have lower speeds, and their support isn't the fastest in the world but overall a great service for the price.
5. CyberGhost
Unlike the other VPNs on this list, CyberGhost is a little bit more restrictive when it comes to torrenting. Specifically, it doesn't allow torrenting and P2P on it's US and Russian servers. CyberGhost has no-logs, sports a kill-switch and will also help you unblock Amazon Prime Video and Netflix.
CyberGhost is a great service but there's nothing unique about it, hence earning it the 5th place.
How to Choose the best VPN for Torrenting?
As with most applications, choosing a VPN for torrenting isn't straightforward. The most important factor is that you choose a no-logs VPN. As the name suggests, no-logs VPNs do not keep any logs. Therefore, even if restricted by law, they won't be able to provide any logs and hence reveal your identity.
The second factor that's important for choosing a VPN is the additional technical protection they can offer. This includes things such as leak protection and a kill switch. We will discuss these further in the heading below.
The last factor is the locations that it will allow you to torrent from. Though not of the highest importance, the right locations do pose an additional layer of protection, and again we will cover this in a heading below.
Technical Needs of a Torrenting VPN
Most VPNs on the market just offer the VPN technology by itself. There are a rising few that keep introducing additional tools and options that truely help protect your online presence. These software additions can go a long way to helping you protect your torrenting.
Leak Protection
Leak protection is one of the most important additions, and should be an important factor when choosing your VPN. Whether it's for torrenting, or for another reason. A leak is when your real IP seeps out due to a technical error or glitch. In fact, a few years ago there was a scandal as it turned out that most VPNs didn't protect against WebRTC leaks. Luckily these days are over and nowadays most VPNs have leak protection built in.
Kill Switch and Autostart
If you're often torrenting, it's important to choose a VPN that will automatically start when your computer does. Luckily this part is easy and many VPNs have this functionality.
Kill switches are less common, but are more important. A kill-switch, as the name suggests, kills selected applications if the VPN disconnects. This works whether you're disconnecting the VPN manually or if your connection crashes for some reason. This is important as it will make sure you're not torrenting without a VPN without noticing.
Port Forwarding
Some VPNs and ISP block or throttle specific ports from being used to save themselves money. By having port forwarding you can direct your traffic to any port you'd prefer.
What is the best location for Torrenting and P2P?
You might think that you're safe when using a VPN for torrenting. Especially if they meet all of the technical requirements met above. Unfortunately, though many VPNs claim to be no logs, you can never be certain of this fact. The best countries to connect to for torrenting are as follows:
The Netherlands
Switzerland
Spain
Mexico
Is Torrenting Legal?
Yes, torrenting is 100% legal. Unfortunately, there are many organizations, and governments that claim that torrenting is illegal. In fact, this is not the case, as torrenting is a means of simply sharing content.
Where illegality comes into it, is the fact that a lot of the content on torrent sites is copyrighted. Whether it's movies, books, software, or anything else, copyrighted material is illegal to distribute without the permission of the copyright holder - which isn't provided in most cases.
Is Torrenting Safe?
Yes and no. Torrenting in itself is safe, as long as you use a reputable torrent client such as uTorrent or BitTorrent.
Unfortunately, the content you download might not be safe. There are two safeguards against this:
Most torrent sites have a reputation rating for uploaders. This can help determine if the uploader is legit and if they upload valuable content or not
Using an antivirus/ antimalware will help protect you in case you do download something bad
Another aspect of torrenting that's unsafe is getting caught if you're torrenting illegal content.
Can I Torrent With a Free VPN?
In short, yes, but it's not really ideal. Most free VPNs are limited in one way or another and are usually meant for short-term use, and as a customer acquisition channel.
The biggest restriction on free VPNs tends to be on the amount of data that you can use. Understandably, you'll quickly use up a 10GB monthly download limit if you're torrenting, not to mention streaming content. The only VPN that has unlimited data on their free plan is ProtonVPN, however, they throttle the speed and disallow P2P so you can't use it for torrenting.
So while you can use a free VPN for torrenting, you won't get very far with it.
Is Using a VPN Legal?
Using a VPN is legal across most of the world. There are a few countries where it is illegal such as Iraq or North Korea. In some countries such as China and the UAE it's highly restricted. You can find a full list or restrictions (here ).
How to Use a VPN for Torrenting?
Using a VPN for torrenting is extremely easy. Once your VPN is switched on all of your internet activities are automatically protected. This is one of the reasons why it's important to select a VPN that can automatically start when you start your computer. This way you won't accidentally start torrenting without being protected.
Access Your Torrent Activity
Many people don't know this, but due to the way that torrenting works, you can find out what items have been downloaded using a specific IP. (IKnowWhatYouDownloaded ) is the most famous site for this, and visiting it can face you with the scary truth and really give you that nudge to get a VPN.
Conclusion
A VPN for torrenting is absolutely necessary. Whether you live in a country that's already cracking down, or not, it's better be safe than sorry. Hopefully our guide has covered everything you need to know, if you feel we've left anything out then let us know in the comments. Otherwise, good luck and have fun using one of these torrenting VPNs.