Disclaimer: this article includes affiliate links. When you make a purchase through one of our links, we may receive commissions.
In this post we are going to cover: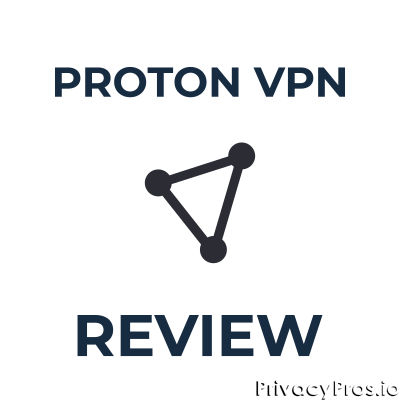 ProtonVPN features
Speed, quality and prices
How to install and get started
Plus more... Read on to learn everything you need to know about ProtonVPN.
Quick details:
Name - ProtonVPN
Based in - Switzerland
Logs – No log collection, audited service
Best price - $8/month for Plus plan, charged monthly or yearly
Support – email support service
Refund duration – 30-day money-back guarantee
Website – ProtonVPN
Overview
ProtonVPN was created by the same team behind the ProtonMail service. This group of scientists, developers, and engineers has a great appreciation for privacy and security, and by creating ProtonVPN, they share this with the world.
It was first developed for journalists and activists who used the ProtonMail services and needed additional features that allowed access to websites and a way around internet censorship.
ProtonVPN is a VPN service provider that has excellent security features in place. They have AES-256 encryption with advanced keys so all user traffic that goes through their network is secure.
The company is based in Switzerland and is protected by the Swiss privacy laws, meaning that they don't keep logs from user activity and respect people's privacy.
ProtonVPN works on desktops, laptops, smartphones, tablets, and routers, and can protect up to ten devices at a time. This makes it a good choice for a VPN, but to be fair, you'll need to pay the "big bucks" to use the premium features they provide.
Pros and Cons
Pros
Secure Core architecture with servers in Switzerland and Iceland
No bandwidth limits or data caps
Protected under Swiss privacy laws
Support for all devices
Network Kill Switch feature
30-day refund policy
Anonymous payments in cash or Bitcoin
Tor over VPN feature
P2P support
Cons
Relatively high prices for quality plans
Smaller server network than other major VPNs
Pros
Cons
Secure Core architecture with servers in Switzerland and Iceland
Relatively high prices for quality plans
No bandwidth limits or data caps
Smaller server network than other major VPNs
Protected under Swiss privacy laws
Network Kill Switch feature
Anonymous payments in cash or Bitcoin
Quick pricing info
$0/month – Free plan
$4/month – Basic plan
$8/month – Plus plan
$24/month – Visionary plan
What ProtonVPN does
ProtonVPN has 801 servers in 50 countries that enable a reliable, private connection. They have intuitive apps that work across all platforms. ProtonVPN has strong security features and an excellent privacy policy protected by Swiss privacy laws. For an extra security and anonymity feature, people can pay cash or with Bitcoin.
Quick VPN Comparison
Local speed testing
My location is in Europe, so I selected several different locations and tested security features by Proton VPN and ran the Ookla speed test through my browser. Here are my findings without the use of ProtonVPN.

Here are the test results I got when connecting to a server location in Serbia: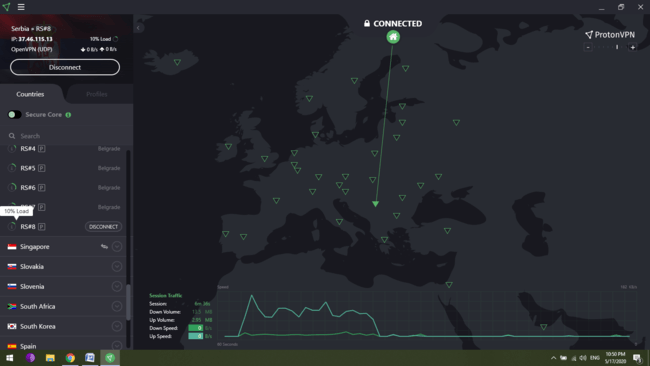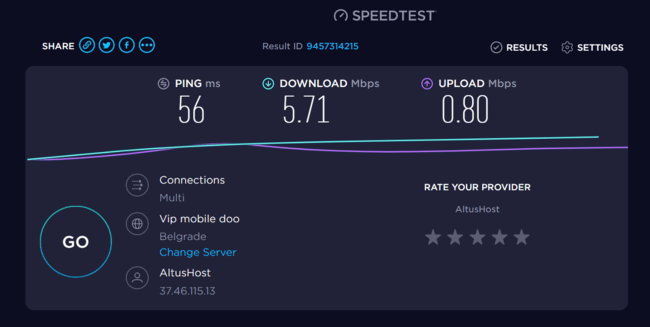 I connected to a Netherlands-based server and made the same test.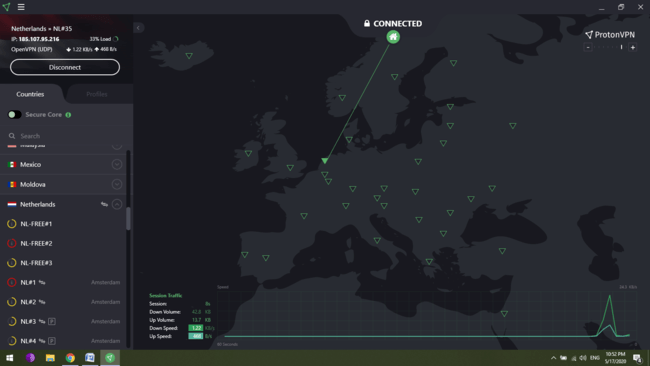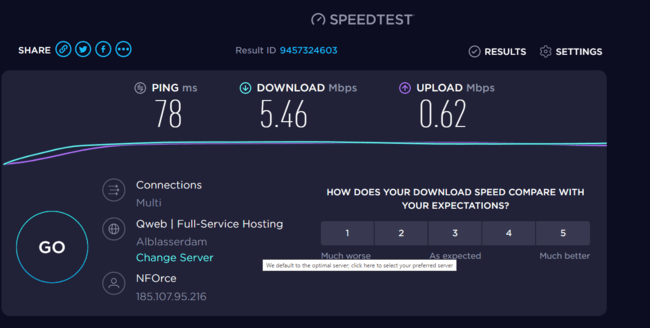 Next up was Switzerland, so I connected to a server there and here are the results: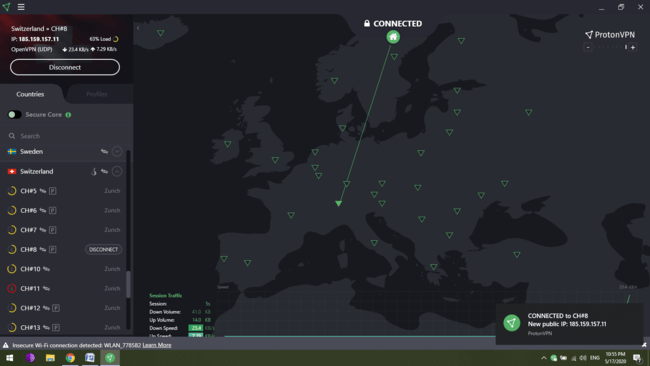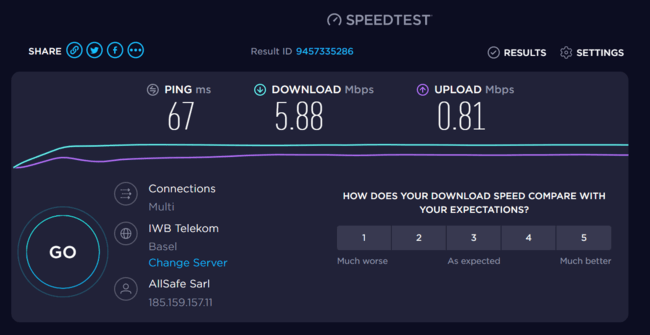 Long-distance speed testing
I tested the ProtonVPN network speed by connecting to servers far away from my location. Here are the results I got from connecting to a US-based server: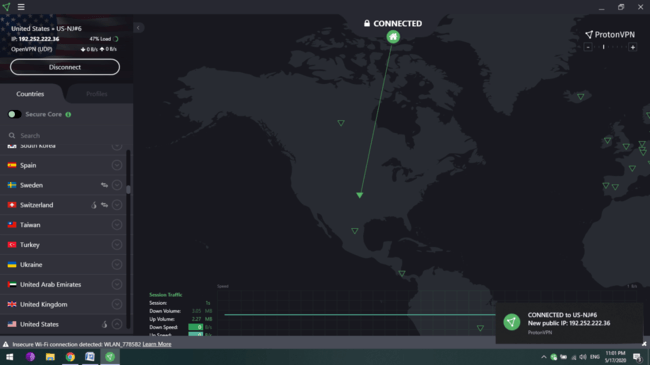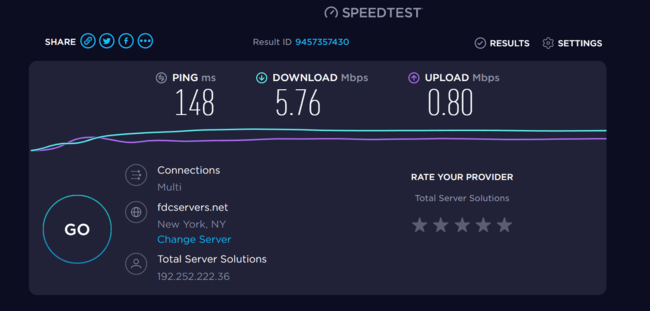 Next up, I selected Japan as a remote location and made the same test: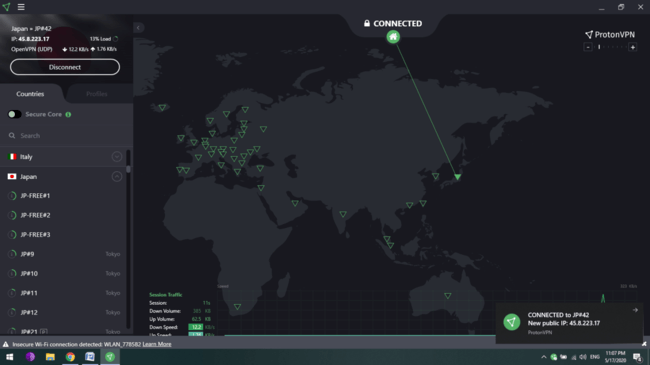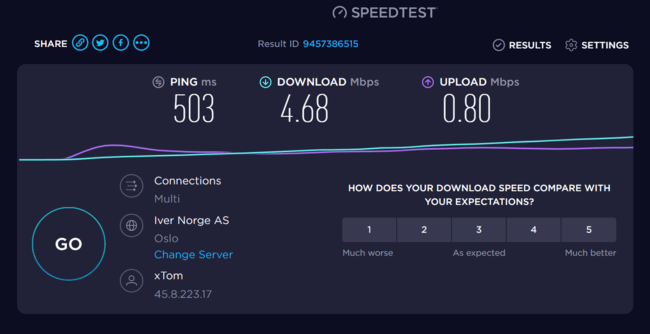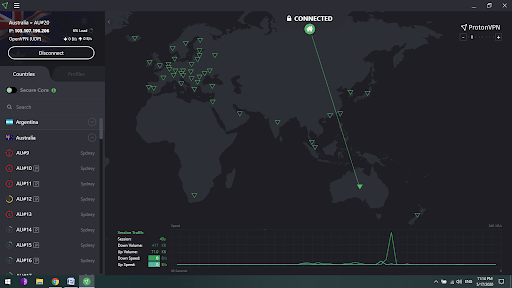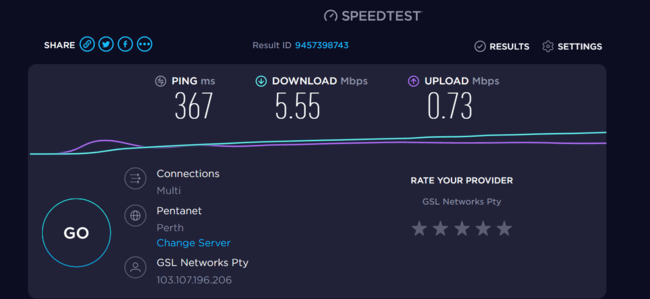 Tips for getting the fastest speeds when using ProtonVPN
If you like to get access to extra features with ProtonVPN, you need a Plus or Visionary plan and can connect to the Plus servers, then select a server most appropriate to your location.
This way you can get fast connections that enable you to stream Netflix or other streaming services that have geofencing measures in place.
As an extra measure of privacy for its users, ProtonVPN uses a Secure Core feature. This is done by passing user traffic through multiple servers that enable multiple layers of security.
Streaming quality
ProtonVPN offers relatively good speeds for streaming. Plus or Visionary plan users can connect to any server in the world and get fairly reasonable streaming speeds.
I tested the connection with Netflix and got mixed results. These could be due to the speed of the VPN or the load of the servers. Similar results with other streaming services like Amazon Prime, BBC iPlayer, and Hulu should be expected.
Due to these limitations, the speeds are not as impressive as some other VPNs provide. This means some lag time, especially when connected to a US-based server to watch Netflix and your original location is outside the US.
Torrenting Quality
ProtonVPN offers good services for people that like torrenting. There is a P2P file-sharing feature that allows people to send and receive files without any censure from their IPS.
The ProtonVPN network has a strict no-logs policy, meaning anything you send/receive through their network is safe from scrutiny.
These are esteemed features by the people that are into torrenting, as it is important to keep the anonymity and safety of the users.
The ProtonVPN website has detailed information about setting BitTorrent with ProtonVPN and using it for safe torrenting. Also, the P2P option is available only for paying customers; the free version does not support this option.
Gaming quality
ProtonVPN has services that can provide good results when used for gaming. The unlimited data usage and no bandwidth limits make it a good candidate to be used as a secure platform for gaming. I asked a friend of mine who is an avid gamer to test the ProtonVPN services.
After several tests, he concluded that even though ProtonVPN has good services, it lacks the delivery of some other VPN services. This is probably due to the extra lag caused by the SecureCore security feature ProtonVPN provides.
He noted that the speeds varied depending on the servers he used, so if you are connected to a server nearer to your location, you may get good speeds for gaming, but your game will suffer if you want to connect to a very remote server.
<% include vpn-comparison-table.html % >
Geo-fencing circumvention
ProtonVPN has made some excellent options that allow the users to navigate the geo-fencing stipulations set up by many websites and online services. This is possible with the ProtonVPN alternate routing technology.
While this is a great protective feature, it has some risks like possibly being discovered by a third-party due to the preventive measures websites have in place. Many online services have a VPN detection software, and ProtonVPN can circumvent some of these, but get flagged by others.
I'm located in Europe and was able to easily connect to servers in the USA and watch content that is otherwise restricted. The geolocation feature recognized my location as a US-location, enabling me free access to the US Netflix services. I was also able to connect to websites with known geolocation features and enjoy access to specific content.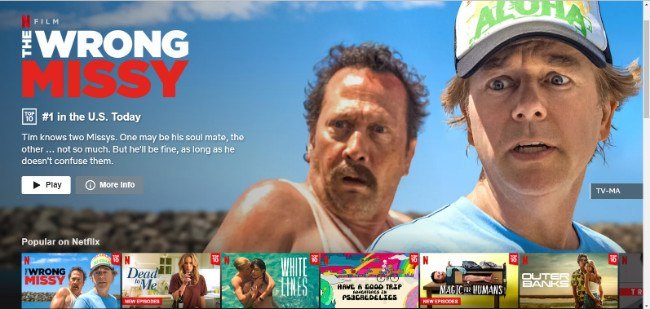 Logging policy summary
ProtonVPN has a strict no-log policy. They are based in Switzerland and follow Swiss laws on policy protection which I supposed could be trusted considering the notoriety of Swiss Privacy laws regarding banking. This means no data collection of any kind, no-log policy, and no personal information stored on their servers.
The ProtonVPN Privacy Policy states that they only collect basic information like the username you select when you create your account and your email address.
The payments are processed via external services, and ProtonVPN does not save any credit card details. To add a layer of anonymity, ProtonVPN accepts payments in cash and Bitcoin.
As per their policy, they will not share your personal information with any third-party. They only use the stored information for account-related issues and promotional material.
They will ask the users for information like crash reports, complaints, and the like, and these are only used for statistical analysis and are in no way shared with anyone else.
Data Wiping
The only thing ProtonVPN stores of its clients are timestamps of the last login made by the account. There are no data about the location of the users and the duration of the location. The no-log policy does not allow them to store any more information.
All the user data is protected by a layer of encryption, but they do not run any RAM-only servers. Instead, they depend on the encryption and the security measures of their servers.
Each ProtonVPN user can request to see what information the company has about them and demand this to be altered or deleted. This platform claims that they delete all user info once an account has been terminated.
When I read the Privacy Policy, I noticed some things I consider flaws. They state that they have a no-log policy, but they may use various cookies and information provided with the use of their native apps and mobile analytics software.
Apart from this, their apps don't collect any tracking information from the user device. A note: ProtonVPN is protected by Swiss privacy laws, so in the case of a third-party looking to get information about a user, this must be approved by the appropriate Swiss authorities.
Virtual Server Locations
No, at the time of writing this review, ProtonVPN does not offer any virtual server locations. They state that to offer complete control of the security and safety of its users, they only use bare metal/physical servers that are fully controllable and provide a higher level of control.
Static/Dedicated IP Addresses
As of May 2020, ProtonVPN does not offer any static or dedicated IP addresses to the clients. They claim that using the random IP addresses from the network adds anonymity and safety to the users. This way, they can easily circumvent any possible geofencing restrictions.
Third-party audits of security and adhering to stated policy
ProtonVPN has a great Privacy Policy in place. But to reassure the clients and continue the transparent relationship with the clients they have subjected their services to external audits. These have been conducted by Mozilla, but they also used the services of SEC Consult.
All the audit reports from the open-source code are published on the ProtonVPN blog and any interested user can see the separate Android, iOS, macOS, and Windows audit results.
Is the VPN based out of a location that respects privacy?
ProtonVPN is based in Switzerland. Based on the strict privacy laws in this country, they can provide excellent privacy services. Unlike other places in the world, Switzerland has high respect for people's privacy, and each ProtonVPN account is protected under these laws.
Even though Switzerland is in the middle of Europe, they are not a fourteen eye country, meaning any company based here cannot be made to follow any laws on spying on their clients.
If any user is suspect of breaching the terms of use set by ProtonVPN, an authority can ask for their username and email, but this needs to be supported by an appropriate Swiss-based agency in order to be implemented.
Who owns ProtonVPN and what is their reputation?
ProtonVPN is owned by Proton Technologies AG, the same company behind the ProtonMail email service, a free, secure, encrypted email service. These two are owned and run by the same team of people located in Geneva, Switzerland.
The company is founded and run by a team of scientists, developers, and engineers who worked together in Cern before they founded ProtonMail and later ProtnVPN. ProtonVPN is supported by FONGIT, a Swiss non-profit foundation, and also by the European Commission.
History of leaks or agreeing to hand over data to governments
ProtonVPN has not been linked to any major leaks and scandals. Swiss privacy laws enable them a lot of leeway regarding user data. Per the Swill laws, any demand for a Swiss-based company needs to come from a Swiss regulatory body, and they are known for protecting their companies.
Size of network
ProtonVPN has a total of 801 servers as of May 2020, much less than the leaders in this industry. These are dispersed in 50 countries in the world. This is a relatively smaller network when compared to other major VPNs, with 937 Gbps capacity.

Extra Features
SecureCore VPN
Yes, ProtonVPN has this security feature that helps people stay safe and secure while browsing the net by rerouting traffic through multiple servers to add extra layers of security
Browser extension
No, ProtonVPN does not provide a browser extension. They cooperate with Mozilla and have a Firefox support system.
Split tunneling
Yes, ProtonVPN has a split tunneling feature that enables certain applications to have traffic through the VPN, while others to have normal traffic.
Kill switch
Yes, ProtonVPN has this feature that stops all traffic in the possibility of losing the VPN connection, ensuring all your traffic is protected and encrypted
DNS leak test
Yes, ProtonVPN has a DNS leak test and this feature enables you to test your link and estimate potential threats to your safety
Tor compatibility
Yes, ProtonVPN is compatible with TOR
Adblocker
No, at this time ProtonVPN does not provide ad-blocking services
Strong Encryption
ProtonVPN uses AES-256 encryption with strong key exchange features
Forward Secrecy
ProtonVPN uses this feature to provide unique encryption to your traffic, meaning they generate a new encryption key for each new session.
Great physical security measures
The most critical aspects of ProtonVPN are kept in secure locations 1000 meters underground, behind several high-tech layers of security.
Hardware Support
ProtonVPN has relatively fewer services than its bigger counterparts, but they still offer pretty decent support for all major systems: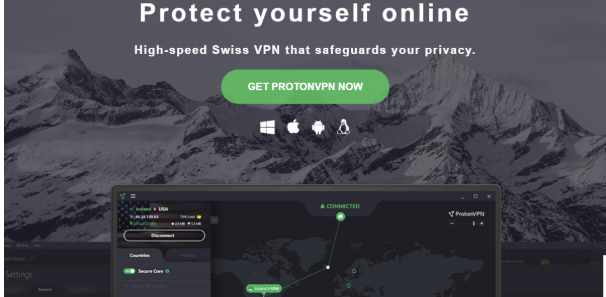 iOS – Yes
Android – Yes
macOS - Yes
Windows – Yes
Linux – Yes
To protect any other device, ProtonVPN advises you to set up your account over your router and get protection to all devices connected to it, like gaming consoles, smartphones, and smart TVs. This way you can also protect devices that usually don't support VPN like smart speakers and the like.
While ProtonVPN does not provide any special support for specific models of routers, their services can be used via Tomato routers, DD-WRT, Vilfo, and Asus wireless routers. A detailed setup for each model and a setup tutorial can be found on the ProtonVPN blog page.
Customer Support Overview
What kind of support can you get and at what levels of subscription?
The ProtonVPN system offers four levels of subscriptions: free, basic, plus, and visionary. Still, their customer support is the same for all the subscription plans. They have a help center with answers to the most common issues, installation guides, and an email support team.
Is the support any good?
From what I was able to grasp, the ProtonVPN website offers decent customer support. There is a knowledge base with answers to the most common questions and tutorials on how to resolve any potential issue you may have with their services.
There is email support that you contact through their email support form on the website. This service is friendly and they always provide professional, friendly responses.
How fast do they respond?
Seeing as ProtonVPN does not have a live support option, they only offer support via email, it takes about 24 hours for them to respond to a client inquiry. I wrote to them on a Saturday and got a response on Sunday, which is good and expected for an email support team.
How does the internet generally seem to feel about their support?
People that have used the ProtonVPN services have been generally pleased with the responses they got. The most common note I found was the lack of live chat option, as this allows solving many issues in a very timely manner.
Refund Policy overview
ProtonVPN offers a 30-day money-back guarantee for its subscription plans. It does not matter which plan you select to subscribe to, you will be eligible for a refund if you change your mind and make a request within 30 days of your purchase.
To cancel your subscription and ask for a refund, you need to contact the support team and they will guide you through the process.
Price overview
ProtonVPN has four subscription plans with different features.
Free - $0/month
Basic - $4/month
Plus - $8/month
Visionary - $24/month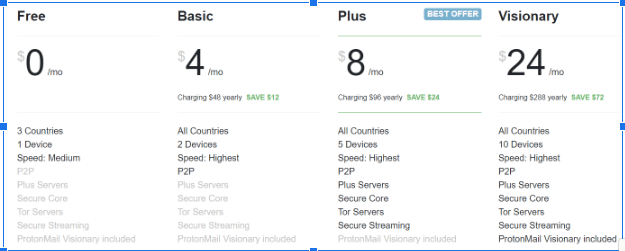 Payment options
ProtonVPN accepts payments via credit card or debit cards like Visa, MasterCard, American Express, and others. They also accept payments done via PayPal but don't accept other online payment services.
To be able to pay for their services, users of ProtonVPN need to enter their personal data into the payment form, thus voiding the whole anonymous use of this VPN.
For a truly anonymous connection via ProtonVPN, there is an option to pay with Bitcoin or cash. To be able to pay via cash or Bitcoin, you will first need to create a free account on ProtonVPN, and then you can select the upgrade option and use the anonymous payment options.
Note: we've heard from multiple people that if you opt for anonymous payment in cash or Bitcoin, you'll have difficulties using the money-back guarantee.
Quick Specs
Client software platforms: Windows, macOS, Android, iOS, Linux
Native supported platforms: Android, iOS, macOS, Windows, routers
Supported protocols: OpenVPN, IKEv2/IPSec
No. of servers: 801
No. of countries: 50
Country of registration: Switzerland
Payment options: Credit/debit cards, PayPal, cash, Bitcoin
Real name necessary: No
Encryption protocol: AES-256
Data usage cap: No
Bandwidth usage cap: No
Max. no. of simultaneously connected devices: depending on the subscription plan, from 2 to 10
Customer support: email support
Privacy policy: Swiss laws, a no-log policy
Concluding Summary
ProtonVPN is a Swiss-based company created by the same team behind the ProtonMail, a secure Email client based in Switzerland. Seeing as the founders have good experience in creating a secure email service, they have created a very good VPN service as well.
ProtonVPN has extra features that enable its users to have a secure connection to the online world. They have Secure Core architecture, strong encryption, forward secrecy feature, strong security protocols, and superior physical security of their critical infrastructure.
I liked the no-logs policy, but they don't run RAM-only servers which in my opinion offer better security for the users. This VPN has not had any major history with hacks, but I believe that they, as any other VPNs out there, are not immune to hacking attacks.
I went through all the offered subscription plans, and while I like the free option as a way to get a feel of what you are getting with the ProtonVPN service, I think that they have a somewhat high price for their best plan.
Installation Instructions
Here I'll explain in detail the install and initial use of the ProtonVPN app for Windows 10. The whole setup took about 2 minutes from payment to the complete use of the ProtonVPN service.
After selecting the plan that works the best for you, you'll need to pay and get your username and password

Next, download the app for your system, in my case the Windows 10 version.

The download took less than a minute and the install was about a minute long. You'll click "Next" a couple of times during installation and it will be installed very speedily.

After installation, the app gets launched and you'll enter the username and password.

After successful login, you'll be offered a tour of their services. You can take the tour as it will explain all the small details for the smooth running of the app.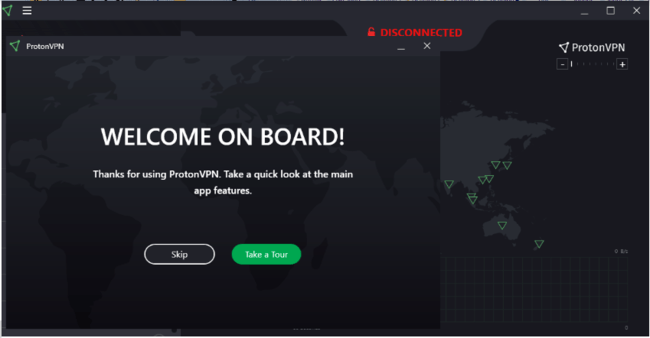 The app offers plenty of features like a list of servers, an option to save profiles with preferred server locations, Secure Core feature, and more.

The server locations are listed on the left, and each server has a color code depicting the current load.

For fast speeds, connect to a server that has a green light, as these are up to 50% load.

Connect to a preferred server and you'll be all set to roam the internet with high safety measures working for you.

On the bottom of the ProtonVPN app interface, you can follow your stats like session duration, traffic, and up and down speeds in a continuous graph.
Rating
FAQ
Is ProtonVPN fast and reliable?
ProtonVPN has reliable service, but the speeds depend on the selected subscription plan. If you are using the free version, expect low speeds and a lot of lag time, but they promise that their most expensive plan does not suffer from any such problems.
Will using ProtonVPN stop bandwidth throttling?
Yes, ProtonVPN does not put any bandwidth limits to its users. The secure, encrypted traffic will enable the users to get a fast connection, as the IPS cannot identify the type of traffic through the network. This is especially good for people that have slow to medium connections, as in some cases, using a VPN can even help them speed up their connection.
Which ProtonVPN servers are the best for Netflix?
ProtonVPN enables its paying customers to watch Netflix (and other online streaming services) by connecting to the adequate servers. To watch US-oriented Netflix content, you will need to connect to a Plus server based in the US.
The Plus servers are marked with a P next to the server name in the Windows and macOS app and are listed in a separate list on the iOS and Android apps. The same goes for watching UK Netflix, German Netflix, and Italian Netflix.
Note: only ProtonVPN Plus and Vision subscriptions support the connection to Plus servers.
Is there a free version of ProtonVPN?
ProtonVPN has a free version of its service. This is a very simple plan, as the free users only get VPN on one device with medium speed and servers located in only three countries: Netherlands, Japan, and the US. This is more for people that are looking into the services of ProtonVPN but are not completely certain of their selection.
I personally would not recommend the free version of ProtonVPN, as it does not offer anything in particular like P2P, Tor Servers, or Plus Servers.
The only thing the free version is interesting for is to get anonymous access to ProtonVPN. This is done by getting a free account as you only need a valid email address and then upgrading it to one of the other plans and pay via cash or Bitcoin.
Why am I sometimes blocked from Netflix when I use ProtonVPN?
To watch Netflix via ProtonVPN, you need to be a Plus or a Visionary subscriber. The free and basic plans don't have access to the Plus servers necessary for streaming Netflix. If you have a Plus or Visionary plan, then you need to make sure you are connected to the Plus servers that support Netflix streaming.
If you are still having trouble, we recommend you switch and try another server. Also, check that your location services are disable because sometimes services use this data to block users outside of geo-fences. See our guide here for how to turn off location services.
How well do ProtonVPN's features and leak-protection settings work?
ProtonVPN has excellent security features. The majority of their servers are protected with excellent physical security and there are very high standards for encryption and data protection. The leak protection works excellently, but only the more expensive plans get access to the high-grade features and reliable, fast connections.
Are the ProtonVPN apps secure and user-friendly?
All the apps provided by ProtonVPN are secure, and all feature user-friendly, intuitive design. Users, in general, can easily manage to navigate and use the apps. For any issues, the email support team will provide a detailed response, usually within 24 hours.
Can it unblock Netflix and other streaming services?
Yes, ProtonVPN can unblock Netflix, HBO Go, BBS iPlayer, Disney+, and other streaming services. Still, to get access to these, you will need a Plus or a Visionary subscription plan, as only these have access to the Plus servers necessary for streaming.
Is ProtonVPN really worth the price?
Mhm, I cannot guess other people's needs and expectations of this service. I can only say that generally, I liked the ProtonVPN services and features I tested during my research of the company and the VPN as I got the Visionary plan. Still, there are some better ones out there, and each user should decide based on its own VPN needs.
Can you use the VPN for torrenting?
Yes, ideally you can use ProtonVPN for torrenting. But to be able to have a P2P connection necessary for a secure connection during torrenting, you will need to get a paid subscription.
The good thing is that ProtonVPN does not have any limits on bandwidth or data caps, and they don't keep any logs of the user activity, so you can freely send and receive content without risk of getting caught.
Does the VPN work in China?
Some of the ProtonVPN features do work in China, but not all. Even though there are Hong Kong-based servers, the Great Firewall of China is very well-made, on occasion blocking access to some of the ProtonVPN servers. To navigate through this, you can ask the ProtonVPN customer support for recommendations on servers and use ProtonVPN in China without problems.
How many simultaneous connections does ProtonVPN support?
ProtonVPN supports anywhere from 1 to 10 connections at a time. The free plan is for one device only, the Basic is for two, Plus is for five, and Visionary supports up to ten connections.
Rating