Disclaimer: this article includes links to products for sale on our store.
In this post we are going to cover: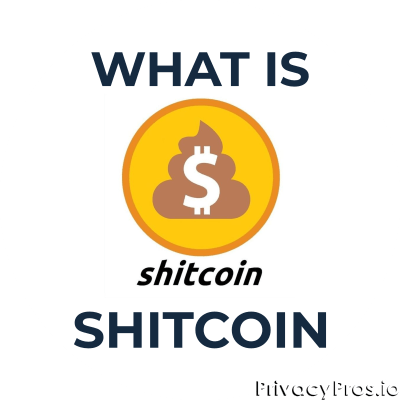 Multiple definitions of 'Shitcoin'
Examples of 'Shitcoins'
How and when 'Shitcoin' entered the market
Plus more... Read on to learn everything you need to know about 'Shitcoin'.
Introduction
There are two kinds of people who want to know what a shitcoin is. The first is a person who hears "shitcoin" all over the place: "that's a shitcoin!" and "stop shilling your shitcoins," but they don't know exactly what it means for something to be a shitcoin. The other kind of person gets the idea of what a shitcoin is, but doesn't know which cryptocurrencies are shitcoins and which aren't. So for those who give a shit, here are some definitions.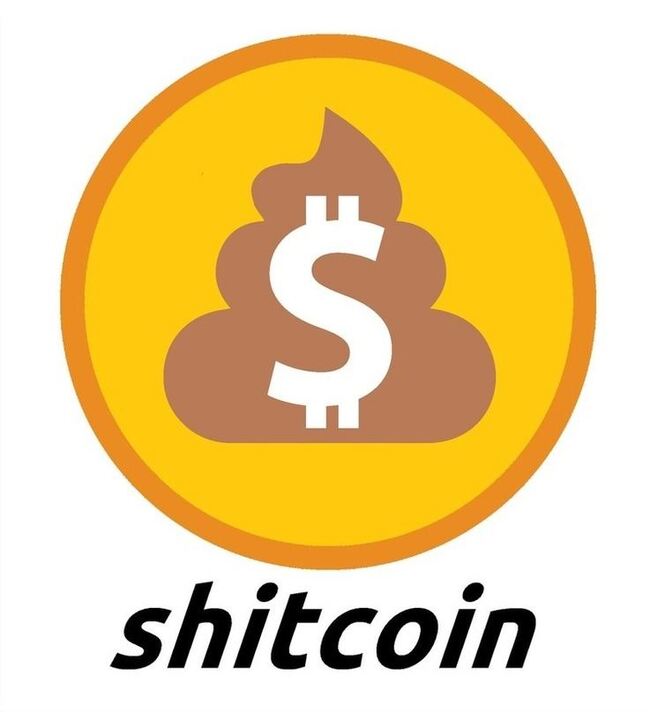 The Definition of 'Shitcoin'
There are several definitions out there:
The Urban Dictionary defines a shitcoin as "a great way to lose money" and "a cryptocurrency with no utility or unique features." In other words, a shitcoin is a cryptocurrency that will someday be totally worthless.
Investopia provides a detailed definition, saying that a shitcoin is "a pejorative term used to describe an altcoin that has become worthless. Shitcoin value may disappear because interest failed to materialize, because the altcoin itself was not created in good faith, or because the price was based on speculation." This article then continues to break down 'shitcoin' more with another 500 words of description and analysis.
A Quora poster calls it an "altcoin (that) is considered worthless due to the lack of…useful features in the development of its blockchain. While shitcoins are considered worthless, that doesn't necessarily stop them from going 'to the moon'".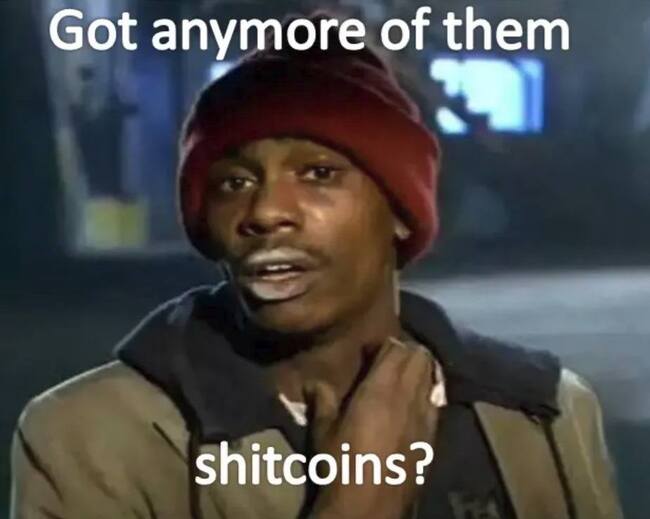 Ruben Somsen, a host of the Unhashed Podcast, and organizer of the Seoul Bitcoin meetup was kind enough to put his mind to work on a proper 'shitcoin' definition: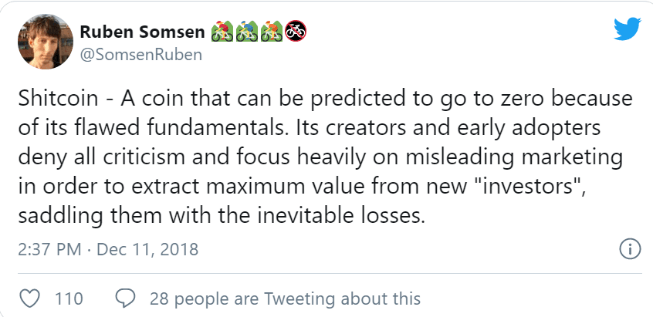 Which Coins Are the Shitcoins?
Nothing in this article is financial advice. I am not a financial adviser. Please consult a professional financial adviser if you're looking for financial advice.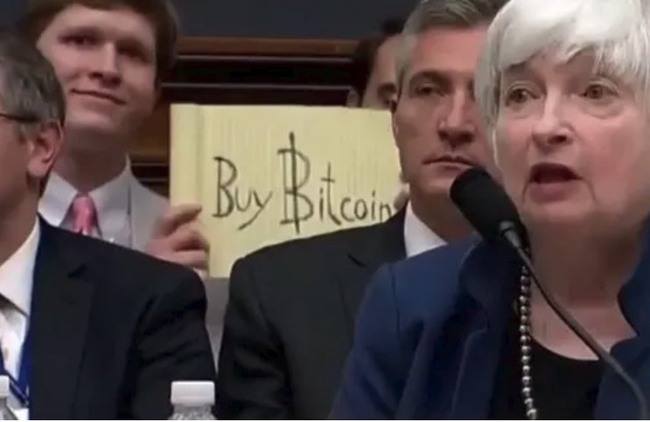 However, truth be told, the definitions above are all pretty good. But in the end, what coins are 'shitcoins' is really an opinion. Everybody has one, right? Decryptionary raises the white flag and just defines a shitcoin as "any cryptocurrency that is disliked by the person talking about it." And even that has some merit. Some people think that all cryptocurrencies are shitcoins.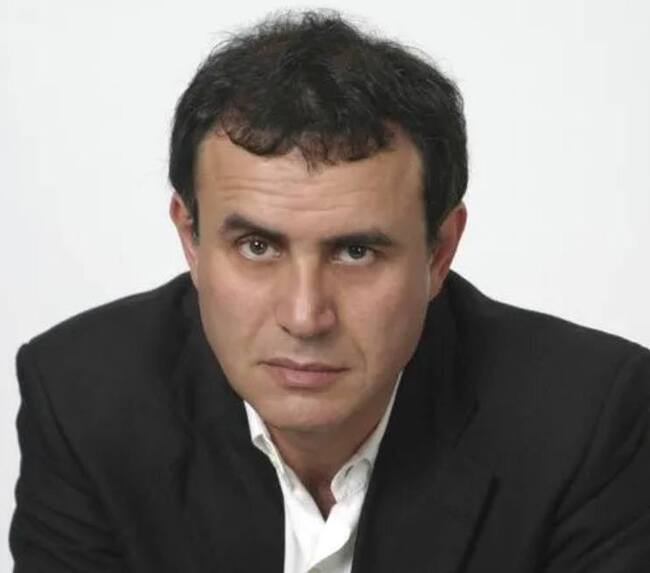 Take Noriel Roubini, an American economist who teaches at New York University's Stern School of Business. In October of 2018, the term 'shitcoin' actually entered United States Senate testimony at the Banking Committee, thanks to Roubini's 37 page assessment titled, "Crypto is the Mother of All Scams and (Now Busted) Bubbles While Blockchain Is The Most Over-Hyped Technology Ever, No Better than a Spreadsheet/Database."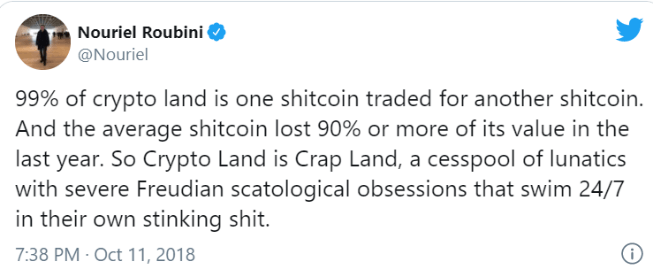 In his testimony, he uses "shitcoin" and "shitcoins" each one time before making a minor note of apology to the senate for doing so and citing a google search as evidence of the term's as nomenclature in the cryptocurrency space.

You can watch Roubini's full senate testimony below:
So back to the question. Which cryptocurrencies are shitcoins?
Is Bitcoin a shitcoin?
Noriel Roubini thinks so. But at this point, it is the least likely coin to be a shitcoin.
Is Litecoin a shitcoin?
The creator of Litecoin, Charlie Lee, thinks so - the best shitcoin out there!
Is Ethereum a shitcoin?
BitMex calls Ether a "double digit shitcoin." And yes…it is.
For every cryptocurrency, there will be a debate over whether or not it's a shitcoin. In reality, Father Time will have the final say over whether or not any given cryptocurrency is a shitcoin. And in many cases, he has already spoken, as countless projects have already died, gone to zero, or been abandoned entirely. For many others, the days are numbered.
Origin of 'Shitcoin'
Where the term "shitcoin" came from in the world of cryptocurrency and when it became popular is a mystery. But it very likely began shortly after Bitcoin was born in 2008-2009. The earliest mention of the term "shitcoin" that we know of is on a BitcoinTalk discussion board dated November 02, 2010, 10:21:57 PM.

The earliest mentions of "shitcoin" on reddit popped up 7 years ago, in 2011. And according to Google Analytics, there was little to no interest in the word until 2017-18 during the cryptocurrency boom.

Today, the word shitcoin is tossed around referring to cryptocurrencies like boats in an ocean. It's forever a part of the cryptocurrency space. There's just something about it, as Eric Lombrozo explains, the word just has that viral ring to it which allows it to dominate.
TechCrunch recently wrote an article roasting Coinbase for adding shitcoins in an article that headlines as "Coinbase abandons its cautious approach yet links as "coinbase-dabbles-in-shitcoins."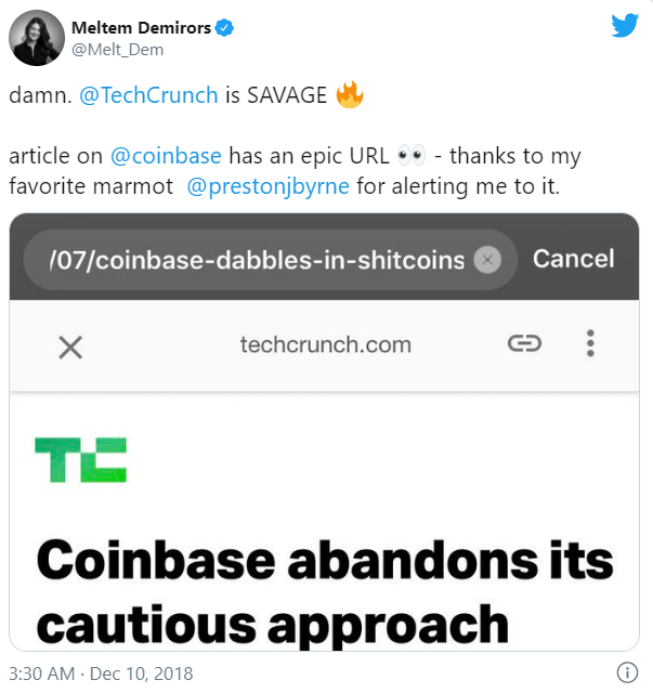 And if the name Meltem Demirors sounds awfully familiar to you, it may be because you just watched her on national television…talking to congress…explaining with total seriousness what a Shitcoin is.
You can watch that testimony here:
So let's end this explanation of what shitcoins are with a little shitcoin music to play us out - thanks for reading!