In this post we are going to cover: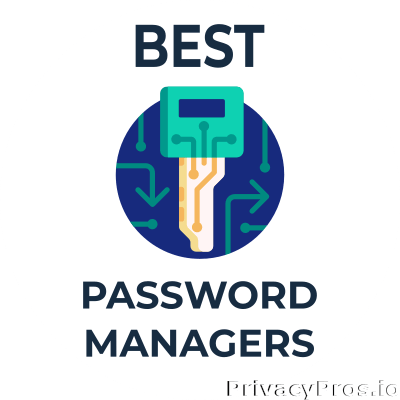 Why you need a password manager
Which one suits you the best
Prices
Platforms and mobiles support
Plus more... Read on to learn everything you need to know about the best password managers.
Managing Your Passwords: Which of the six Options Is Right For You?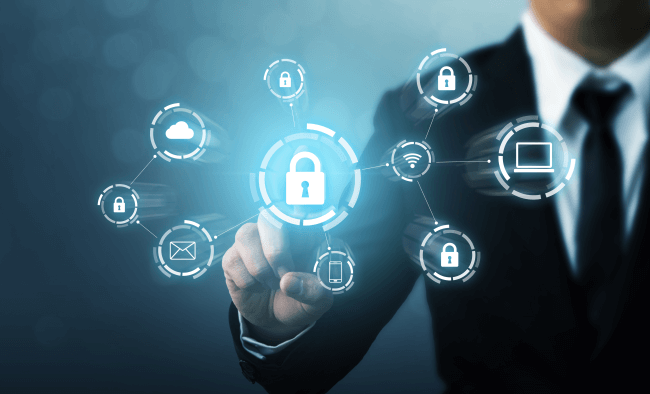 In this day of security breaches and stolen identities, it has never been more important to have your personal data stored safely––accessible only by you. Fortunately, or unfortunately, however you want to look at it, there are a ton of password management tools out there. Some sit right on the cutting edge of technology; others have even been floating around the internet since the 1990s.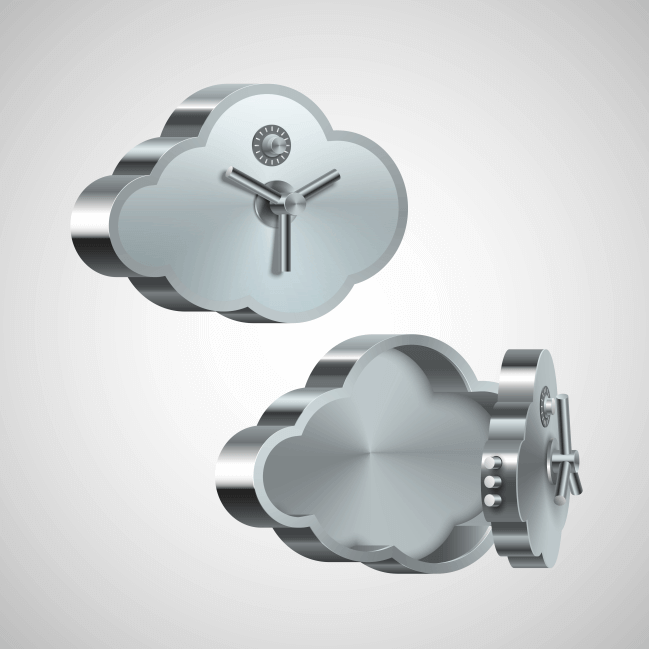 So how do you know which tool is right for you? Looking for bells and whistles at a low cost? Or something simple, easy to use, and maybe a little more pricey? Don't let the shopping process stress you out. We're here to help with a comprehensive comparison of some of the best password managers out there.
We've pulled together six of our preferred options––all of which offer a host of real-time benefits and plusses. Where you want to go…that's up to you.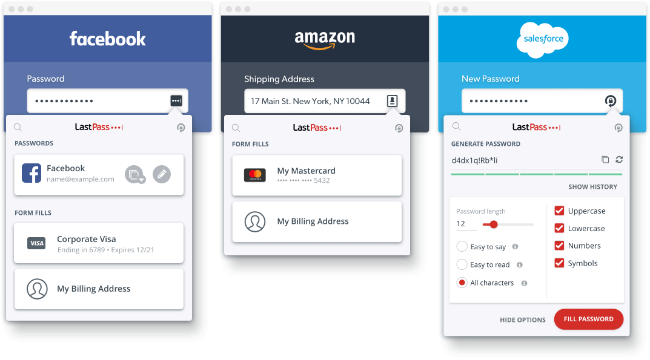 As password managers go, LastPass is pretty much king. It is easily one of the most recognizable names, not to mention one of the most widely used tools on the market. There aren't a lot of management tools that come close to matching LastPass's reputation. The trouble is, it's also one of those platforms that deeply divide dedicated users––basically, if you sign up with LastPass, you'll soon discover that you either love it, or you hate it.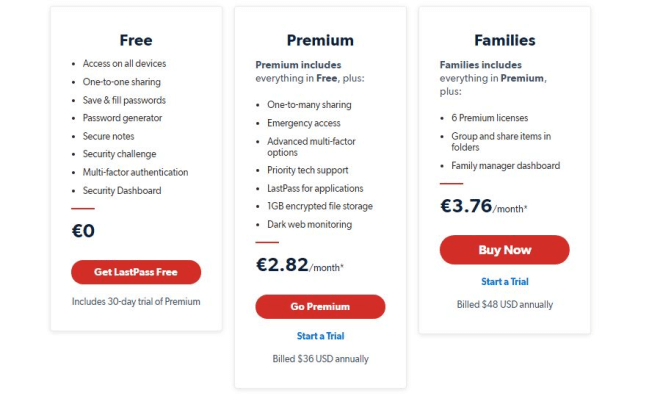 Owing to its initial popularity, the influx of new platforms has paved the way for competition. But despite this, die-hard fans of LastPass certainly have a good reason for hanging onto their free accounts (paid accounts can run you about $36 per year, and come with a host of add-ons that you may or may not find useful or necessary given that so much is already included in a basic account). Cost aside, LastPass really is a great option. It stores all of your passwords––safely and securely––across multiple platforms and devices, and works seamlessly for personal and business needs.

LastPass lets you store digital records (including Wi-Fi passwords, passport/insurance details, and membership contracts), and share them just as easily. It's also great for online shopping with its customizable auto-fill option and built-in password generator, which creates long, randomized passwords to deter hackers. It primarily functions as a web browser extension, despite having standalone apps for both Mac OS X and Windows. While technically an online password management system, there are situations in which it will work offline, too.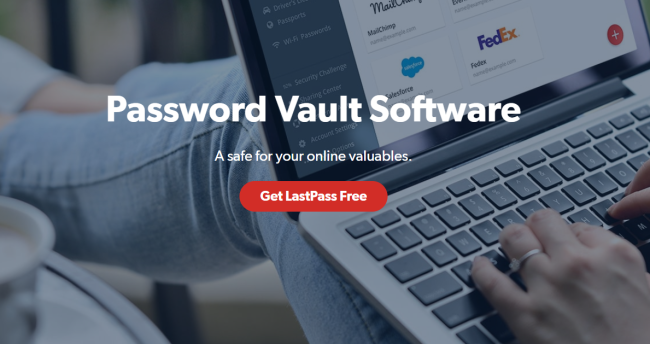 The key to LastPass's functionality is the Master Password. Having a vault secured with a single password makes life much easier than having to remember numerous passwords. The Master Password is the key to the LastPass Vault, where all the other passwords, as well as other data and information of your choosing, is housed. You can access that vault in a few ways – either online through a browser extension, on your smartphone or tablet, or, for Premium users, on a Windows desktop. The data can then be filled into a form automatically, or you can copy and paste it for access wherever you need it. Each of these methods of access is incredibly useful in and of itself.
Info: LastPass's password database is transferred directly to your device and decrypted (great, if you are into that sort of thing), allowing you to access it––securely––on a web browser, without an internet connection (as long as you've logged into the cloud).
One of the best and most critical features LastPass offers is multifactor authentication. This is an additional layer of security that requires a second step before you can access your account. Multifactor authentication is recommended by most security experts today, as even the best and most complex password is subject to hacking or theft. Enabling multifactor authentication helps protect your LastPass account, and all that valuable data in the vault, from hackers, data breaches, keyloggers, and other threats.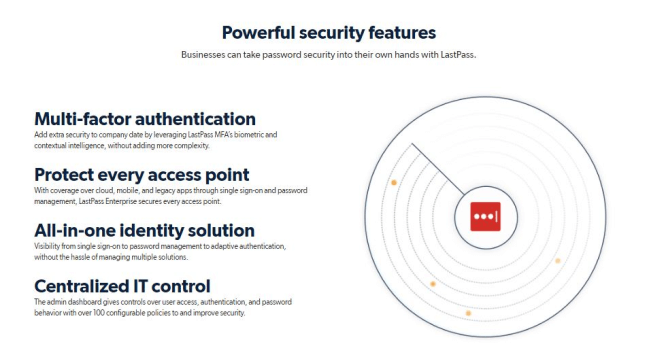 According to its website, there are over 25 million LastPass users––and about 70,000 of those are businesses. These numbers are likely due to the manager's integration capabilities and the fact that LastPass supports a host of devices, including iOS, Android, and even BlackBerry. But be warned: it's definitely not everybody's first choice. As you'll notice by the Trustpilot score, reviews are mixed––and the reasons are all over the place.

So, if you are looking for a capable management system, LastPass is great. But by the sounds of it, if you happen to get stuck and require some customer support, you may not like the response you get. Either way, it's a gamble, but again, those who love LastPass…LOVE LastPass
| | |
| --- | --- |
| Trustpilot score: | 1.8 / 5 (the lowest on our list) |
| PRICE: | Free Paid membership options available |
| Platform support: | Window and Mac |
| Mobile support: | iOS, Android and BlackBerry |
| Browser plug-ins: | Google, Chrome, Firefox, Linux, Opera, Microsoft Edge, Safari, and more |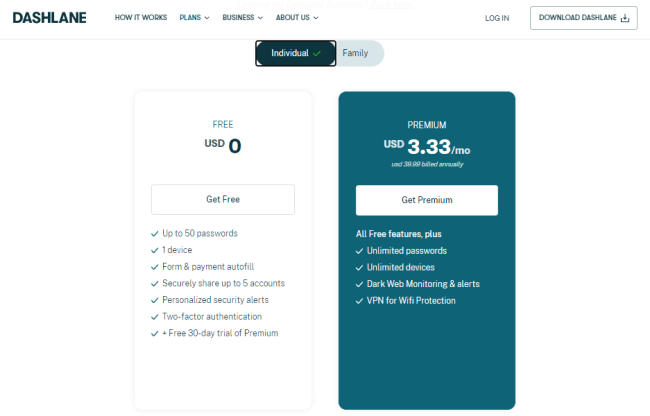 So far, we've seen a number of serviceable free password managers on this list, but sometimes it is worth slapping down a few bucks a month. And lucky for you, Dashlane is one of the few managers with a premium paid account option (about $40 per year, or $3.33 per month) that is actually worth the bonus features.
Info:The free version is a perfectly good choice and comes with form and payment autofill and two-factor authentication, not to mention secured document storage for up to 50 passwords. But there are a few restrictions––like the use of only one device––that might have you considering an upgrade.
With a premium account (for individuals or families––family plans are a steep $60 per year), password storage is unlimited and you can synchronize all of your passwords across multiple devices. But that's not all…

Dashlane also has many patents to prove that it's the industry leader in security. Not only are members alerted about data breaches and potential hacks, but they are also provided with guided steps to learn how to take action. Because one of the main tenets of the platform is its commitment to privacy. Dashlane is fully transparent about data sharing (they don't do it) and storage (they can't see it––even if they wanted to).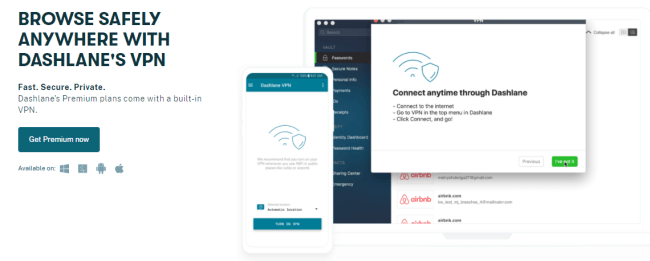 But the most attractive bonus to ponying up a monthly fee, and one that is unique to Dashlane from other password managers, is a secure VPN security feature, which is ideal for those who find themselves browsing the web via random Wi-Fi hotspots. Best of all, Dashlane comes with industry reputation as a top-ranking, best-in-class management tool due to its simplicity–– a great option for those who may be new to password and private storage services and are looking to start with a basic intro. Definitely the preferred choice for first-timers.
| | |
| --- | --- |
| Trustpilot score: | 4.4 / 5 |
| PRICE: | Free Paid membership options available |
| Platform support: | Window and Mac |
| Mobile support: | iOS and Android |
| Browser plug-ins: | Chrome, Firefox, Microsoft Edge, Safari, and more |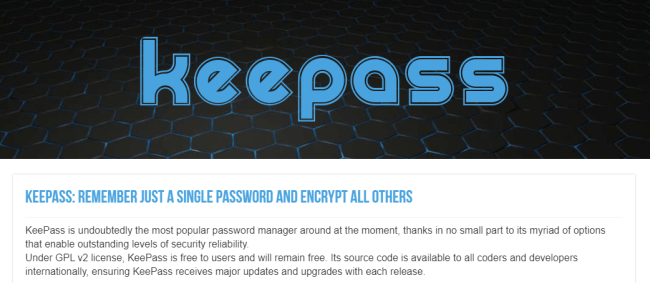 If you're looking for a password manager with a sleek, state of the art interface and sharp UX/UI capabilities, you might want to keep scrolling. When visiting KeePass's website, you might think you've gone back in time. The homepage is unbelievably basic––almost off-putting. However, if it's security and a solid reputation you are after, a few more clicks and you'll begin to understand why so many users have chosen it as their preferred storage site.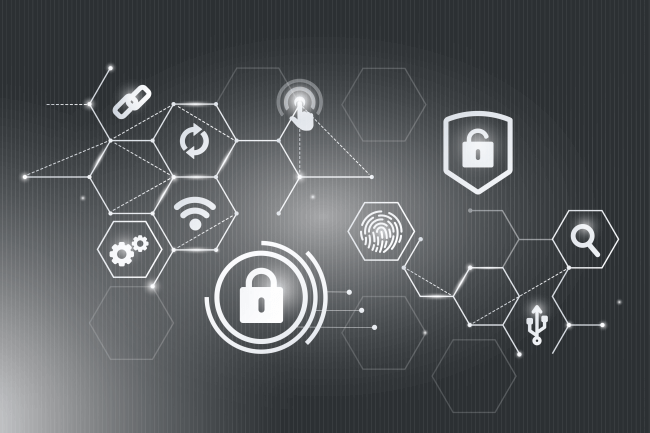 Falling into the familiar category of polarizing password management tools, KeePass has its long-standing fans and its ardent detractors. It really all depends on what it is you're after. If like so many, the thought of storing your info on cloud-based platforms freaks you out, KeePass might just be for you. Simple, solid, and barely a frill in sight.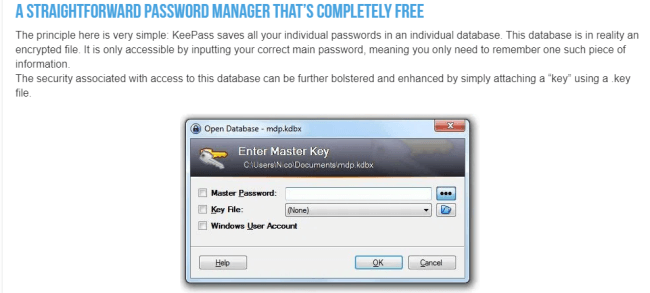 But that's not to say that KeePass has nothing special to offer. Users who don't care about cloud-based systems can take advantage of the mostly personalized and customizable, offline approach to password management.

There is a randomized password generator, multi-language support, and an extensive plug-in architecture. Plus, KeePass is portable and can be carried on a USB stick and runs on Windows without being installed (compatible with Mac, too).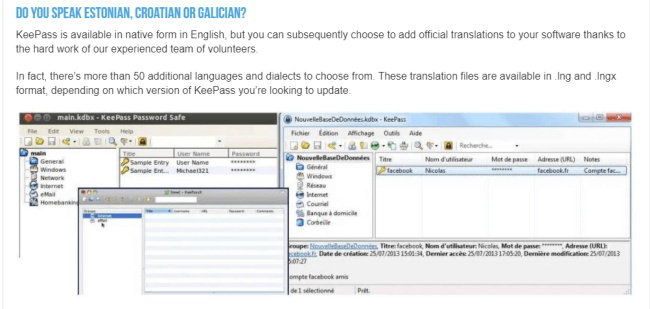 To give you an idea of the technology on offer here: the website, in praise of its portable features, suggests the benefits of storing information on key files that can live on a burned CD or a floppy disk (A FLOPPY DISK!) So take that as a warning sign. But KeePass is definitely a beginner's dream––simple, to-the-point, and basic password management and storage at its finest.
| | |
| --- | --- |
| Trustpilot score: | 4.0 / 5 |
| PRICE: | Free |
| Platform support: | Window and Mac |
| Mobile support: | Limited |
| Browser plug-ins: | Limited |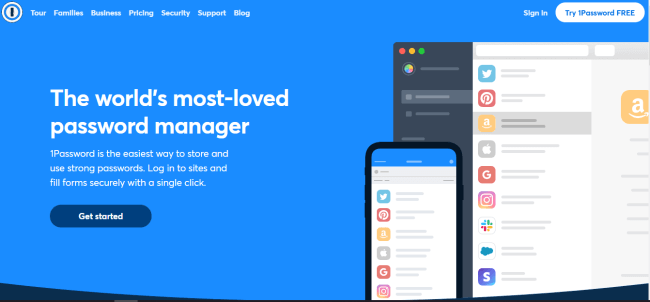 Billed as the world's most-loved password manager, it's easy to see why 1Password continues to be such a favorite. Not only does 1Password have a recognizable and trusted industry name and reputation, but it's a great tool for managing multiple accounts in one––most of the time.

Despite the favoritism thrown its way, 1Password does have a few drawbacks––one of which is more annoying than an actual deal breaker. While other managers rely heavily on two-factor authentication, 1Password makes you work a little harder. For example, if users wish to sign into their accounts from a new device, 1Password makes you enter a master password and a code available only through a device you've already used to access your account previously. If you don't happen to have this device, 1Password will have to send you another long and complicated generated code for you to get back in. Not super convenient, especially for someone trying to limit the number of passwords. However, it does strengthen the security of the box containing all your info. But back to the good stuff.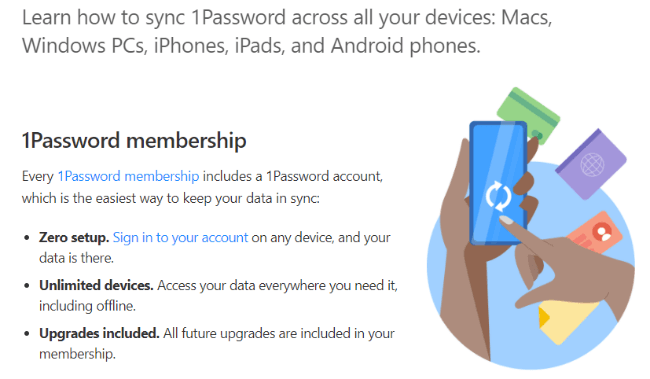 1Password operates mainly as an offline desktop management tool (similar to KeePass), but the option is available should you want to manually upload your passwords to the cloud, or sync them to devices via Wi-Fi or USB drives. It provides all of the standard convenience features of many other managers, including one-click autofill for forms and contracts, and protected privacy settings with breach alerts. And while the free service is great and completely does the job as is, there are paid options for those with loftier expectations. For example…

Looking to keep it all in the family? Well, there might not be a better manager because 1Password offers specialized protection packages for entire households. For $4.99 per month (for a family of 5––$1 extra per additional member), 1Password automatically signs you into each family member's favorite websites with a single click while protecting valuable passwords, credit cards, and anything else that's too personal to text or email.
Info: Best of all, each member gets their own personal vault that is unique and private from the others, for obvious reasons––all under one single subscription.
And if it can do all that for your family, think about what 1 Password can also do for your small business. Costs are higher with a business account (starting at $7.99 per user monthly), but the security and peace of mind behind 1Passwords dedicated privacy features, as well as 24/7 access to their customer service team, may well be worth the spend. Plus, all subscription levels come with a risk-free 30-day free trial.

But basically, whatever you need your password manager to do––whether you are a solo user, family member, or part of a workspace team––1Password has got you covered.
| | |
| --- | --- |
| Trustpilot score: | 4.6 / 5 |
| PRICE: | Free Paid membership options available |
| Platform support: | Window and Mac |
| Mobile support: | iOS and Android |
| Browser plug-ins: | Google, Chrome, Firefox, Linux, Opera, Microsoft Edge, Safari, and more |

If you're looking for a password manager with a sleek, state of the art interface and sharp UX/UI capabilities, you might want to keep scrolling. However, if it's security and a solid reputation you're after, RoboForm might just be the option for you.

A highly versatile tool with a few awesome, built-in features and plug-ins for a ton of different browsers, RoboForm users are determined and unshakable in their loyality.
Our mission is to give individuals and companies the power to safely and conveniently access and manage their data.

---
RoboForm originally made its market debut back in 1999––an antique by modern standards. In fact, it remains one of the oldest still-operational password management tools available. And for good reason: it works! Despite the advancements made in manager technology over the last 20 years, RoboForm has made very few changes or efforts to keep up with current trends––and the fact that it is still so popular should tell you everything you need to know.
Info: The key is simplicity. RoboForm comes with no password sharing capabilities, no heavy menus, and no advanced technologies. The options are simple: a standalone version for desktop or a cross-platform subscription model.
What's more, unlike other paid service tiers, RoboForm's free version does not allow for password syncing across multiple devices. If you wish to have a fully accessible management service across your network, you might want to look elsewhere for an upgraded premium service.

But the basic RoboForm options are totally affordable and come with adequate bonuses, including multi-factor authentications and dedicated, priority support from their customer service team––24 hours a day, 7 days a week.
| | |
| --- | --- |
| Trustpilot score: | 4.7 / 5 |
| PRICE: | Free Paid membership options available |
| Platform support: | Window and Mac |
| Mobile support: | iOS and Android |
| Browser plug-ins: | Chrome, Firefox, Explorer, Microsoft Edge, Safari, Opera, and more |

There's simple. And then there's simple AND free. In fact, according to its website, Bitwarden breaks it down as simply as possible: 'A password manager is useless if you can't easily access it'. And that pretty much says it all. Bitwarden isn't just one of the most trusted, reliable and free password management tools available, it's also incredibly user-friendly and jam-packed with a ton of features.

Bitwarden's open-source software makes accessibility a top priority. It features great security across multiple platforms and includes convenient factors like syncing for teams and businesses on multiple devices. Not only that, but it also offers unlimited online storage and optional self-hosting capabilities. And best of all––a basic plan is literally FREE.

Premium plans start at $10 per year and include additional features like vault health reports, which let you know which of your passwords might be too weak or easy to guess, as well as priority customer support available whenever you need them––which will likely be never, thanks to all of the dedicated attention to data encryption. No matter what tier your membership, your data is fully encrypted before it leaves your device and only you can access it.

While Bitwarden has the reputation of a top-ranking tool due to its simplicity––and while that may sound appealing––you might also require something a little more in-depth than a reputable free manager. But Bitwarden remains a great choice for those who may be new to password management tools and are looking to start with a basic intro. Definitely the preferred choice for first-timers.
| | |
| --- | --- |
| Trustpilot score: | 4.4 / 5 |
| PRICE: | Free Paid membership options available |
| Platform support: | Window and Mac |
| Mobile support: | iOS and Android |
| Browser plug-ins: | Google, Mozilla, Opera, Microsoft Edge, Safari, and more |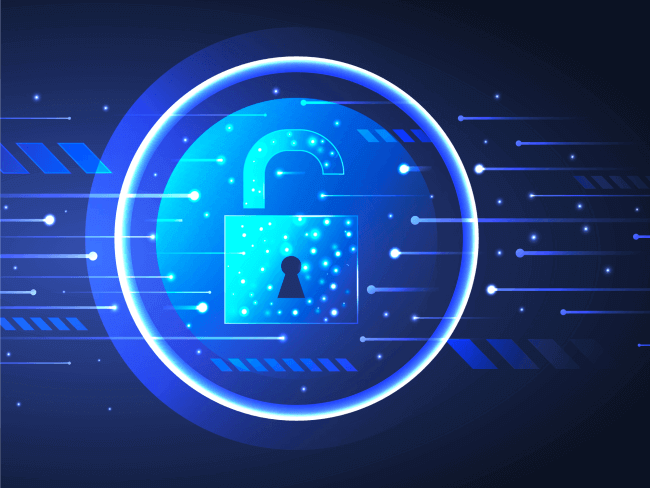 There you have it! A comprehensive comparison guide for just six of the biggest names and most popular password managers on the market. As you can see, each system really offers something for just about everyone––from beginners to experts; from the budgeted and the bank-breakers. But at the end of the day, the devil is in the details. Is it worth it to spend? Or can you manage to stretch out your dollars in exchange for top-quality service and security? Now that you know the highs, the lows, and everything in between, we are confident that you'll be able to determine which management tool is the right one for you.
FAQ
What is password management?
Password management is a set of principles and best practices for users while storing and managing passwords in an efficient manner to secure passwords in order to prevent unauthorized access.
Why is password management important?
Password manager helps to protect your passwords by using a different random password for every account — at least once you've replaced all your old re-used passwords.
How to choose a password manager?
You need to look for a few characteristics when choosing a password manager: a random password generator, a secure password-protected "vault", end-to-end encrypted, under active development, audited by independent researchers. should support extensions for well-used browsers.
How do password managers work across devices?
A password manager stores your passwords in an encrypted form, helps you generate secure random passwords and allows you to easily access your passwords across all the different devices (computers, smartphone, tablets).
Are password managers safe?
Password managers store your passwords in a secure vault, and let you use a singer master password to access them. You can optionally use an extra layer of security by adding a two factor authentication method to your account.
How much do password managers cost?
Paid password managers usually cost between $20 and $60 per year for one person to use, though decent ones are available for free and top-tier options.
Can password managers be hacked?
Each password manager has flaws that could let attackers steal passwords from either the Chrome browser extension or the Android app.