Disclaimer: this article includes links to products for sale on our store.
In this post we are going to cover: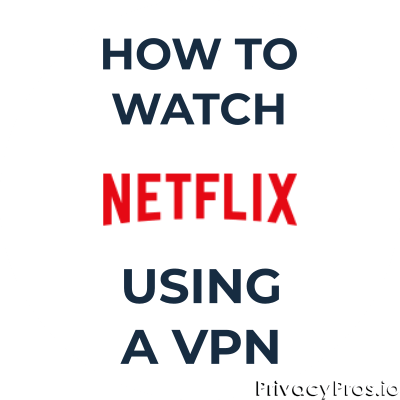 What you need for watching Netflix with a VPN
The most important part of the process in choosing a VPN service
Top choices for streaming
Plus more... Read on to learn everything you need to know about watching Netflix using a VPN.
Watching Netflix with a VPN is more than a geeky experiment for privacy lovers. It's an opportunity to discover content that is only available in certain parts of the world.
For instance, Rowan Atkinson's 1982 show "The Black Adder" is only available on Netflix UK. So even if you're a native English speaker from the USA, you won't be able to access it without a VPN.
The policies for content always seem to be arbitrary. They most likely depend on contracts with studios and create geo-restrictions. But if you use a VPN, you don't have to worry about such details. If something exists on Netflix in any country, you will be able to watch it.
Unblocking Netflix Geo-Restrictions with a VPN
Though it sounds like a complicated process, watching Netflix with a VPN is very simple. All you need is an internet connection, a Netflix subscription, and access to a good VPN service.
The most important part of the process is choosing the best VPN for streaming. And if your goal is to enjoy as much content as possible, then you shouldn't compromise. There are dozens of VPN services out there, but most of them use servers that Netflix blacklisted.
If you use a bad VPN, Netflix will detect that you're using a proxy and ask you to switch it off. This usually happens with free VPN services or inexpensive ones. But when it comes to this entertainment feature, you shouldn't compromise. You need a premium VPN to get the job done.
ExpressVPN, SurfsharkVPN and NordVPN are the top choices for streaming. They offer fast servers in hundreds of countries and excellent privacy. Also, most of their servers unlock Netflix without any issues.
The bang for the buck is Surfshark, as you get premium services for $1.99/month. Even the multi-hop servers (two connections) unlock Netflix with great reliability.
So if you want to watch Netflix with your VPN, all you have to do is switch it on and then access the streaming website. It's also important to pay close attention to the server's location. Depending on the country, your Netflix experience will vary. So if you like French cinema, you should definitely pick a VPN server from France.
If a certain server gets rejected by Netflix, go ahead and pick another one from the same country. Premium VPN services like Surfshark, Nord, and Express will get the job done. They are fast, reliable, and offer a bunch of servers for each country.
Why should you watch Netflix with a VPN?
There are plenty of reasons why you should watch Netflix with a VPN. First of all, it protects your privacy. If your VPN is on, the streaming giant won't know your ISP and location.
Netflix will still know who you are, based on payment credentials. Also, your watching habits will still count for the internal statistics. But it's important to keep a degree of privacy. If you give away some data, it doesn't mean you should provide everything.
To present a similar example, the employees from a movie theatre might know some info about you. They may figure out what genre of films you prefer. They can possible keep track of the amount of popcorn and drinks you consume. They definitely know which seat you've picked. But this doesn't mean that they have to know your identity or where you live.
The personal data you provide should be contextual, not universal. And there is no reason for Netflix to know where you are and who your ISP is.
Content unlocking is other big reason why you should use a VPN to watch Netflix. The streaming website has dozens of exclusives in every country.
Some films and TV shows are even subtitled and dubbed in the local language. Which means that unlocking Netflix can also be educational. With the help of a VPN, you can learn and practice a foreign language.
There are also some unfair situations where Netflix UK has content that doesn't exist in the USA. And to watch these series or films, all you have to do is connect to the right VPN server. If you pick a reliable and fast server, you will enjoy more content than you expected.
VPNs turn Netflix into a better bang for your buck: you get more films in more languages. This can help you learn a foreign language or get accustomed to another culture. And on top of it all, you enjoy more privacy. It's a winning situation every way you look at it.