In this post we are going to cover: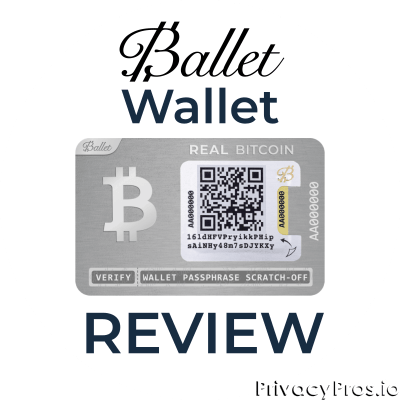 What Ballet box contains
How to set up
Ballet Support
Plus more... Read on to learn everything you need to know about Ballet.
Steel wallets are a crucial part of any hodler's backup setup.
But getting the right backup device is just as crucial. Bad backup devices really compromise your security and result in lost coins, which defeats the purpose of using them in the first place.
Long story short: Ballet's design makes it unsuitable for long-term hodlers concerned about the safety of their funds. Ballets are too inflexible and make too many compromises to make them a truly recommendable bitcoin backup device.
Pros
Cheap
Makes a good gift to someone new to crypto
Cons
Indiscreet design
Keys are printed onto stickers, not engraved into metal
Pros
Cons
Makes a good gift to someone new to crypto
Keys are printed onto stickers, not engraved into metal
Who Should Buy a Seed Backup Device
Crypto investors who want to store their own bitcoin
Crypto investors who need a wallet backup
Crypto investors who require financial independence
What's a Seed Backup?
Many who are new to HODLing bitcoin are aware of the security that hardware wallets provide. Once they are confident their funds are secure, however, they may be missing a critical backup step to ensure the longevity of their mnemonic seed phrase.
Through the years, the horror stories of lost backups have become legendary and the marketplace responded with a wide variety of backup devices. The demand for fire and waterproof (as well as other natural or manmade forces) methods to store mnemonic seed phrases, private keys and other information was clear. This has been remedied with several approaches, usually by committing this vital data into metal.
Ballet Basics
Ballet is both the name of the company and of the product. It's a U.S. based company founded by Bobby Lee, co-founder and CEO of BTCC (formerly BTCChina). Lee is also a board member of the not-for-profit Bitcoin Foundation.
Price
The standard Ballet wallet retails for $35. You also have the option of paying $99 for a 24 karat gold-plated Ballet wallet.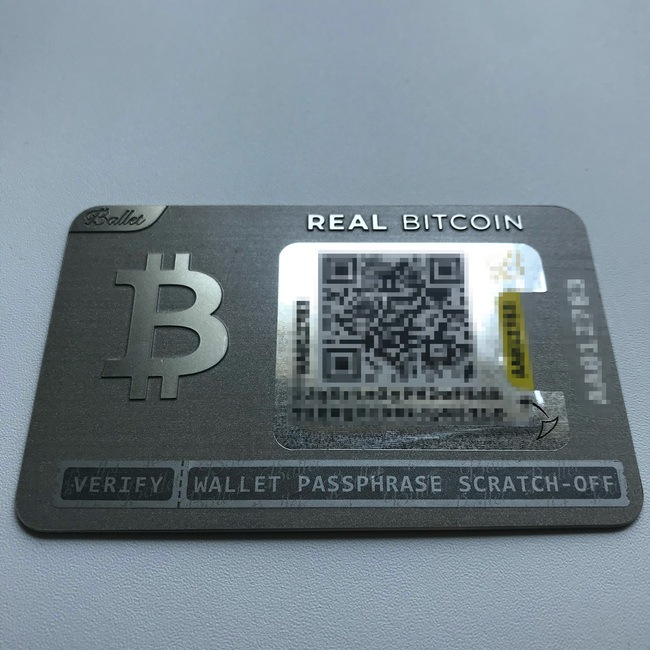 Shipping within the U.S. is free. Ballet recommends that customers in the EU and Canada order from Amazon to avoid customs delays and import taxes.
Unboxing & Contents
The Ballet device comes in a thin cardboard box.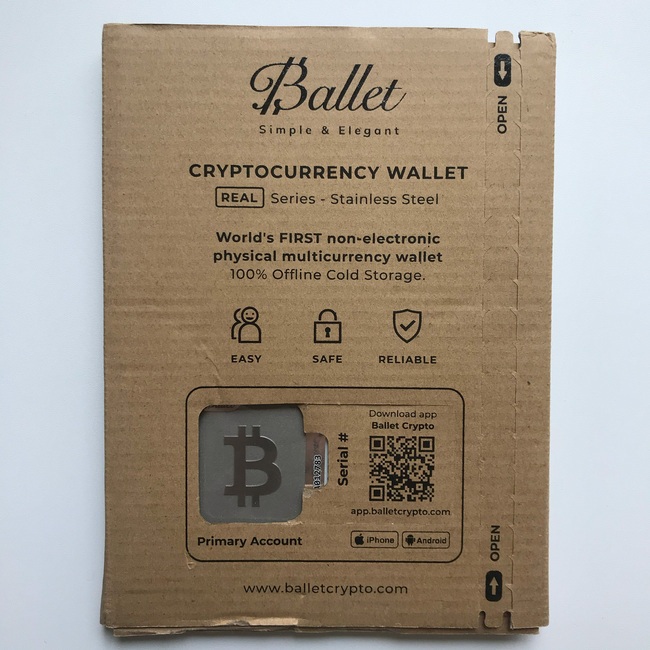 On the back, you'll find a QR code that links to a quick start guide, as well as a list of digital assets supported.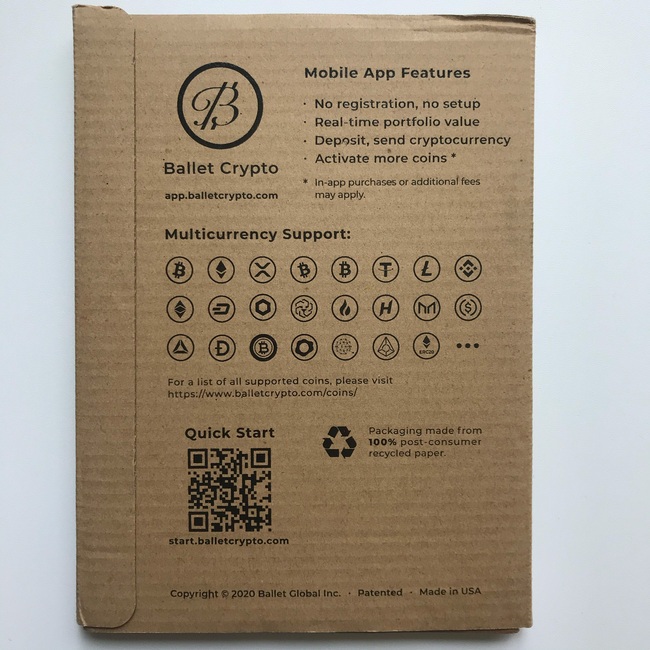 Opening up the package…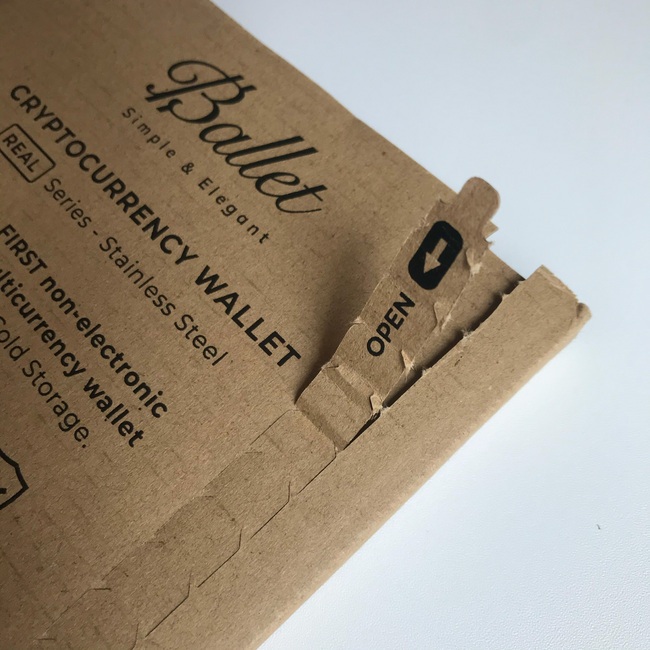 …you'll be presented with the metal wallet itself, a plastic case to hold it in, a diagram of the different components of the Ballet device, and a short history of the company.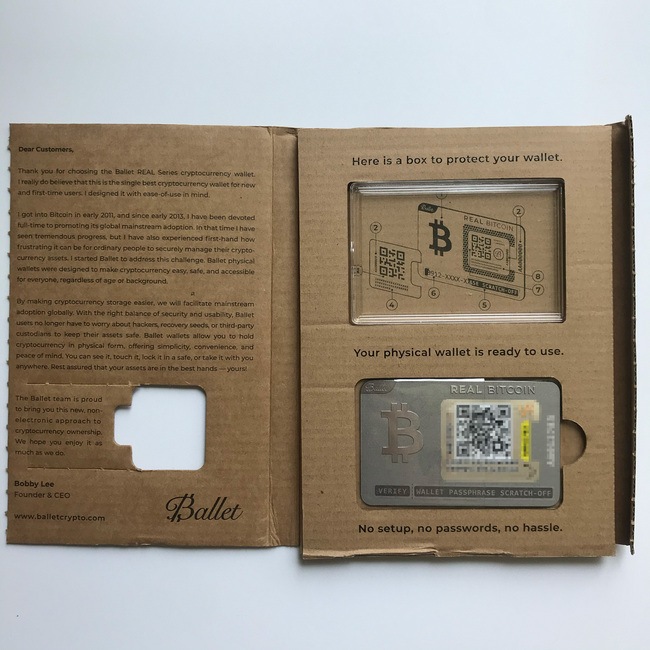 The Ballet has a sticker on its front with a QR code. This code is a Bitcoin public key, or receiving address. If you peel off this sticker, you'll find the wallet's private key beneath. This is outlined in the diagram below: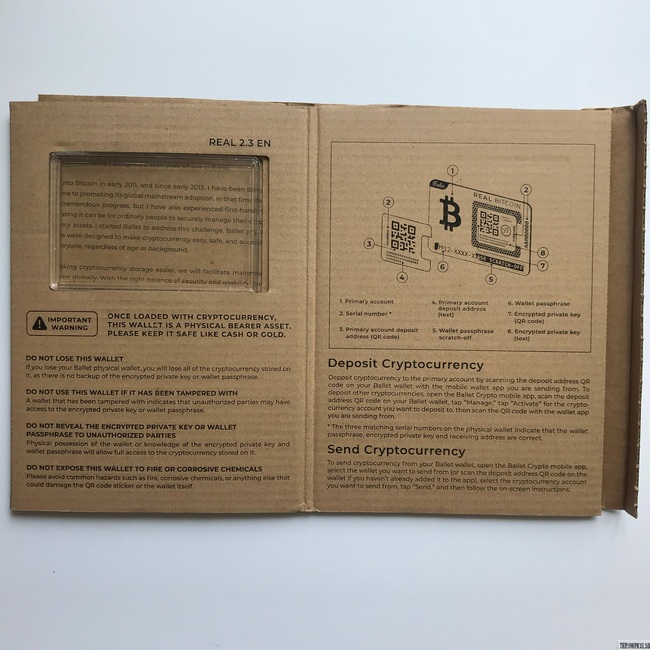 Device Description
The Ballet wallet is not a true metal seed phrase backup device. Instead, it's more like a paper wallet, since your keys are stored on a plastic sticker rather than engraved into metal.
Ballet is made of 304 Grade stainless steel, falling short of the 316 Marine Grade stainless steel used in other wallets like the Billfodl.
The Ballet device measures 3.37 x 2.13 in (85.6 x 54.0 mm), and is 0.05 in (1.2mm) thick.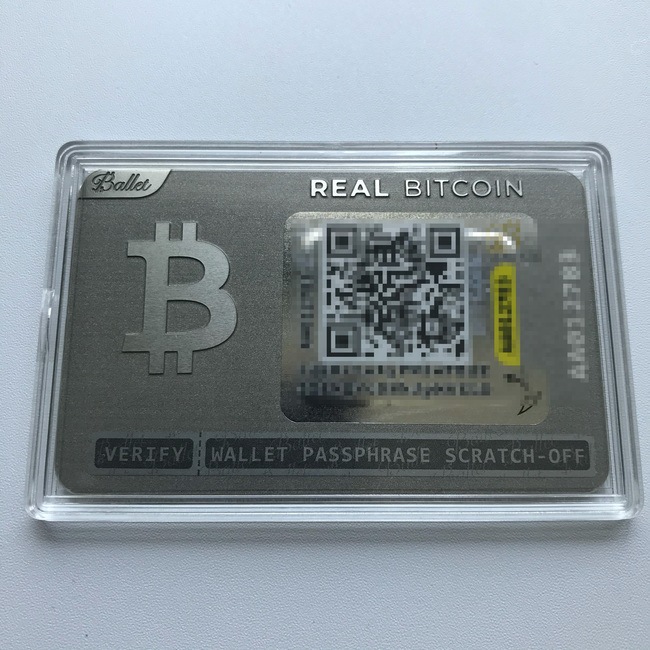 Overall, the Ballet feels like a thick metal credit card. The plastic case helps to make it seem a little bit more premium. It also protects the sticker on the Ballet that contains your wallet's public address, something which you definitely wouldn't want to get scratched off.
Setup
There's no real setup needed for the Ballet wallet. It's designed to be a "bearer instrument," i.e. physical possession of the wallet is all you need to access the funds it holds. This also means that anyone who gets their hands on the Ballet has full access to whatever's held in the wallet.
To check the balance of the wallet, simply scan the QR code on the front and input that into any blockchain explorer. To send funds, you'll need the private key that's underneath the sticker on the wallet.
While the Ballet wallet is primarily marketed as a Bitcoin wallet, you can also store dozens of other tokens on it. For this, you'll need the Ballet app on your desktop or phone. The website notes that "some cryptocurrency activations may require an additional fee."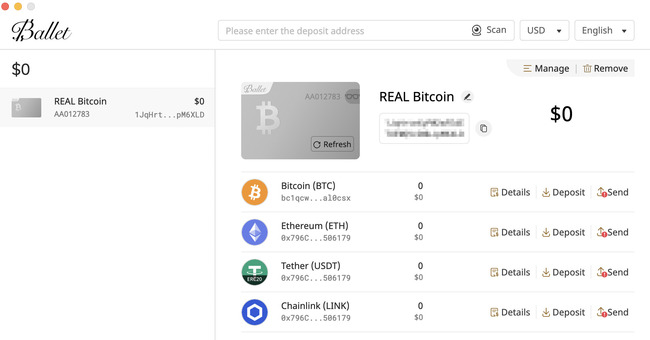 Ballet Support
The Ballet packaging has most of the info you'll need to set up your wallet.
You can also get in contact with the company via an email form on the Contact Us section of their homepage.
Buyers who are looking to learn as much as possible about their prospective seed phrase backup device may not find the information available on Ballet's site adequate. There are no stres-testing results, whereas most other steel wallet manufacturers publish comprehensive data on the durability of their products.
Plus, since your keys are not engraved into the steel, the metal's durability really isn't the main concern. It takes much less heat to damage the sticker with your QR codes on it, even a period of extended exposure to sunlight could be enough to damage it beyond recognition. That's not even to mention water damage, abrasion, or any other ways the stickers could be compromised.
Rating: 4.5/10
While the material of the Ballet may be sufficient to survive high temperatures and crushing forces (though this is untested), these advantages are quickly overshadowed by other design flaws.
Your keys are printed onto stickers on the Ballet, they're not engraved or stamped into the steel. This makes the Ballet more similar to a paper wallet, but with the impression that the steel is doing something useful. It's not, apart from looking nice.
While the Ballet is about the size of a credit card, this isn't particularly relevant as most users will not be carrying around the metal plate in their wallet.
The Ballet cannot be recommended for long term cold storage of Bitcoin or any other digital asset. It's more convenient for gifting crypto, thanks to its ease of use and the clear instructions that come with it.
We give the Ballet a score of 4.5 out of 10.
If you're looking for the most secure way to store your seed phrase, do yourself a favor and pick up a Billfodl instead. It is consistently our top pick for wallet backup products year after year!
FAQ
Is Ballet safe?
The Ballet is a simple device, which means not too much can go wrong. However, if you're entrusting your keys to it, you might be concerned about a couple of its design choices. The Ballet is made of 306 grade steel, which is less dense than the steel used in other physical wallets. 316 Marine Grade Steel is usually considered the best material for seed backup devices. Additionally, the public and private keys are printed onto stickers that are then stuck onto the steel, meaning the metal is doing nothing to ensure the physical integrity of your keys. Instead, you have to trust the plastic stickers with all your funds.
Which is best - Billfodl, Cryptosteel, or Ballet?
Billfodl is widely considered the gold standard for stainless steel wallet backups. While the Ballet is cheaper, its design flaws mean that the Ballet is not a good choice of wallet backup. The Billfodl is safe, strong, and affordable.