In this post we are going to cover: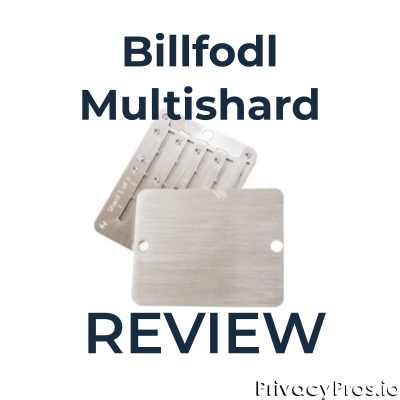 What Billfodl Multishard box contains
Billfodl basics
Billfodl Multishard device description
How to set up
Plus more... Read on to learn everything you need to know about Billfodl Multishard.
Steel wallets are a crucial part of any hodler's backup setup.
But getting the right backup device is just as crucial. Bad backup devices really compromise your security and result in lost coins, which defeats the purpose of using them in the first place.
The Billfodl Multishard is an excellent steel wallet, with a range of features that make it the best option for crypto cold storage. We'll take an in-depth look at the Billfodl Multishard in this review, but first let's go over who might want a seed backup device and why.
Pros
Premium construction with the highest-grade steel of any metal wallet
Comes with more than triple the number of letters a 24 word seed phrase requires
Multishard design means your wallet is secure even if someone gains access to one shard
Cons
As a premium product, the Multishard is more expensive than budget models
Pros
Cons
Premium construction with the highest-grade steel of any metal wallet
Comes with more than triple the number of letters a 24 word seed phrase requires
Multishard design means your wallet is secure even if someone gains access to one shard
As a premium product, the Multishard is more expensive than budget models
Who Should Buy a Seed Backup Device
Crypto investors who want to store their own bitcoin
Crypto investors who need a wallet backup
Crypto investors who require financial independence
What's a Seed Backup?
Many who are new to HODLing bitcoin are aware of the security that hardware wallets provide. Once they are confident their funds are secure, however, they may be missing a critical backup step to ensure the longevity of their mnemonic seed phrase.
Through the years, the horror stories of lost backups have become legendary and the marketplace responded with a wide variety of backup devices. The demand for fire and waterproof (as well as other natural or manmade forces) methods to store mnemonic seed phrases, private keys and other information was clear. This has been presented with several approaches, usually by committing this vital data into metal.
Billfodl Basics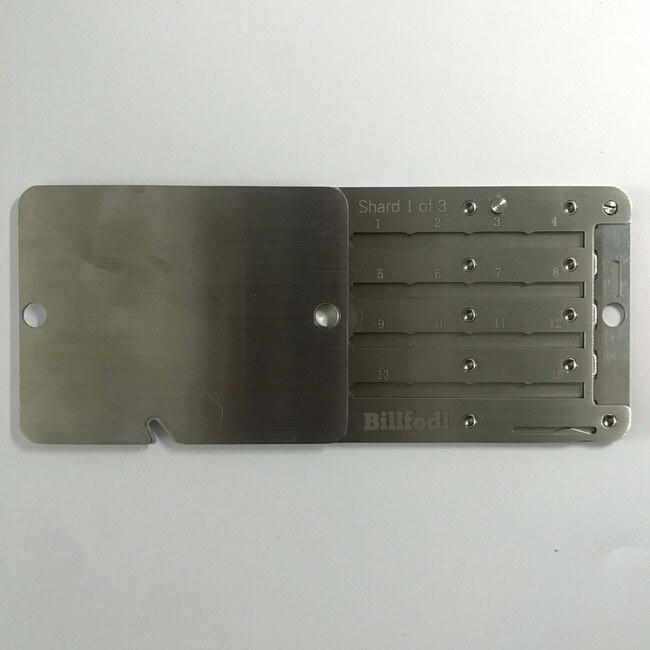 The Billfodl Multishard is an extremely durable steel backup wallet. Its strength in this area alone is enough to recommend it to any serious hodler.
But the best thing about the Multishard is how easy it makes it to add another layer of security by splitting your seed phrase into three shards (hence the name). In order to compromise your seed phrase and take control of your wallet, an attacker would need to physically get their hands on two out of three of the steel wallets.
This means that you can feel safer giving a shard to a trusted friend or family member, or locking one away in a bank safety deposit box. Even if your friend decided that they need your crypto more than you do, they would still need at least one of the other two shards to be able to gain access to your wallet.
It's a simple, clever design that makes cold storage a lot safer. When you're locking away your crypto for an extended period of time, peace of mind is a priority. Billfodl's intelligent multi-shard design gives you that.
The Billfodl Multishard is produced by PrivacyPros, a crypto-focused company that also sells Faraday bags, hardware wallets, and accessories like a mountable print-out of the original Bitcoin whitepaper.
The team behind PrivacyPros also hosts The Unhashed Podcast, which you can listen in to for news and analysis on everything crypto.
In this review, we'll take a look at some of the most important considerations when buying a metal seed phrase backup device. We'll cover how much the Billfodl Multishard costs, how easy it is to use, any notable drawbacks, and how good the support is that's available to users after their purchase.
Price
The Billfodl Multishard retails for $267.00. This is a premium product, so the price is going to be a little higher than some of the budget options on the market. Still, $267 is a bargain when you consider the quality and quantity of the products you'll get in the box.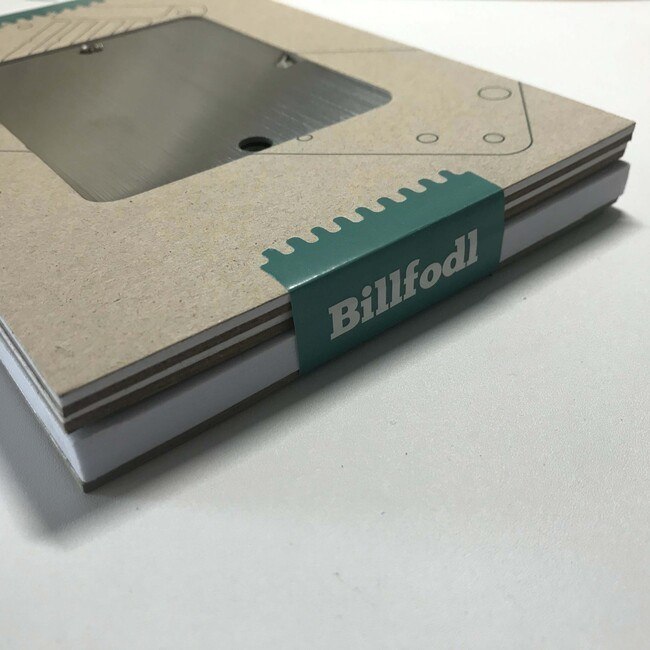 It's worth asking yourself if you're really saving money by skimping on a steel wallet, or if you're actually putting a much larger sum at risk.
Unboxing & Contents
Shipping within the U.S. is free for orders over $40. This covers the majority of products in the Privacy Pros store, including the Billfodl, Multishard, and many accessories.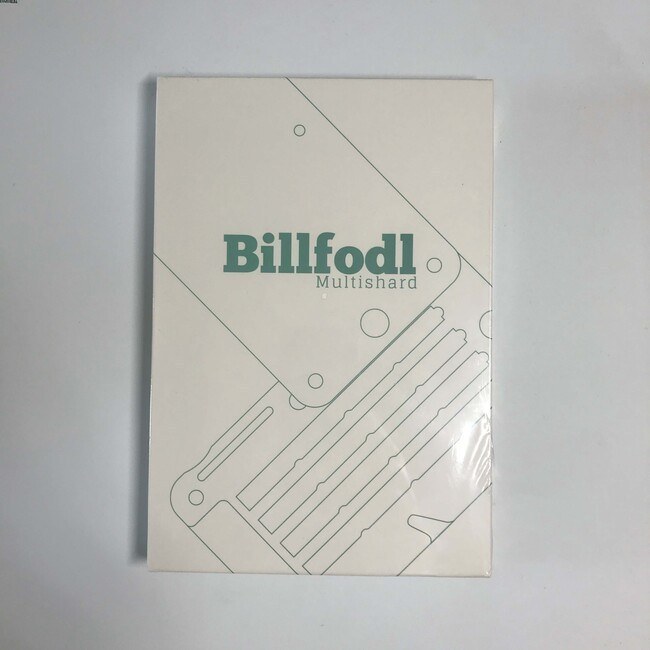 The Billfodl packaging is about the size of a book. It's got some weight behind it, the kind of weight that feels reassuring when you're about to trust it with your seed phrase.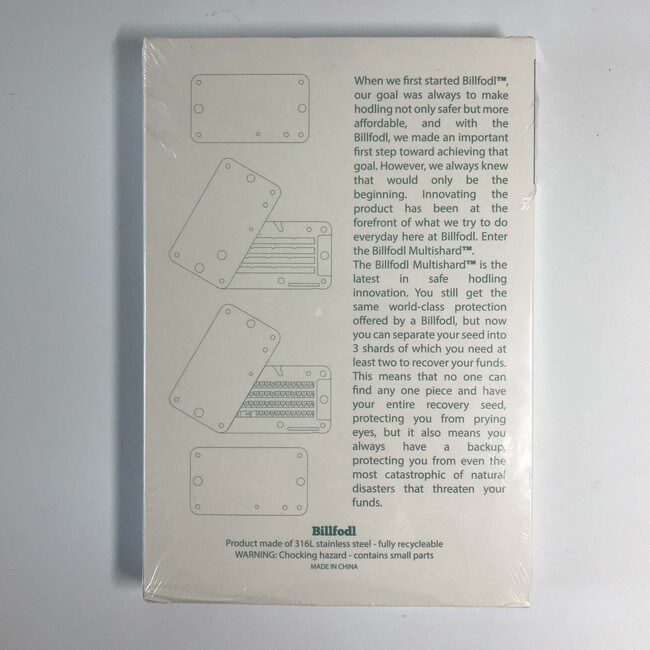 On the back is the story of Billfodl for some context before you open up the box and find the stainless steel Multishard.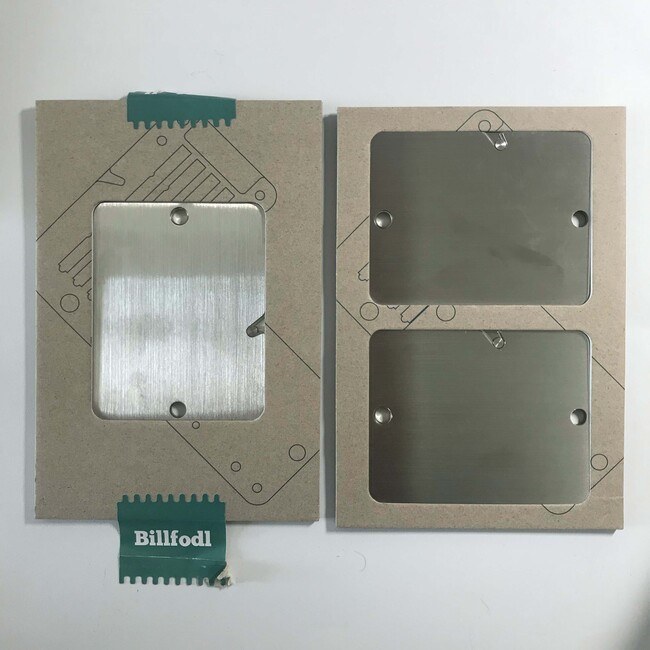 Overall, the packaging has a very nice premium feel to it. Each of the shards fits snugly within its casing, which gives a great first impression about the quality of the product.
After removing the three Billfodl shards, you'll find three steel letter plates behind them in the box.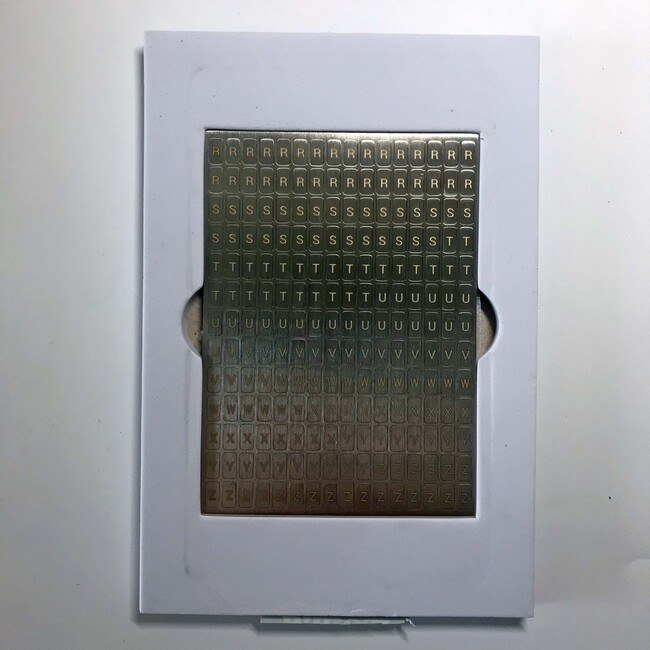 These plates contain more than 600 letters that you'll use to assemble your seed phrase in the Billfodl devices. Each letter is extremely evenly cut, ensuring they fit perfectly within the rows. Laser engraving keeps the letters clear and easily readable, while making sure they'll resist abrasion and other types of wear and tear for generations.
There are many multiples of each letter, so you don't need to worry about running out halfway through your seed phrase. Additionally, as a design feature of the BIP39 wordlist, you only need the first four characters of each word in your seed phrase. The words were carefully selected to ensure the first four characters of each word would only correspond to that particular word, with no room for confusion.
Cleverly, the Billfodl Multishard includes more vowels and commonly used letters than Js or Xs, for example. It's this kind of attention to detail that you expect from a premium product, and with the Billfodl it's what you get.
Device Description
The Billfodl is made from 316 Marine Grade Stainless Steel. This is the highest grade steel used in metal hardware wallets, so you can rest assured that your seed phrase is as disaster-resistant as it gets.
The Billfodl Multishard has been proven to maintain its integrity (and that of your seed phrase) at temperatures up to 1200C/2100F, more than double the temperature of an average house fire.
The Billfodl Multishards each measure 104mm х 58 mm (4.1in х 2.3in). They are each 5mm (0.2 in) thick and together weigh 400g (14 oz).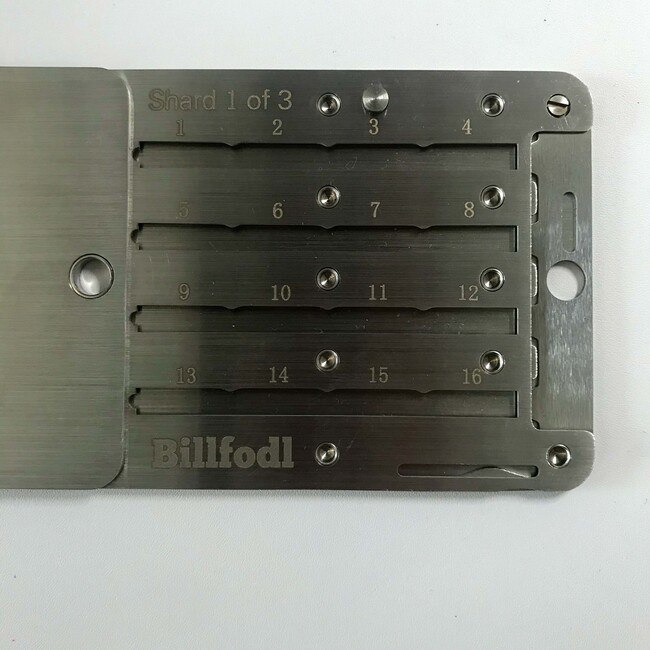 The Billfold Multishard is extremely well constructed. It's something you can feel every time you slide open one of the shards. The hinge is firm without restricting the movement of the plates. The little locking mechanism is in the perfect spot, holding the shard closed when you need it to be.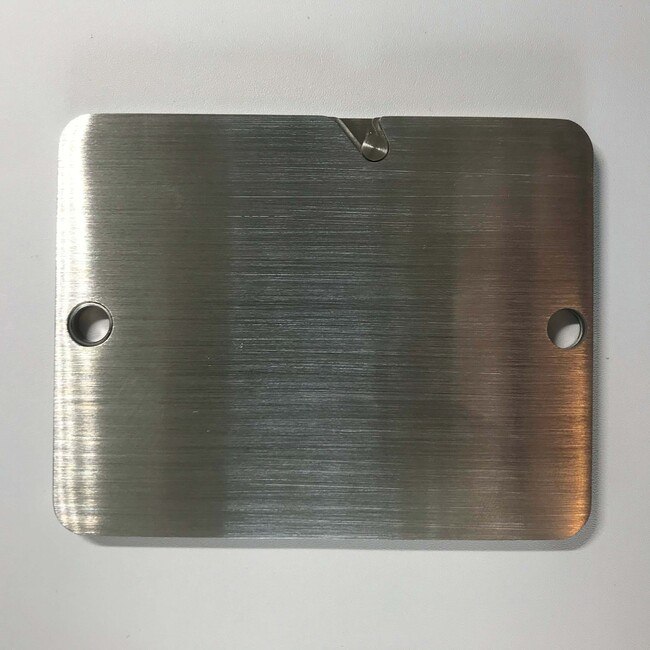 The steel pins and screws that hold the deivce together and machined smooth on the flipside of the wallet, making for a very smooth feel when handling and keeping consistent with the brushed style of the steel.
Setup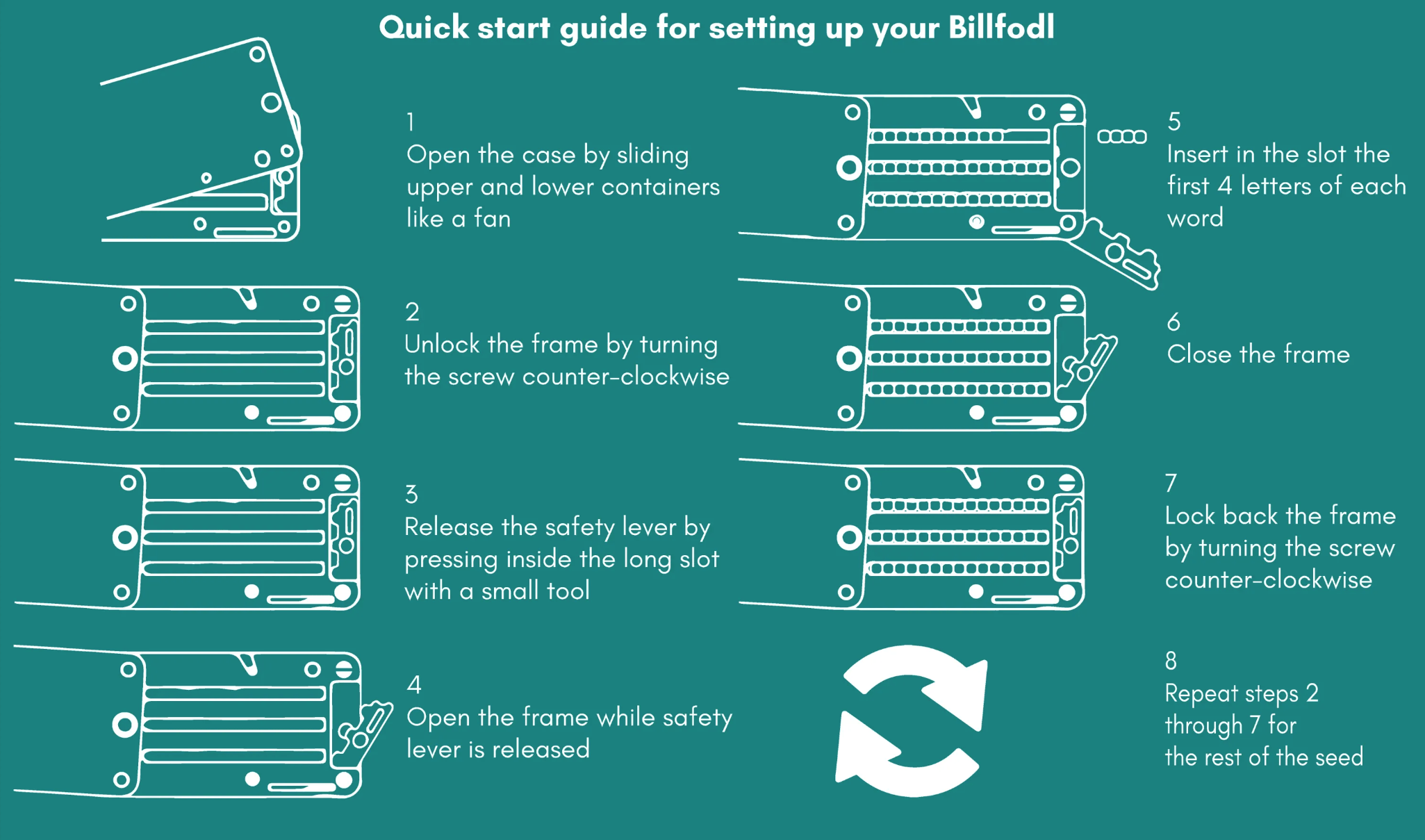 Here's where we get to the fun part. Let's go through how to secure your seed phrase with the Billfodl Multishard.
It's called the Multishard for a reason. The idea is to split your seed phrase across the three shards, backing up each word of your seed phrase twice. This provides the highest level of security and means that anyone accessing your wallet needs two out of the three shards in their physical possession.
Each shard has room for 16 words of your seed phrase. Shard One holds words 1 through 16, Shard Two holds words 9 to 24, and Shard Three holds 1 to 8 and 17 to 24.
This innovative sharding design is what gives the Billfodl Multishard its massive advanatage over competitors. As such, it's important to make sure you set your shards up correctly to benefit from this.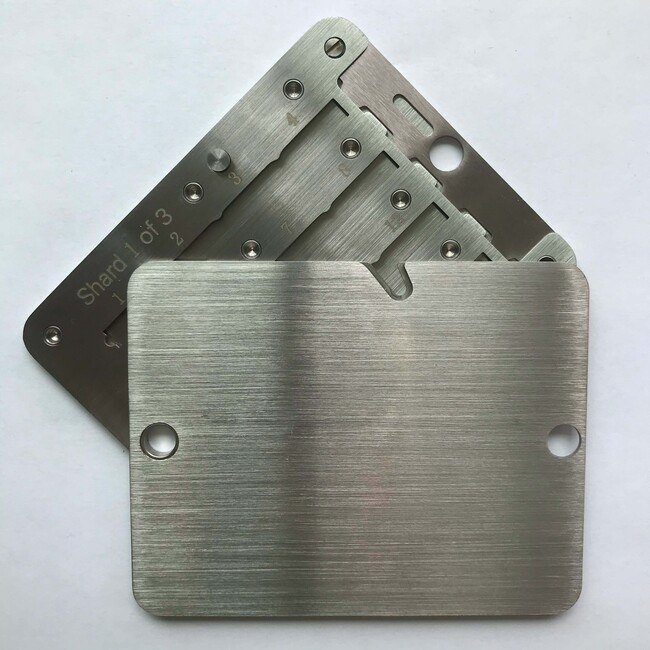 Step 1: Unlock the Shard
To unlock the shard, press down on the safety lever at the bottom right of the device while pulling out the key-shaped locking mechanism.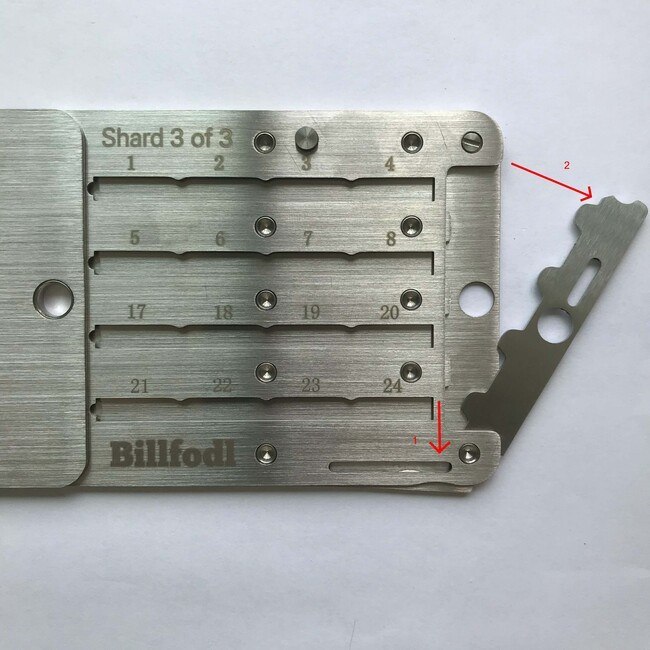 Step 2: Assemble Your Letters
Use a tool or just your fingernail to punch out the pre-cut letters from the letterplates. Remember, you only need the first four letters of each of the words in your seed phrase.
We're using Shard Three for this example, so you can see exactly how the words in a seed phrase are labeled and divided. Shard Three, as mentioned before, contains words 1 through 8 and 17 through 24 of your seed phrase.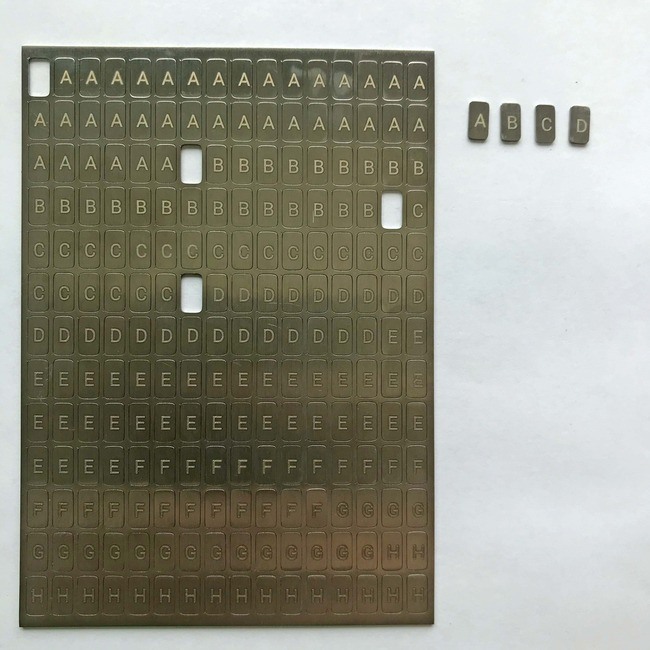 Step 3: Slide the Letters Into the Shard
One by one, slot the letters into the Billfodl Multishard. There are four rows that you fill from the right.
The letters go in quite smoothly, but they feel firmly held in place which is reassuring.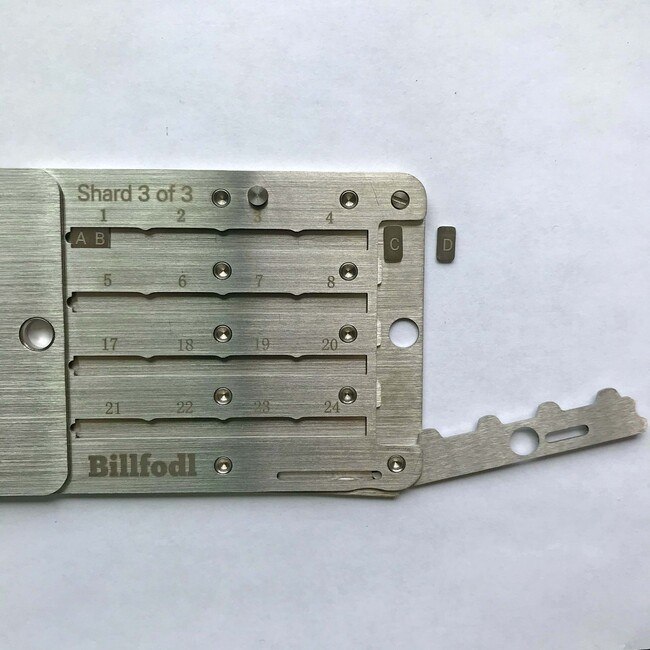 Use each new letter to push the others into place, until you've filled up each row.
Step 4: Lock the Shard
Once you've inserted the letters that correspond to your seed phrase, lock the shard again to hold the letters in place. You'll need to press down on the safety lever again while you pivot the locking mechanism back into place.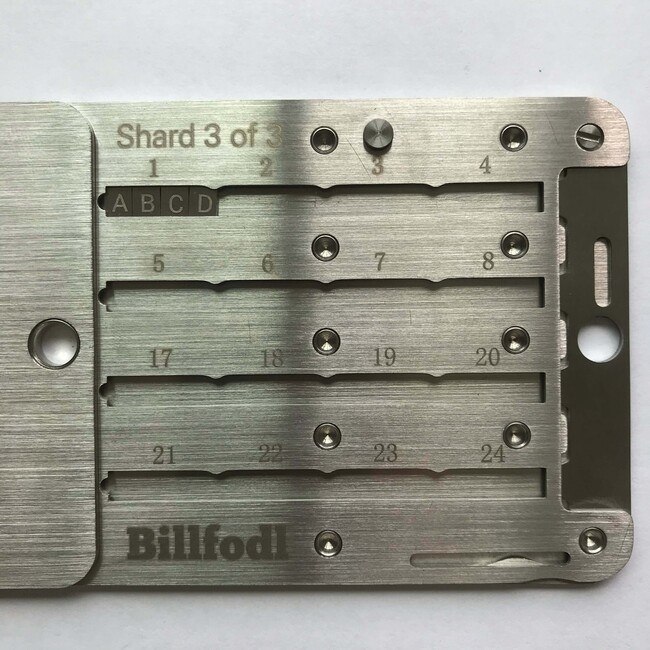 Step 5: Secure the Shard
That's it! Your seed phrase is now securely held within the Billfodl Multishard. These devices are extremly durable and disaster-resistant, but you still want to be sure you're keeping them in a safe location. Bury it in the backyard, store it in a fireproof safe, or hold in it a bank safety deposit box. The choice is yours.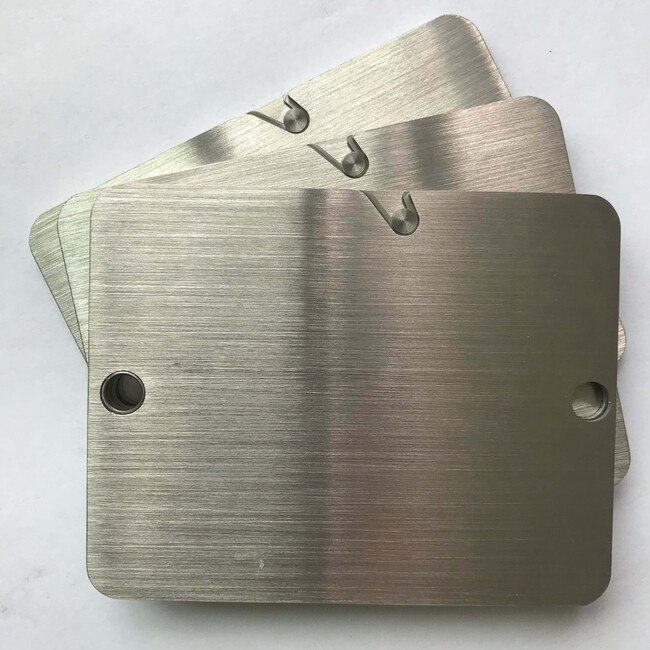 Character Limitations
The Billfodl Multishard comes with 608 individual letters. Three plates with 13 rows and 16 columns.
Each word of your seed phrase is backed up twice across the three shards. Remember, you only need the first four letters of each word.
So 48 words, multipled by four letters, is 192 characters. The Billfodl gives you more than triple this number, leaving plenty of spares in case you lose any letters. The duplicates of each letter ensure that you'll be able to create any combination of words on the BIP 39 wordlist without worrying about running out of Es or Os or Zs.
Billfodl Support
Billfodl has an easily-accessible contact form on their website, where you can forward any and all questions about their products to their team. There is also a written guide on setting up the Multishard as well as a simple walkthrough video.
You can also check out a demonstration of the Billfodl's resistance to fire and flood.
This in-depth and responsive support goes a long way to reassuring prospective buyers that help will be available if they need it after purchasing a Billfodl.
Rating: 9.9/10
The Billfodl Multishard is the best steel wallet on the market.
Its innovative sharding design means your wallet is safe even if someone gains access to one of the three devices.
The Multishard is extremely well constructed. It just works. The hinges are firm but smooth, the letters are all evenly laser-cut, the shards have a nice hefty feel to them, even the packaging the Multishard comes in looks great.
The Multishard is made of premium 316 Marine Grade stainless steel, so you know your seed phrase is safe from fire and corrosion.
You really can't go wrong with the Billfodl Multishard. Your crypto deserves the best protection, and the Multishard is worth every cent.
We give the Billfodl Multishard a score of 9.9 out of 10.
Do yourself a favor and pick up a Billfodl. It's consistently our top pick for wallet backup products year after year!
FAQ
Is Billfodl safe?
The Billfodl Multishard is made of 316 Marine Grade Steel, which is the most durable and corrosion-resistant grade used in steel wallets.
Which is best - Billfodl, Cryptosteel, or Cryptotag?
Billfodl is widely considered the gold standard for stainless steel wallet backups. That being said, the Cobo is cheaper. The Cryptotag is less safe than both the Billfodl and the Cobo Tablet, and more expensive. The Billfodl is safe, strong, and affordable.