Disclaimer: this article includes links to products for sale on our store.
In this post we are going to cover: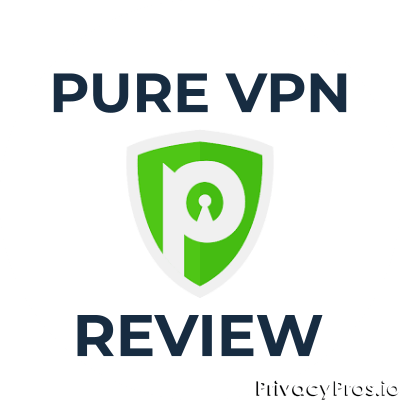 Pure VPN features
Speed, quality and prices
How to install and get started
Plus more... Read on to learn everything you need to know about Pure VPN.
As most users already know, there are several commercial VPNs available to aid in protecting your privacy. Pure VPN has come up often as a significant contender for the title of the best value for money.
However, reviews of the company have been mixed, with many reviewers offering praise while user reviews sometimes state the opposite. Here, we'll try to unravel the mystery behind Pure VPN.
Are they as good as reviewers claim them to be? Or are the users who criticize the service the ones who have a better view of this provider?
A Quick Breakdown of Pure VPN
NAME: Pure VPN
LOCATION: Based in Hong Kong
LOGGING: Session Logging but no Detailed Logging
BEST PRICE: 7-day trial for $0.99 and $69.82 for the year ($5.82 per month)
SUPPORT: Live Chat
REFUNDS: 31-day refund policy
WEBSITE: https://www.purevpn.com/
Pure VPN Overview
Pure VPN's client supports a lot of standard protocols for connection. The 256-bit AES encryption is also a nice touch.
Both these factors combined make for a relatively safe link for casual users. Pure VPN does cater to a broad swathe of uses. The app comes easily configured for the most common applications, such as streaming and torrenting.
The streaming feature is compelling, allowing you to unblock geo-locking in Netflix and Disney+. Not only do you get a stable connection, but the streaming option will enable you to stream without buffering.
Pure VPN also comes with easy installation for a handful of the most common platforms. Users that want VPN software on their routers may need to perform a manual install.
However, while Pure VPN does have a lot going for it, there are still some pretty significant issues. Even though you're protected while torrenting, your download speed does take a hit.
Additionally, as a privacy-based organization, Pure VPN's logging policy is very obscure. While using the Windows app, the company seemed to prioritize ease of use over privacy. This setup resulted in some questionable behavior in the app when it failed to resolve the OpenVPN server.
It defaulted to using other protocols, without informing the user of the change. Support is available via live chat, but it's not always helpful. However, despite these issues, Pure VPN isn't bad.
It offers affordable privacy protection, albeit with a handful of things that could stand to improve.
Quick VPN Comparison
Price Analysis
When talking about affordability, Pure VPN offers its service at a reasonable $10.95/month. Recently, however, the company has started offering a 7-day trial that costs users a mere $0.99, where you will then be billed a full $69.84 (which equates to $5.82 per month).
If you decide to spring for their 6-month plan, you can get half a year of VPN service for a little under $50. It might not be the cheapest VPN available, but it offers outstanding value for money when you include the trial offer. The standard price for service without the discounter trial may be a bit pricey though.
Feature Rich
The features that Pure VPN offers are similar to many other VPN services. However, there are some notable differences. While other VPN providers struggle to overcome Netflix's region-blocking, Pure VPN does so quickly.
Additionally, Pure VPN is pro-torrenting. This stance means that the company accepts that you might use their service to do peer-to-peer file transfers - something other VPNs frown upon. Pure VPN's apps even come with an ad-blocker as an added value.
Pure VPN also manages to perform the primary function of a VPN by offering clients anonymous browsing. Their DNS Leak Protection ensures that users' IP data remain obscured and extends to even IPv6 addresses.
Speed Testing
To determine just how good Pure VPN is with relaying connection speed, we decided to do a few benchmarking tests. We use the private browsing setting on Pure VPN to attempt these tests. We didn't modify any settings, so the tests are indicative of the defaults.
Our methodology tried to perform experiments using the same speed server as a control. Also, to establish a control, we ran the very first test to the server outside of the VPN. The results of the open test are as follows:

From there, we decided to connect to the same server, using the closest VPN server to us. These were the results we got:

The 112ms ping isn't bad for a local server, although it could be better. Download speeds were clocked at a reasonable 24.86 Mbps, although this value seems a lot below par from the open, non-VPN protected connection.
Upload speeds registered at 16.50 Mbps, which was acceptable, and in line with the unprotected link. All in all, not a bad performance for a local server.
Next, we decided to push the envelope a bit and perform a speed test with the furthest possible server from our location.
We calculated that would put us somewhere in Asia, and settled on testing the Indian server that Pure VPN offered. We used the same ping server for the test as the previous tests for ease of comparison.

Right off the bat, the ping seems terrible at 350ms, more than double the previous test. The download speeds also suffered, clocking in at 8.78 Mbps down.
In a surprising turn of events, upload speed didn't suffer at all, although that might just be due to the limitation of the upload stream of the connection we tested it on.
Speed testing Pure VPN revealed a few important details for users who want to maximize their speeds. Firstly, if you're selecting a server manually, you should focus on servers that are geographically close to your location.
As we can see from the results, the ping and download speeds increase drastically, the closer to home you are.
Additionally, other users have mentioned that you should stick to the default encryption settings to maintain a speedy connection.
Practical Applications when Using Pure VPN
In a push to be more user-friendly, Pure VPN offers presets for their connection services.
Users can choose anonymous browsing, streaming, or peer-to-peer connection specialties, each with their own preferred servers and settings. How effective are these settings at delivering a positive user experience?
Streaming
Pure VPN is one of the few VPNs that work well with Netflix, offering diverse catalogs from around the world. In our testing of the streaming platforms, we noticed that there was no lag or buffering of video.
Streaming was at a consistently high quality. However, while you can stream Disney+ and Netflix without worrying about region-locked content, you can't do the same with Amazon Prime Video.
Torrenting
Pure VPN stands out as a proponent of peer-to-peer sharing and offers a specific torrenting preset for users to download files away from the prying eyes of their ISPs.
User connections are secure, and Pure VPN's DNS Leak Protection ensures they remain that way. There is a downside in that speeds will suffer.
Passing through a secondary server impacts the rate of downloads, but it's a small price to pay for improves security.
Gaming
Local servers around the world can help to lower ping-times and allow you to test your skills on brand new servers. There were no issues in connecting to different servers on League of Legends.
The ping was slightly higher, but not noticeably so. Open connections were obviously faster, but the latency didn't lead to lag or rubber banding.
Region Unlocking
One of the most common uses of a VPN these days is allowing access to region-locked content in certain parts of the world.
Thanks to servers existing in over 140 countries around the globe, Pure VPN is an ideal option for bypassing geographic restrictions.
We tested Pure VPN on Netflix, Disney+, Amazon Prime Video, and a few other streaming services such as Hulu and BBC iPlayer.

Spanish Netflix worked fine

As did Japan
Unfortunately, even while using a US server, we were blocked from Amazon Prime Video content. BBC iPlayer also had some issues in resolution. With the others, we were quickly able to find and connect to servers allowing us to stream content as if we connected locally.

iPlayer was a Bust
Security and Logging
When Pure VPN first began operation, they made a point of their "no logging" policy. However, a case in 2017 saw the company hand over logs to law enforcement as evidence in a cyberstalking case.
Since then, their policy regarding logging of client information has changed. To their merit, they have updated their privacy policy.
The fact that they did release the logs does impact client faith in the provider, however.
Within the company's privacy policy explanation, we find a notable exception. Pure VPN has stated that they do keep session logs which include:
Date of connection to their servers
Which ISP you connected from
Which one of their servers you accessed
While this data is relatively innocuous, it may be more than some users are comfortable with. Pure VPN claims not to collect browsing information from its users, and so far, no evidence has surfaced to call that statement into question.
VPN providers rely on trust, and the fact that Pure VPN didn't inform users of their logging before the cyberstalking case forced them to do so reflects poorly on their trustworthiness.
The fact that the company doesn't log data means that there is no call for it to wipe any data it collects from you during your session.
On your local machine, it is unclear whether Pure VPN performs a data wipe when you close the app. Another critical factor that users should be aware of is the use of virtual servers.
Pure VPN makes no secret of their use of virtual servers. They even mark the virtual servers with a "VS" legend in server selection to separate them from physical servers (PS).
With the vast number of locations to connect being a significant selling point for Pure VPN, it's not surprising that they would dedicate virtual servers to increase the count.
A handful of users may like having access to a static or dedicated IP address. Pure VPN does offer the service, but it comes at an additional cost to subscription.
Luckily, a dedicated IP will only set you back a further $0.99.
Privacy Policy Examination
Since Pure VPN's run-in with law enforcement had left their data logging policy exposed, the company has had to make great strides to regain client trust. One of those steps was an independent audit of their systems.
In August 2019, Altius IT (an independent auditor from California) certified Pure VPN's after a detailed security audit. Ideally, the company should continue to perform regular inspections. Whether this will continue remains to be seen.
Pure VPN does have some aspects going for it in terms of having consumer trust. Their location in Hong Kong sees them in a relatively free society. Despite coming under Chinese rule, the city-state is mostly self-governing and respects personal freedoms to a high degree.
The owners and operators of Pure VPN is a company known as GZ systems. While their parent company is mostly known for building Android sports apps, Pure VPN is a step in a different direction. They remain dedicated to providing the best service they can to users of Pure VPN.
The case that caused Pure VPN's logging policy to become exposed to the public centered on a Massachusetts man accused of cyberstalking.
The US Federal Bureau of Investigation subpoenaed Pure VPN for information related to a case where a man was harassing a woman online.
By handing up the data located in their access logs, the company helped the FBI close their case. PC Mag noted afterward that Pure VPN hadn't acted outside the bounds of their privacy policy.
Unfortunately, users had their confidence in the company shaken. Pure VPN had never mentioned before that it kept any session logs, hiding the fact inside its detailed privacy policy.
Noteworthy Features of Pure VPN
Pure VPN has more than two thousand (2000) servers, both virtual and physical, that span over one hundred and forty (140) countries. A network this size is hard to match.
Users of Pure VPN get a choice of servers in distinct geographic locations. In addition to this massive selection of servers, there are a few other options that Pure VPN offers, including:
Double VPN configuration, although setup may require contacting customer support
Extensions for most modern browsers such as Chrome and Firefox
Split tunneling
Kill-switch
DNS leak test
Adblocker
The DNS leak protection that Pure VPN offers extends to IPv6 addresses as well. Unfortunately, this particular VPN provider doesn't offer access to the Tor network.
On the positive side, Pure VPN does come with installers for most of the conventional operating systems. Users of Windows, Linux, Mac, iOS, and Android can install Pure VPN's app without much worry.
For other systems, installation isn't impossible. It just takes a little more effort. Routers can also have Pure VPN installed on them, but so far, only DD-WRT routers have the capability for an easy-install.
Customer Interaction
As with any company, customer support has a significant impact on whether the product makes sense to order. Unlike other VPN providers, you get the same level of live chat support regardless of your subscription level. Whether the support is worth it is another matter entirely. Some reports have stated that Pure VPN's support staff don't seem very knowledgeable about the software.
Many times, the team simply directs you to one of their knowledgebase articles, even if that article doesn't resolve your specific issue. In general, response times vary. Some clients have managed to get speedy and efficient support from the company's representatives.
However, a lot of users have complained that the support staff is slow to respond to tickets. In general, internet users have been displeased by Pure VPN's live chat support.
It doesn't help that the only way to apply for a review is to go through their live chat system. Even though Pure VPN notes that they don't require an explanation before canceling your subscription, customer service still asks you for a reason.
The company seems intent on ensuring that clients remain with the service. This difficulty, in turn, makes recovering your money from a refund a chore.
Price and Payment Options
Despite these minor hiccups, Pure VPN does offer great value for money. Their 6-month, sub-$50 price tag is impressive for a subscription service. The updated cost of $5.82 after the initial 7-day trial of $0.99 is also remarkable.
The standard cost of $10.95 a month seems quite expensive by comparison. Pure VPN also tries to make payments easy for purchasing customers. Clients have standard options of credit and debit cards alongside payment systems such as PayPal, BlueSnap, and PaymentWall.
Additionally, clients can use cryptocurrencies to pay for their subscriptions. Pure VPN accepts payments in Etherium, Bitcoin, and Litecoin.
Quick Specs for Pure VPN
Client software platforms: Users of Windows, MAC, iOS, Android, and Linux can all install native applications.
Natively supported platforms: Windows, MAC, iOS, Android, Linux Supported protocols: Several VPN protocols are supported, including OpenVPN, L2TP/IPSec, PPTP, SSTP, and even IKEv2 No. of servers: More than two thousand (2000+) No. of countries: Over one hundred and forty (140+) Country of registration: Hong Kong Payment options: Credit/Debit Card, PayPal, PaymentWall, BlueSnap, BTC, LTC, ETH Real name necessary: No Encryption protocol: 256-bit AES Data usage cap: No Bandwidth usage cap: No Max. no. of simultaneously connected devices: 10 Customer support: Live Chat Support Privacy policy: Claims to have minimal logging of session details. No detailed logs kept.
Is Pure VPN Worth It?
There are a lot of things to recommend Pure VPN as an excellent service provider. The easy-to-use interface is ideal for clients that don't know much about the ins and outs of VPNs.
Yet it still offers some level of control to power users. Speeds for online streaming platforms are above average. Gaming doesn't suffer from lag and opens up new regions to play in.
All in all, Pure VPN is an affordable VN provider. They've streamlined their interface to make it as simple to use as possible. Granted, by doing so, they have had to remove some things that more experienced users may need to troubleshoot errors.
The lack of competent customer service just makes the problem worse. Most users who want to use Pure VPN on non-standard hardware will have to put up with customer service only to use their purchased software. Those who decide to opt-out of the service will similarly have to jump through hoops to get their money back.
Pure VPN is an excellent tool for users who just want their VPN to work without the added hassle of setup. For those of us who prefer tweaking settings to get just the right fit, looking elsewhere is a better plan.
Installation Instructions
STEP 1:Sign up on the website.
If you already have an account, you can head straight to the download section. Otherwise, Pure VPN will ask that you sign up with the company to get your login information and pay for your subscription.
STEP 2: Double click the installer and head through the steps.
The installation is straightforward, and there aren't any hidden spyware of malware pages you need to deal with. You also have the option of installing browser plugins in case you want that added step while browsing on the open internet.
STEP 3: Choose type of browsing
Once you've finished installing, you'll be prompted to choose the type of browsing you'll be doing. Select whichever one suits you best and a server to connect to, and you're all set!
Rating
Frequently Asked Questions
Is the VPN fast and reliable?
Pure VPN has several fallback connection routines. Their DNS leak protection, along with the kill-switch included in the app, helps to secure your connection. Servers located all over the world allow for a fast connection, regardless of where you are.
Will using this VPN stop bandwidth throttling?
Yes. Pure VPN secures your internet traffic from the prying eyes of your ISP. Since your ISP can't see what you're doing online, they can't judge whether they should throttle your bandwidth.
Which servers of this VPN are the best for Netflix?
There's a specialized stream option for the VPN that's ideal for Netflix. You get to choose which part of the world you want to have access to as well, effectively hobbling Netflix's geofencing protocols.
Is there a free version of this VPN?
No free version exists, but the cost of a monthly subscription is affordable in comparison to other VPNs.
Why am I sometimes blocked from Netflix when I use this VPN?
Pure VPN offers specialized connection options that you should select based on your type of usage. If you opt for file-sharing as your option, then you won't have an optimized connection for streaming. Sites like Netflix may reject your connection attempt.
How well do the features and leak-protection settings work?
Anonymity options work splendidly, effectively hiding your location. Kill-switch and split tunneling also perform admirably. The additional protection of DNS leak protection is an excellent fallback option in case of server issues.
Are the VPN apps secure and user-friendly?
The app is intuitive with a decent user interface for experienced users. Beginner users may get lost easily. The app seems secure but doesn't notify more experienced users when it's switching protocols.
Can it unblock Netflix and other streaming services?
Pure VPN works well with Netflix and Disney+. Not so well with Amazon Prime. Reports on whether BBC iPlayer works with Pure VPN have been mixed as well.
Is it really worth the price?
The discounted price is worth it, but the standard monthly cost may be a little expensive for what it offers.
Can you use the VPN for torrenting?
Pure VPN includes a specialized setting for P2P transfers, which provides for torrenting.
Does the VPN work in China?
Yes, with servers located within the Chinese mainland.
How many simultaneous connections does this VPN support?
Users have access to up to ten (10) simultaneous connections at once.