Disclaimer: this article includes affiliate links. When you make a purchase through one of our links, we may receive commissions.
In this post we are going to cover: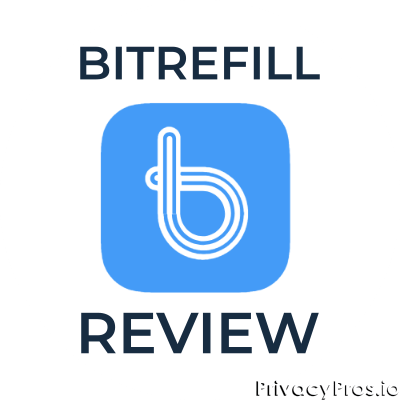 How safe Bitrefill is
Bitrefill's buying limits and fees
How-to create a Bitrefill account
Plus more... Read on to learn everything you need to know about Bitrefill.
Introduction: What is Bitrefill?
Bitrefill is a cryptocurrency-based platform that allows users to top up subscription-based services like mobile refills and add funds to their wallets on selected platforms. The website provides its users with a huge catalog of gift cards and vouchers, payable by cryptocurrencies such as Bitcoin. The primary goal of the platform is to make cryptocurrency products and services more accessible to everyone worldwide.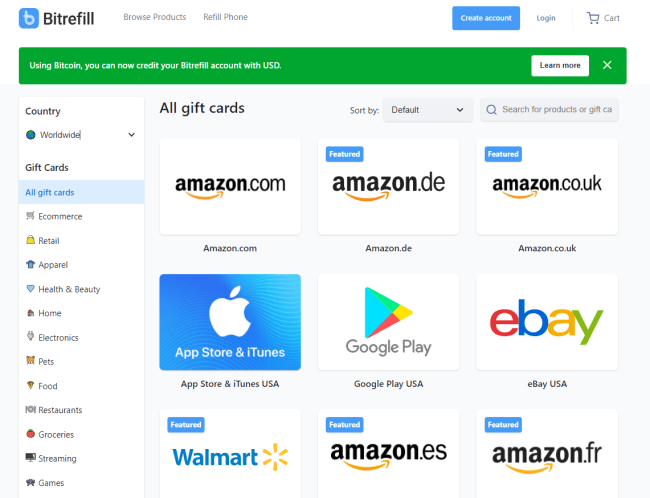 Bitrefill uses Lightning Network and Blockchain technology to provide its users with a secure experience by offering a substitute for bank and exchange accounts. The lightning network ensures instantaneous transactions and commercial Bitcoin services so that users can shop with their crypto easily.
The platform offers over 750 gift cards and refill service options, which are supported in over 170 countries worldwide. It also provides a smooth user interface and facilitates quick transactions in popular cryptocurrencies like Bitcoin, Ethereum, Litecoin, Dogecoin, and Dash.
Pros and Cons
Like other cryptocurrency platforms, Bitrefill has some strengths and some areas for improvement. The most significant pros and cons of the platform are listed below:
Pros
Top-grade user interface
Supports multiple cryptocurrencies
Great customer service
Instant order processing
No KYC verification requirements
An Android and IOS compatible mobile app
No country restrictions
Cons
Fiat currency not supported
VISA/MasterCard not supported
Live Chat is not available on the website
Relatively higher fees
Pros
Cons
Top-grade user interface
Fiat currency not supported
Supports multiple cryptocurrencies
VISA/MasterCard not supported
Great customer service
Live Chat is not available on the website
Instant order processing
Relatively higher fees
No KYC verification requirements
An Android and IOS compatible mobile app
Bitrefill Background
Bitrefill was co-founded in 2014 by Sergej Kotliar, who is currently the CEO, along with Michael Grunberger, who is the CFO. Stina Liland is the current COO, and their team mainly consists of experienced Bitcoin experts, entrepreneurs, IT specialists, and lawyers. The company is headquartered in Stockholm, Sweden. It previously received seed funding in the Silicon Valley in 2014 to help establish the company.
According to their executive team, the main goal of launching Bitrefill is to provide people with accessible tools that aid the process of cryptocurrency being used to exchange money and for shopping.
The platform has been able to realize this mission by partnering up with over 1,650 businesses worldwide. Moreover, new businesses are continuously being added to the mix to help expand its customer base.
Is Bitrefill Safe?
The platform has implemented several security measures to protect its customers. Their team is highly skilled in cyber and physical security and has designed a state-of-the-art information security program.
Info: They use specialized techniques such as host-based security tools, intrusion detection systems, and network defense monitors. All products and services offered by Bitrefill are tested for their operability and scanned for any vulnerabilities.
The platform also implements strict control to identify, authenticate, and grant access to third-party systems and websites. Any information that is transmitted through their servers is encrypted appropriately to ensure protection and privacy. Moreover, all employees of Bitrefill are provided with relevant training regarding updated security practices. The team is constantly engaged in incorporating new technologies to improve their security system.
Services

Bitrefill provides its users with some convenient tools that help them make transactions with their digital assets. The platform currently offers three critical services to its users, i.e., gift cards, lightning network access, and phone refills.
Gift cards
Bitrefill provides its users with the option of purchasing gift cards with cryptocurrency. They have an extensive collection of gift cards with over 750 options to choose from. These are divided into categories like gaming, entertainment, and travel. For example, vouchers are available for Amazon, which can be used to buy gifts for your loved ones.
The platform makes the process very easy and convenient. It recognizes the location of the user and makes recommendations accordingly. There is no need for users to register for an account or verify themselves before making a purchase. Furthermore, only three easy steps need to be followed to make a purchase.
Info: First, users must select the amount of crypto they want to spend. Second, they must enter their email address so that the voucher or gift card can be delivered to it. Third, users must scan the QR code displayed and send their payments to the address provided by Bitrefill. The system takes care of the rest.
The process is quick, and users will be provided with their gift cards in about 2 minutes. It is a convenient way to convert digital currencies into a more spendable format.
Phone Refills
Bitrefill also provides its users the service to top up their prepaid mobile phones with Bitcoin and other cryptocurrencies from anywhere in the world. It can be used for any number and is available in 160 countries. The platform supports over 900 phone operators around the globe.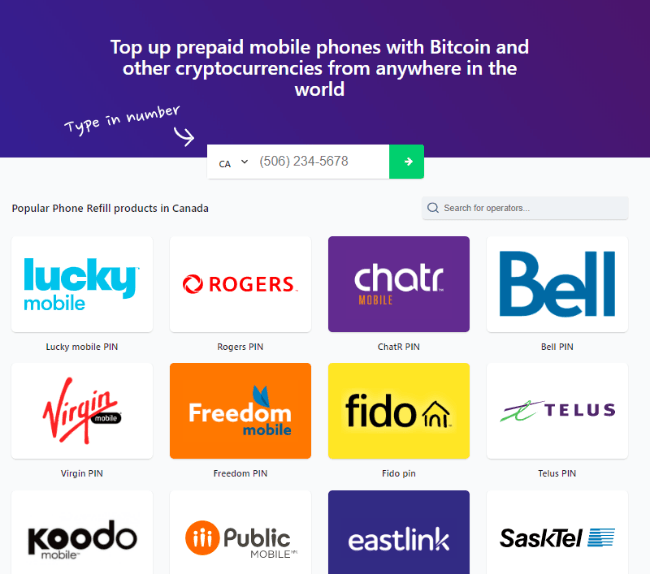 The process to top up your phone balance is very simple. Users must simply choose their phone carriers and enter the amount and phone number that they want to refill. A refill code is provided to their email addresses. After scanning the QR code, their payment is confirmed by the system. The selected amount is then added to your phone almost instantaneously. You can also top-up the balances of other people by adding their phone numbers.
Lightning Network
Bitrefill has also introduced a unique lightning network channel named "Thor." It allows users to open their empty private channels with Bitrefill's node. It gives them the ability to receive instant payments over this channel from around the world.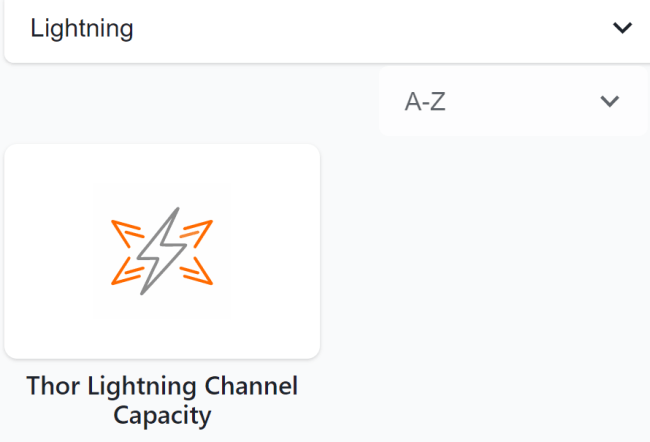 Thor allows anyone to instantaneously receive or send cryptocurrencies on Lightning with their app and a link. This link can be shared with anyone who wants access to the channel. The Lightning Network is an innovative solution for merchants who want to make exchanges using cryptocurrency.
Supported Payment Methods and Fees
The platform only supports payments made in cryptocurrencies. The following cryptos are accepted: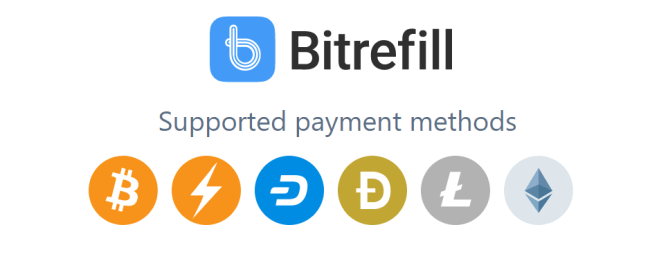 Bitcoin
Bitrefill provides users with a Bitcoin Lighting Network, which is a side chain network. Users can quickly make transactions through this chain.
It is a next-generation, improved blockchain-based cryptocurrency that uses decentralized payment methods and is supported by the Bitrefill platform.
This is a cheaper and quicker lightning network than Bitcoin, which can be directly exchanged using an external wallet.
It is an anonymous and emerging cryptocurrency that facilitates quick transactions.
This is the cheapest cryptocurrency that is available on the platform due to its massive supply.
Info: Other than the above-supported cryptocurrencies, Bitrefill also facilitates its users by accepting payments in Coinbase, which is a crypto storage wallet. Users can pay with any of the coins mentioned above by logging in to their coin base wallets. This will also lead to a reduction in the fees. It is important to note that Bitrefill does not accept any payments made with fiat currency, credit cards, or bank transfers.
However, the platform does not provide its users with a clear-cut fee structure. Their website does not contain this information as well. The fees charged by the platform are built into the transaction. These fees also vary by product or service and the payment method that is used.
According to some users, the fee charged for AT&T in the USA was about 1% and 4.5% for MTN in Nigeria. On average, the fee varies from 2 to 3% depending on the product and the amount of the transaction made.
Supported Countries
Bitrefill supports all countries. Their website offers multi-lingual supports for its users from around the world.

The supported languages include English, Spanish, Russian, French, Deutsch, Vietnamese, Italian, Portuguese, Chinese, and Korean.
Buying Limits
Bitrefill imposes some limits on purchases depending on the product and service. There are daily limits on the buying of gift cards, depending on the type of product. These limits can sometimes be increased if users verify their accounts. For example, the Amazon.com gift voucher has a maximum limit of 2,000 USD per transaction. The minimum price of a gift card is about 10 USD.

The daily limits on phone refills are about 100 USD or equivalent on one phone number. If this limit is crossed, it can result in a transaction error. In this case, Bitrefill claims to refund the additional amount back to the user according to their refund policy. Moreover, the Thor Lightning Network Channel has a minimum and maximum limit of 50 USD and 1,500 USD.
User Interface
Bitrefill provides a clean and well-developed user interface through its website and mobile application.
Desktop
Their website is easy to navigate through and makes the process of buying gift cards and recharging phone credit very simple. Moreover, the website immediately recognizes the user's location and makes correlated gift card offers visible.
App
The phone app was launched on 10th April 2018 and is supported by Android and iOS. It currently has over 10,000 downloads and a 4.1-star rating from its users. The app has been updated several times since then to smooth out any bugs in its operations. It not only allows users to make purchases with Bitcoin without putting any money into the account, but it can also hold the users' balance and serve as a wallet.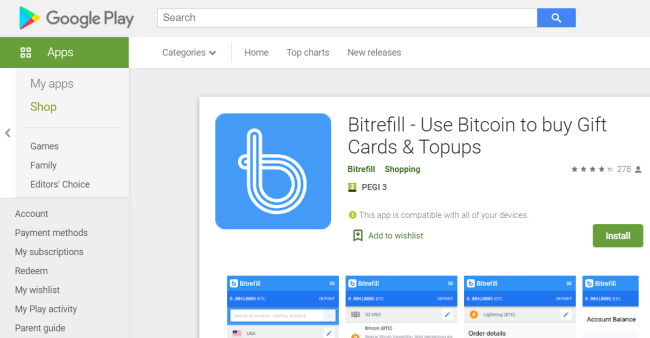 How Fast Does Bitrefill Send Your Coins?
Bitrefill claims to make instantaneous transactions through its lightning network technology. In the case of refills, the payment is sent out as soon as the system confirms the transaction payment. After the amount is sent, users receive an email to confirm their transaction. However, in some cases, delays of up to 24 hours can be faced. This happens because of the high load on the Bitcoin network.
Info: Moreover, wallets that are obsolete and do not use proper fee estimations are usually slow to confirm transactions. Bitrefill's customer support will investigate the issue and try to resolve it. During any such delay, the safety of the money is guaranteed by the platform. After the transaction is confirmed, users will be able to get the desired amount in their wallets.
The platform quotes prices in Bitcoin, which is quite volatile. Therefore, when users make an order, the amount that is quoted in BTC is only applicable for the next 15 minutes. After that, the Bitcoin exchange rate would have been changed, and the new price will be displayed. Orders usually get timed out in a 15-minute window, and users have to then refresh the page and get a new one in place.
Customer Support
Bitrefill has a solid customer support service in place for its users. Their website is simple and does not require much help or explanation. They also have a dedicated FAQ page to answer the basic questions regarding the platform. Their primary source of contact is through their email.
Users can submit their inquiries to support@bitrefill.com , and they will get a response from the team within 24 hours. Their website also has a Contact Us page where users can directly submit their queries. The platform does not have a live chat support system, and no phone inquiries can be made. They also maintain a blog to update their users about products and new services.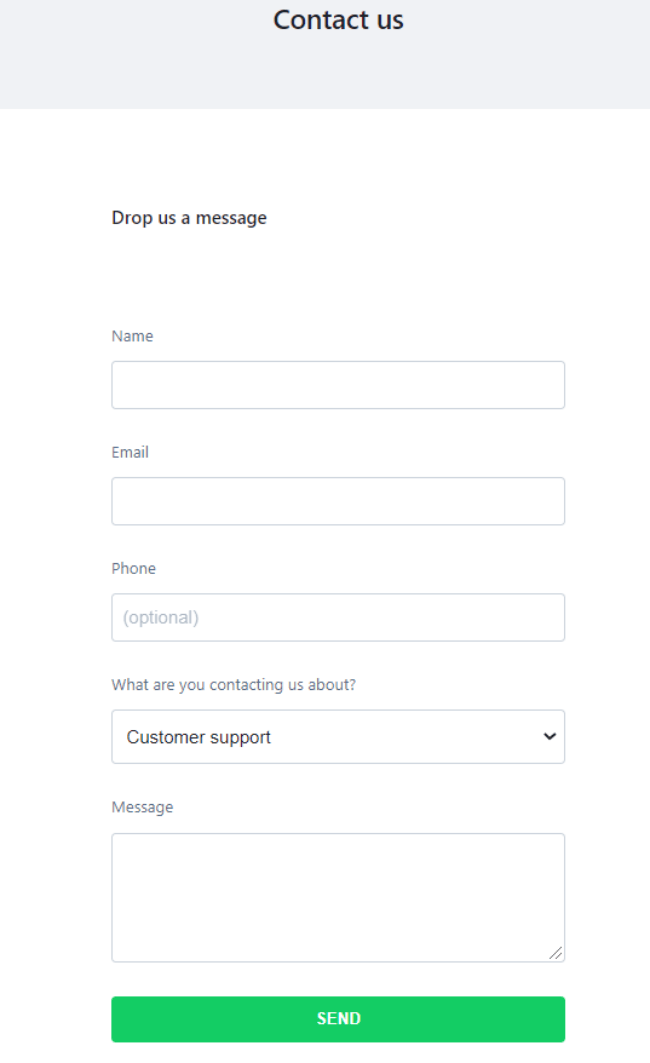 The company has an active presence on social media platforms like Twitter, Facebook, and Telegram.
The Bitrefill subreddit is full of customer issues and inquiries for help related to glitches and crashes during transactions. However, these inquiries are generally not responded to by the customer support team. Their Telegram is also handled by a bot.
Public Opinion
According to many reviews online, Bitrefill is a trusted crypto service provider that ensures reliable transactions. The speed and usability of the platform are much appreciated in the crypto community. Their phone app also maintains a 4.1-star rating based on user reviews. However, much negative feedback was received on their subreddit.

Many users were not able to get clear support from their team regarding their issues. There have been many instances of transaction crashes and system downfalls which need to be addressed seriously. There have been no reports of scams or hacks since the launch of the platform.
Privacy
Based in Europe, the company is subject to the European General Data Protection Regulations (GDPR), which ensure compliance regarding the privacy of its users. Bitrefill does not have any KYC or AML requirements from its customers to use the platform.

However, customers still have the option to register for an account and provide some personal data. It may include their name, contact information, professional information, and technical data like their IP addresses. The company ensures the confidentiality of any personal information shared.
Info: Access to such data is only given to some authorized Bitrefill employees, contractors, and officers who may need it to perform services. The platform also gives users the right to correct, access, or erase their personal data to the extent that is permitted by the law.
Bitrefill Walkthrough
The process of creating an account on Bitrefill is very simple. The following steps need to be followed:
Log on to the Bitrefill website and click on "Sign Up."
Enter a valid email address.
Choose a strong password for your account.
Check the CAPTCHA.
Click on the Create Account button.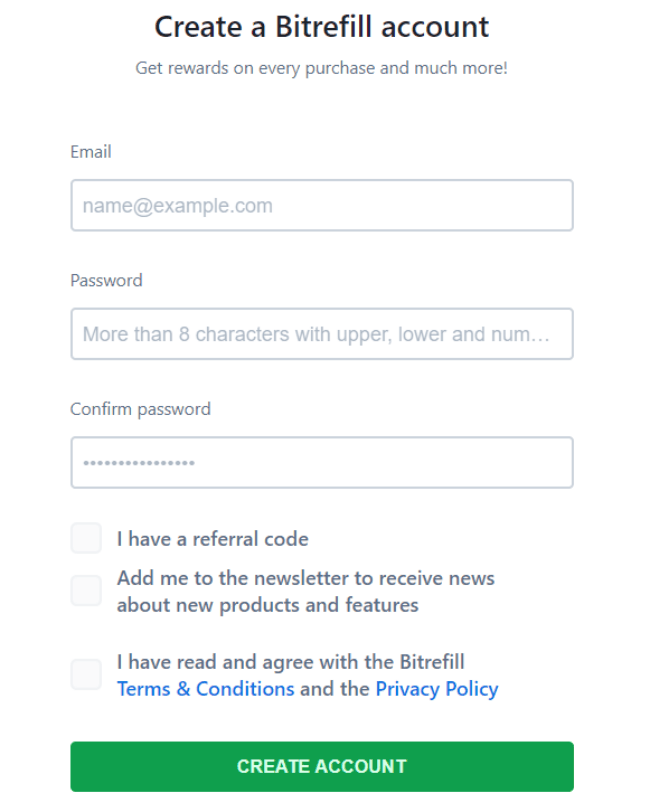 You will then receive a confirmation email in the provided email id. Click on the link in the email to verify the account. You can now easily access the platform and use its features without any restrictions. There is no lengthy KYC verification process involved. Users do not have to send their money to the platform but can keep it in their wallets as per their preference.
Conclusion
Bitrefill is a legitimate platform that has received strong support from notable crypto enthusiasts in the community. The services of the platform are slick and easy-to-use, which results in gratifying user experience. The process of spending crypto on gift cards and phone credit is made quick and straightforward.
The platform offers a small selection of cryptocurrencies but a huge selection of gift cards. It also has a convenient fee structure, ranging between 2 to 3%, which is another feather on its cap. Its innovative features, like the lightning network channel, are bound to generate interest amongst merchants around the world who are looking to tap into the crypto market.
However, Bitrefill has some areas for improvement. Its customer support services need to be improved and be more responsive to customer complaints. The platform also needs to include more payment methods and introduce a fiat currency option to facilitate people who do not possess any crypto. Overall, the platform is an innovative way to make cryptocurrency spendable on a variety of everyday products from around the world.
Rating
FAQ
What is Bitrefill?
Bitrefill is an on-line provider of gift cards, prepaid mobile reffils and Lightning networking services by using Bitcoin and other cryptocurrencies worldwide.
How many countries does Bitrefill supports?
According to their website, Bitrefill supports 170+ countries all over the world.
Does Bitrefill impose some limits on purchases?
Yes, it does.There are daily limits on the buying of gift cards, depending on the type of product.
Can I pay with USD on Bitrefill.com?
No, you can't. Bitrefill.com only supports payments made in cryptocurrencies.
How do I buy bitcoins?
You can buy Bitcoin with debit or credit card. First, you need to have a bitcoin wallet, then you can pay in traditional methods, such as credit card, bank transfer (ACH), or debit card to buy bitcoins on a bitcoin exchange.