Disclaimer: this article includes affiliate links. When you make a purchase through one of our links, we may receive commissions.
In this post we are going to cover: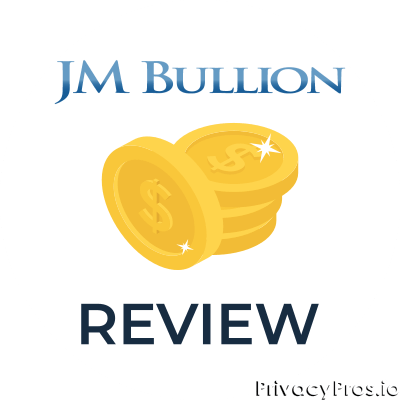 JM Bullion history
What precious metals JM Bullion sells
JM Bullion's website overview
What payment methods JM Bullion accepts
Plus more... Read on to learn everything you need to know about JM Bullion.
When it comes to choosing an investment that has stood the test of time, there is perhaps no more of a solid investment in both a figurative and literal sense than gold. For centuries, gold has been a symbol of decadence and wealth, whether it is adorning someone with a piece of jewellery or if it is traded as currency. Gold is a hotly sought after material for its appreciation over time, and investors most commonly look for it in either coin or bar form.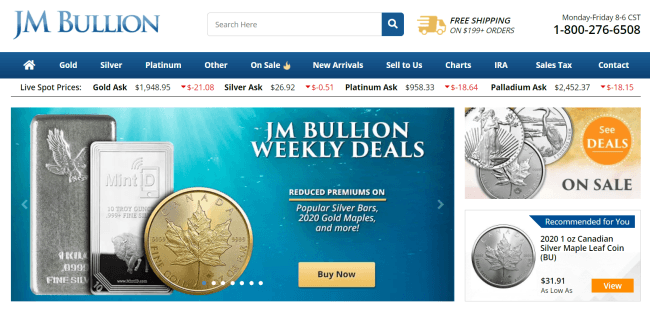 A reputable dealer of gold and other precious metals is JM Bullion. When it comes to buying gold, buyers want a competitive price as well as peace of mind that the investment they are purchasing is both genuine and of premium quality. In today's post we will be putting JM Bullions offerings under the microscope, so that you can make an informed investment should you be wishing to purchase gold, silver or any other precious metal with them.
Who Are JM Bullion?
JM Bullion is an online retailer of gold, silver and other precious metals such as platinum and copper. Primarily they are renowned for their gold coins and bars which are of significant value making them highly attractive to investors.

The company was founded in 2011 in Lancaster, PA before relocating to Dallas, TX two years later after sales topped $1M a day. JM Bullion quickly grew to become Inc.com's 'fastest growing precious metals company' in America.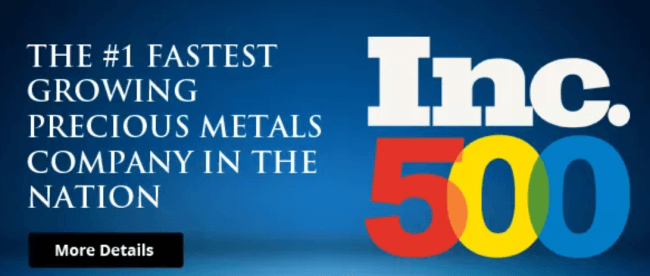 Despite its exponential growth which sees it generate $661.3M a year, JM Bullion remains a relatively small operation with just 30 employees. They currently only operate within the US via their website and call centre only. Though, given their vast precious metal offerings speak for themselves, JM Bullion remains a very lucrative player in the tangible investment stakes.
What Do JM Bullion Sell?
JM Bullion sells various items that are made from gold, silver, platinum, palladium or copper. However, most notably they sell coins, bars and jewellery.
Coins

Precious metal coins are extremely collectable assets that are popular as investments as well as heirloom pieces. JM Bullion sells coins made from gold, silver, platinium, palladium or copper (known as 'wheat pennies').
Info: The nationality of the coins includes American, Australian, Austrian, British, Canadian, Chinese, European, Mexican, Somalian, South African and South Korean.
In addition, JM Bullion also sells coins from popular culture including Disney and Star Trek.
Bars

Those who dream of owning gold do so with the image of buying gold bars, which aren't in short supply with JM Bullion, in fact they are the piece de resistance of their entire website. However, bars can also be purchased in silver, platinum, palladium, and copper too.
Info: At the time of writing, JM Bullions '1 Kilo Argor-Heraeus Gold Bar' is their most expensive piece for sale retailing at $56,727.82. On the lower end of the scale, JM Bullion's copper bars can be picked up for as little as $1.19.
Jewelry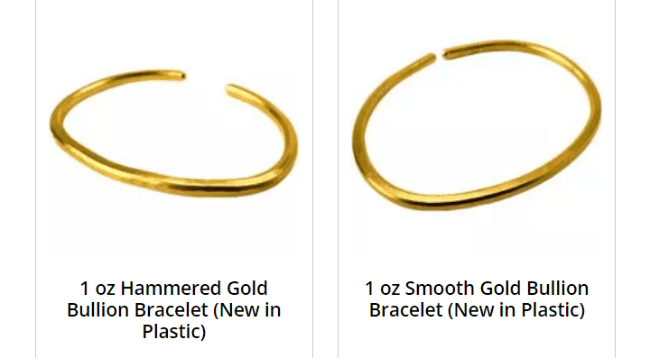 While JM Bullion aren't considered jewelers, it is possible to pick up a variety of pieces through them, though only made from gold. Their 'Hammered Gold Bullion Bracelet' which retails at over $1,800 is a truly show stopping piece.
Tangible Assets vs Virtual Assets
Info: Investments as a whole cover a broad spectrum of different asset types, which primarily include virtual assets (such as stocks or cryptocurrency) or physical items (such as real estate or in the case of JM Bullion - precious metals). When investing in physical items these are known as tangible assets as you are physically able to inspect them. Tangible assets may also require additional security measures when it comes to storage and shipping (if applicable).
Some investors prefer to have a mix of tangible and physical assets for portfolio diversification. In the case of JM Bullion, their precious metals may also be handed down as heirlooms. Gold in itself is one of the longest established currencies to date, and is often preferred to riskier investment options.
JM Bullion Website Overview
When making an investment of any kind, you want to be able to ascertain exactly what it is you're buying. As precious metals are tangible assets, you'd normally be able to inspect these with your own eyes before you buy. However, JM Bullion's website displays very large images of all their offerings so you can clearly see what it is you are purchasing for your peace of mind.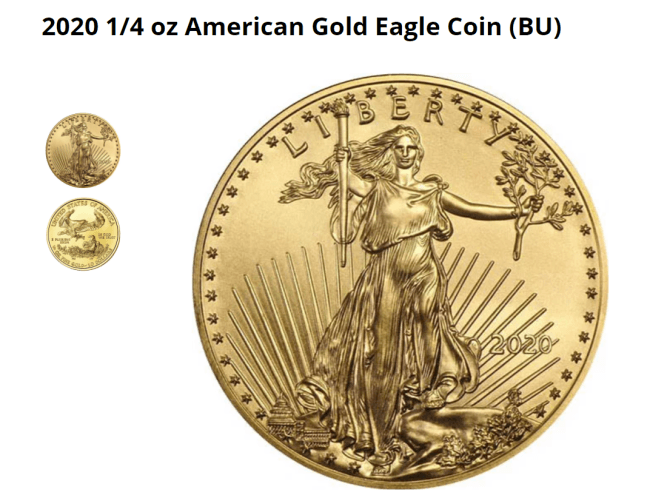 The purchase options for each piece are displayed along with the 6 different payment methods you can choose from. Most items have purchase quantity options spanning between 1 and 100 units. Also listed on each item is the 'sell to us price' which is handy for existing investors of a particular piece.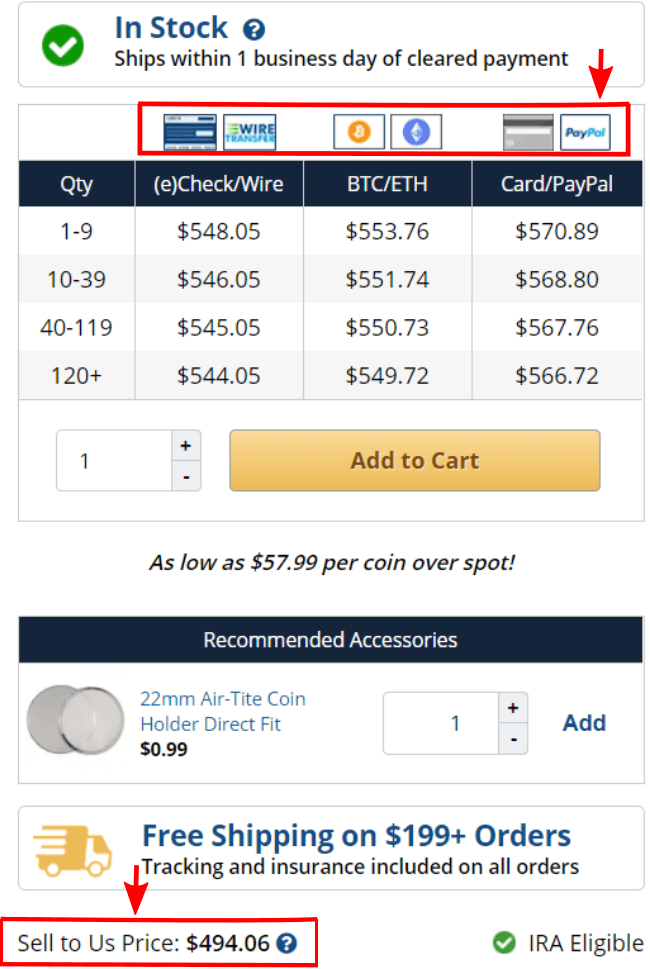 Underneath each listed piece is a generous description about the item, the specifications as well as a general list of FAQs. As with any investment, such information is key whether you are new to tangible asset investments or not. So, compared to a sketchy eBay listing with no information about the item, JM Bullion has really made the effort to be transparent throughout the whole process.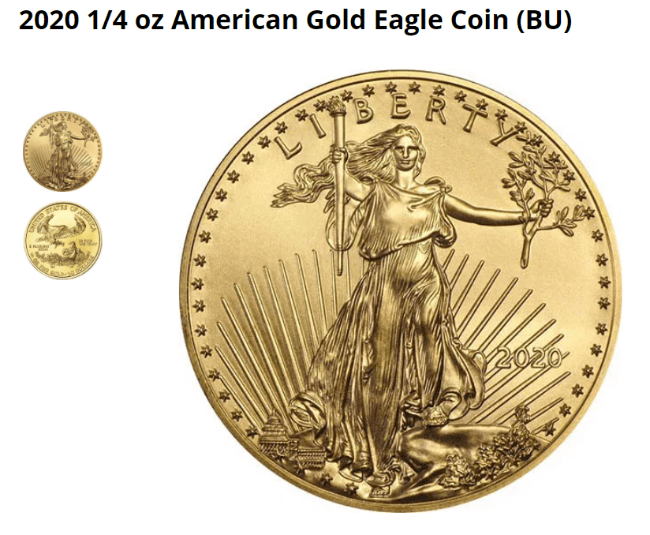 The JM Bullion website also benefits from an educational blog, investment guide and constantly updated gold and silver valuation charts. The information is easy to digest for newbies and seasoned investors alike.
JM Bullion Competitors
Apmex
Austin Rare Coins & Bullion
Kitco
Northwest Territorial Mint
Provident Metals
United States Gold Bureau
As gold and silver is a sought-after commodity that is able to withstand even the most rocky financial periods, there are many companies around the world beside JM Bullion who sell it. That being said, the above list are those who are thought of as direct competitors.
Info: Apmex in particular have a very similar offering to JM Bullion (even their website looks almost identical), plus they ship to the UK and Canada. That being said, JM Bullion is still considered the more competitively priced of the two, especially when it comes to shipping costs.
JM Bullion Customer Reviews
On shopperapproved.com, JM Bullion has 280,000 customer reviews, 86.5% of which are 5 stars. Customers applauded the company for their flexible payment options (especially being able to purchase with Bitcoin) and their transparent pricing. Only 0.6% of customers rated them below 3 stars which is pretty excellent going and also signifies trust to investors.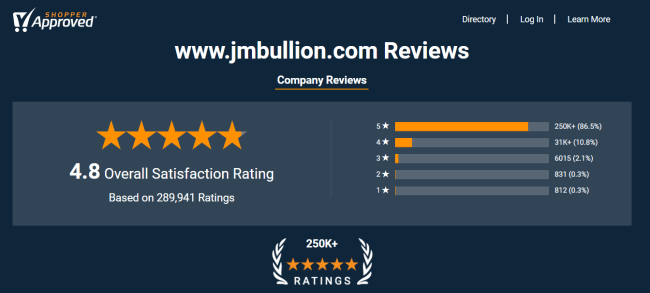 JM Bullion Shipping Rates & Insurance
JM Bullion ships their items with USPS or UPS. On all purchases above $99 shipping is free, and costs $3.99 for purchases under this amount. JM Bullion only ships to US addresses which includes PO boxes and military locations. They do not ship to UPS stores or mail forwarding services, though given the packages are of high value this is understandable.

Items are securely wrapped in protective packaging, which includes adding additional material to stop the products moving during shipping.
A huge plus with the shipping in general is that it's done so in a discreet fashion and there is no indication it is a high-value parcel. This adds peace of mind for buyers especially in the case where others (such as neighbors) may have access to your mail.
Advice: Though it's still wise to be home when the parcel is sent so you can intercept the parcel yourself. Luckily, they offer a tracking service on all parcels so you can ensure this will be the case.
In addition, all parcels are fully covered by insurance which includes the entire journey from their warehouse to your residence. This insurance is valid up until the point the parcel is signed for, which is fairly standard. It's a good idea to call your insurance provider ahead of time so that your items are immediately covered from that point on.
JM Bullion Payment Methods
One of the most attractive aspects of JM Bullion is the diverse payment methods they accept. This makes their items much more accessible, and is also a way crypto investors can diversify their streams. In fact, Bitcoin by far is the most attractive payment option to customers as it has no minimum spend. Though, the maximum threshold and discount is lower than paying with Bank Wire.

Here is an overview of the 6 JM Bullion payment methods along with the minimum and maximum thresholds and any applicable discount they will qualify you for:
Credit/Debit Card
| | |
| --- | --- |
| Minimum: | $0 |
| Maximum: | $5,000 |
| Discount: | None |
PayPal
| | |
| --- | --- |
| Minimum: | $0 |
| Maximum: | $10,000 |
| Discount: | None |
Paper Check
| | |
| --- | --- |
| Minimum: | $0 |
| Maximum: | $50,000 |
| Discount: | 4% |
eCheck (ACH)
| | |
| --- | --- |
| Minimum: | $0 |
| Maximum: | $25,000 |
| Discount: | 4% |
Bank Wire
| | |
| --- | --- |
| Minimum: | $2,500 |
| Maximum: | $250,000 |
| Discount: | 4% |
Bitcoin
| | |
| --- | --- |
| Minimum: | $0 |
| Maximum: | $150,000 |
| Discount: | 3% |
Selling To JM Bullion
Selling gold or silver on JM Bullion is both a popular and a straightforward process. Users simply need to click 'Sell To Us' on the main toolbar to start the process.The minimum purchase amount is $1,000 which might be an issue for those with lesser value coins, unless you are selling a large quantity of them.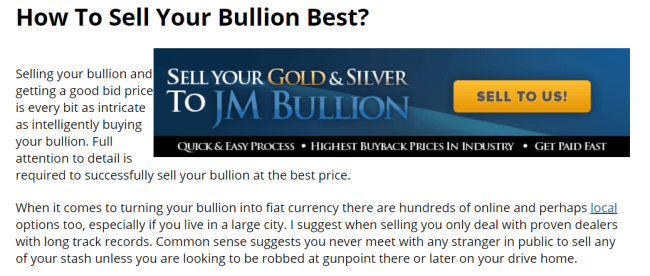 To sell items users must first call for a valuation at which point a price is locked in. Items then need to be mailed to JM Bullion who will then authenticate the pieces. Once everything checks out, payment will be released within 1-3 business days.
Warning: An important point to note is that if JM valuators deem your goods to be counterfeit, they will be destroyed and the seller will be reported to federal and local authorities. So, it pays to be sure of your item's origins before trying to sell them with JM Bullion as they take the issue incredibly seriously. Though, on the plus side this does add an extra level of trust for buyers.
Summary
For investors new and old, JM Bullion have created a very simple buying and selling process which is undoubtedly one of the many reasons behind their rapid climb to success. While they do not sell internationally (which is a shame given they sell pieces of international origin), and have a minimum $1,000 sell threshold, overall their offerings are excellent. The clear pricing structure and variety of different accepted payment methods are particular perks.
As with any investment, the price is likely to fluctuate especially during difficult economic periods. That being said gold has always been considered a sensible investment, and given that is the essence of what JM Bullion sells, it's an encouraging sign. Users can start small by investing in silver (or even copper) first which makes the platform accessible to all budgets. As with any investment (even safe ones) you should always do your research and be prepared for fluctuations in the value of your portfolio.
Rating
FAQ
Where is JM Bullion located?
JM Bullion's headquarter is in Dallas, Texas and its customer support center is in Dallas, as well. Its corporate address is 11700 Preston Road, Suite 660153, Dallas, Texas 75230, but this is not a physical address.
Does JM Bullion sell fakes?
JM Bullion assures that every piece of precios metal they sell is authentic.
Is it illegal to own gold bars in the US?
It is not illegal to own coins since 1975. Any american citizen can freely hold gold, without any licensing or restrictions of any kind.
Is buying gold reported to IRS?
Selling gold or silver is considered income, so this kind of sale need to be reported on Schedule D of Form 1040 on your tax return.